Rocky Mountain National Park: Intro
Rocky Mountain National Park, also known as "The Backbone of America," are situated at the continental divide in North America. A journey to Rocky Mountain National Park takes you from vast forests to high alpine tundra. Within the park, you'll find the headwaters of the Colorado River. If you have ever been to nearby parks such as Grand Canyon National Park,Canyonlands National Park, you must have heard its namesake. Colorado river has carved countless landscapes, and it is a major river in North America and the most significant on the western US.
Rocky Mountain National Park offers stunning scenery throughout all four seasons. In spring and summer, you can enjoy vibrant flowers, while autumn is the perfect time to admire the changing foliage. Winter brings magnificent snowy landscapes. We visited Rocky Mountain National Park during the fall, the prime season for leaf-peeping.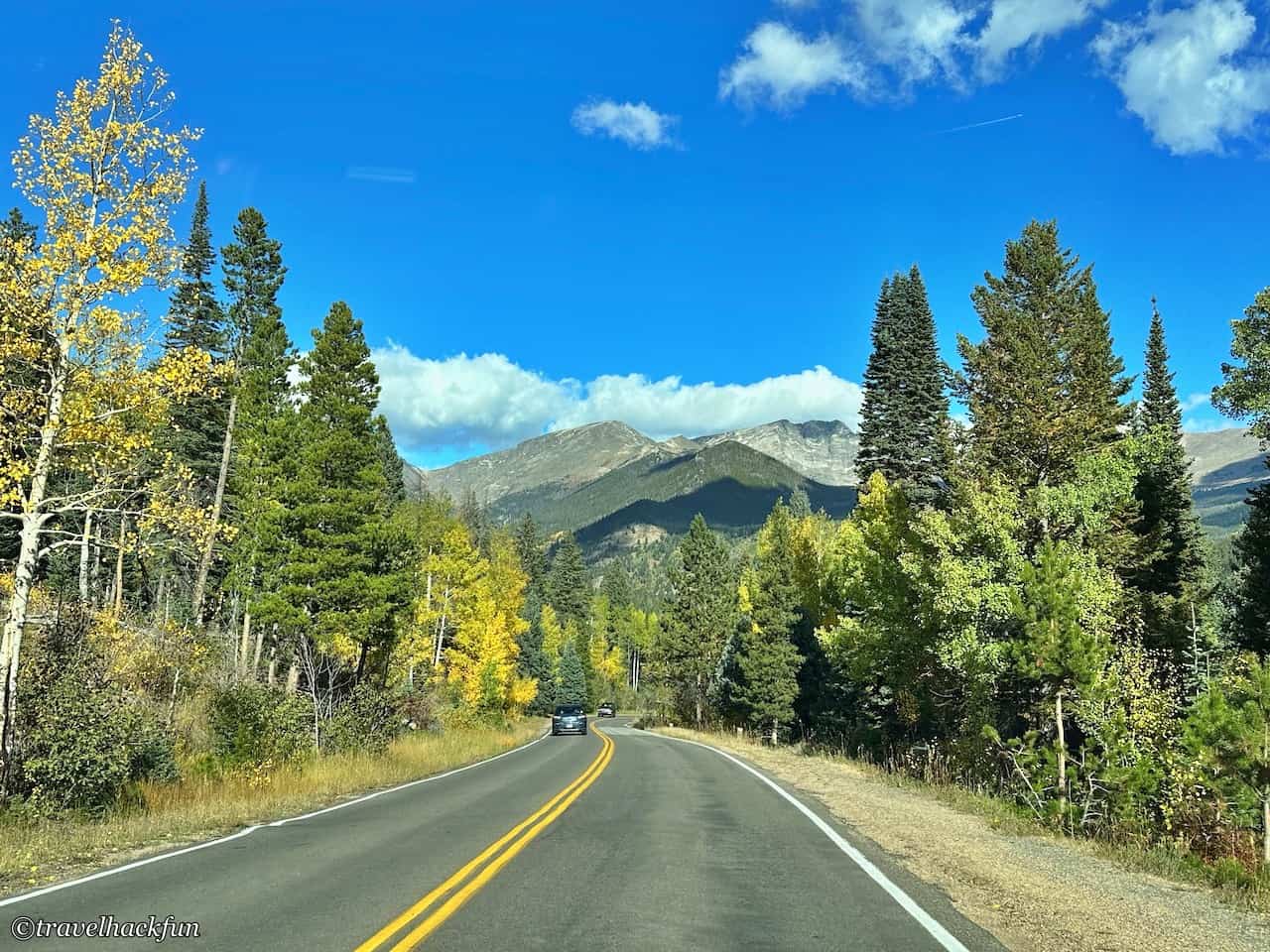 Getting There
To reach Rocky Mountain National Park, flying into Denver International Airport and renting a car for a two-hour drive is the most convenient option if you're coming from another state. Alternatively, you can join a local tour departing from Denver or Boulder if you prefer not to drive.
During the peak season, free shuttle service is available near the East Entrance. This shuttle can take you to popular places like Bear Lake and Moraine Park. Finding parking on weekends, especially at Bear Lake, can be tricky. So, it is a good idea to stay near Estes Park and use the shuttle even if you bring your own car. You can check the provided information for schedules and routes at the official website.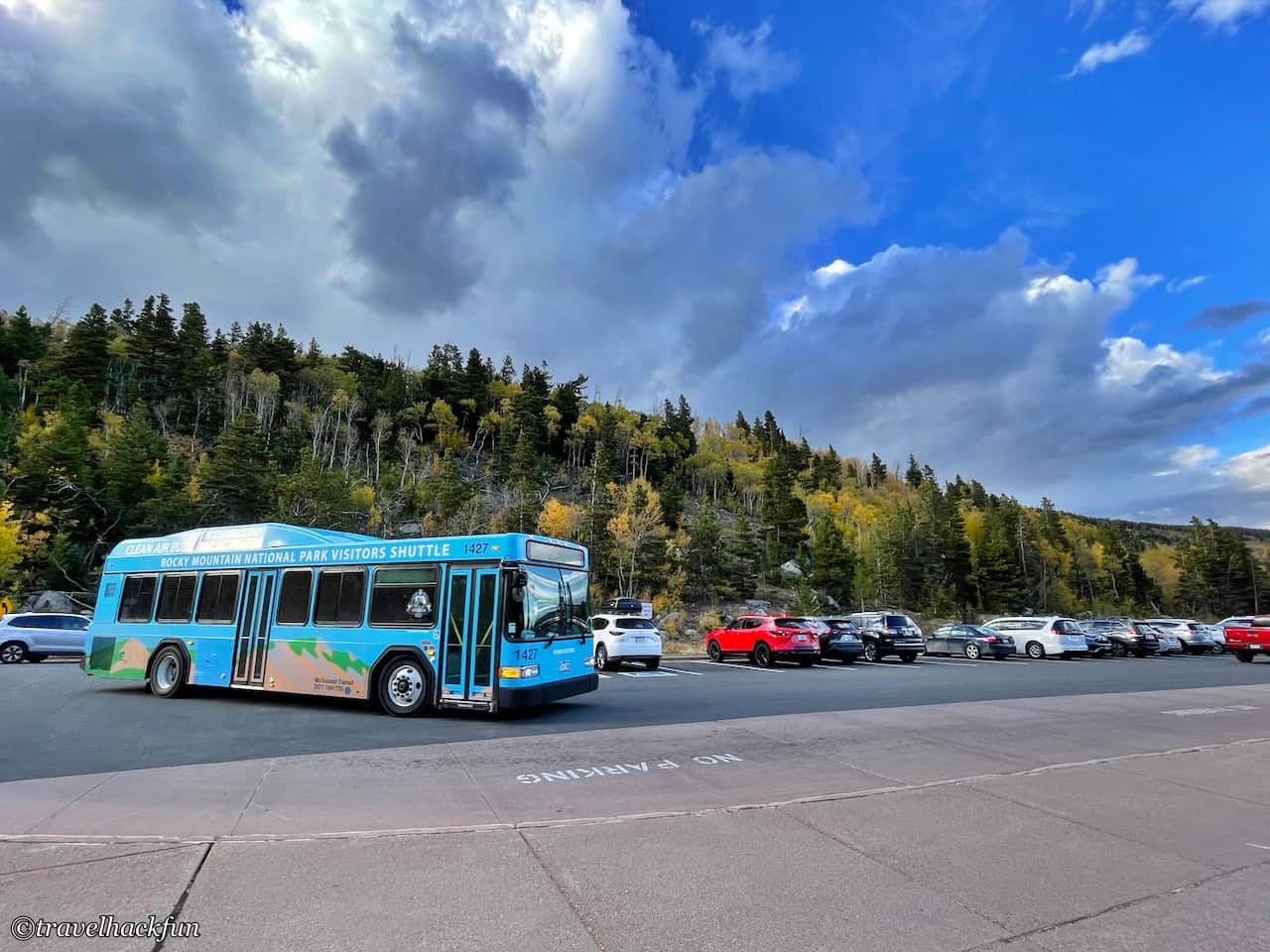 If you choose not to take the shuttle, note that during the peak season from May to October, there's currently a timed entry permit system in place. This means you need to apply in advance on the NPS website for a specific entry time slot. Be sure to check the official website for the latest information. Different attractions and routes may require different permits, and regulations can vary from year to year.
Where to stay
Camping inside the Rocky Mountain National Park
The only option for accommodation in the park is camping. There are five campgrounds in the park (see the official website). The closest to popular attractions is the Moraine Park campground, which is a very nice place to stay.
Estes Park
Many travelers prefer to stay in Estes Park, a bustling town near the East Entrance of the park. Estes Park has a visitor center and offers a free shuttle service to Bear Lake during peak season. The surrounding area also boasts impressive scenery, and there are plenty of trails outside the park to explore too. If you're looking for a renowned hotel, consider The Stanley Hotel, famously featured in "The Shining", Stephen King's classic horror movie.
Find a stay in Estes Park: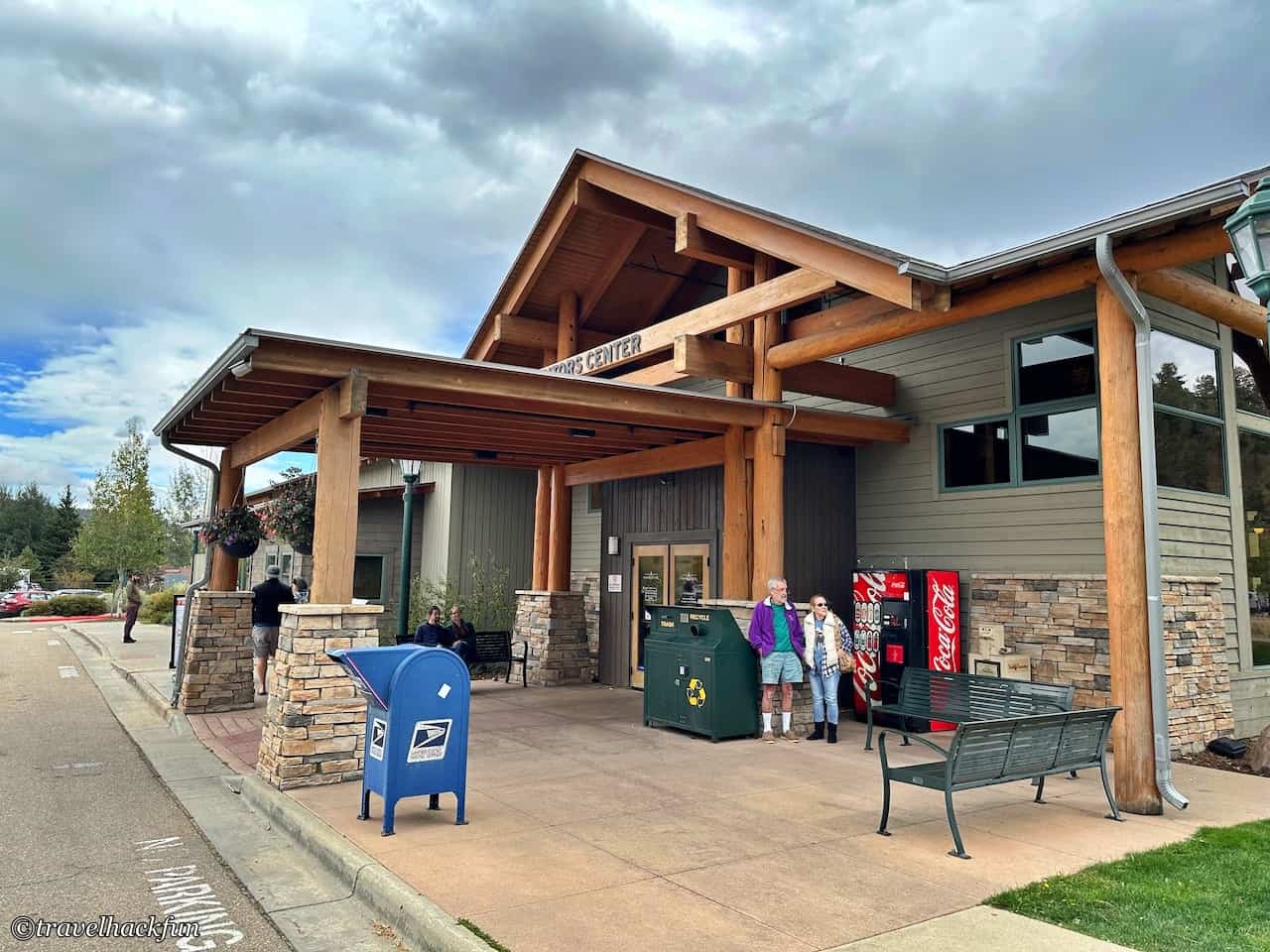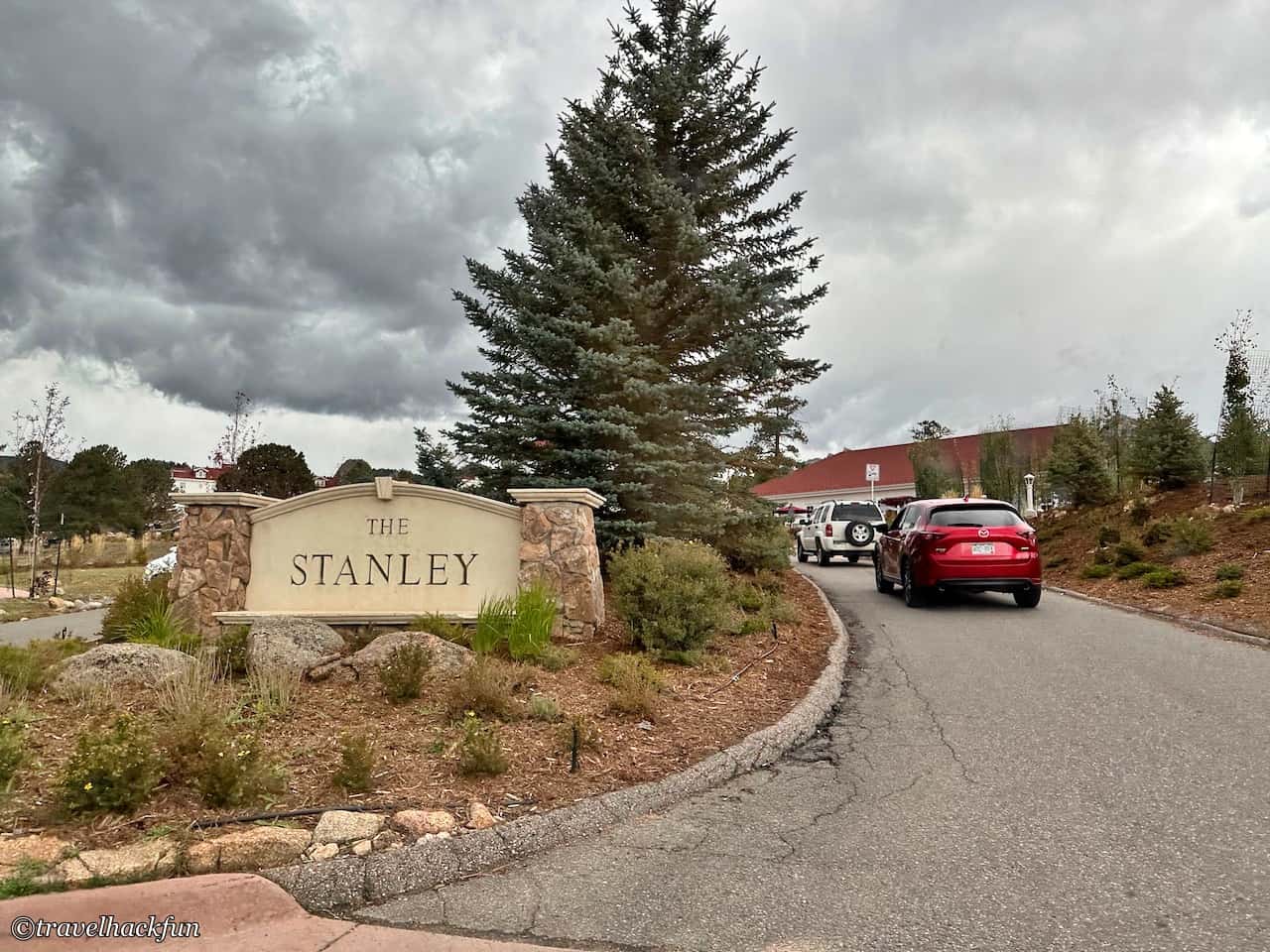 Grand Lake
Grand Lake, near the West Entrance of the park, is also a great lodging location. If you plan to explore the Kawuneeche area on the west side, this town is the ideal place to stay. For those who enjoy camping, you can also consider finding a campsite in this area, such as those near Grand Lake. Stillwater campground is a great option.
Find a stay in Grand Lake:

What to bring?
Rocky Mountain National Park offers diverse beauty in every season. However, the mountain weather can change rapidly, so it's crucial to be prepared with appropriate clothing.
During a autumn trip, be prepared for potential rain or snow. It's best to pack waterproof hiking boots, waterproof pants, and a waterproof jacket. Staying warm is essential; even in autumn, mountain temperatures can be quite low, so don't rely solely on long sleeves. Layering with various clothing items and thermal underwear is advisable. We opted for ski jackets that are both windproof and waterproof, along with down jackets for versatility in changing weather conditions. Don't forget hats and gloves for your head and hands; they are essential too.
Recommended clothing
How to plan your trip - An Overview of Rocky Mountain National Park
Before arranging the route, we need to get familiar with the map. Start by checking the park map, we can divide the park into four main areas for consideration:
The Moraine Park area and the Bear Lake area: In the northeast of Rocky Mountain National Park, these two areas are actually quite close to each other. They are connected by Bear Lake Road and offer a variety of hiking trails and scenic attractions. Free shuttles are available. Many visitors opt for a day trip to Rocky Mountain and explore only these two areas. If you're driving to Lorain Park and Bear Lake areas, enter the park through the Beaver Meadows entrance.
The Trail Ridge Road and Fall River area: Running east to west, the Trail Ridge Road offers stunning vistas and a diverse range of landscapes, making it a popular choice for visitors who want to experience the natural beauty of Rocky Mountain National Park by car. You can start your journey from the Fall River Entrance, which conveniently allows you to explore the attractions in the Fall River area first.

To the north of Trail Ridge Road, there is also the narrower Old Fall River Road running parallel. Many people like to plan a circular one-day trip by taking Old Fall River Road west to the Alpine Visitor Center and then returning via Trail Ridge Road. Note that both Trail Ridge Road and Old Fall River Road may be closed during colder seasons.
The Kawuneeche area: This area refers to the stretch of road from the Alpine Visitor Center heading south towards Grand Lake. This area offers a variety of hiking trails, and it tends to be less crowded compared to the previously mentioned popular areas. If you plan to continue your journey further west to explore other destinations, you can spend half a day here before exiting through the Grand Lake Entrance.
Wild Basin area: located in the southeastern part of Rocky Mountain National Park, this area is ideal for visitors who prefer a less crowded and more secluded experience. It is relatively remote and farther away from popular attractions in the park.
For first-time visitors to Rocky Mountain National Park, I would recommend allocating at least two days for your visit. Spend one day exploring the Moraine Park and Bear Lake areas, and dedicate another day to traveling along the Trail Ridge Road.
If you only have one day available, it's essential to prioritize your preferences. If you enjoy hiking, Bear Lake is a great choice. If you'd rather take in the scenic beauty from the comfort of your car, then Trail Ridge Road is the way to go.
Ideally, if you have the time, it's best to plan a three-day itinerary. This allows for a more relaxed pace and reduces the impact of weather-related closures. Trail Ridge Road, for instance, is often subject to intermittent closures due to colder weather.
In summary, two days is a good starting point for a comprehensive visit, but if you can spare three days, it will offer a more leisurely and weather-resilient experience in Rocky Mountain National Park.
The Scenic Routes
If you prefer to enjoy the scenery by driving, there are two main routes to consider: Bear Lake Road leading to Bear Lake and Trail Ridge Road (including the Old Fall River Road Loop).
Bear Lake Road
While Trail Ridge Road is the most famous scenic drive in Rocky Mountain National Park, many visitors come specifically for the autumn foliage and only drive along Bear Lake Road. The fall colors along this route are indeed stunning. When taking this route, Yyou can enter through the Beaver Meadows Entrance. It's important to note that you'll need to obtain a timed entry permit from the Beaver Meadows Visitor Center depending on time and dates.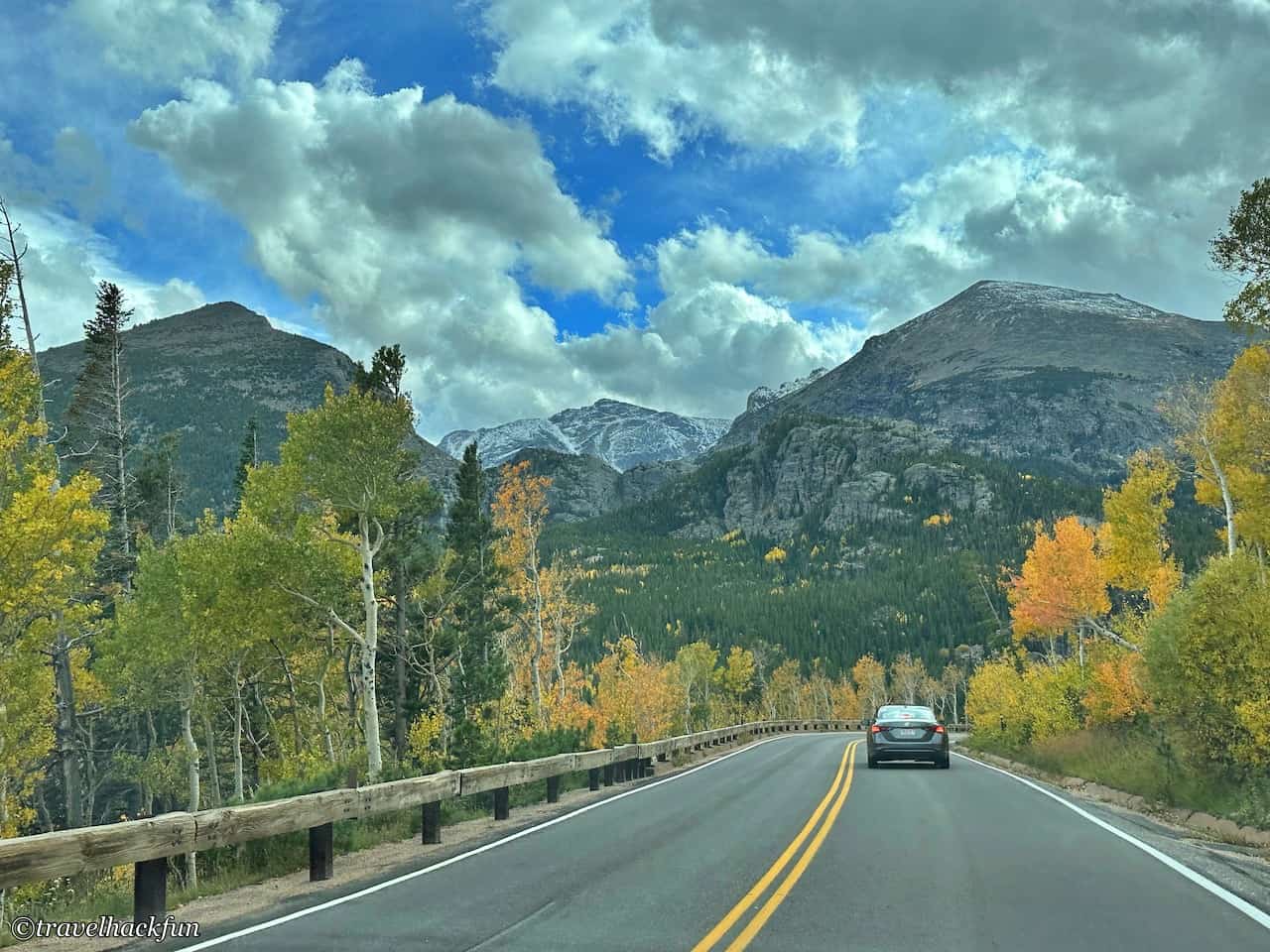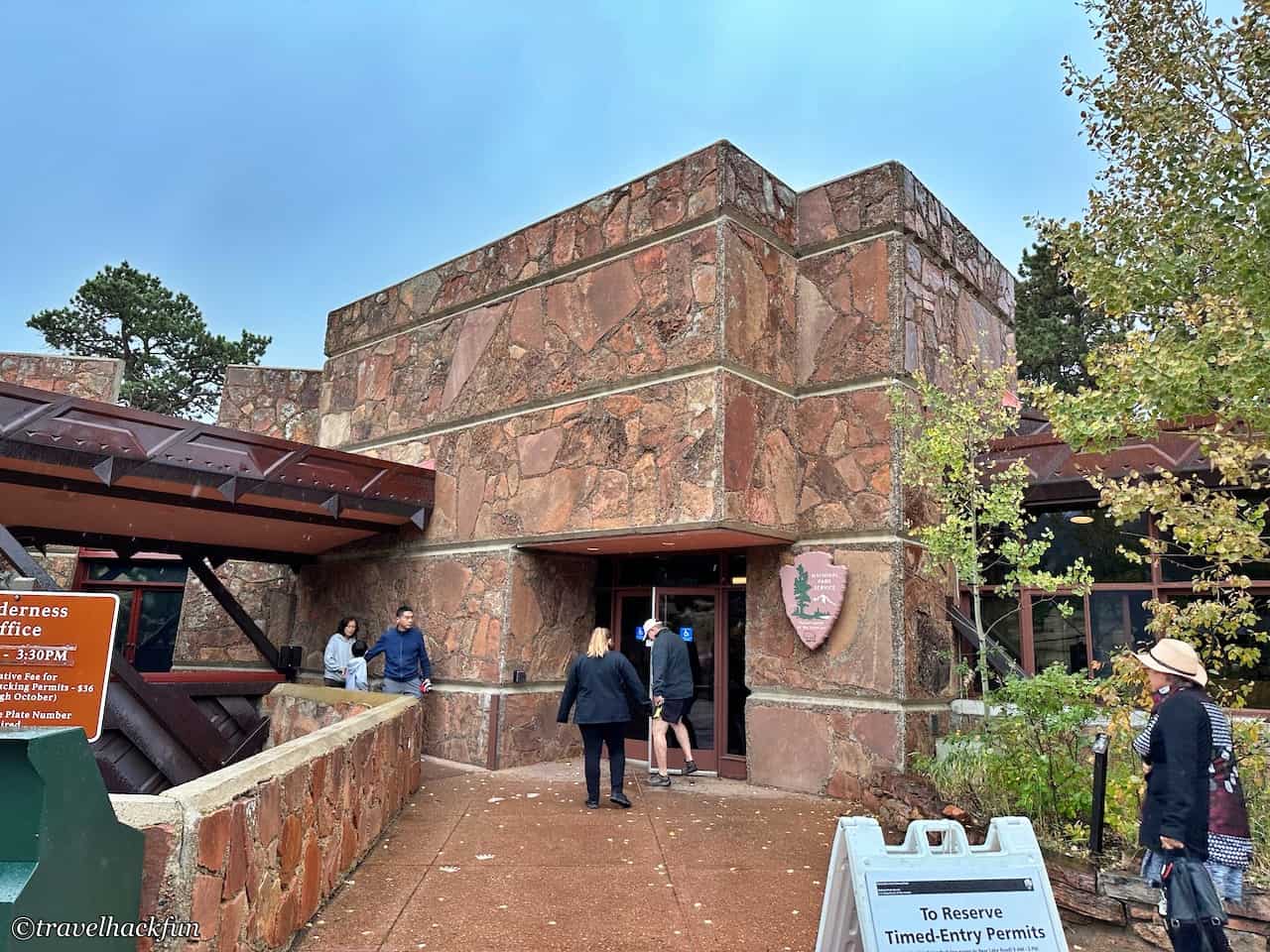 Trail Ridge Road
Trail Ridge Road is the most famous scenic drive, offering breathtaking landscapes as you ascend from forests to alpine tundra. As for knowing where to make stops along the way, it's highly recommended to download the NPS app. This app provides maps and markers for designated stopping points along the road, making it easy to plan your journey and explore the highlights at your own pace.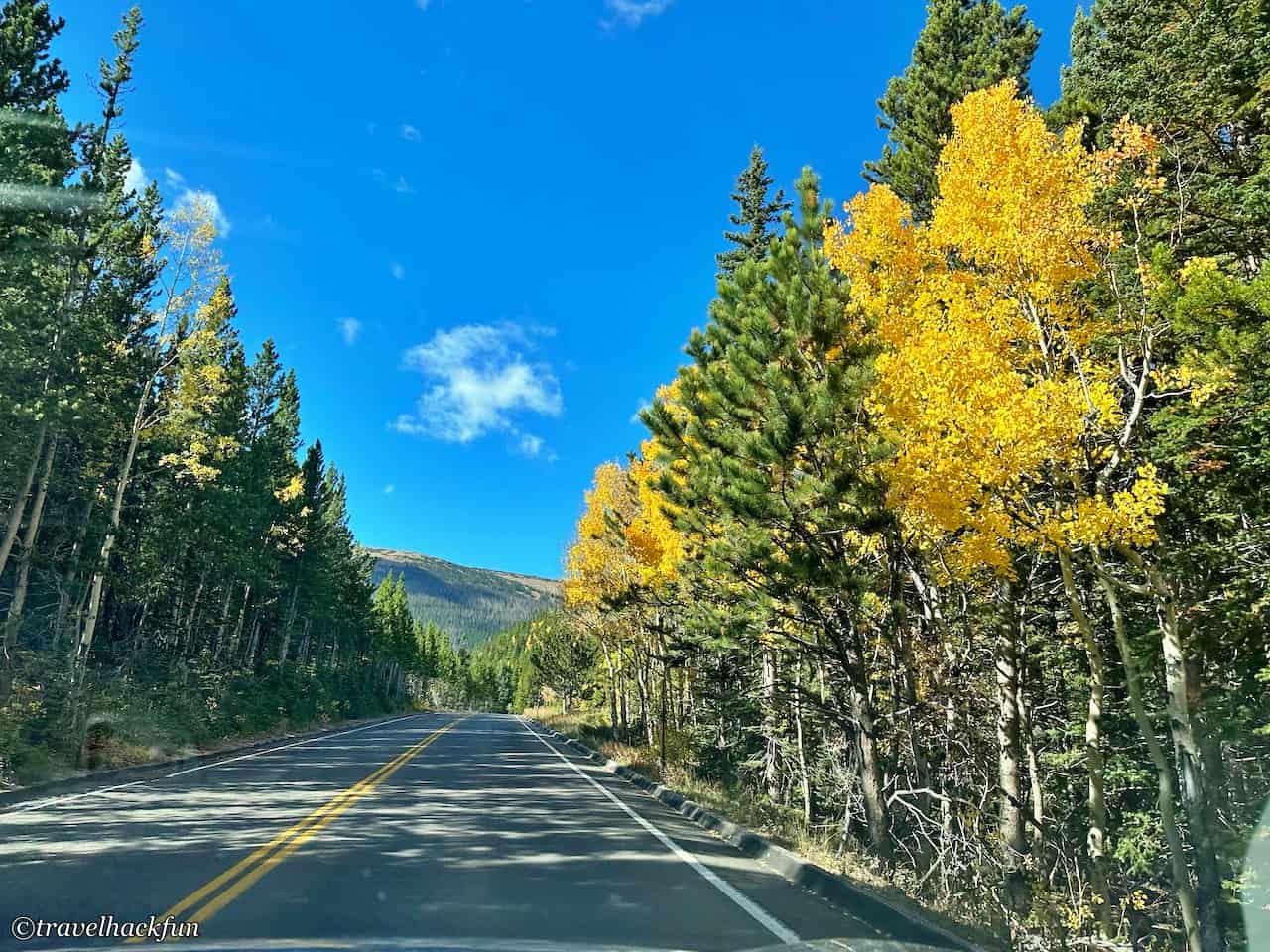 More detailed description of the attractions along Trail Ridge Road can be found in the following post:
Old Fall River Road
Old Fall River road runs parallel to Trail Ridge Road and is situated at a higher elevation in the northern part of the park is likely Old Fall River Road. As mentioned earlier, many people opt for a circular route, combining Old Fall River Road with Trail Ridge Road, especially when planning a day trip. Part of the road was closed due to the weather condition during our visit, but we enjoyed the beautiful autumn scenery on the open section.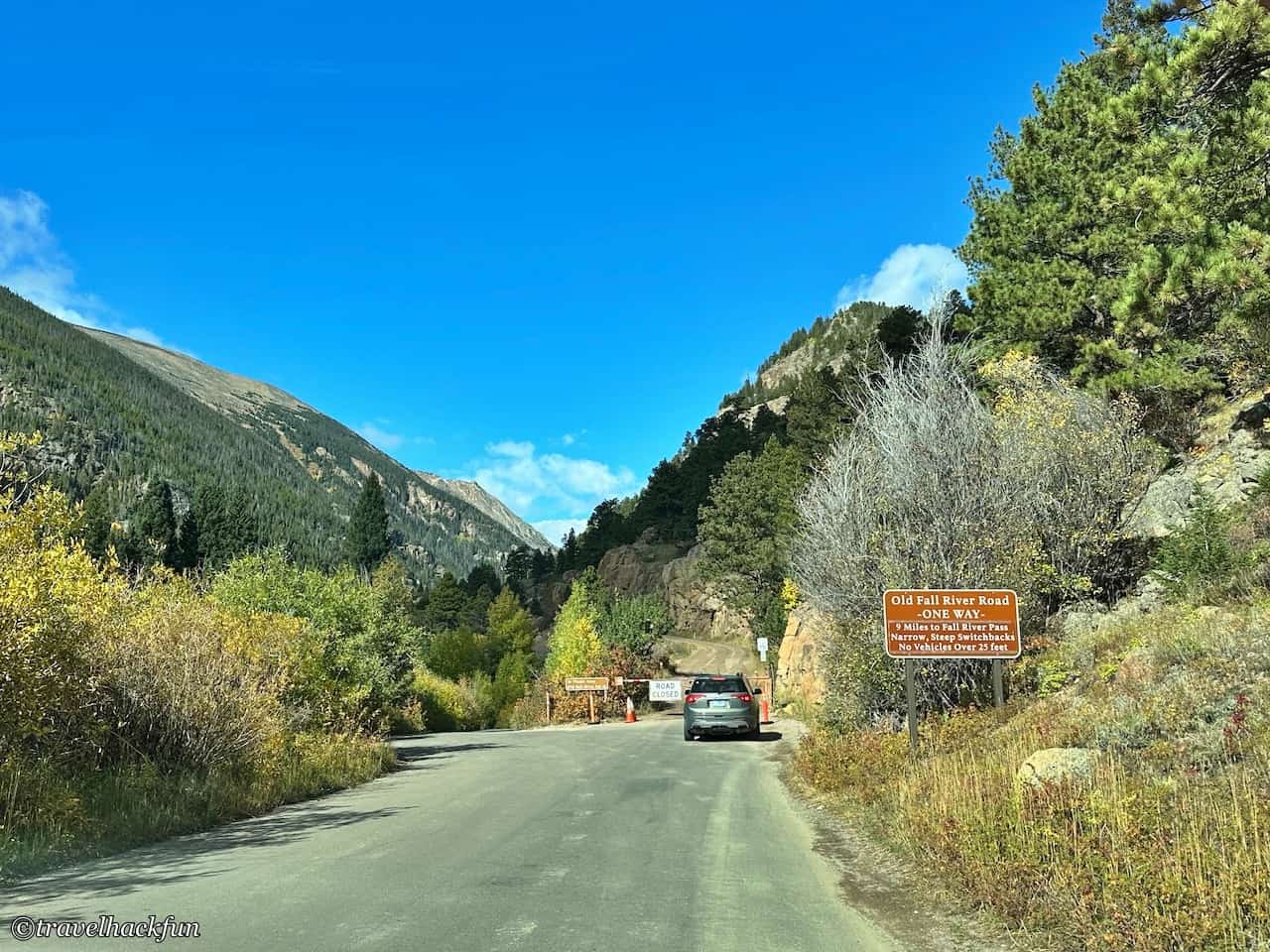 Attractions & Trails
Moraine Park Area
The Moraine Park area, being relatively close to Bear Lake and easily accessible, is the most convenient destination for visitors. During the fall season, this region is known for its frequent Elk sightings, making it a must-visit spot. Don't miss the Beaver Meadow, and if you have the time, consider taking a stroll to Cub Lake.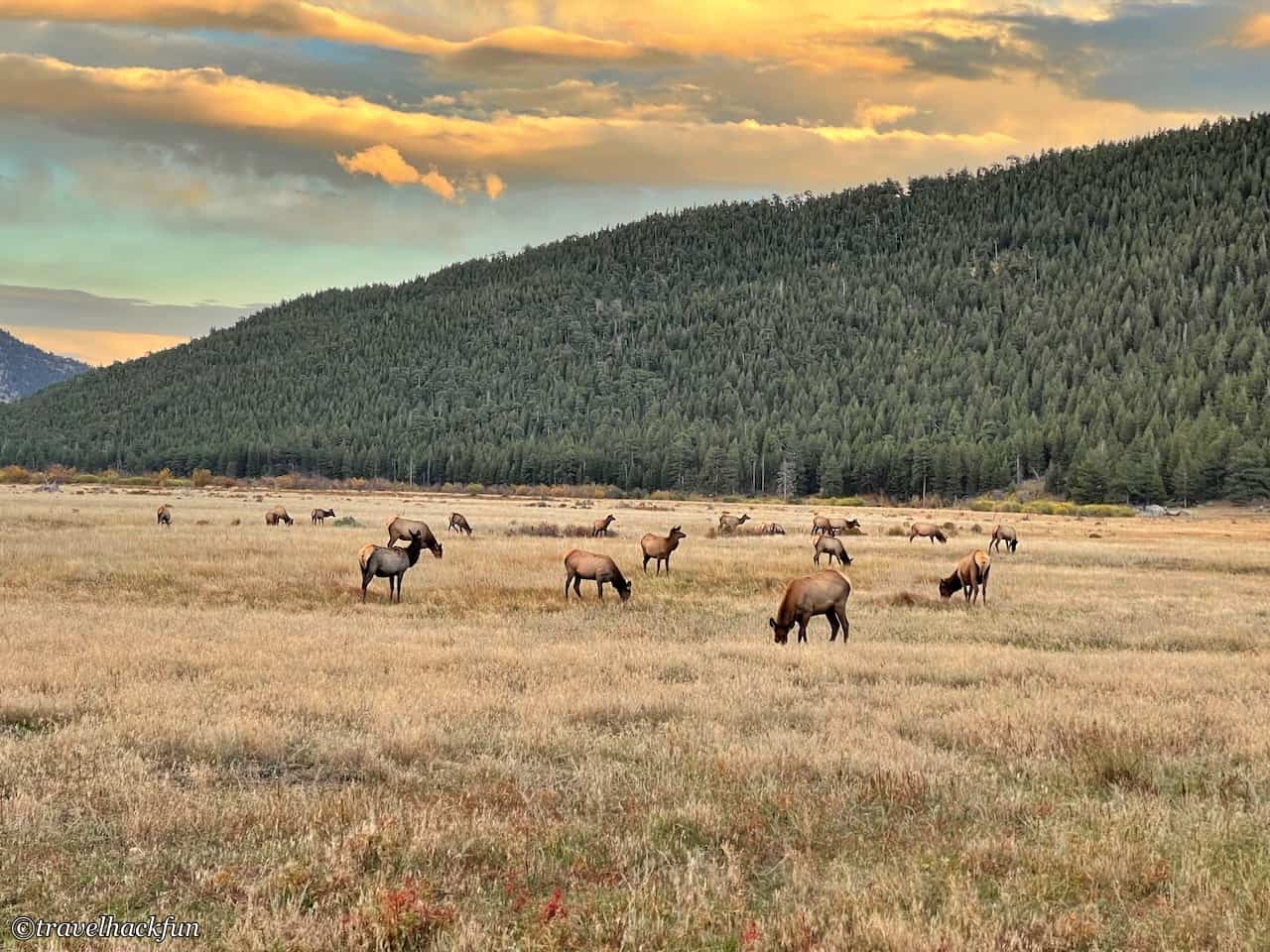 For more details about the area, please see:
Bear Lake Area
Bear Lake is undoubtedly the most popular area within Rocky Mountain National Park, known for its abundance of hiking trails. For those who enjoy hiking, heading directly to Bear Lake Trailhead! If you have a full day to explore, I recommend hiking the Bear Lake, Nymph Lake, Dream Lake, Emerald Lake, Lake Haiyaha, and Alberta Falls trail loop. It offers a diverse range of scenic beauty and landscapes.
For those who prefer a less strenuous option, the Bear Lake Trail loop itself provides a relatively easy and picturesque route to enjoy the area. Regardless of the trail you choose, Bear Lake and its surroundings are a highlight of the park, offering incredible natural beauty and a variety of experiences for visitors.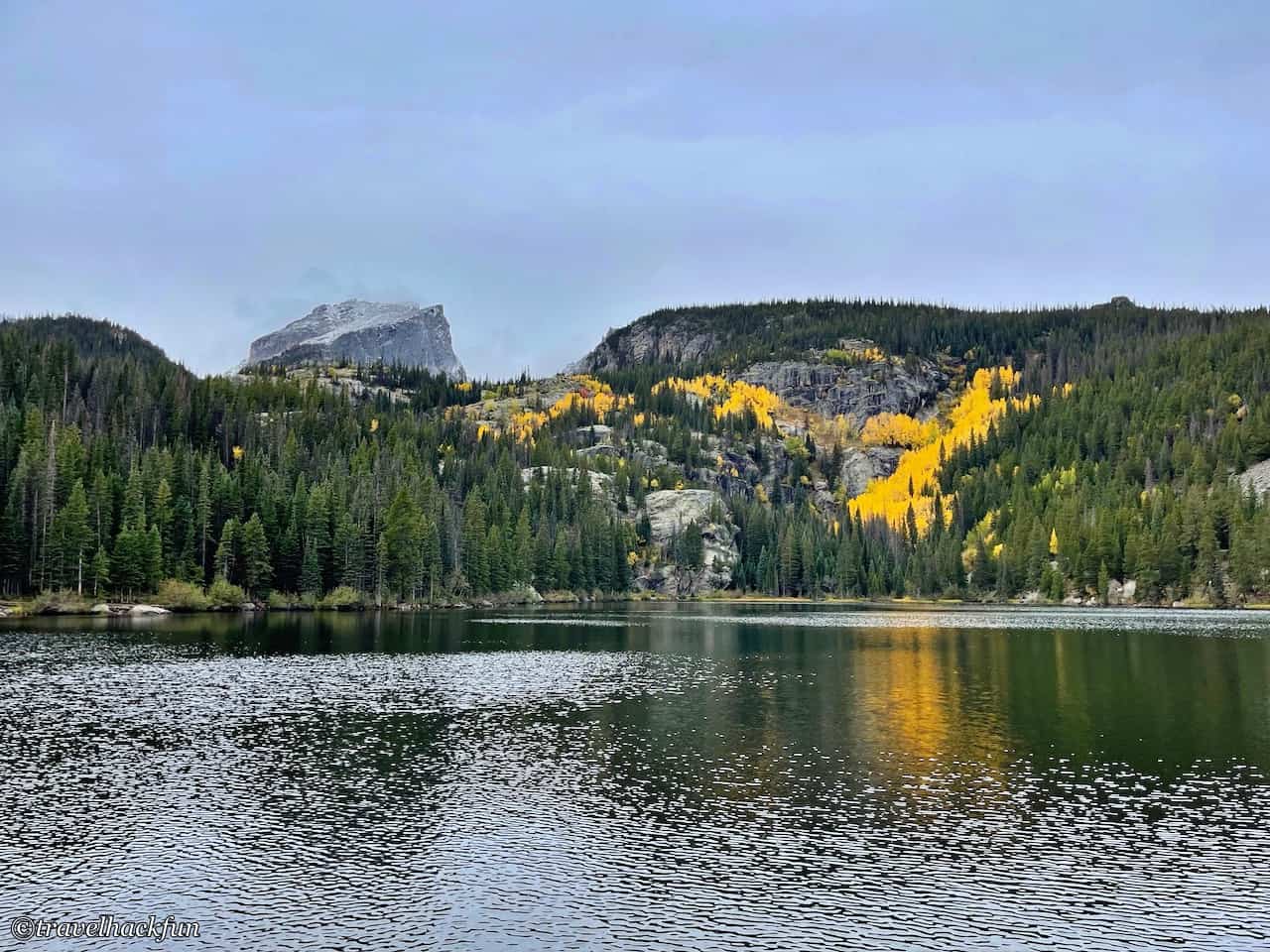 For more details about the area, please see:
Fall River Area
The Fall River area is a worthwhile stop. The Deer Mountain region offers numerous hiking trails, making it a fantastic area for outdoor enthusiasts. Even if you're not interested in hiking, there are plenty of scenic viewpoints in this vicinity.
Sheep Lake is a great spot to observe wildlife. If the season is right, you might be fortunate enough to witness Big Horn sheep drinking by the lakeside, which can be a remarkable experience.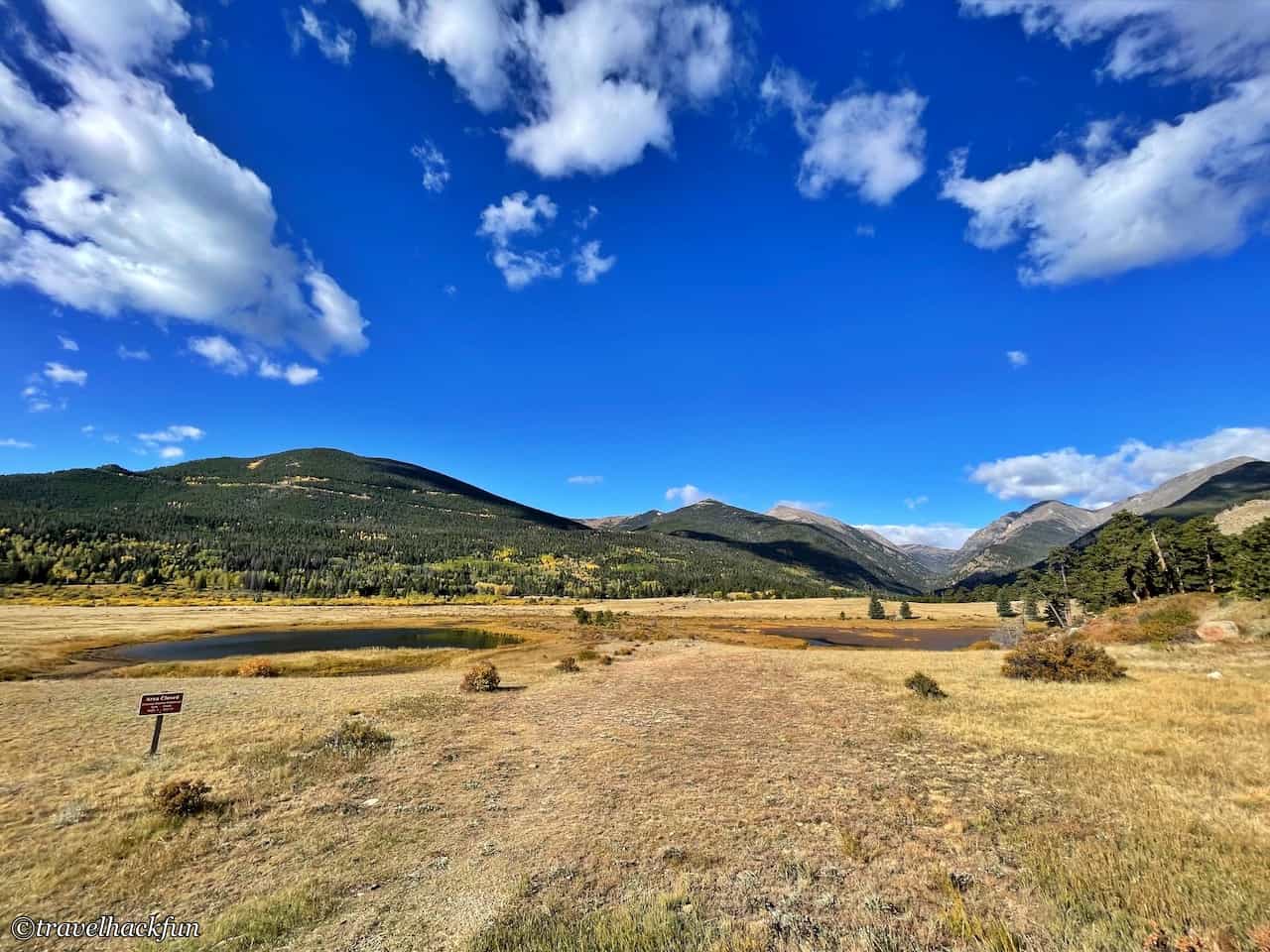 Horseshoe Park is another excellent location within Rocky Mountain National Park for observing Elk.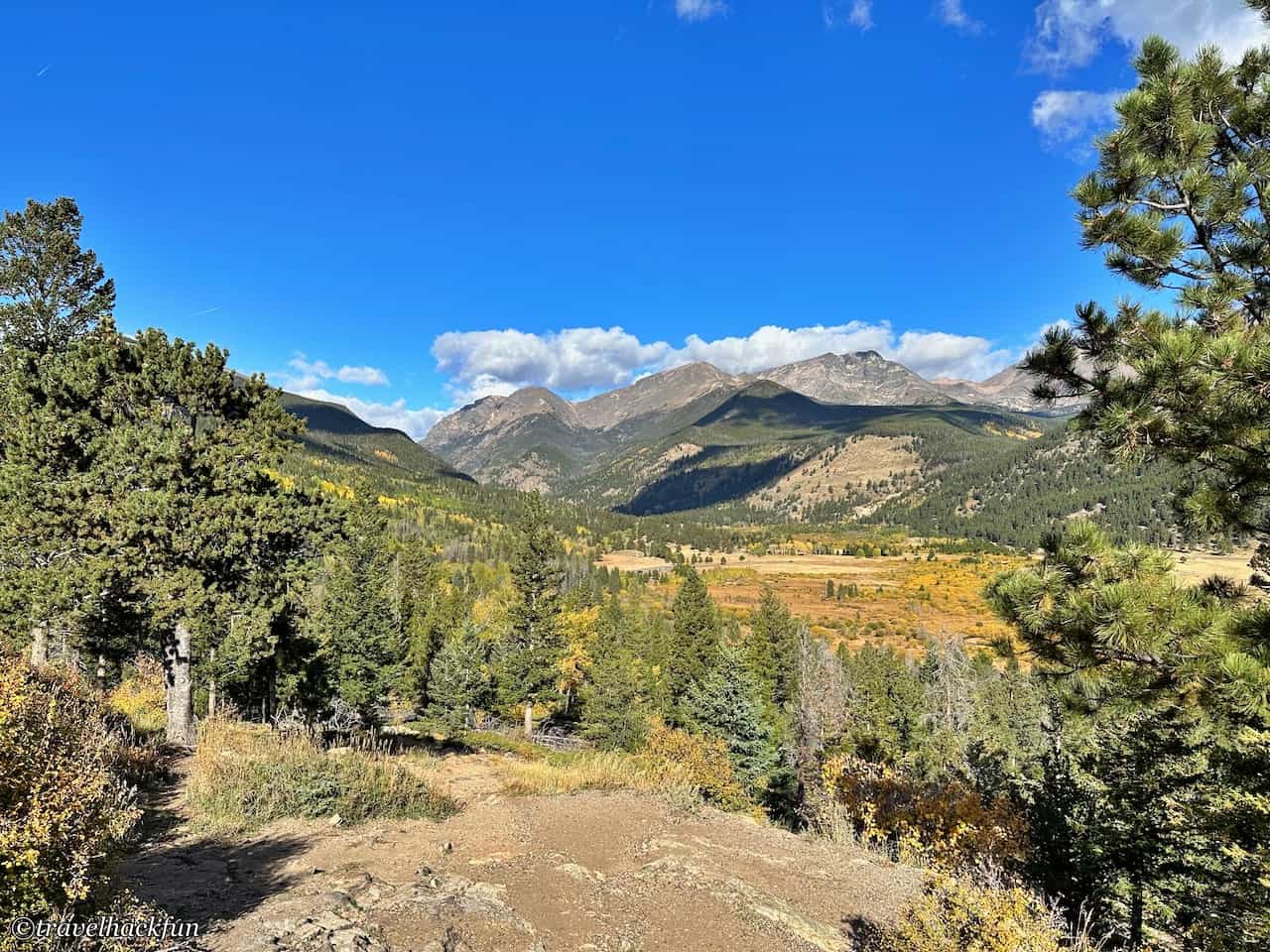 Driving along Fall River provides several excellent viewpoints where you can admire the southeast-facing Longs Peak and its stunning mountain scenery. Longs Peak is also a challenging and iconic destination for mountaineers and hikers.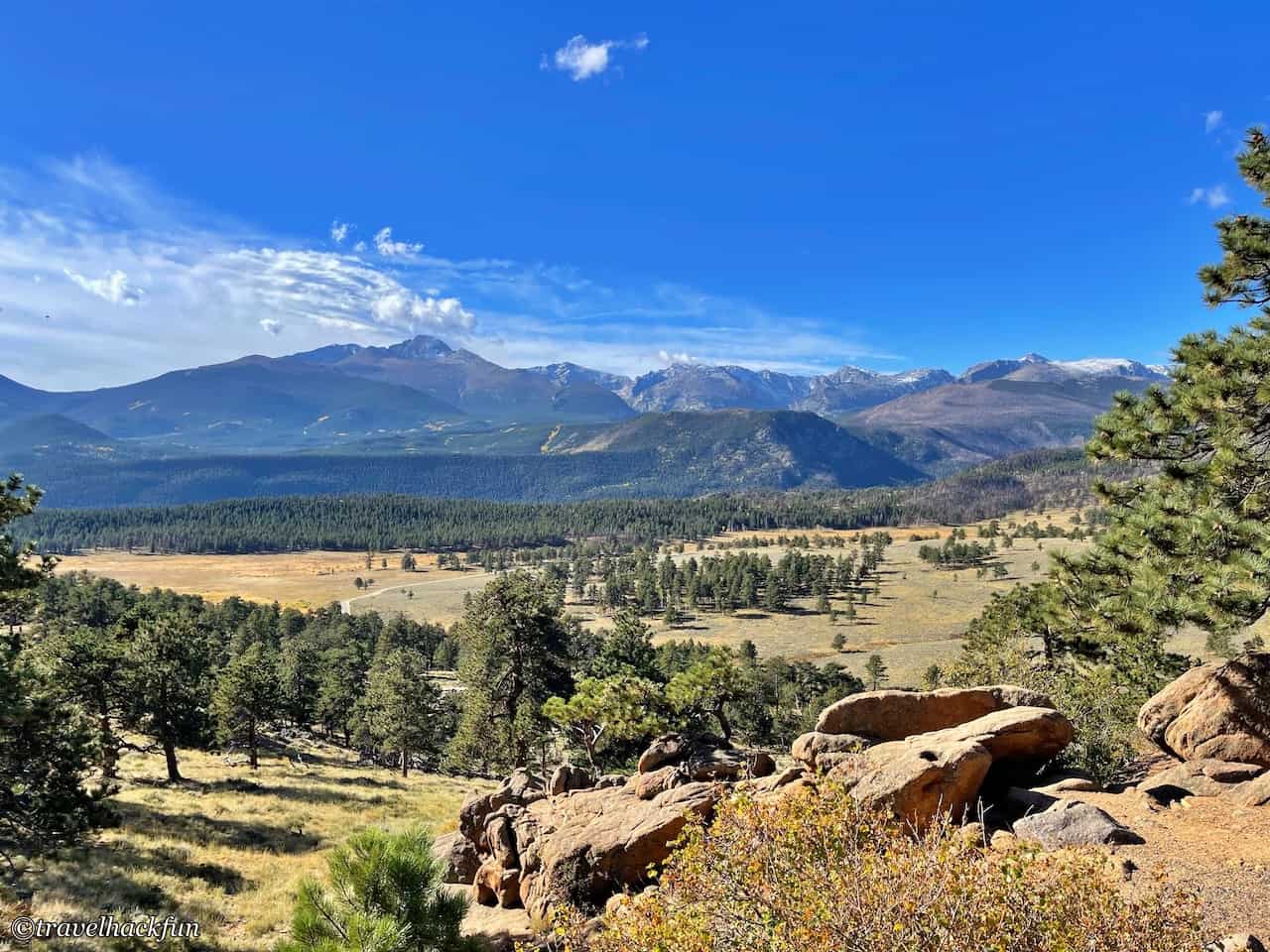 Kawuneeche Area
Entering the Kawuneeche area from the Alpine Visitor Center and heading west, you'll cross the Continental Divide. Many of the trails in this region provide opportunities to encounter the Colorado River. It's a great idea to choose a few trails based on your available time and flexibility. Additionally, don't forget to visit the historic Holzwarth site, which is a fascinating glimpse into the park's history.
If you exit the park entrance and reach Grand Lake, you'll also find Adams Falls. This waterfall is another lovely natural feature worth exploring in the vicinity of Rocky Mountain National Park.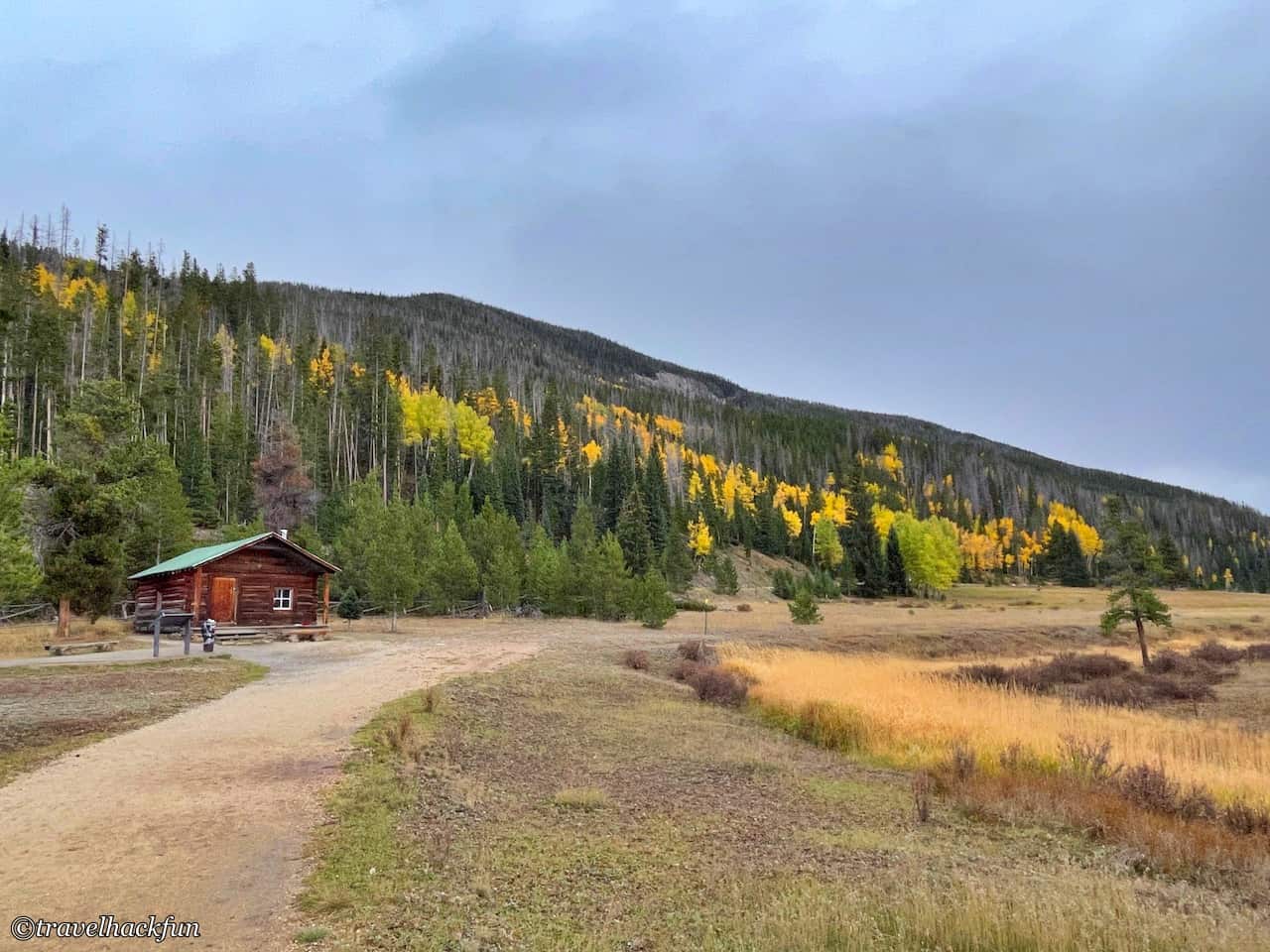 For more details about the area, please see:
Further reading
Thank you for visiting our website.

All the content on this site is original and shared with the purpose of providing valuable information. We sustain the operation of this site through a small amount of advertising and sponsored links. If you click on links to third-party merchants on our site and make purchases, we may receive a portion of the sales as a commission. If you click on links to third-party merchants on our site and make purchases, we may receive a portion of the sales as a commission.

Find more posts on a map Here.

My recommended resources for hotel bookings.

My recommended resources for activity bookings.
Buy me a coffee and support my contents!
If you are interested in quoting this article or using any part of its content and images on your website or publication, please contact us via email to request permission.