Ninh Binh | Profile
Ninh Binh, Vietnam, is a two-hour drive south from Hanoi. Ninh Binh is blessed with natural beauty. Tourists can visit the UNESCO World Heritage-listed limestone karst terrain of Luong Bay, the golden rice paddies of the Three Valleys to enjoy the beautiful river and mountain scenery, or explore Vietnamese culture and savor the ancient capitals and Buddhist temples. Ninh Binh is a very popular area among both domestic and foreign tourists, and tourism is very developed. Ninh Binh is very convenient for both day trips and multi-day trips, so many attractions are commercialized and there are many hawkers selling them.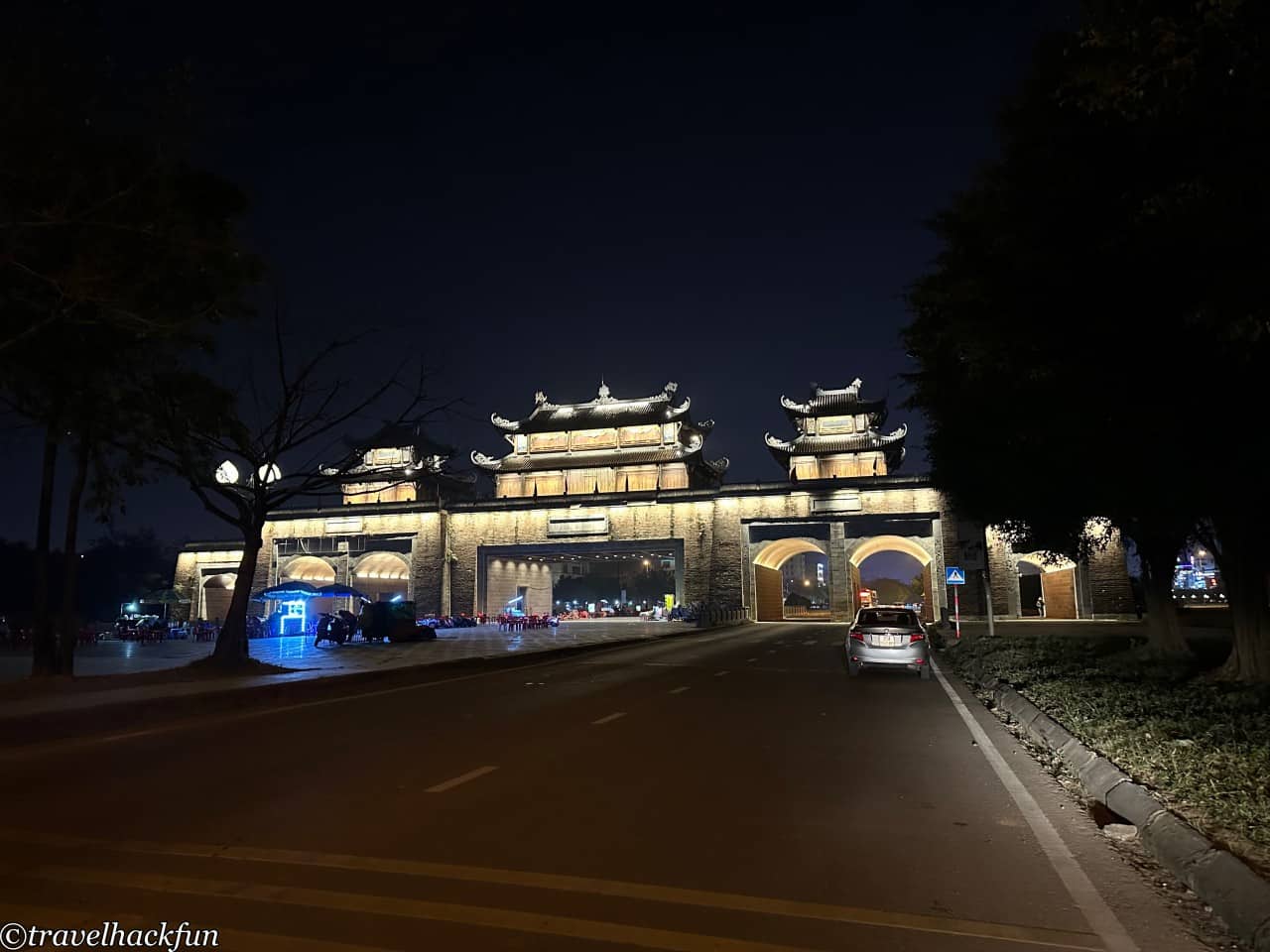 Ninh Binh | Trip Planning
The five main attractions of Ninh Binh are all located in the west of Ninh Binh city, although the number of attractions can be counted on one hand, it will take at least two days to enjoy all of them. For those with limited time, it is recommended to join a one-day tour from Hanoi, which is more convenient in terms of transportation. Tam Coc in the south and Trang Anh in the north are only a 20-minute drive away, but since both take at least half a day, it is common to arrange a one-day trip to at most three of these attractions.
If you have more than one day, you can spend two or three days for slow traveling. It is recommended to divide the trip into at least two days, one day is for visiting Sangu, including Mua Cave, Bidong Ancient Temple, and Sangu Rice Paddy Bike Tour, and the other day is for arranging Luk Lung Bay Cruise, Hualiuk Ancient Temple, and Baiding Temple Tour. In order to have the best traveling experience, note that there are many cement factories near Ninh Binh, so the air quality is easily affected during daytime working hours, so it's best to leave early for the natural attractions. Personally, I would recommend a three-day trip, going to Mua Cave in the morning, cycling in Sangu in the morning, and arranging a cruise to Lulong Bay in the morning, all of which offer the best views early in the morning.
Ninh Binh | Where to Stay
Traveling in Ninh Binh you can stay in either the Three Valleys or Ninh Binh City. Ningping city is close to the train station and has the most choices of restaurants. However, I personally recommend centering around the Three Valleys, as it is convenient to go to the nearby attractions. Usually the hotels in the Three Valleys will provide free bicycles as a means of transportation to the nearby attractions. In addition, you can enjoy the countryside near the Three Valleys and avoid the noise of downtown Ningping.
Find a stay in Tam Coc:

Find a stay in Ninh Binh:

Ninh Binh | Transportation
Traveling to Ninh Binh
When traveling from Hanoi to Ninh Binh, most tourists choose between chartered buses or trains. Taking a train to Ninh Binh Railway Station will take you to the downtown area of Ninh Binh, but if you want to go to the Three Valleys or other scenic spots, you will have to call for another train. Chartering a bus is relatively easy and is the way we choose. If you only plan to go back and forth on the same day, you can just book a day trip.
Transportation between scenic spots in Ninh Binh
You can use Grab to hail a taxi between Ninh Binh and popular attractions at transparent prices. If you want to go to a more remote place, like we went to Cuc Phuong National Park, it's better to use a chartered car or bike.
Notes on Motorcycle Rental
It's very convenient to rent a motorcycle both in downtown Ninh Binh and in Sangu. If you are worried about the language barrier, you can ask your hotel to help you arrange it. We went to a local motorcycle rental agency in the Tri-Valley, and used whatsapp to communicate in English. The agency also provided me with a delivery service to my home, and even brought me two bikes I was interested in for a test ride. Rental bikes come with raincoats and helmets, and a relatively simple 125 motorcycle costs about 5-8 dollars a day, depending on the model. If you have cycling experience, it's generally not difficult to ride between attractions in Ningping. Traffic moving between attractions is not too congested, and even when you enter the downtown area of Ningping, it's no more difficult than Taipei during rush hour traffic. The only difference is that there is no left turn to be turned, and it is right to turn with everyone.
If you only move between attractions, it's not easy to pass by large gas stations in the middle of the trip. A simpler way is to buy gas from a car rental store, their prices are generally quite reasonable, and if you fill up the car when you rent it at the beginning, you will definitely have enough for going to the five major attractions, so you don't need to worry about gasoline problems. If you are traveling farther and do not live in downtown Ninh Binh, you may have to buy gas at a grocery store in the middle of your trip. Small stores usually use gas pumps like the one pictured below, so just go to the store, ask for the price, and tell them how many liters you want to buy. The shopkeeper will measure the fuel and then pour it in and start filling up.
Another thing to pay attention to is the parking problem, generally the parking fee of the official parking lot ranges from 5~15k VND, if you encounter a higher price when parking, there is a very high chance that it is an unofficial parking lot. In Ninh Binh, there are many private parking lots that stop cars in front of attractions, even bicycles, and some of them are very, very close to the attractions, so it's easy for tourists to go in without noticing. Some of them are very close to the attractions, so it is very easy for tourists to go in without realizing it. Some of them block the parking lot, so if you don't want to go in, you have to say "No" and ride towards them firmly. Although the price is not very expensive, but if you feel cheated, it is always a bad feeling, so I would like to provide you with a reference.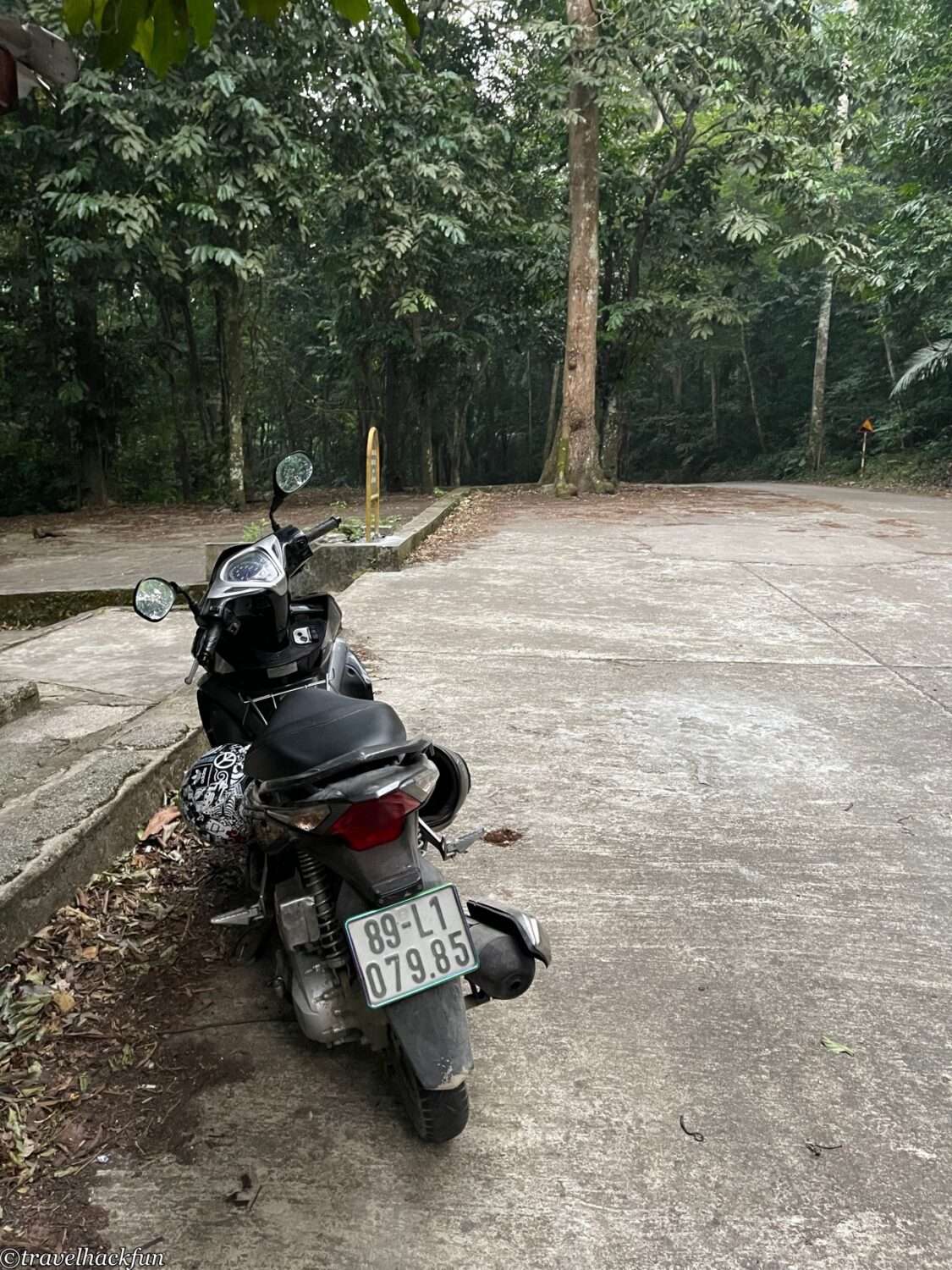 Ninh Binh | Attractions
Attractions | Trang Anh | Luk Lung Wan Cruise
Chang'an Resort Boat Cruise to Lulong Bay, departing 7km west of downtown Ninh Binh, is a must-see experience when visiting Ninh Binh.In 2014, Chang'an Resort was recognized by UNESCO as a World Heritage Site. Its ecosystem consists of 2.5 million year old limestone mountains, which over time have formed hundreds of canyons, caves, lakes and lagoons. Many wetland ecosystems, limestone mountain forests, archaeological sites, and historical and cultural monuments are preserved here. The main focus of the tour is to visit the spectacular limestone mountains, caves on the river and monuments on the island by boat. There are three boat routes, all of which take three hours, so you will need about half a day to organize your visit.
For more information about Luk Lung Wan Cruise, please refer tomy other post here.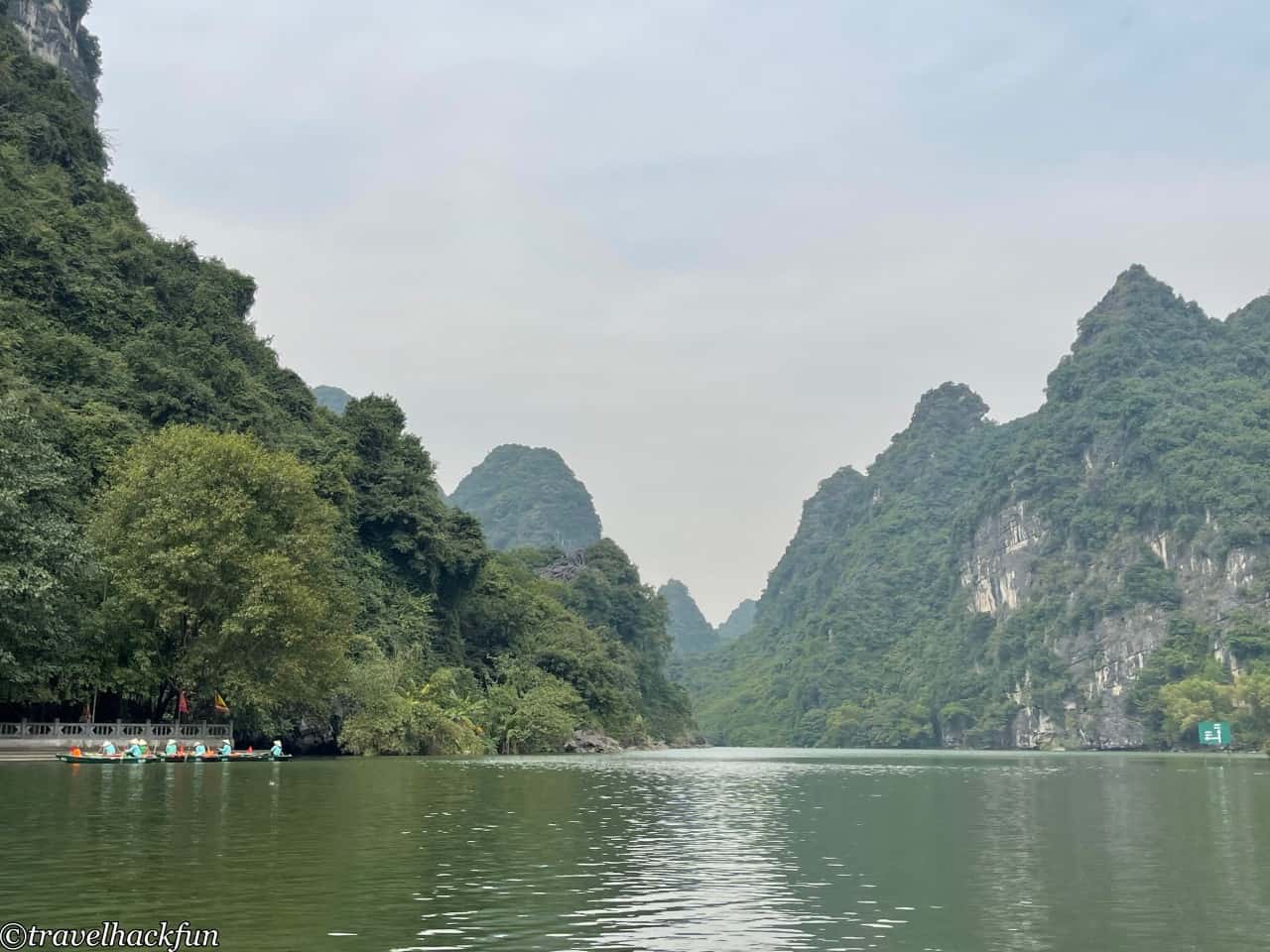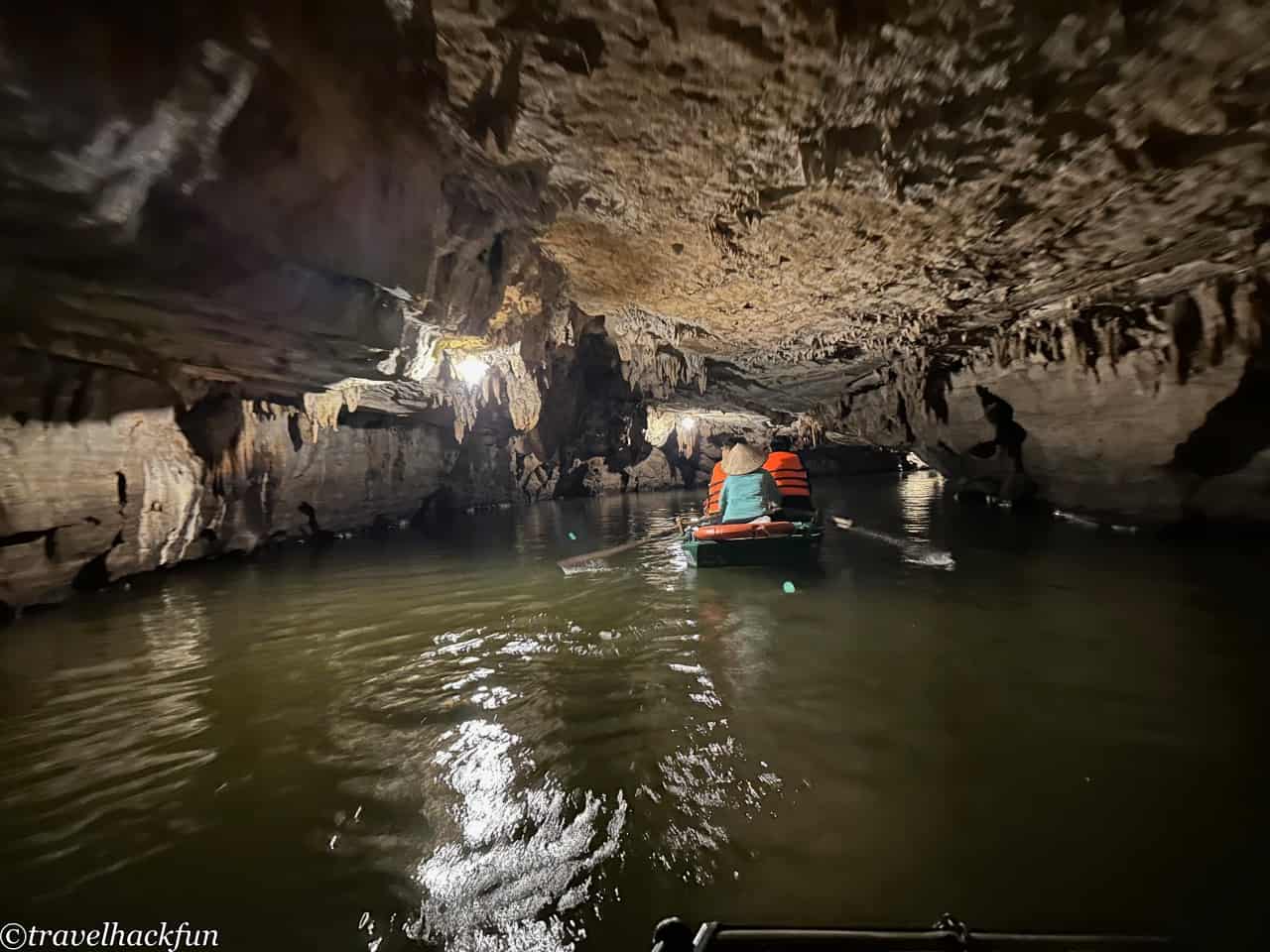 Attractions | Hoa Lu Ancient Capital
Hoa Luu Ancient Capital was the first capital city of Vietnam in ancient times. The independent dynasties of Vietnam started from the Dinh Dynasty in the 10th century and passed through the Pre-Leu, Leu, Tran, Hoa, Post-Leu, Muoi, North and South Dynasties. Hua Luu was the first founding capital of the Dinh Dynasty, which lasted through three dynasties (Dinh, Pre-Li and Li) and five emperors, and was the capital from 968 to 1010, when the capital of the Li Dynasty was moved to Thang Long City. The main attractions are the mausoleums of Emperor Dinh, the founder of the Dinh Dynasty, and Le Daehang, the founder of the former Le Dynasty.
For more information about Hoa Lu Ancient Capital, please see my other post here.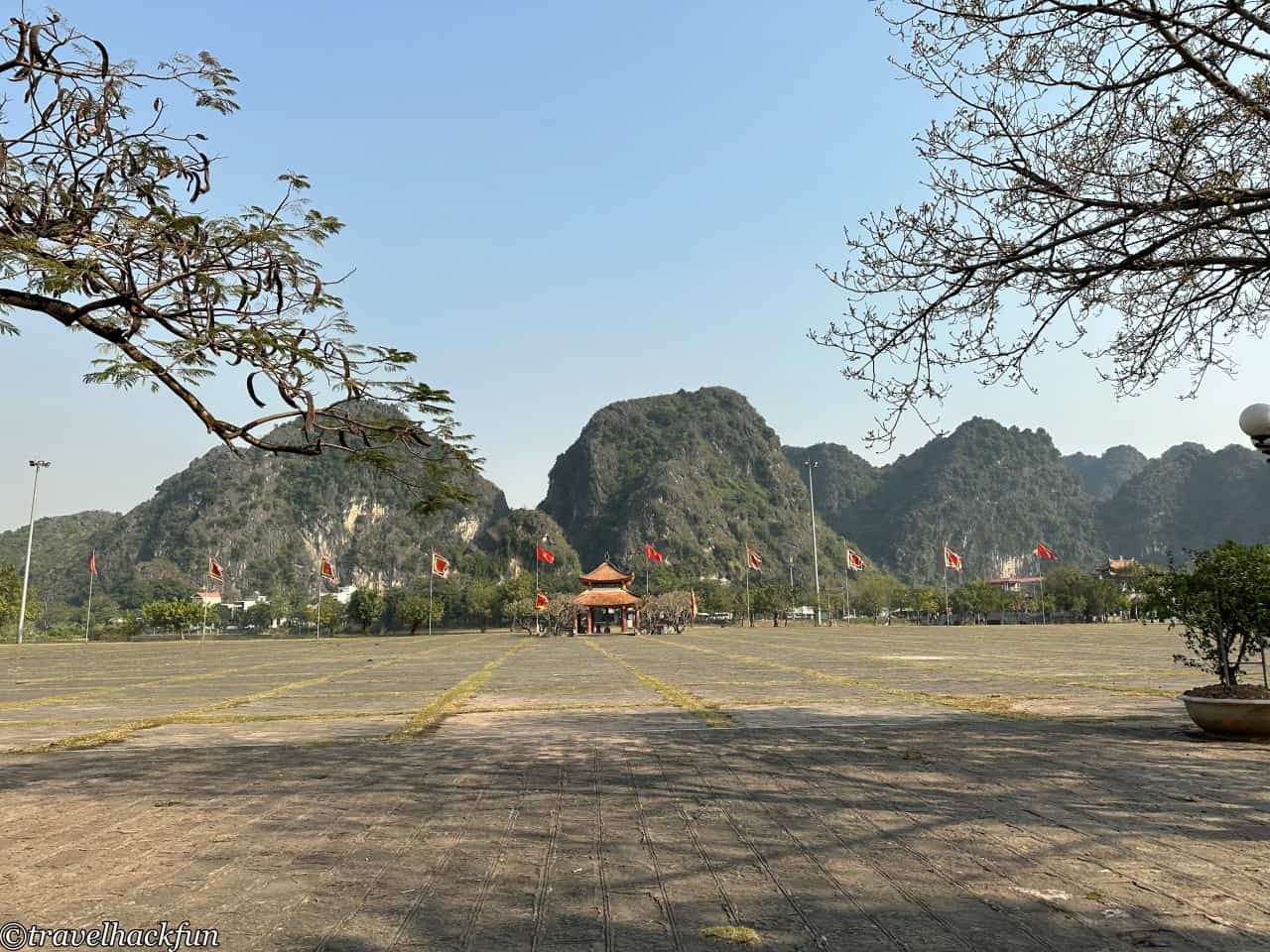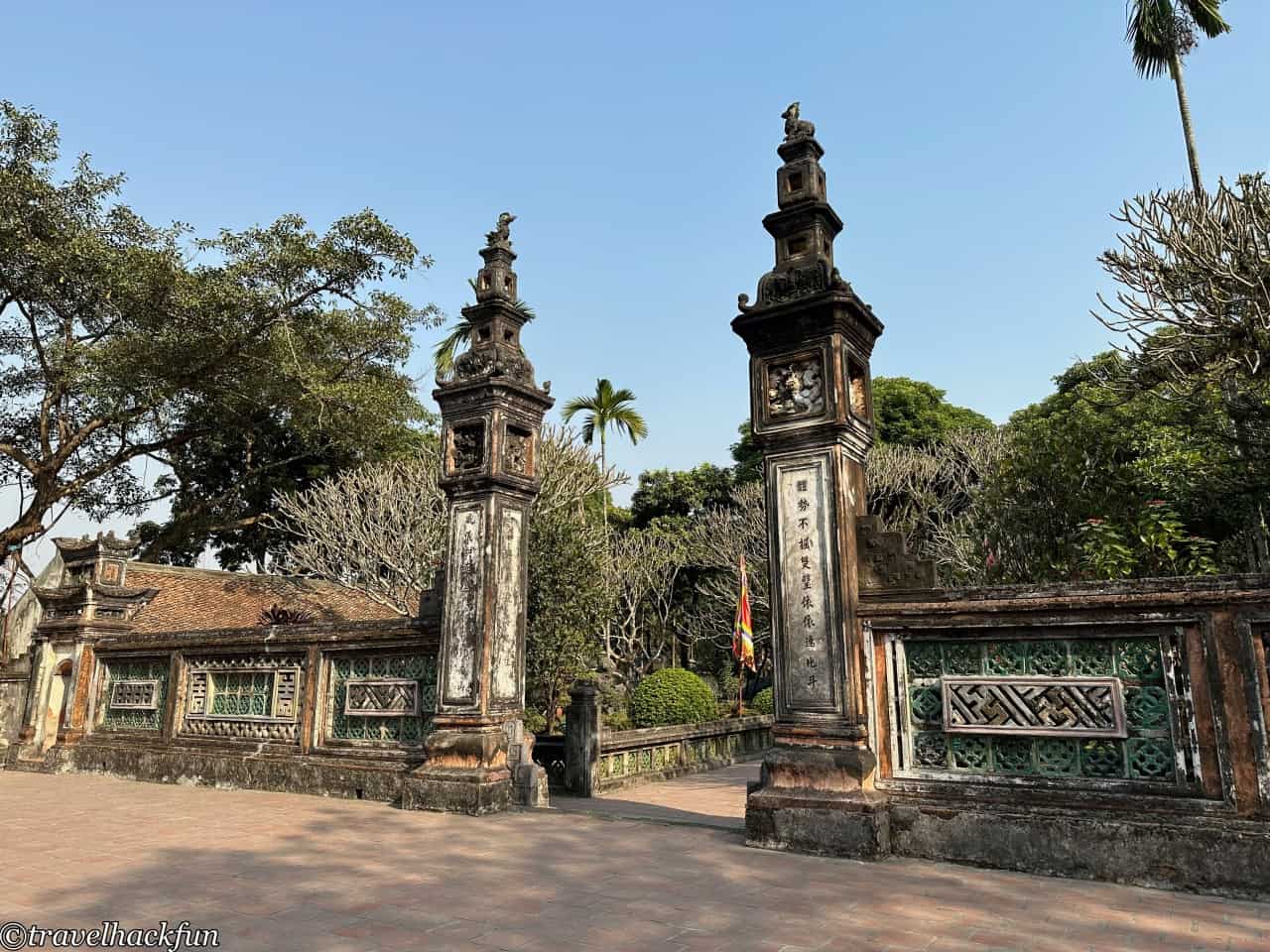 Attractions | Chùa Bái Đính | Bai Dinh Temple
Bui Dinh Temple is the largest Buddhist complex in Southeast Asia, covering 539 hectares on a mountain 30 minutes outside of Ninh Binh. There is no charge to visit the temple complex, but because of the large hinterland, it is necessary to take an electric car up the mountain at a cost of 30K VND each way. To enter the landmark Baiding Temple Pagoda, you need to buy a separate ticket.
I will introduce the Dzongsar Pilgrimage in a separate article later, if you are interested in more details, welcome to follow us atFB,IGReceive notification of updates orSubscribe to our e-newsletterWhoo.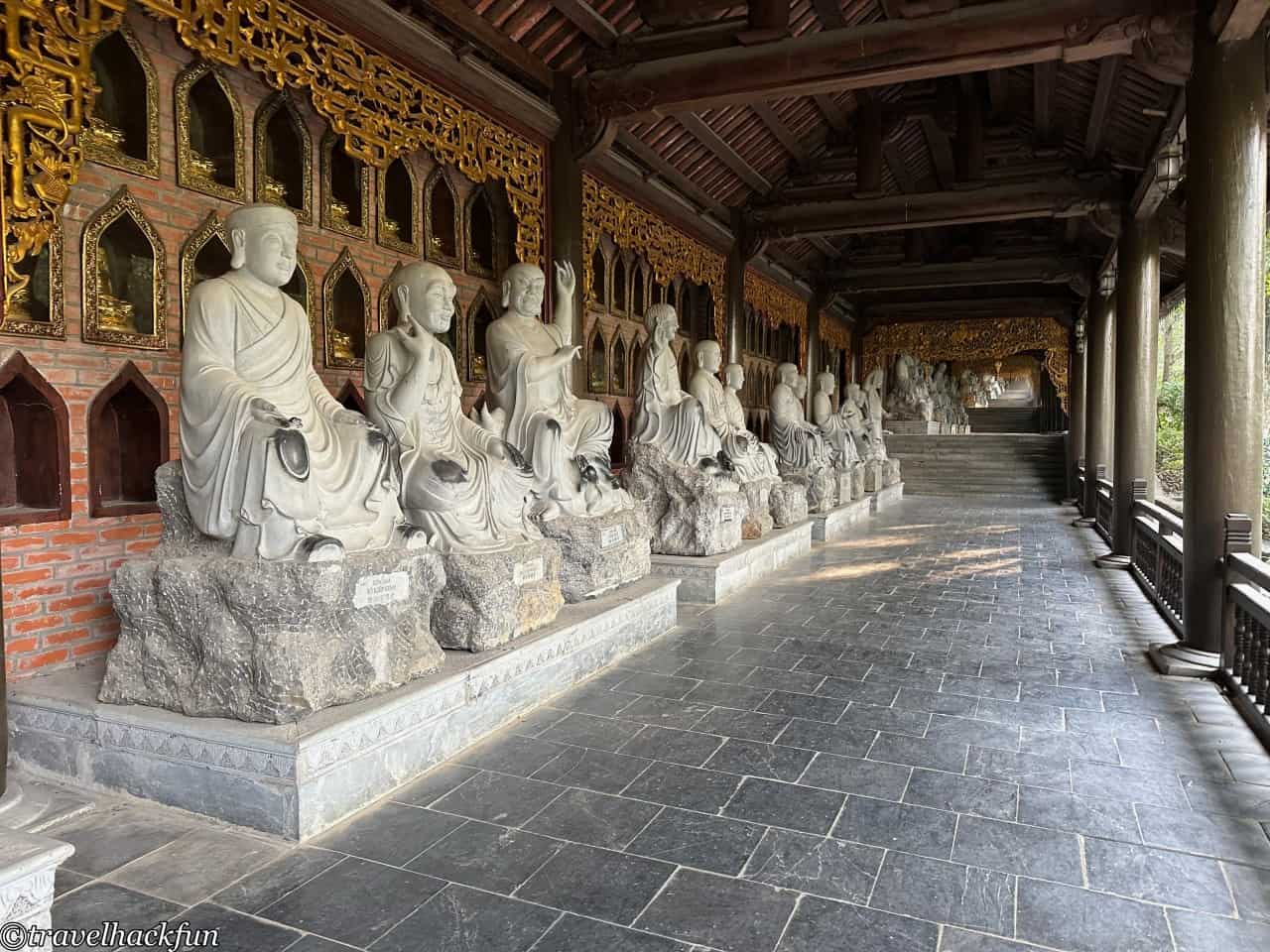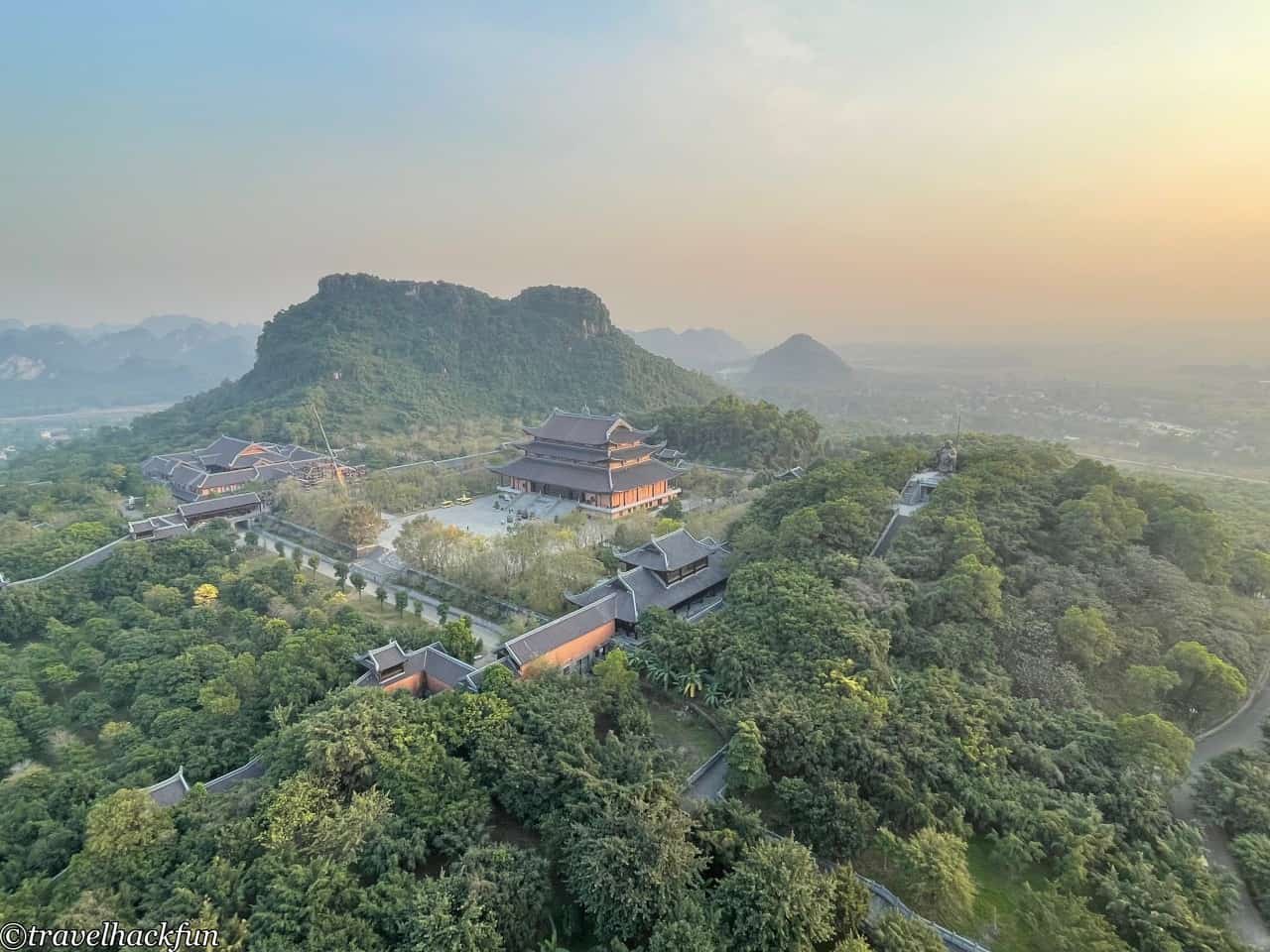 Attractions | Mua Cave | Hang Mua | The Great Wall of Vietnam
Mua Cave, or Hang Mua as some translators call it, is located 5 kilometers away from Ninh Binh City and is the most popular attraction in Tri Valley. If you live in the Three Valleys, this is a great place to come by bicycle; Mua Cave means "Dancing Cave", but don't get me wrong, you don't come here to see the caves, although there is indeed a cave, the real point is to climb up to the top of the mountain where you can enjoy a panoramic view of the entire Three Valleys.
Mua Cave詳細心得與介紹,請見my other post here.
Things to Do | Tam Coc Ricefield Bicycle Tours
Bicycling through the rice fields of the Mitani Valley and enjoying the beautiful rural landscape is an experience that you can't miss when you come to Ninh Binh. If you are staying in the Mitani Valley, you can rent bicycles from hotels or join a half-day bicycle tour in the Mitani Valley. There is no certain route for biking, and it is easy to find paths through the fields in the area of the Three Valleys. We rode from the road near the Bidong Temple to the Bird Garden, and spent about half a day to look around. It was winter when we came here, and there were no more ears of rice, but there were still beautiful mountain views from the fields. In this season, the rice paddies have become water features, and the reflection of the mountains is very beautiful. This bike trip was one of the most impressive experiences I had in Ninh Binh. As with other scenic spots, the earlier you leave the house, the better, as the air quality will deteriorate after 9pm.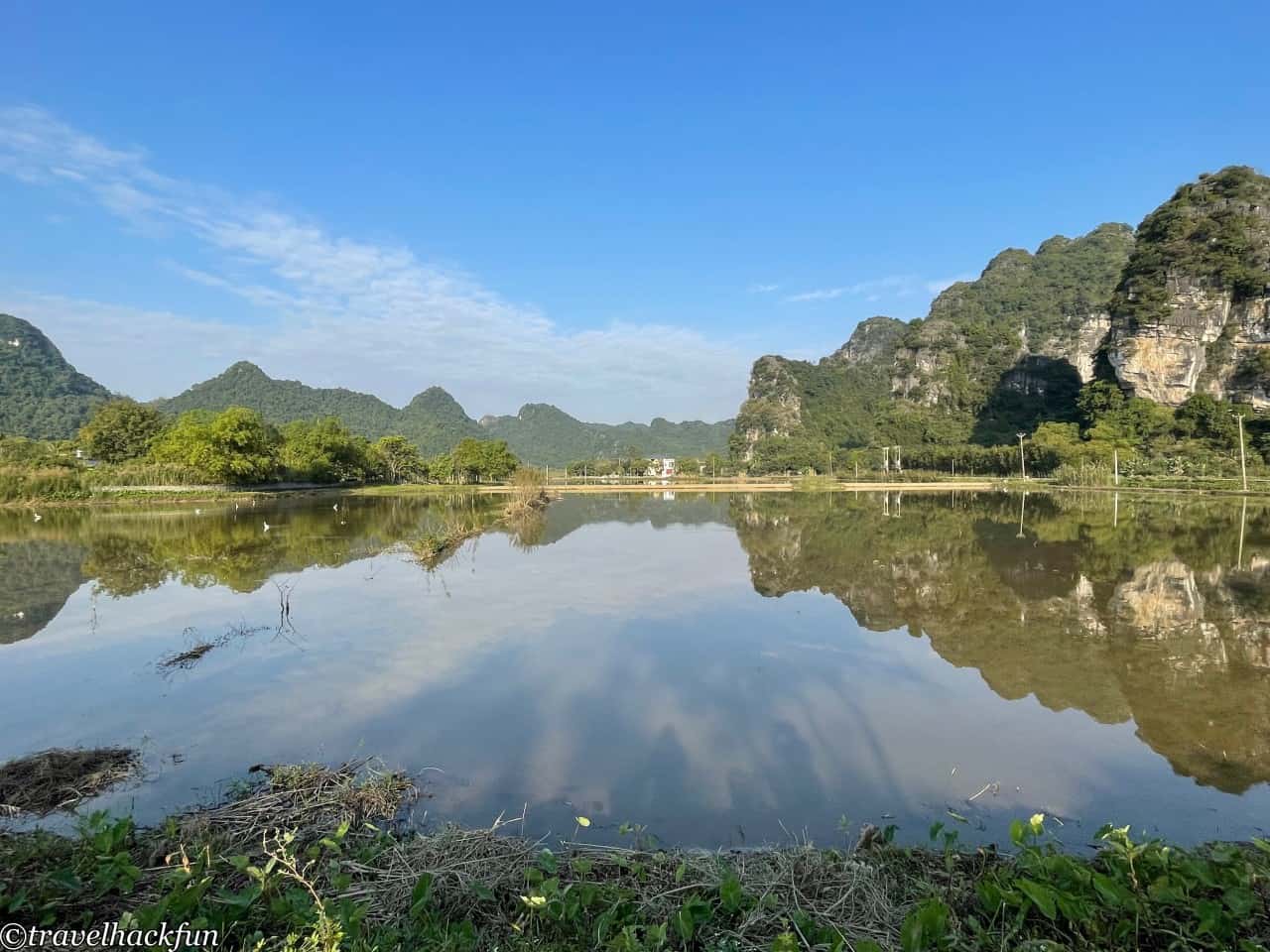 Attractions | Bidong Ancient Temple
Bich Dong Temple is located in the Tri Valley area, west of Ninh Binh city, and was built in the 10th century A.D. There are three floors, the upper, middle, and lower floors, which are collectively known as Bich Dong Temple, and all are characterized by being built on the side of a cave. There is no admission fee to visit Bich Dong Temple, but if you come by bicycle, the shopkeeper at the entrance will force you to stop and charge you 20K, which is more expensive than parking a motorcycle. Although you don't have to pay for it, it's very annoying to get entangled with the hawker, so it's easier to walk here.
The view from the entrance of the temple is stunning. After passing through the lotus pond and entering the main gate, you can see the lower temple after a short walk. The temples here are all made of wood, and no nails are used at all.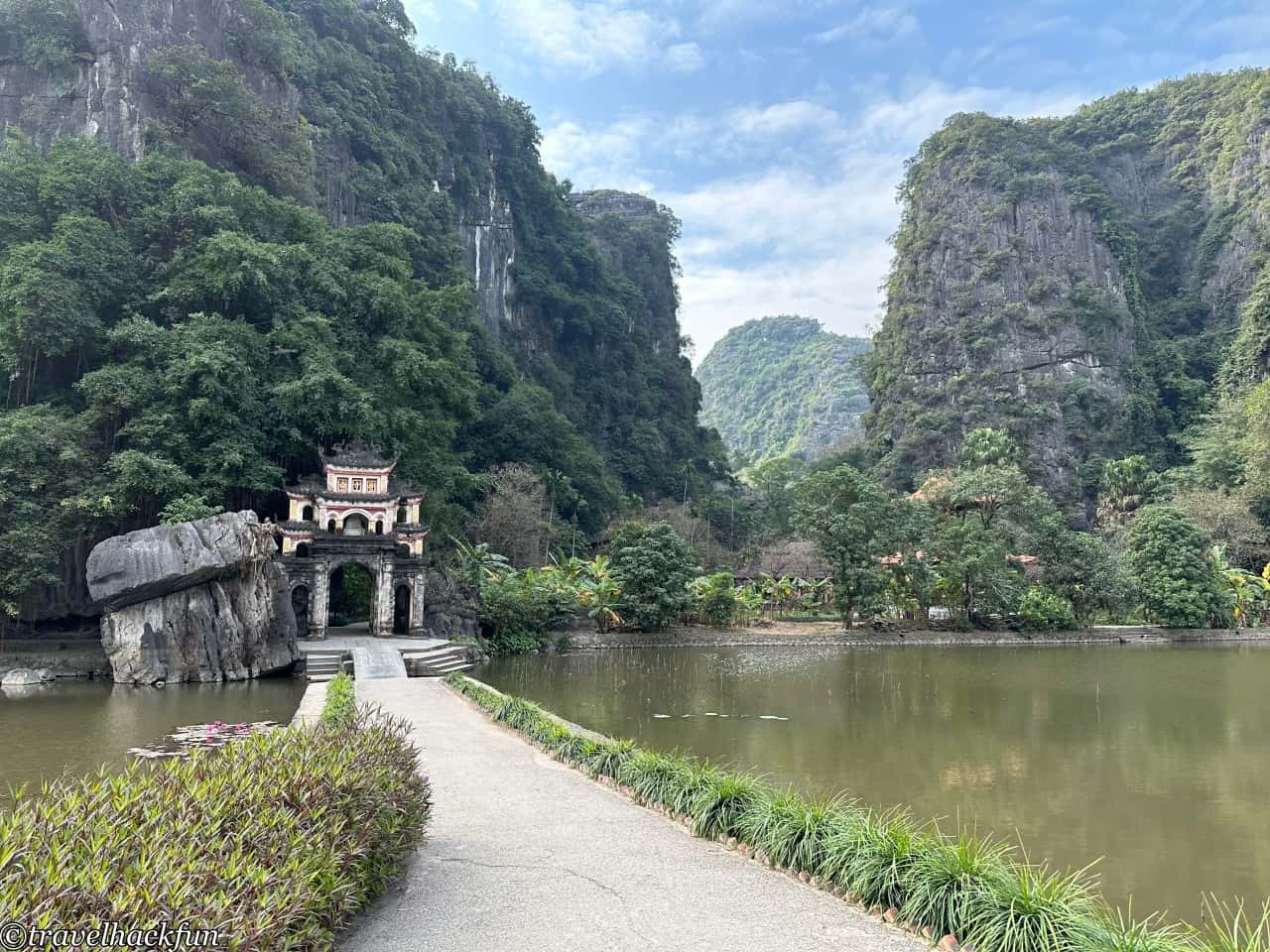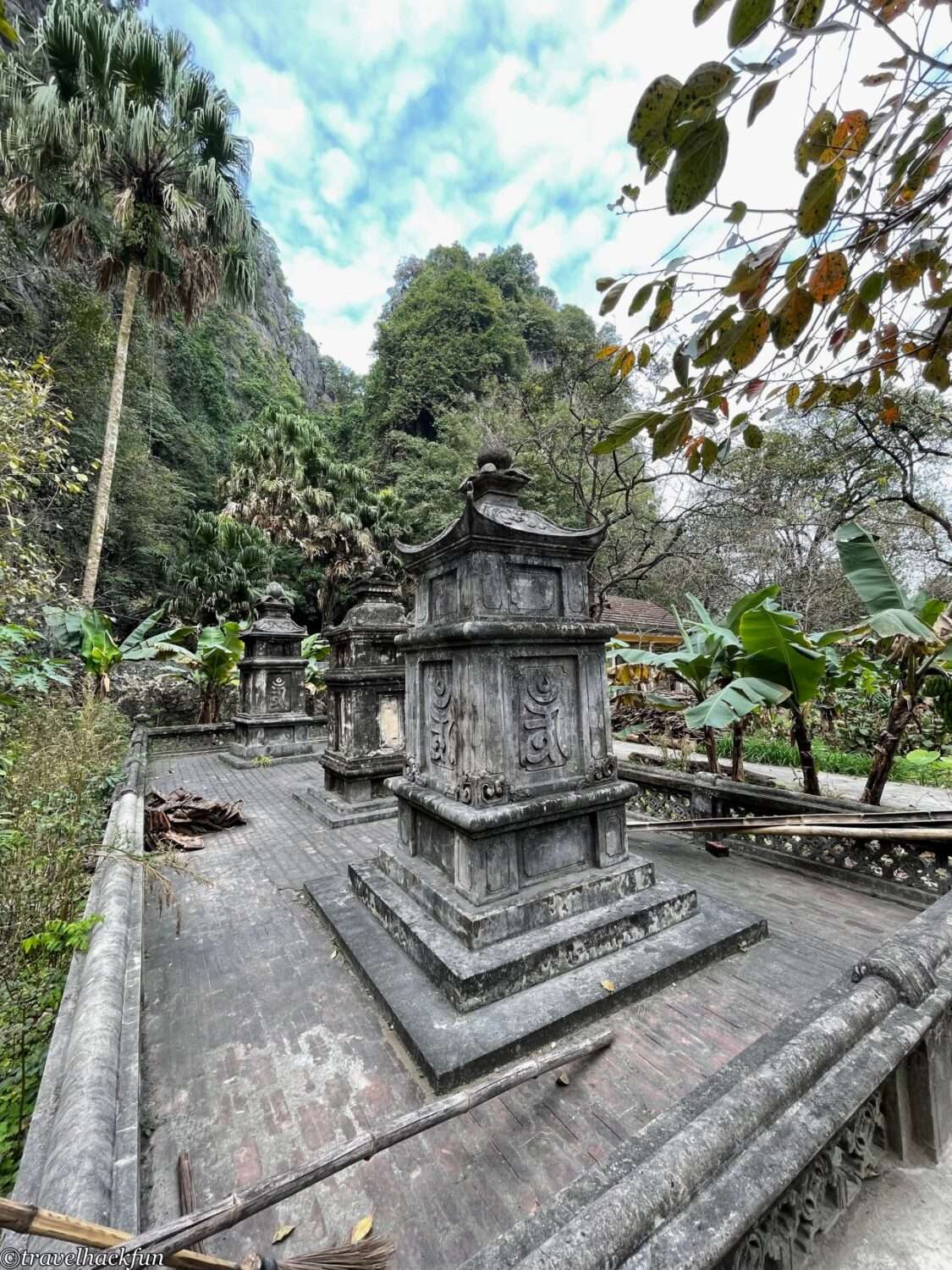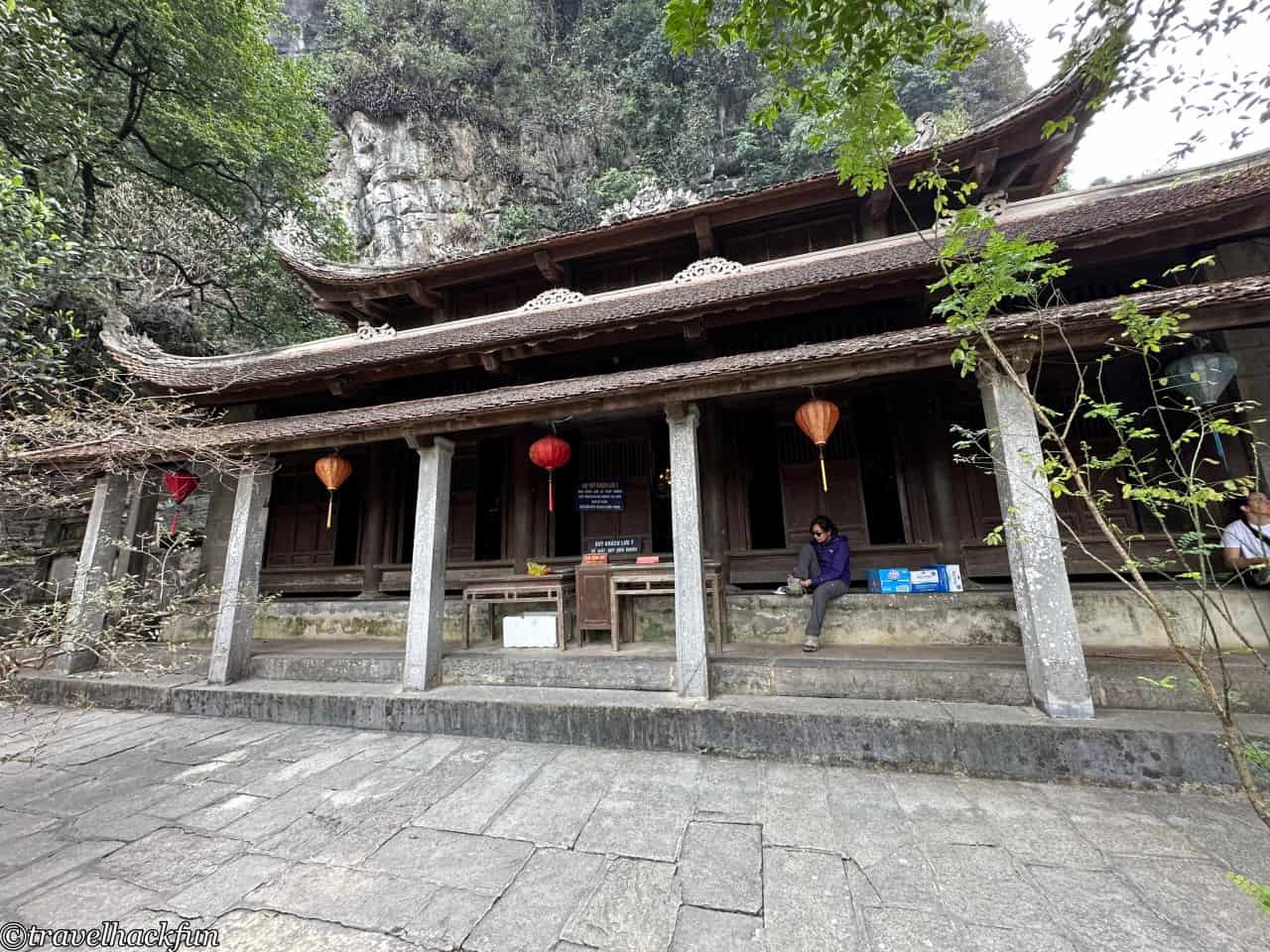 From the lower temple, you can climb up some steps to see the middle temple. The Middle Temple is the most important ancient temple building, which looks like a temple stuffed in a cave. From the left side of the temple, you can go around the narrow passage to the back of the temple, where you can carefully observe the old eaves and see how old they are, and then climb up the stairs from the back of the temple to the Upper Temple. When you come out from the cave, you will have the feeling that there is another village at the end of the tunnel, and you can see the surrounding mountains from a high altitude.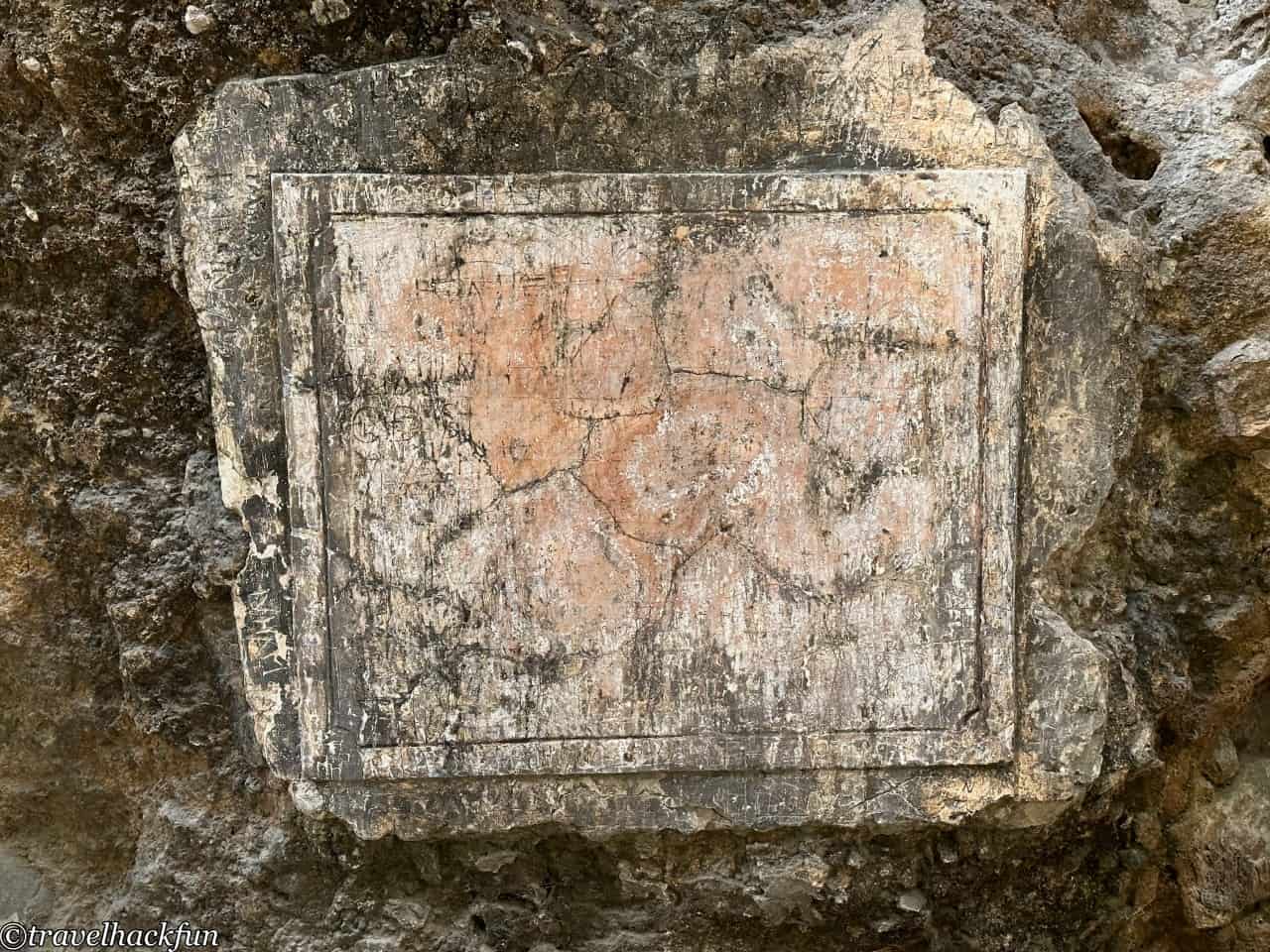 Nearby Attractions | Cuc Phoung Național Park
Cuc Phoung Național Park, Vietnam's first national park, was established in 1962 and is one of the most important protected areas in Vietnam with 336 species of birds, 135 species of mammals, 122 species of reptiles, and more than 2,000 species of plants across two limestone mountain ranges and three provinces. The landscape includes tropical rainforests, cavern ruins, and ancient trees.Cuc Phoung Național Park is 45 kilometers away from Ninh Binh city and can be reached by chartered buses or bicycles.
I will introduce the Cuc Phoung National Park itinerary in a separate article later, if you are interested in more details, welcome to pay attention to ourFB,IGReceive notification of updates orSubscribe to our e-newsletterWhoo.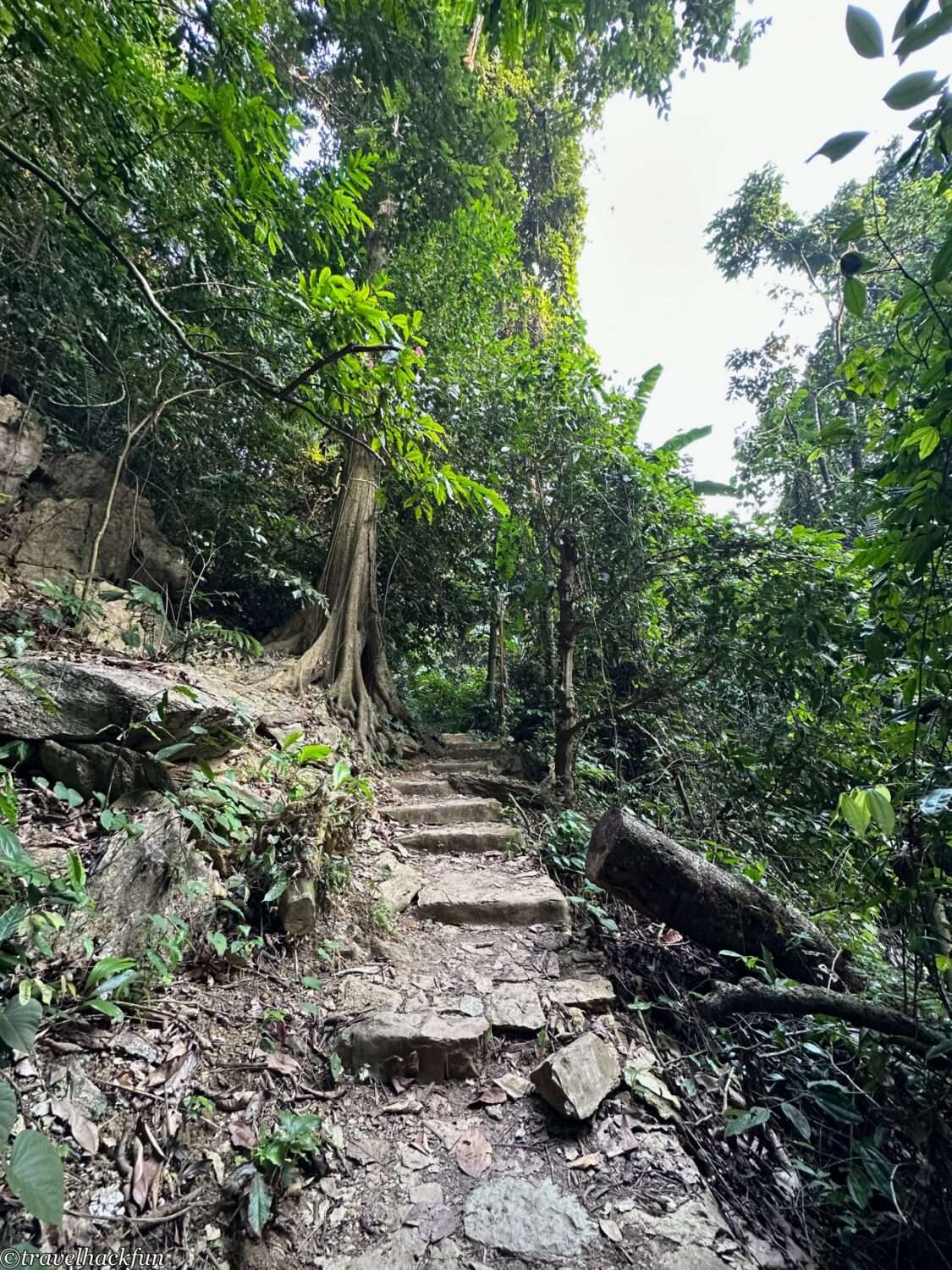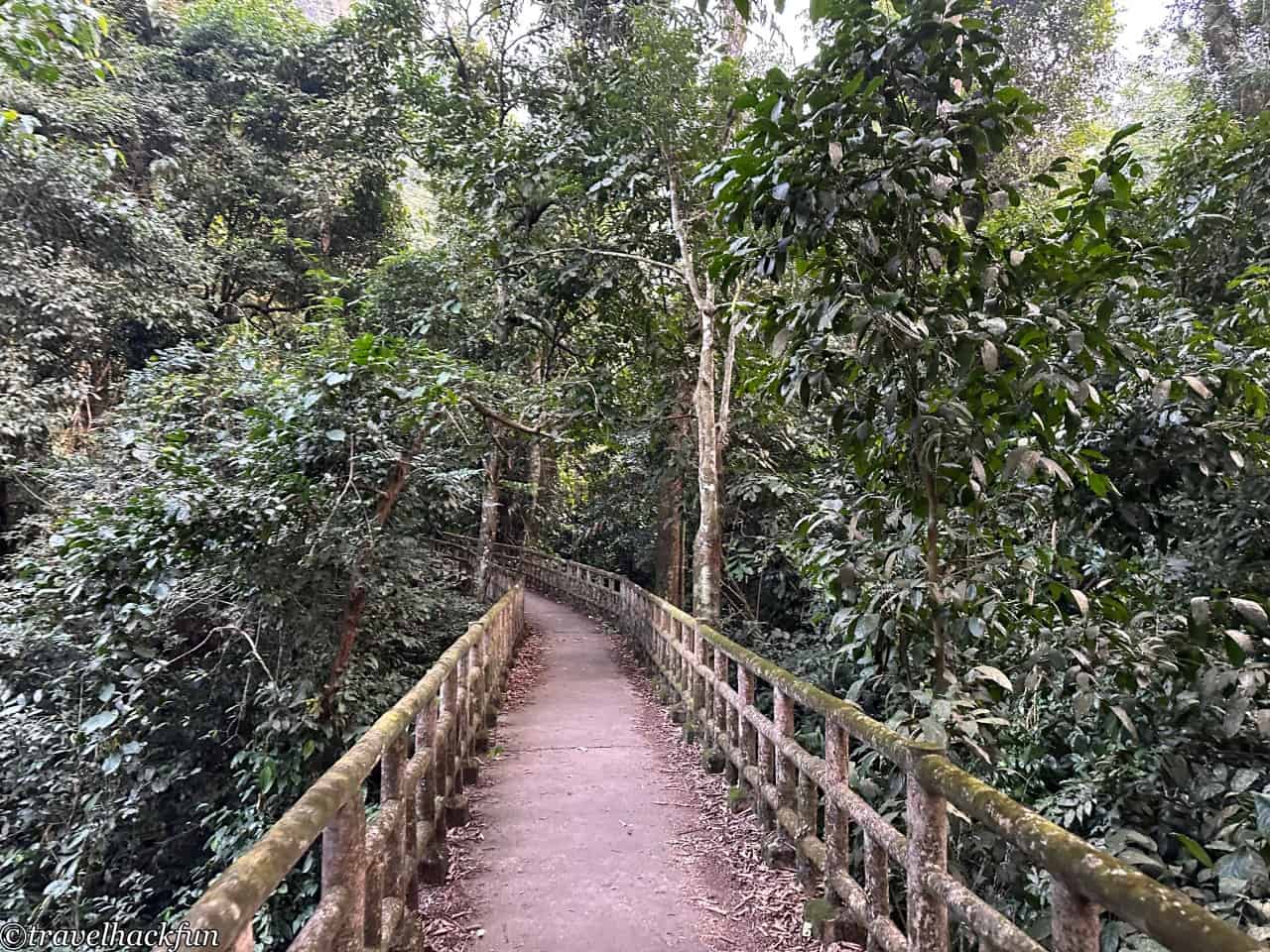 Ningping | Cuisine
Restaurant | Tam Gia Trang
Rating: ⭐️⭐️⭐️⭐️
Price: $$
Located near the Truong Anh Resort District, this restaurant has an atmosphere similar to that of a Taiwanese seafood stir-fry restaurant and is a very authentic Vietnamese stir-fry restaurant. Business was booming, but there were no English speaking staff and no other foreign tourists in sight, making me wonder if the staff let us in because we were riding bikes and wearing helmets, thinking we were locals. Luckily, the menu was still in English, so I ordered according to the map.
Because we didn't know the quantity, we didn't dare to order too much, so we ended up ordering a lamb soup with salt-crusted crabs and a side of green vegetables. Mutton is a specialty of Ningping, and this mutton soup is actually a mutton soup with radish and other sweet flavors like a light corn soup, served with rice crackers on the side, which tasted great.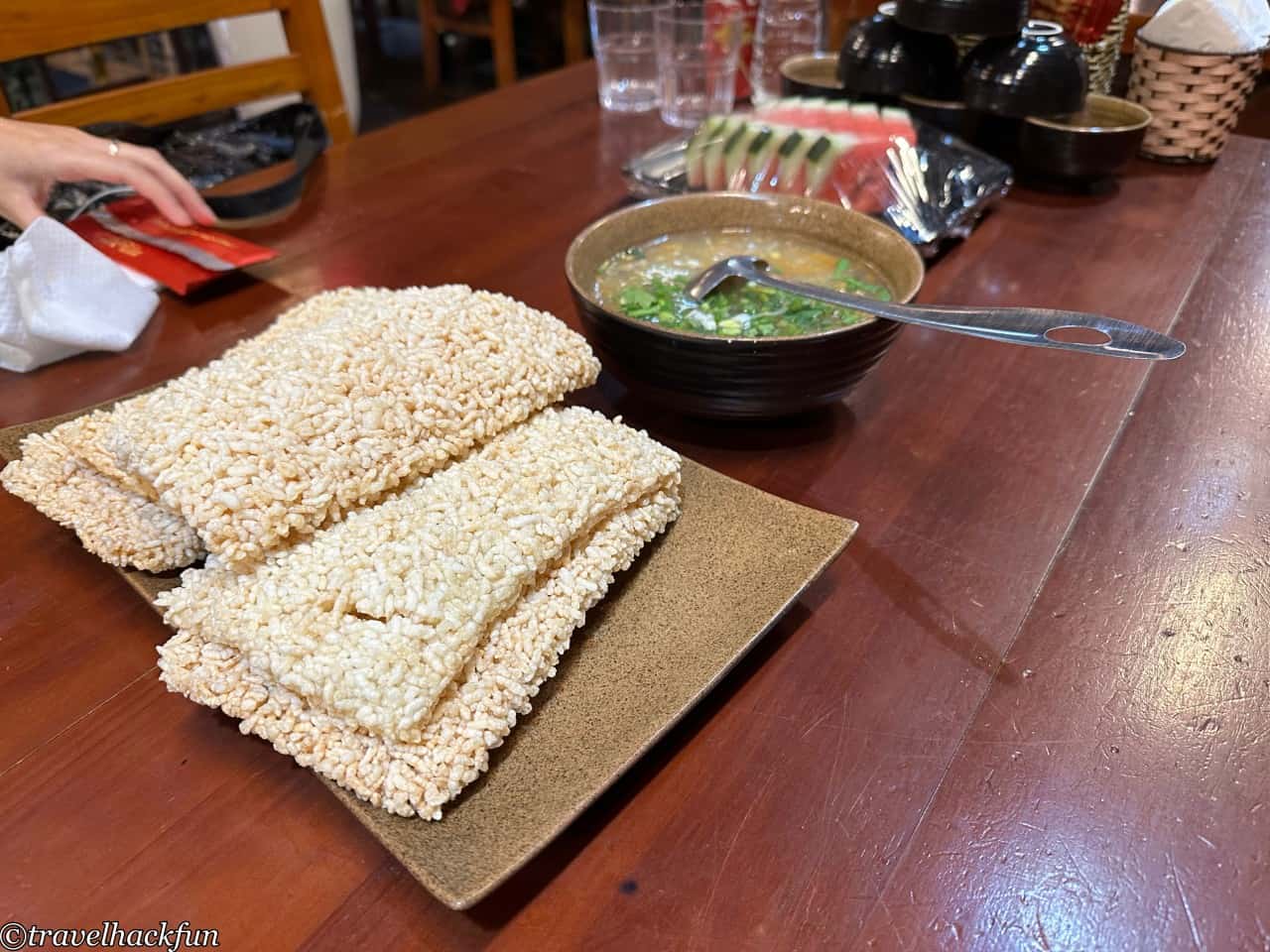 Restaurants | Family Restaurant
Recommendation: ⭐️⭐️⭐️⭐️⭐️
Price: $$
This restaurant is in the downtown area of the Tri-Valley and is probably the best restaurant in the entire Tri-Valley with a lot of customers. We came here during the Christmas holiday and it was very busy. The most famous dish is the roast duck, but there are many other dishes to choose from, including lamb dishes. We ended up ordering roast duck, lamb and green vegetables. The roast duck was really delicious and I highly recommend it. The rice and fruits came with the meal.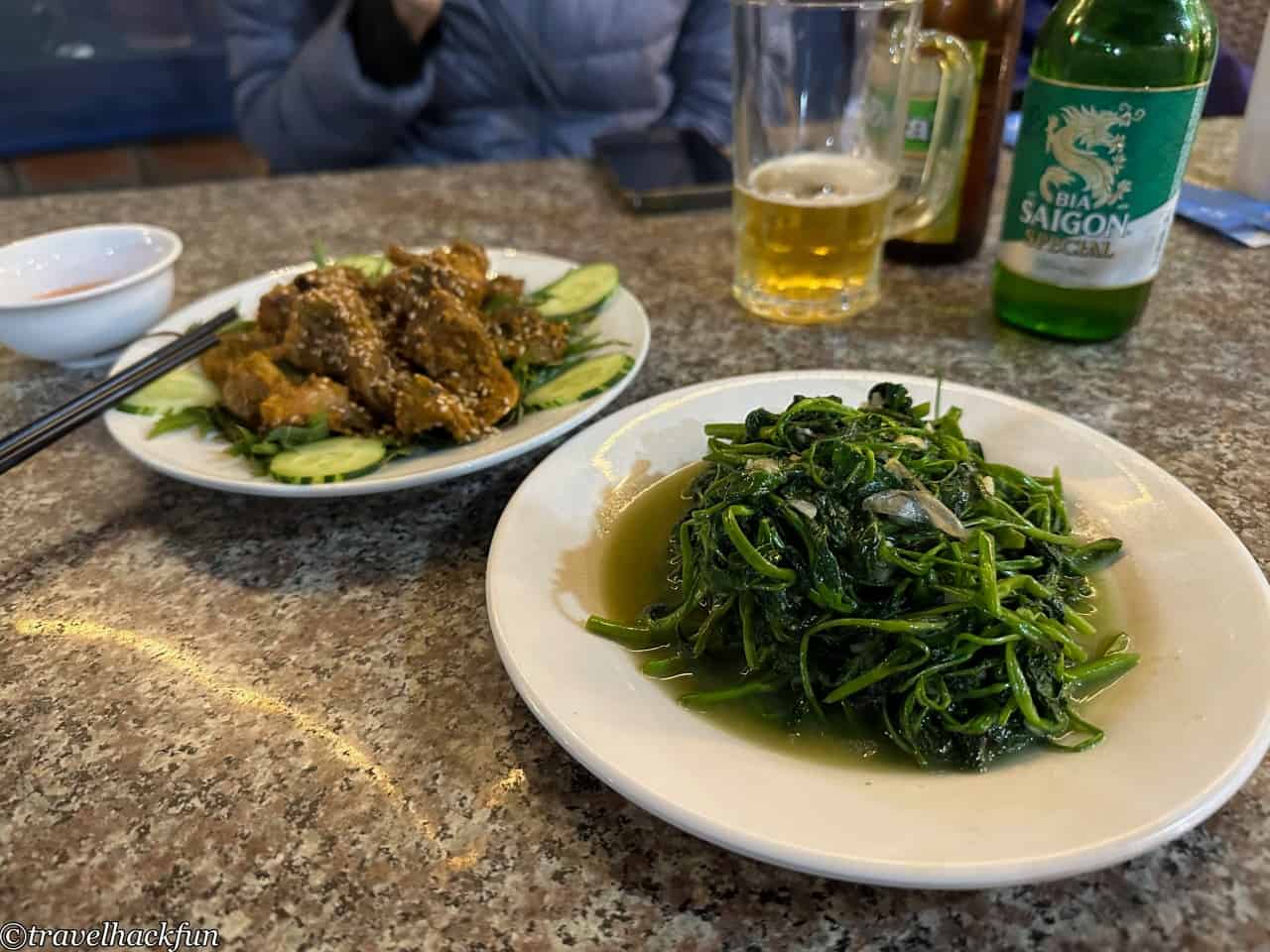 Accommodation | Tam Coc La Montagne Resort and Spa
Room Rating: ⭐️⭐️⭐️⭐️
Facility Rating: ⭐️⭐️⭐️⭐️
Location Convenience: ⭐️⭐️⭐️⭐️⭐️
Price: $$$
Overall Rating: ⭐️⭐️⭐️⭐️
We stayed at Tam Coc La Montagne Resort and Spa, located just a five-minute walk from Bich Dong Temple, with free bicycles to borrow and rice paddies at the back, making it ideal for travelers who want to enjoy a relaxing, idyllic vacation.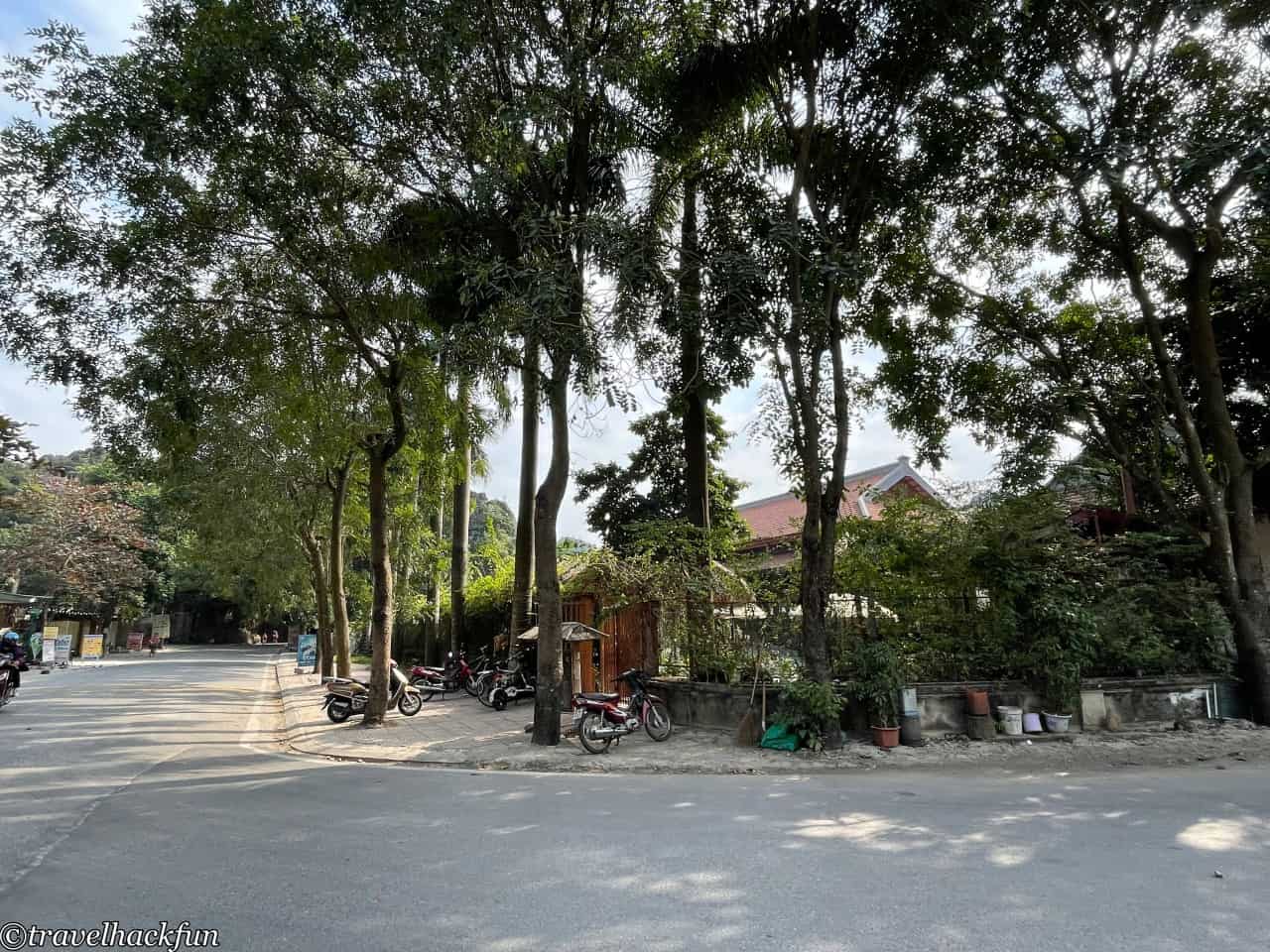 My favorite part of the ryokan is the Lotus Pond Water Trail, which has a great atmosphere. Most of the rooms are facing the lotus pond, so you can enjoy it from your room. The comfort level of the rooms is medium, not too luxurious, but not too bad either.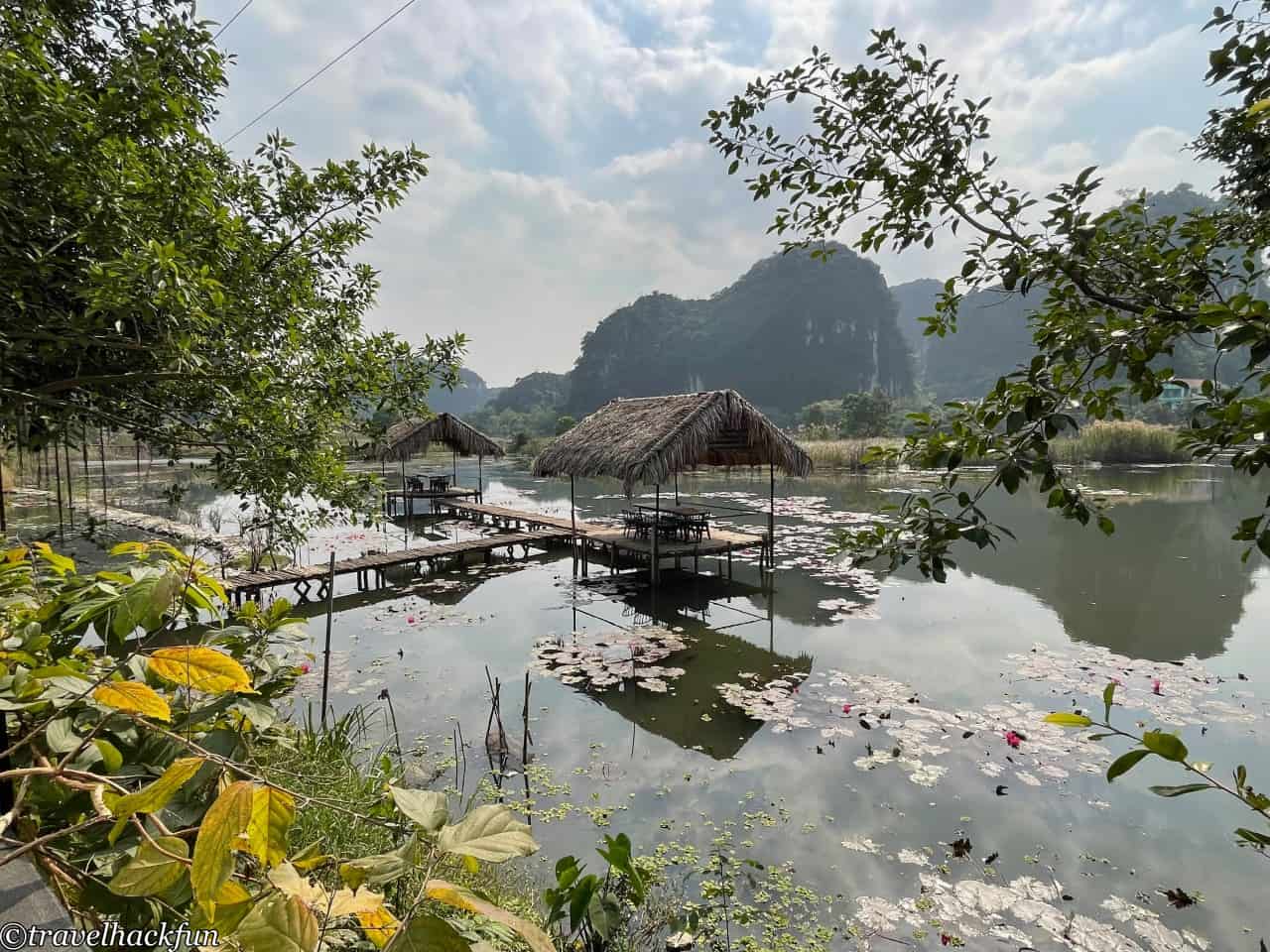 The accommodation includes free breakfast, both Vietnamese and Western style. On our first day, there were not many guests, so the breakfast was a la carte. On the second day, when we were on vacation, there were a lot of tourists, so the breakfast became a buffet style, and the taste was not bad at all.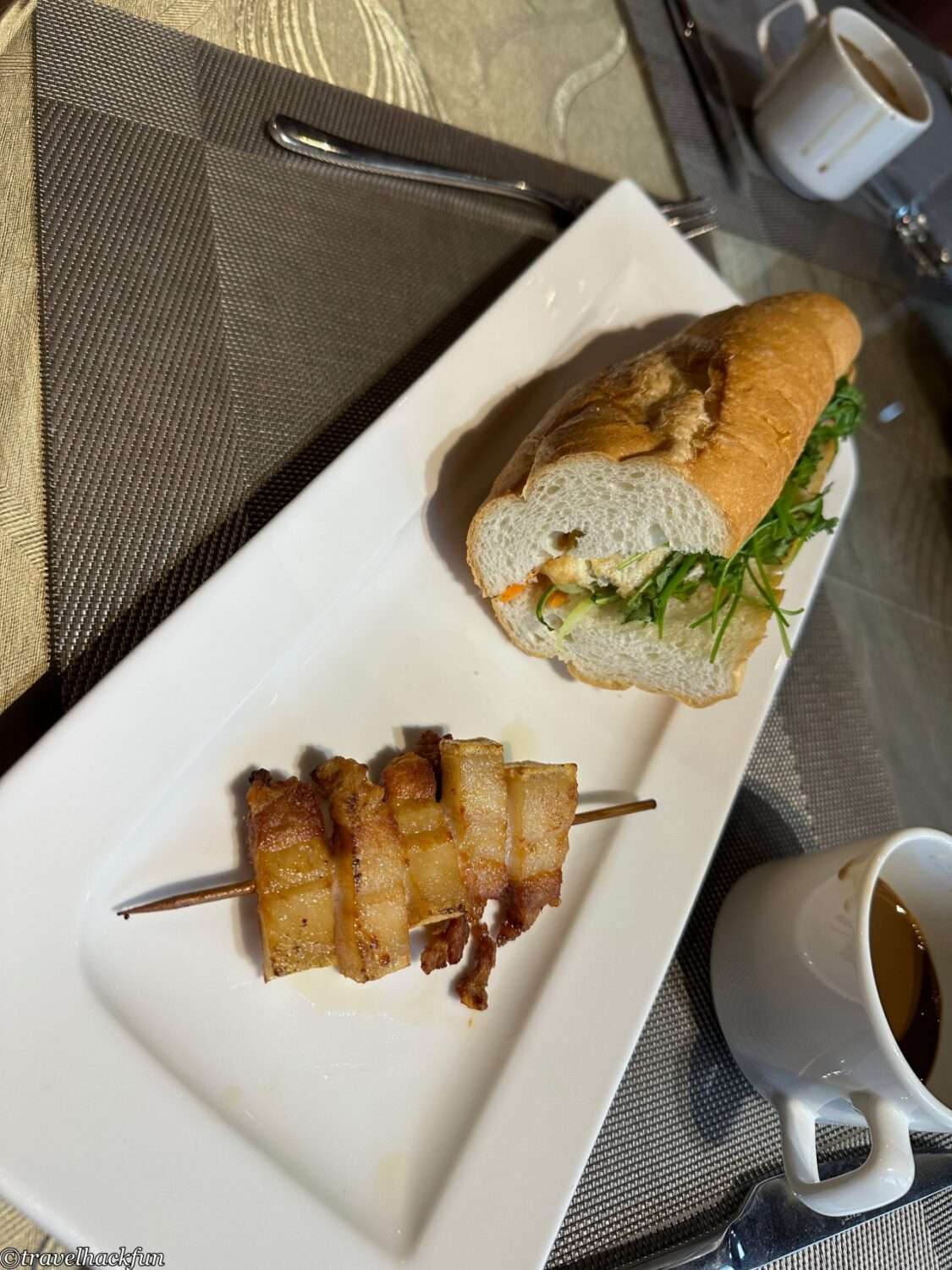 Tam Coc La Montagne Resort and Spa Booking Comparison
Further reading
Thank you for visiting our website.

All the content on this site is original and shared with the purpose of providing valuable information. We sustain the operation of this site through a small amount of advertising and sponsored links. If you click on links to third-party merchants on our site and make purchases, we may receive a portion of the sales as a commission. If you click on links to third-party merchants on our site and make purchases, we may receive a portion of the sales as a commission.

Find more posts on a map Here.

My recommended resources for hotel bookings.

My recommended resources for activity bookings.
Buy me a coffee and support my contents!
If you are interested in quoting this article or using any part of its content and images on your website or publication, please contact us via email to request permission.