Cuc Phoung Național Park | Intro
Cuc Phoung Național Park is Vietnam's first national park, established in 1962. It spans two limestone mountain ranges and three provinces, and it is home to 336 bird species, 135 mammal species, 122 reptile species, and over 2,000 plant species, making it one of Vietnam's most important conservation areas. The park's landscapes include tropical rainforests, cave relics, and ancient trees.
Cuc Phoung Național Park | Where is it?
Cuc Phoung National Park is located 45 kilometers away from the city center of Ninh Binh. You can either hire a car or ride a motorbike to get there. The journey from Ninh Binh offers beautiful scenery, and after passing by Bai Dinh Pagoda, you'll need to ride another 15 kilometers to the west. This part of the road mostly consists of rural pathways, with very few tourists, providing a temporary escape from the bustling commercial areas of Ninh Binh, making it a delightful experience.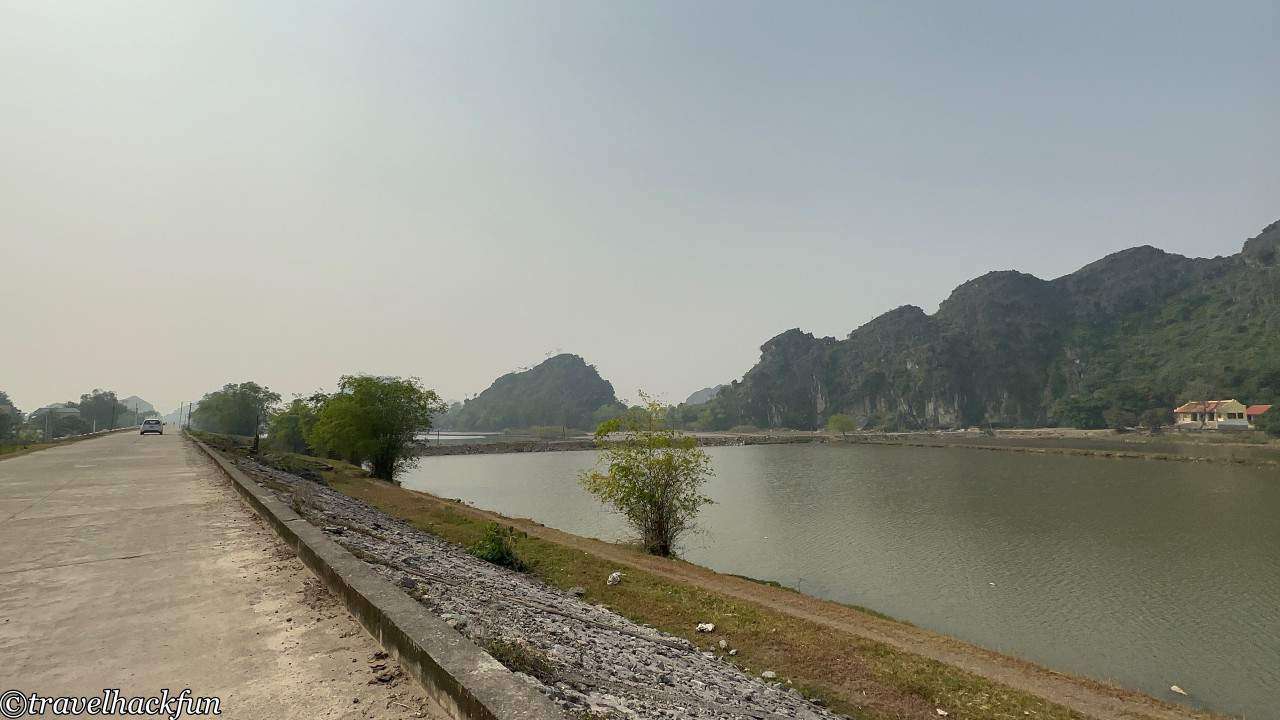 Cuc Phoung National Park | Attractions
The entrance ticket to the national park is 160,000 Vietnamese Dong. Information within Vietnamese national parks is usually limited, with only a basic map at the entrance and some advice from the ticketing staff. Fortunately, the routes within Cuc Phoung National Park are quite straightforward – you'll follow a single road into the park. The lady at the ticket counter suggested that we start by visiting the rehabilitation center and then proceed to explore the Thousand Year Tree Trail before returning.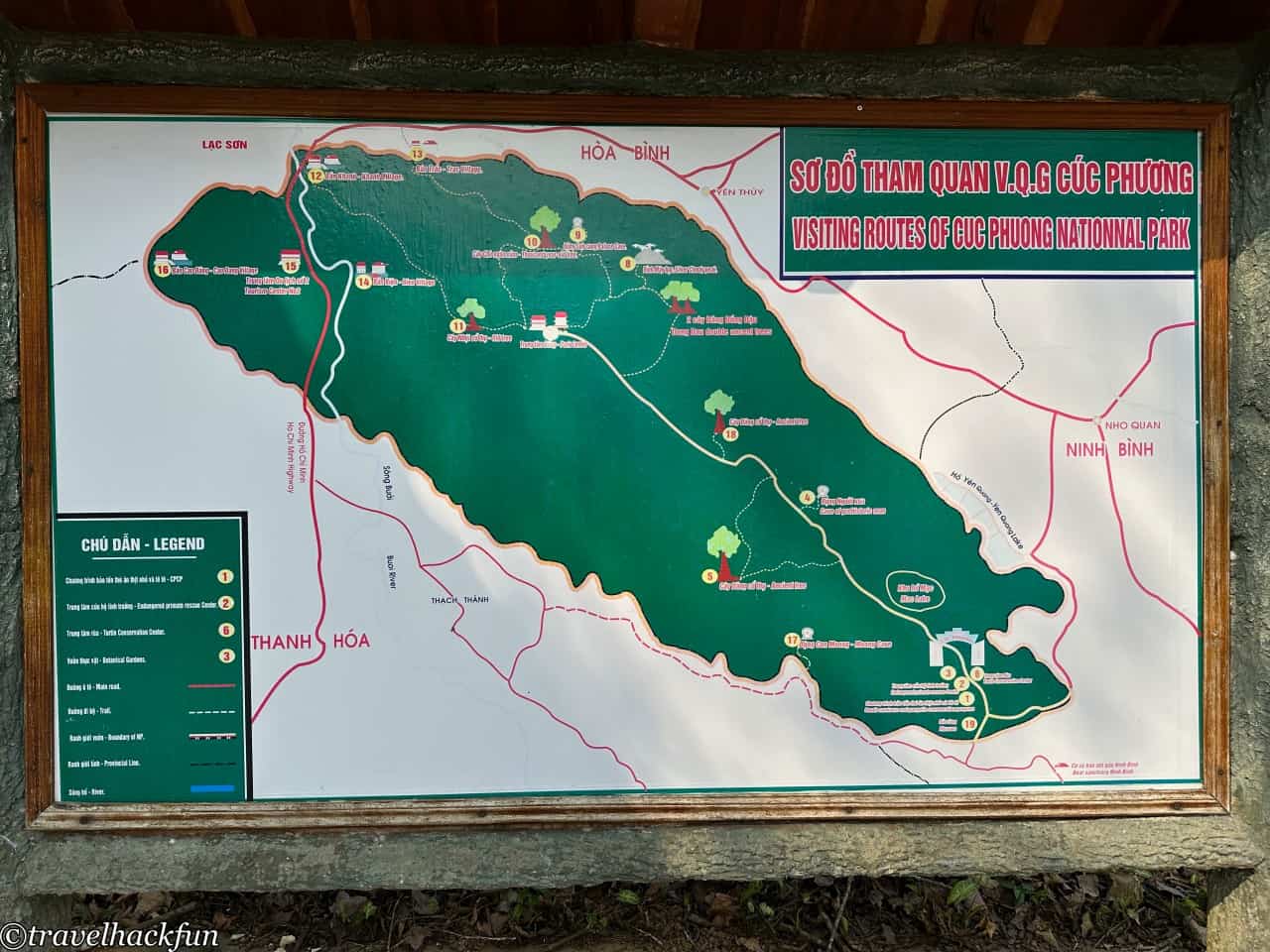 Endangered Primate Rescue Center
We first visited the Endangered Primate Rescue Center, a place dedicated to safeguarding critically endangered primate species. In Vietnam, the natural environment is under threat from poaching and illegal logging, which has led to the extinction of many native species like the Asian black bear, Siamese crocodile, and tigers from the region. Traditional Vietnamese beliefs often involve the use of monkeys for medicinal purposes, which has led to an unfortunate demand for poaching. Currently, the center is home to over 180 primate species, all of which have been either bred here or rescued from illegal trade. Visiting the center is free, but to ensure minimal disturbance to the animals, it's necessary to be accompanied by a volunteer guide.
The center is divided into several areas, with the most accessible ones for observing the monkeys being the enclosures where they reside. Once the rehabilitated individuals grow older, they are gradually moved to open areas, preparing them for eventual release into the wild.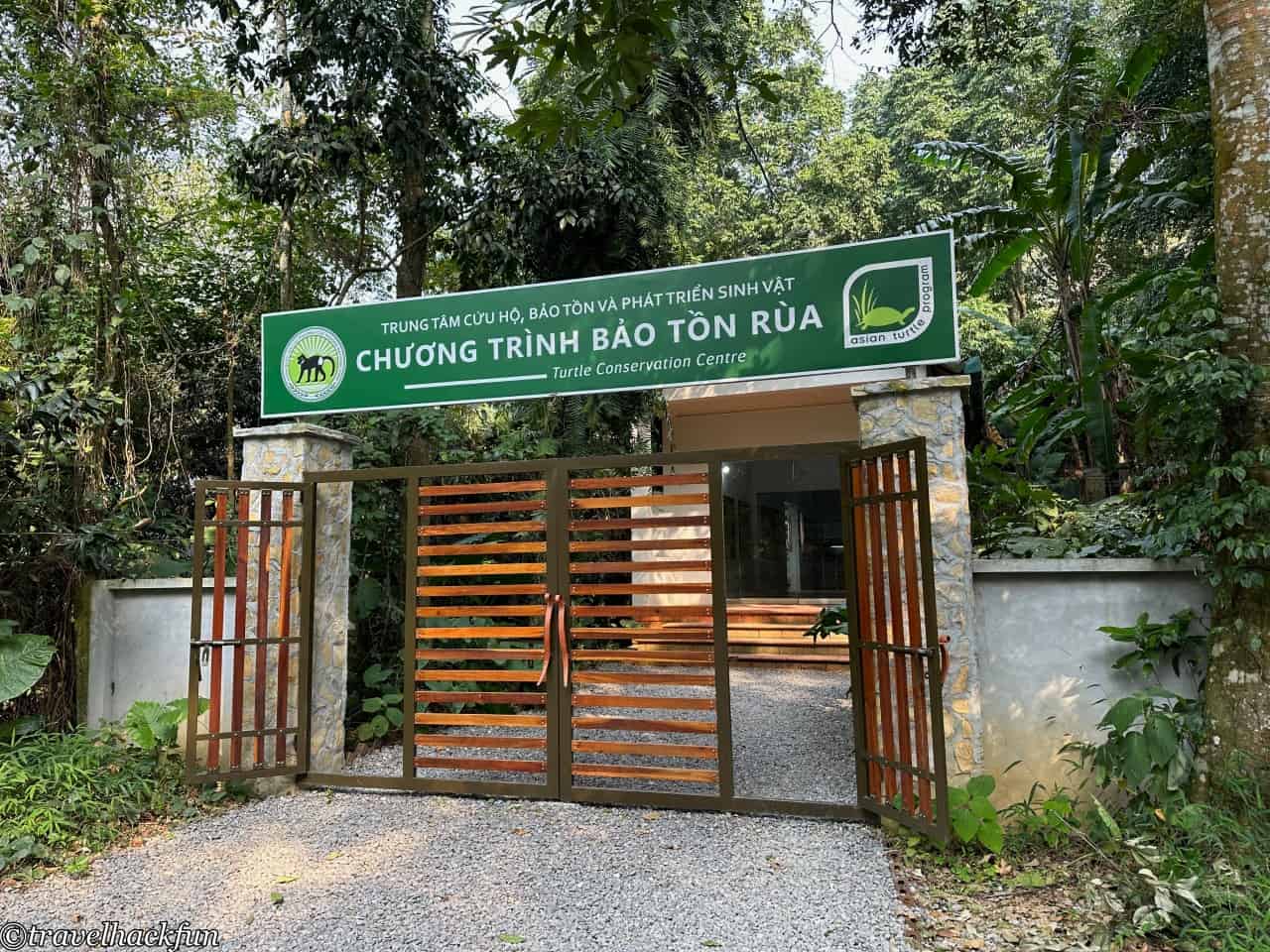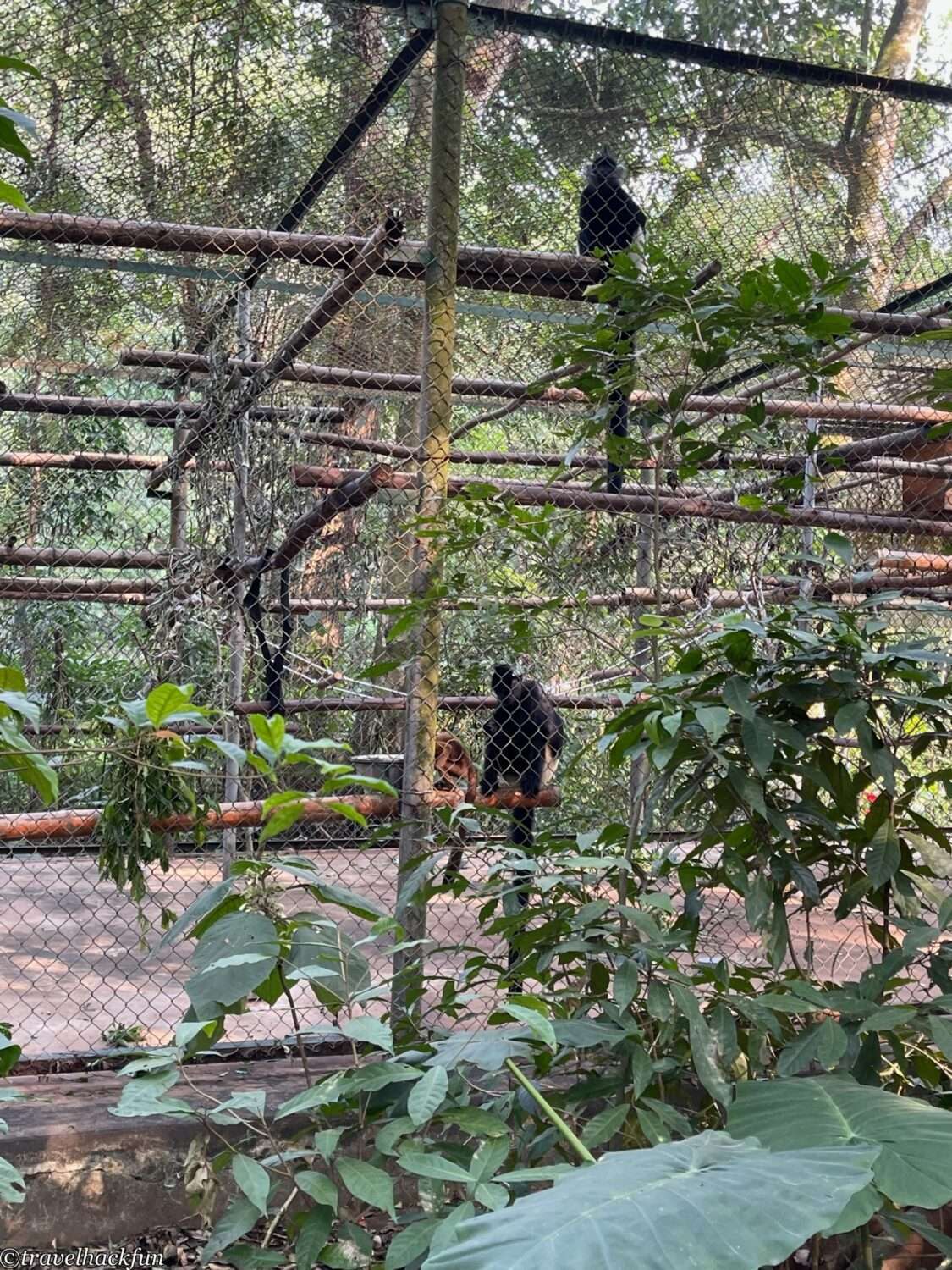 Turtle Conservation Center
Our volunteer guide then led us to the Turtle Conservation Center. This center houses over 600 land, semi-aquatic, and aquatic turtles, including 19 out of 25 local turtle species found in Vietnam. Many of these turtles were confiscated from wildlife traffickers. There is a significant demand for turtles in both the domestic Vietnamese and Chinese markets, where they are believed to have longevity-enhancing properties. During our visit, we encountered a type of softshell turtle that is already extinct, with only three known individuals left in the world.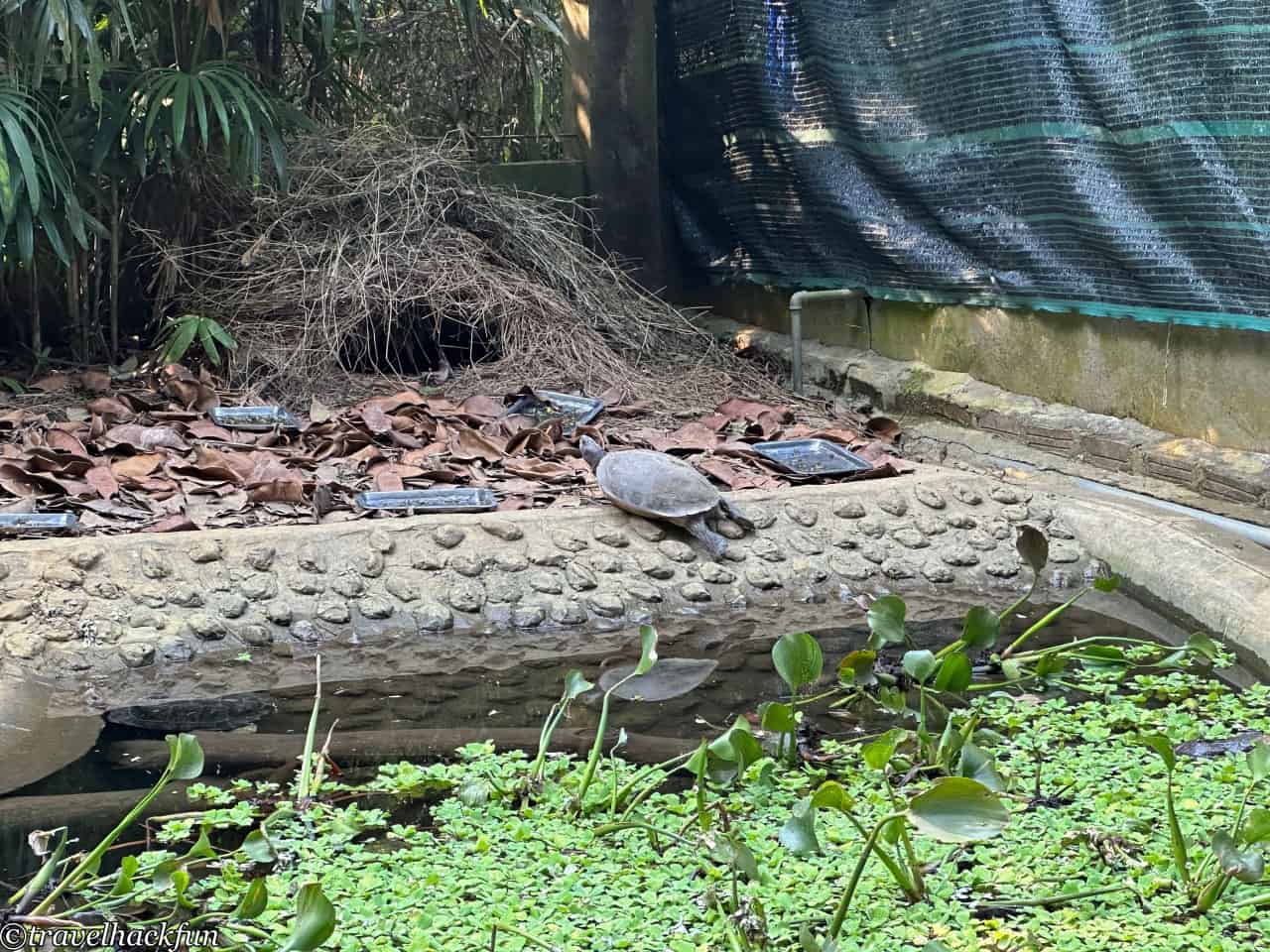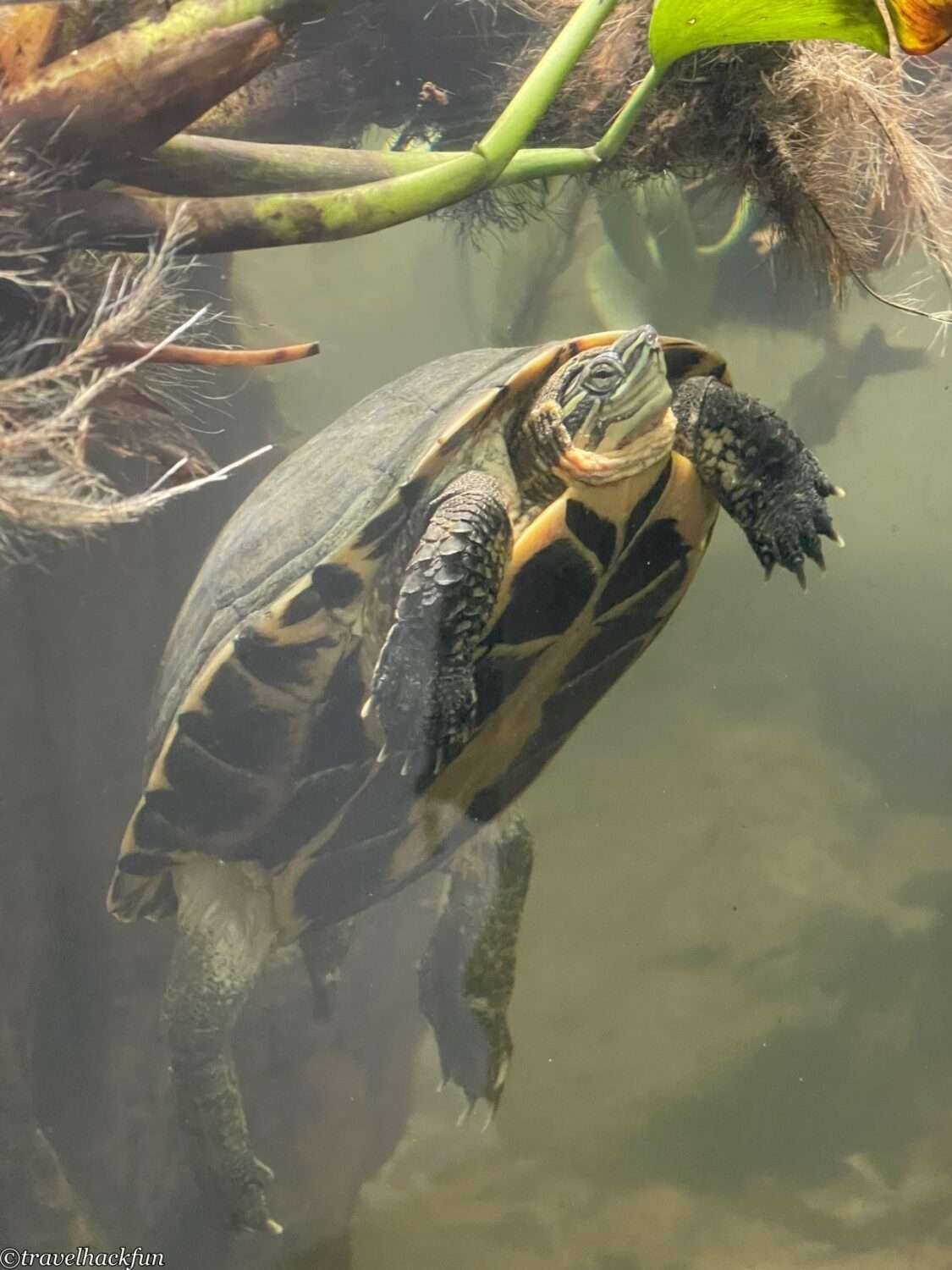 Yen Quang Lake
We then drove towards the Thousand Year Tree Trail, passing by the picturesque Yen Quang Lake on the way. The lake's tranquil shores were devoid of many visitors, with only birds gathering on its calm surface. The lake is surrounded by vast forests and mountains, creating a serene and beautiful landscape.
Continuing on, the route led us through the tropical rainforest, with the motorbike weaving its way through the forest. Even without stopping to hike, the scenic road offered plenty of satisfaction. As we ventured further on the motorcycle, we eventually passed through a gate and entered the forest conservation area.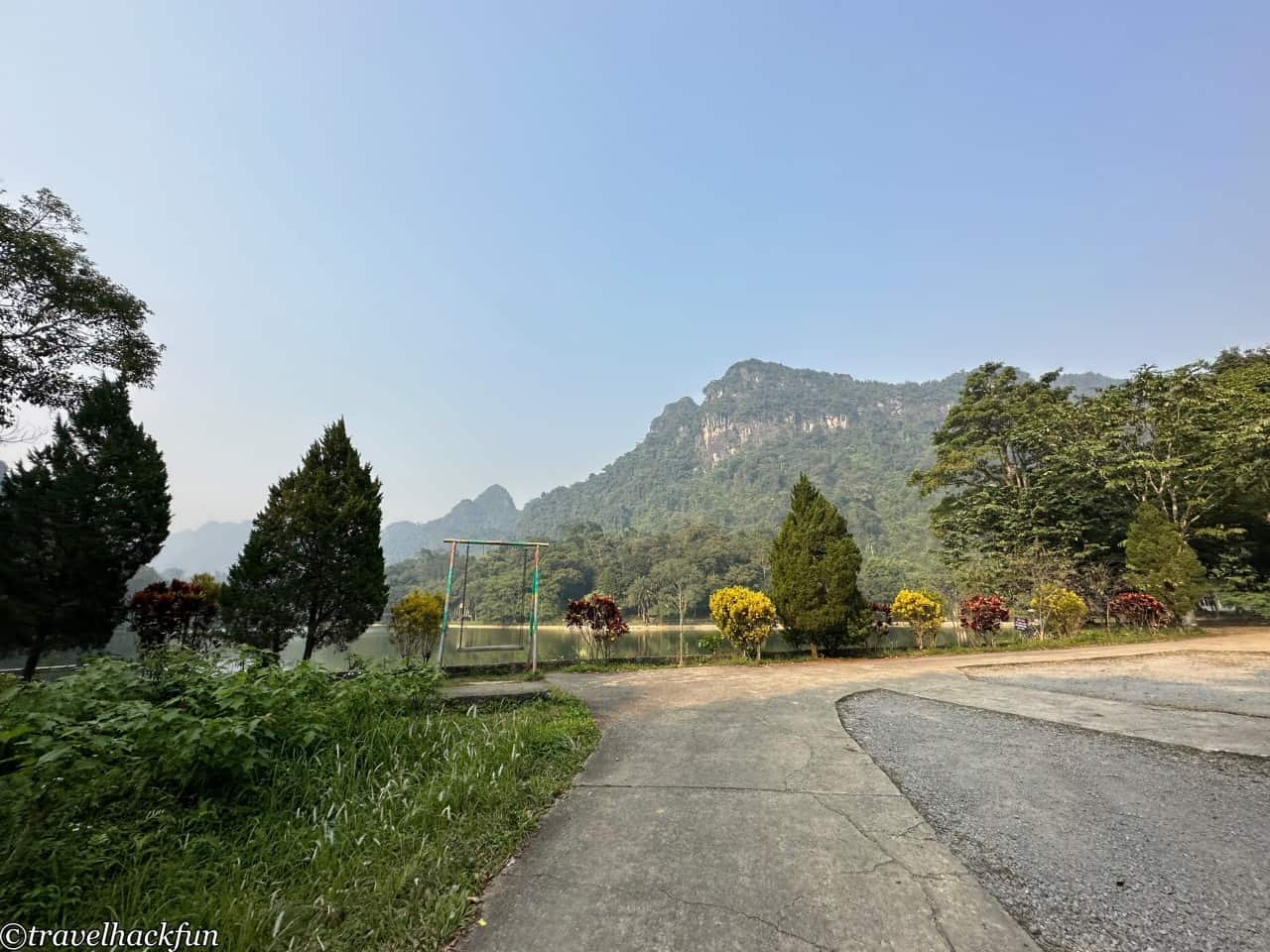 Thousand Year Tree Trail
The Thousand Year Tree Trail is one of the more popular hiking routes in this area. The entrance is located at the base of the road, and there's an additional parking fee of 10,000 Vietnamese Dong. After parking our vehicle, we were pleasantly surprised to encounter wild peacocks.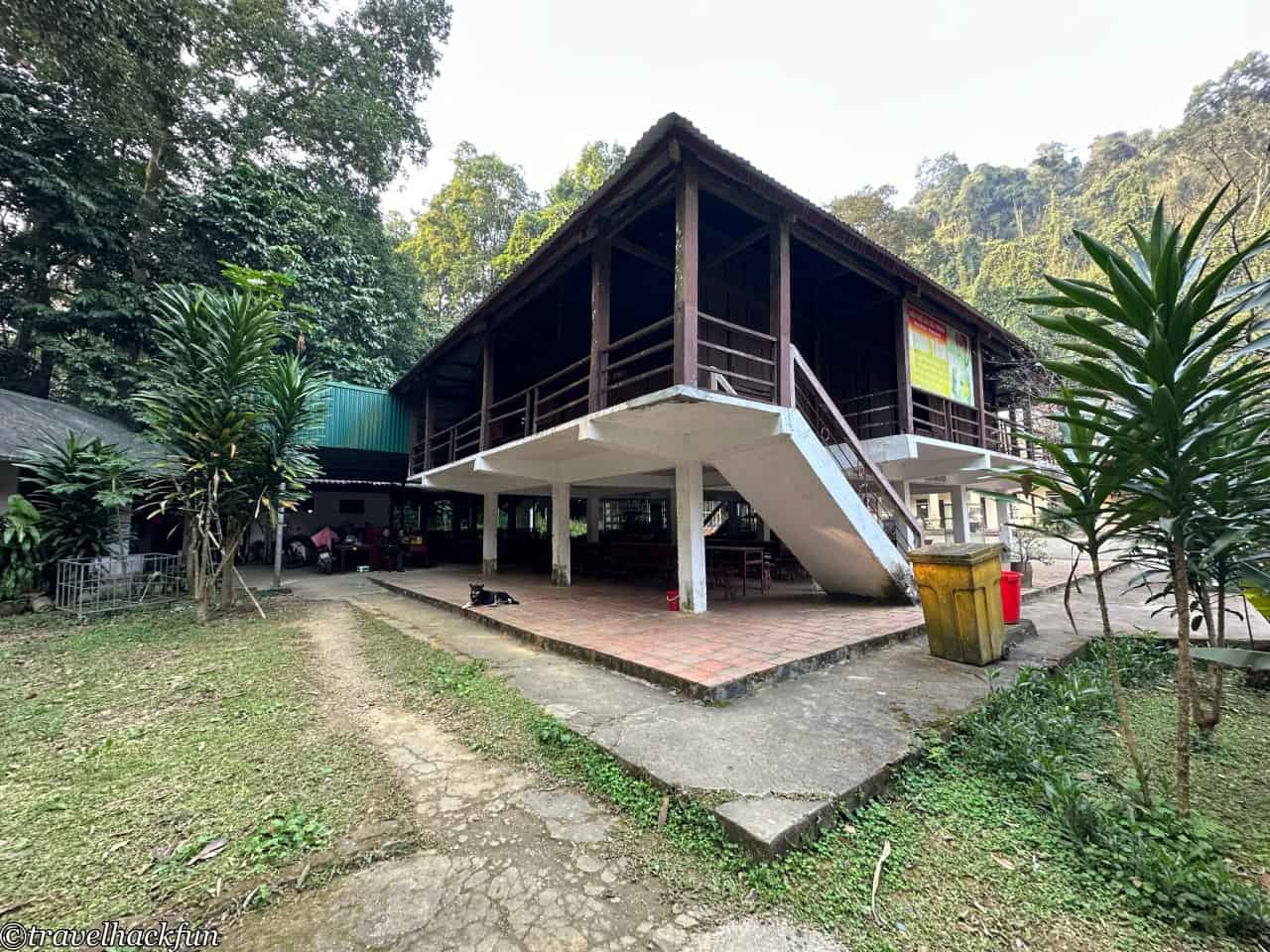 The map at the entrance of the hiking trail indicates that the complete loop is 7 kilometers, and I estimated that it would take us about 1.5 hours based on our pace. Since we arrived a bit late in the day, we only hiked a portion of the trail. The trail features tree roots, some steep slopes, and areas that can get a bit muddy. If I were to categorize it according to the difficulty ratings often used in U.S. national parks, it would likely fall under a moderate difficulty level. I believe it's quite suitable to bring trekking poles for this hike.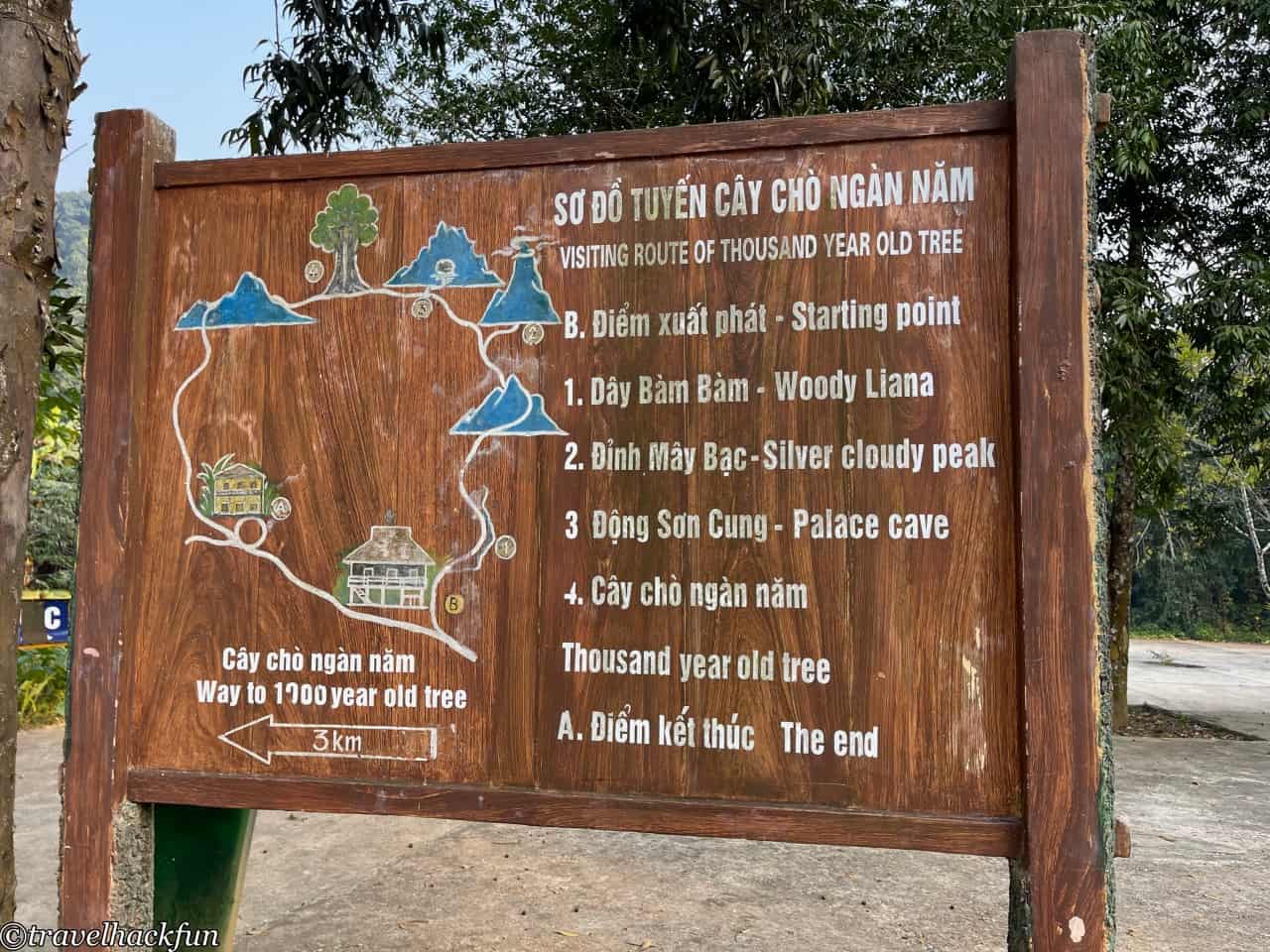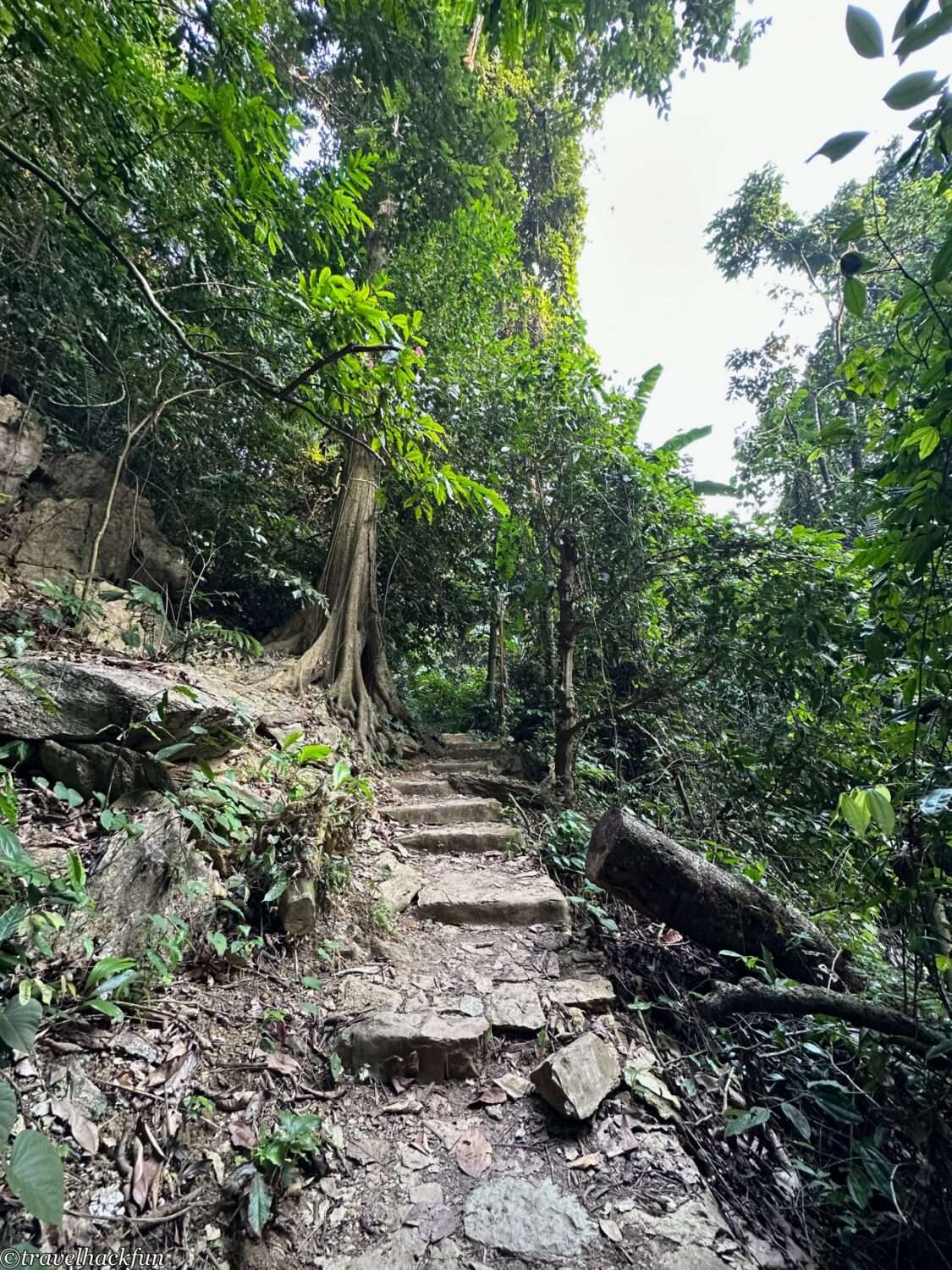 Cave of prehistoric man
On the return journey, there is a shorter trail that includes a pathway with 220 steps leading up 300 meters to the "Cave of Prehistoric Man." Human remains and tools discovered here date back to 7,500 years ago, making it one of the oldest known human habitation sites in Vietnam. If you're interested in visiting this site, it's essential to bring a headlamp with you. The cave is quite spacious, and it feels somewhat like a tunnel, so having a source of light is important for exploring it safely.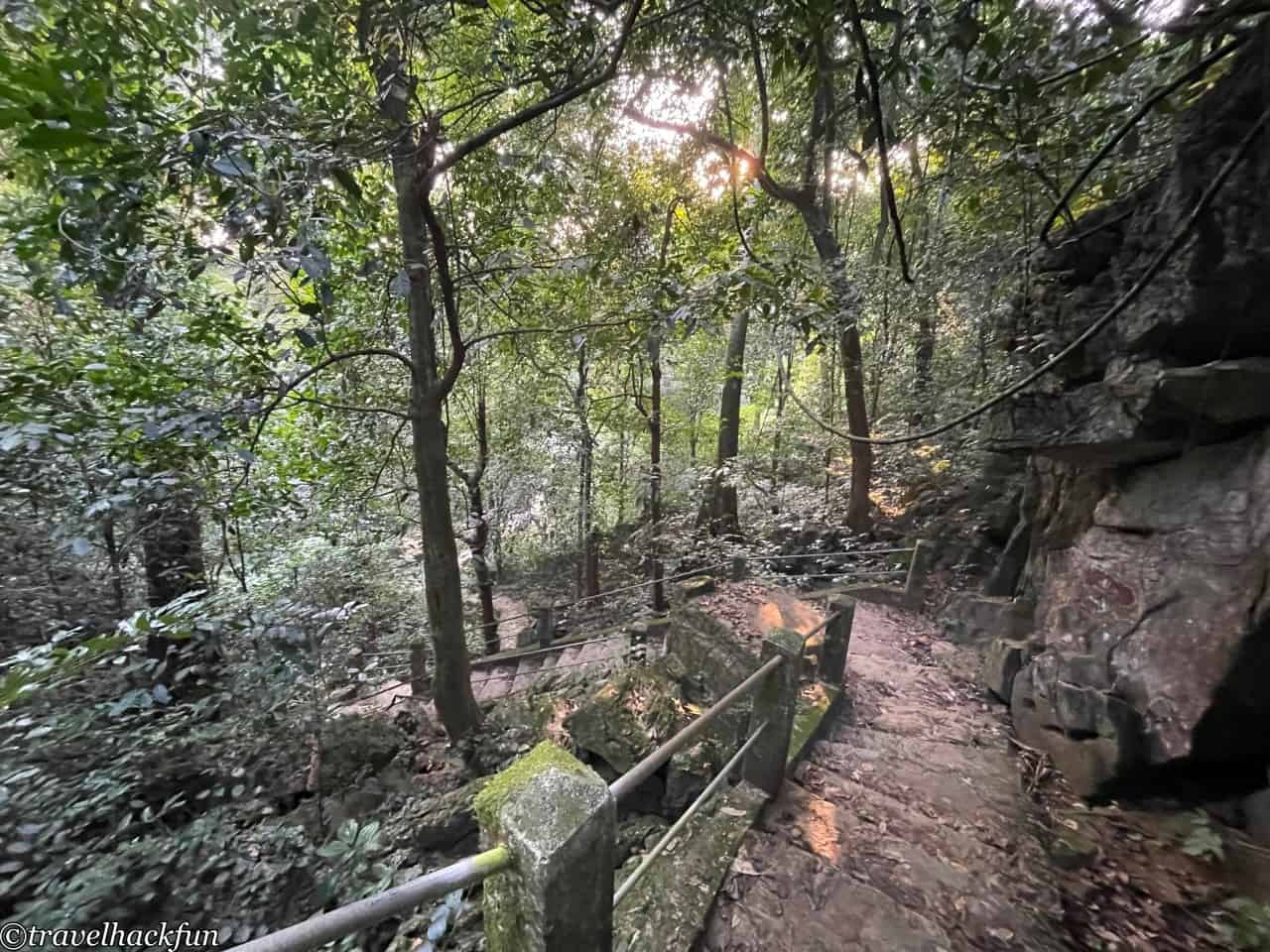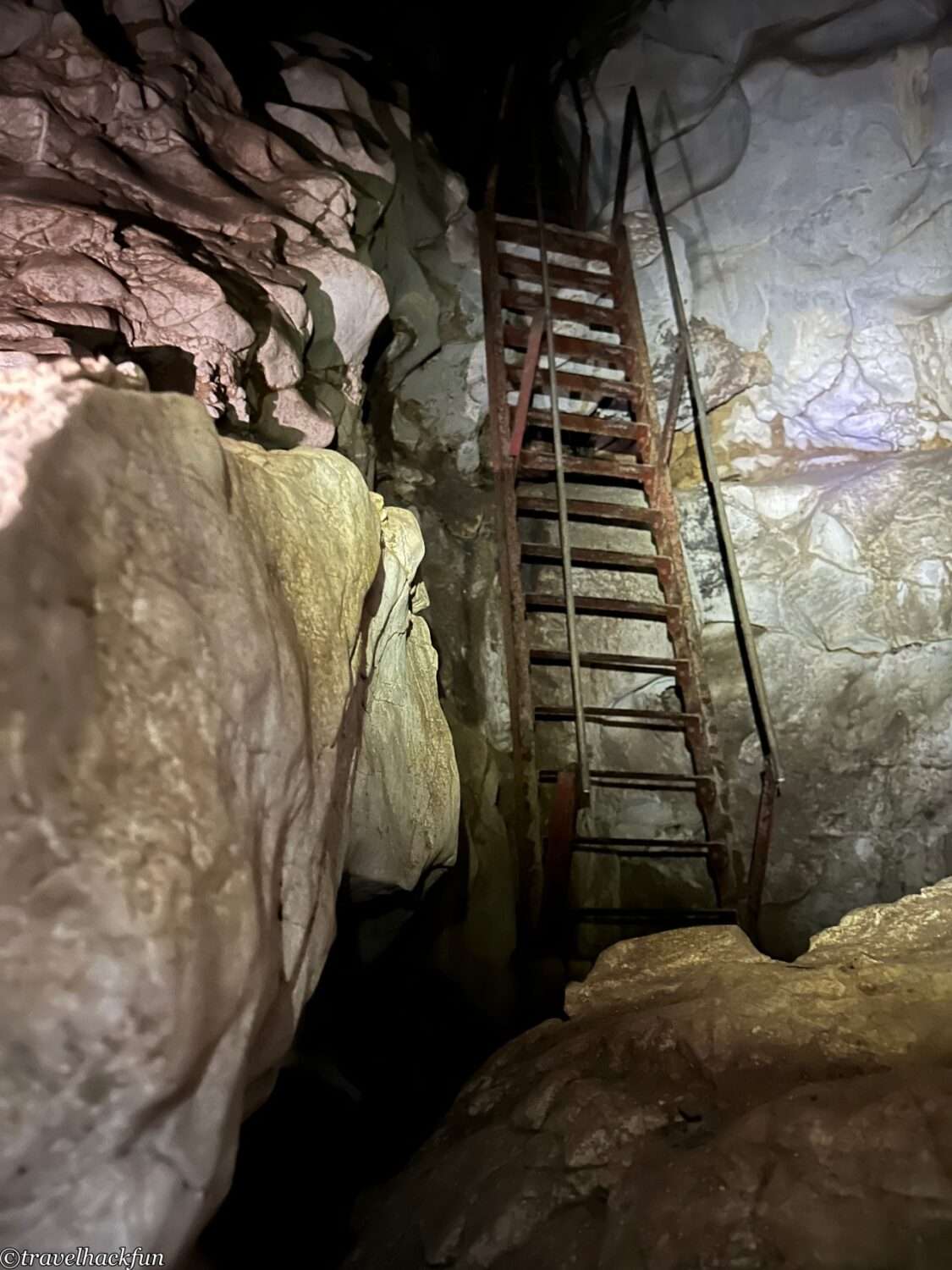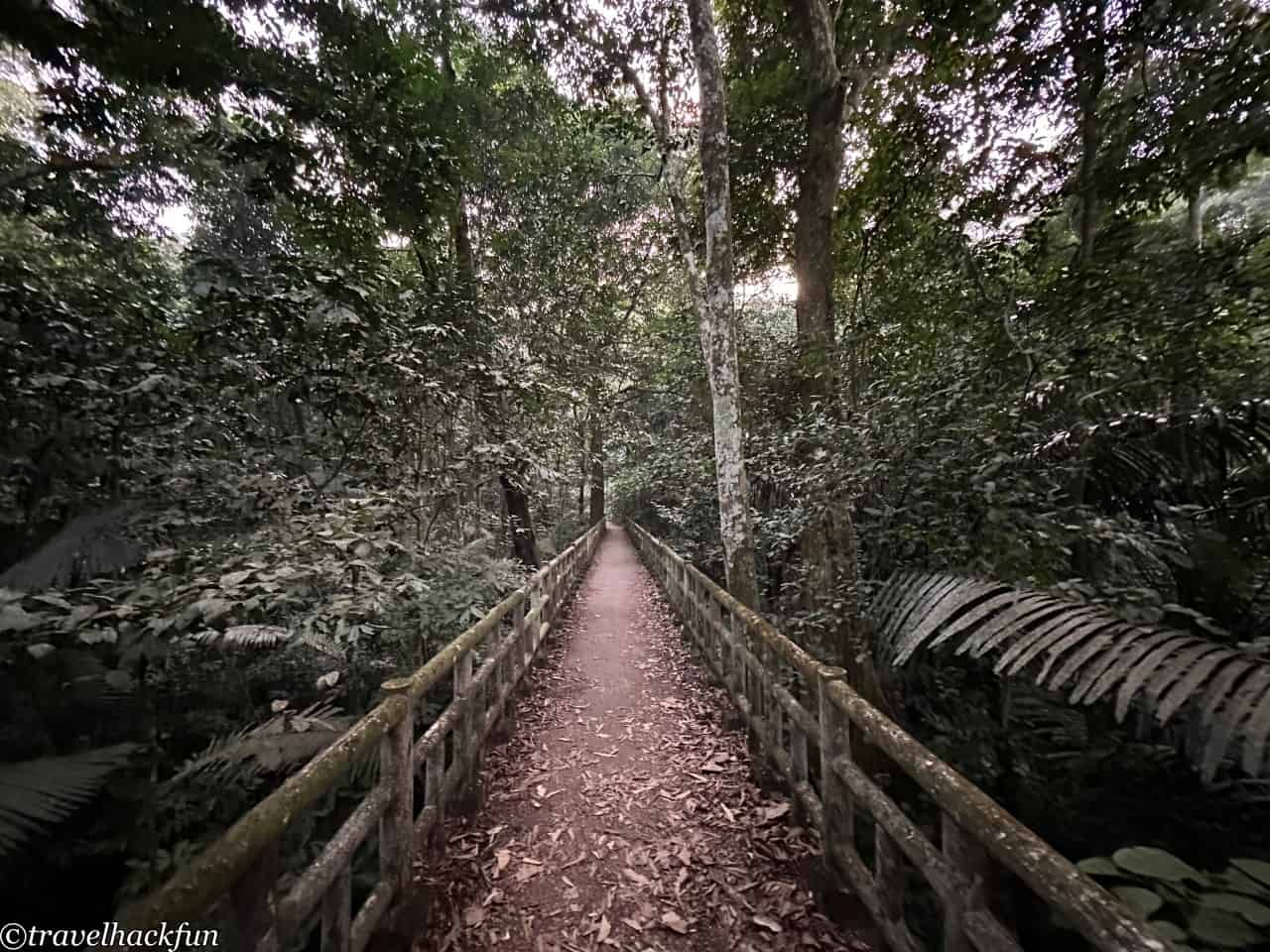 Further reading
Thank you for visiting our website.

All the content on this site is original and shared with the purpose of providing valuable information. We sustain the operation of this site through a small amount of advertising and sponsored links. If you click on links to third-party merchants on our site and make purchases, we may receive a portion of the sales as a commission. If you click on links to third-party merchants on our site and make purchases, we may receive a portion of the sales as a commission.

Find more posts on a map Here.

My recommended resources for hotel bookings.

My recommended resources for activity bookings.
Buy me a coffee and support my contents!
If you are interested in quoting this article or using any part of its content and images on your website or publication, please contact us via email to request permission.