San Juan Island | Introduction
San Juan Island is an island located in the northwest part of Washington state, accessible from the outskirts of Seattle by taking a ferry from Anacortes, just over an hour's journey. This island is home to the San Juan Island National Historical Park, known for its fascinating chapter of history called the "Pig War," as well as its stunning landscapes. It is a popular destination near Seattle. With an area of 142 square kilometers, it's suitable for either a day trip from morning to evening or a two-day, one-night itinerary. Furthermore, you can also plan extended weekend trips that include exploring the surrounding islands.
San Juan Island | Getting There
To get to San Juan Island, you can take the Washington State Ferry from Anacortes. The island is quite large, and if you wish to visit more distant attractions within a short timeframe, it's a good idea to bring your car. If you plan to take your vehicle on the ferry, it's best to make reservations in advance for the round trip. San Juan Island is very popular, and without a reservation, it's advisable to arrive at least two hours in advance to secure a spot for the same day. Keep in mind that ferry tickets for vehicles only cover the driver and the vehicle, so if you have additional passengers, you'll need to purchase separate individual tickets. If you're not traveling by car, pedestrians can simply purchase tickets to board the ferry, and there are no passenger limits.
The route to San Juan Island includes both direct and non-direct ferry options. Non-direct ferry routes may have stops at other islands like Lopez Island and Orcas Island. If you plan to visit multiple islands, it's recommended to take the direct route to San Juan Island on your way there. This way, you won't need to pay for additional ferry tickets when making stops at intermediate stations on your return journey. When reserving your return trip, you only need to book a spot for the final destination back to Anacortes. Reservations for spots between islands in the middle of the route are not required.
A special reminder for planning your trip to San Juan Island is not to have too tight of a schedule, especially for island-hopping itineraries. Washington State Ferry schedules can be somewhat unpredictable, with occasional cancellations or delays. However, most of the time, you should be able to reach your destination on the same day, although there might be occasional delays that push your departure from the morning into the afternoon. Even direct ferry routes may sometimes need to make unscheduled stops at intermediate islands due to unforeseen circumstances.
When you drive your vehicle onto the ferry, there will be detailed instructions provided. Once on board, passengers can head to the passenger area to relax or enjoy the view from the deck.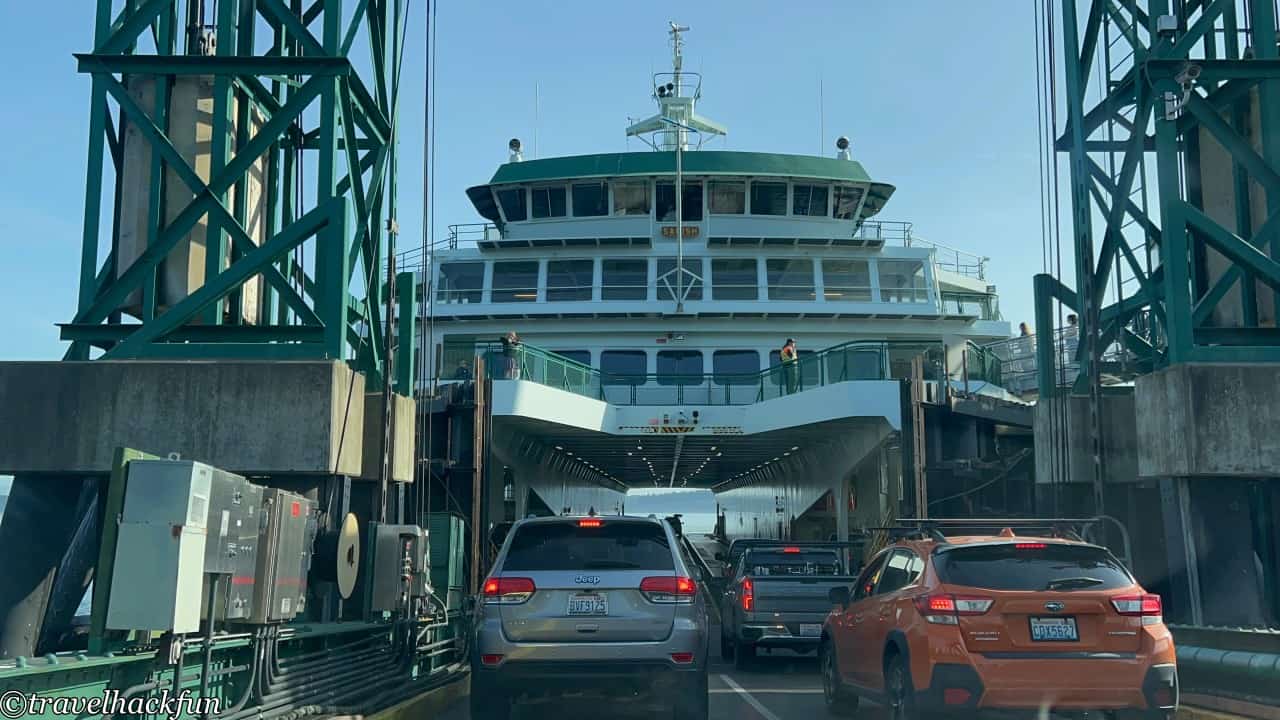 San Juan Island | Attractions
Friday Harbor
Friday Harbor is the first stop for everyone once they disembark from the ferry. This small town is the largest on the entire San Juan Island and serves as the primary accommodation spot for most overnight visitors. The bustling area is concentrated within two or three blocks near the pier. The evening views along the waterfront are quite beautiful, and you'll find the majority of the restaurants in this area as well.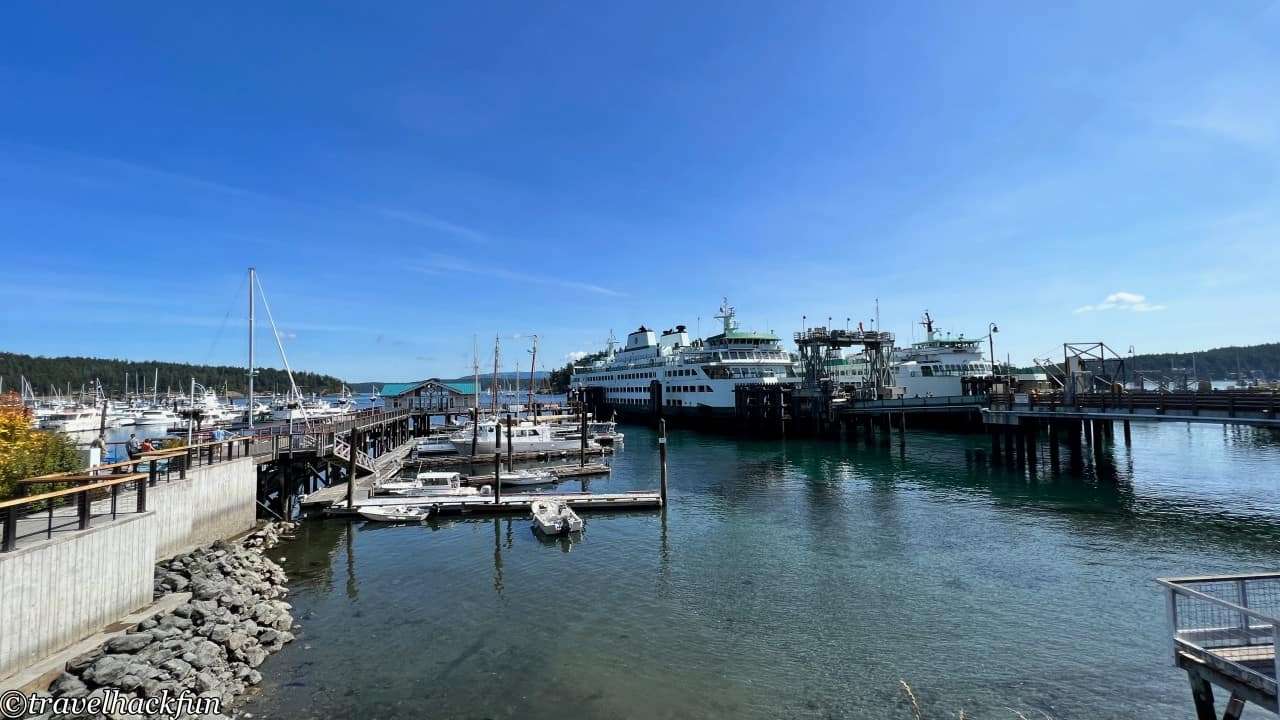 In the town center, there's a Farmer's Market on Saturday mornings, and if you visit on the weekend, you'll find many delightful local shops to explore. You can browse through art stalls, enjoy live music performances, and indulge in delicious pastries. Be prepared for crowds, especially when queuing for tasty treats. On weekend evenings, the same venue transforms into a location for nighttime concerts, adding to the lively atmosphere.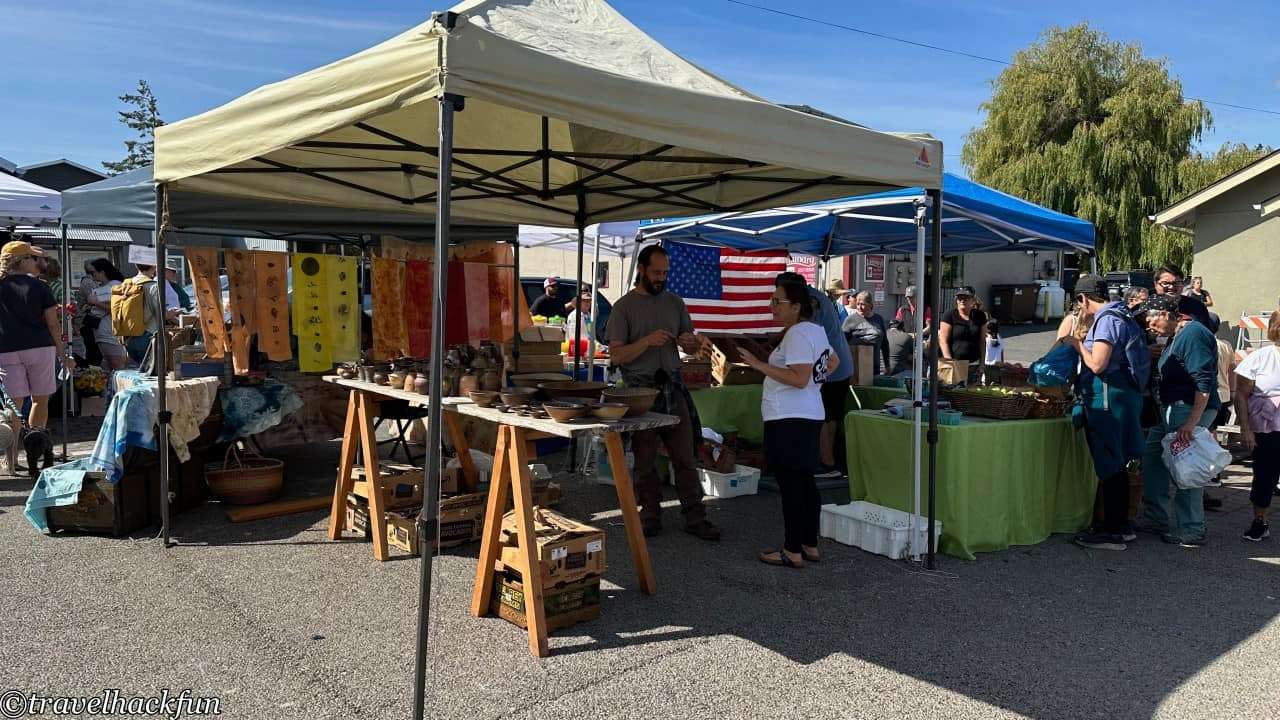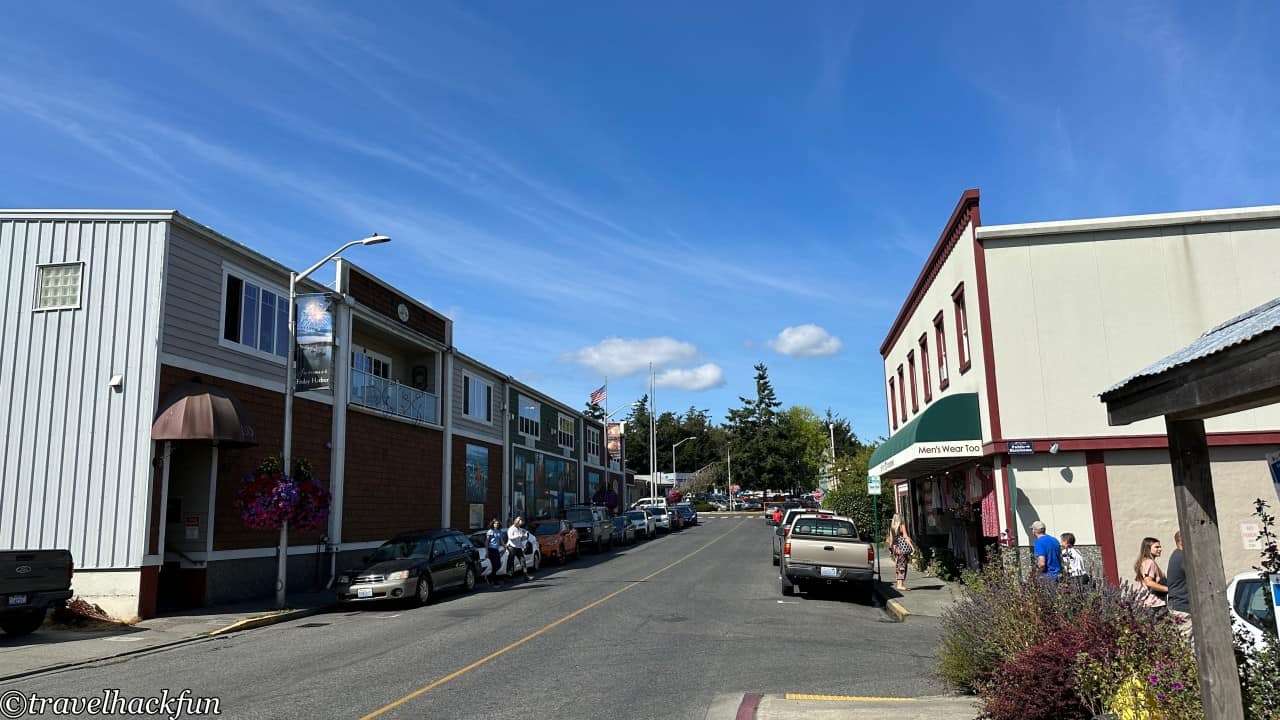 San Juan Historical Museum
The San Juan Historical Museum is the town's history museum. Most of the buildings were originally part of a farm, but they were later relocated to the old town center. As a result, you can now see not only 19th-century farm structures like the Farmhouse, Carriage House, and Milk House but also some of the town's historical public facilities. This includes a very small wooden County Jail, which adds an interesting historical touch to the museum experience.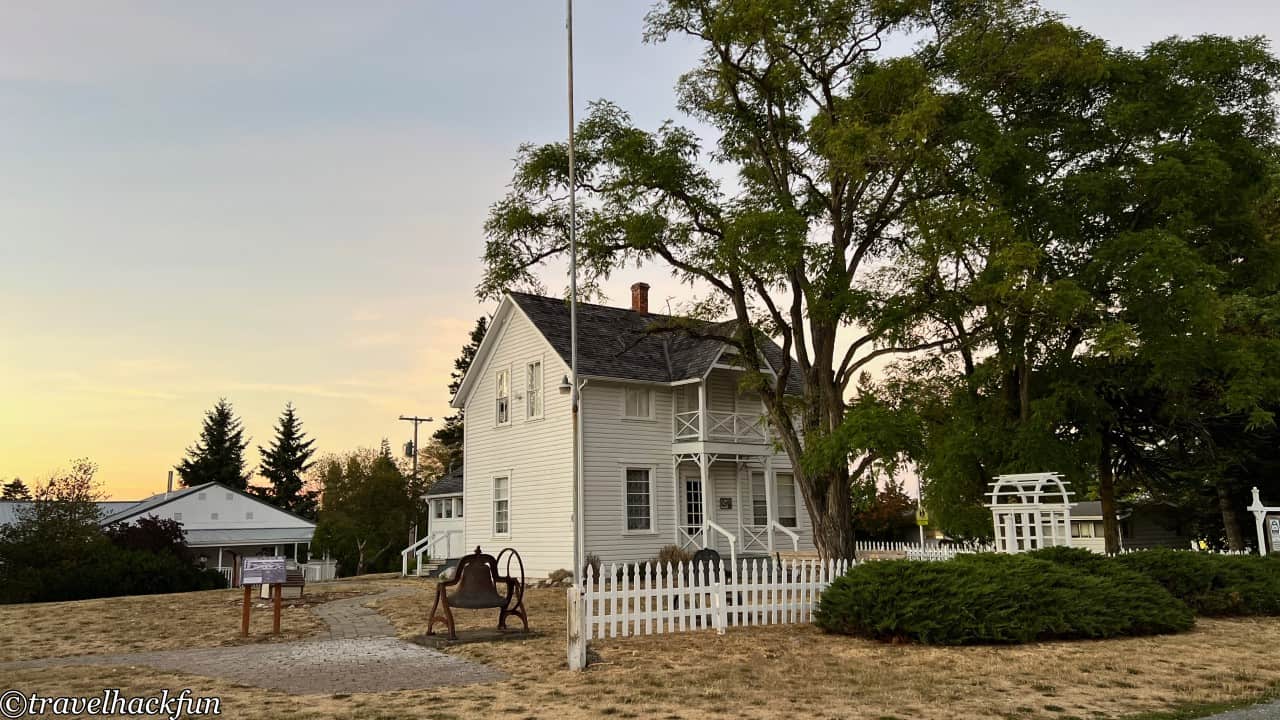 Whale Museum
The Whale Museum on San Juan Island is the top-ranked attraction in Friday Harbor, and it primarily focuses on killer whales. While most of the exhibits are static, the museum provides a wealth of information. If you take the time to explore, you'll discover many stories about the killer whales in the local area and gain a lot of knowledge. It's evident that the museum is thoughtfully curated. If you have an interest in killer whales, this museum is definitely worth a visit.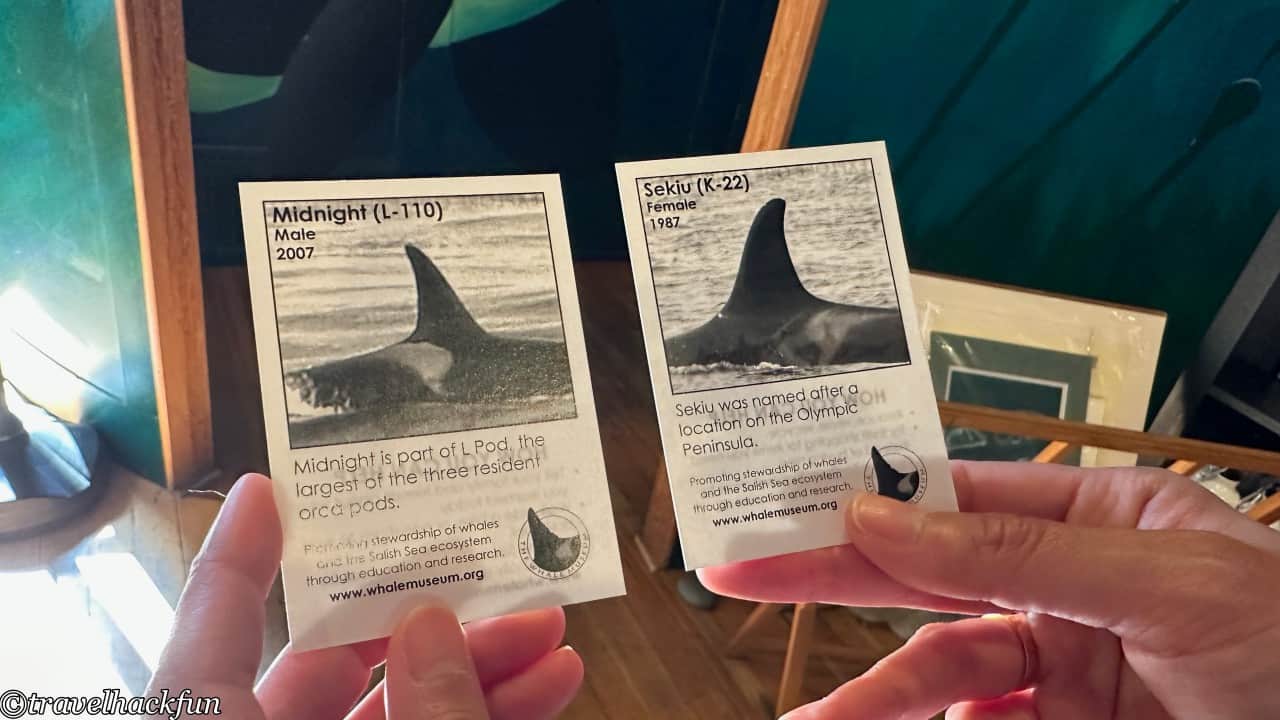 Museum of Art
The art museum on San Juan Island showcases the works of local artists.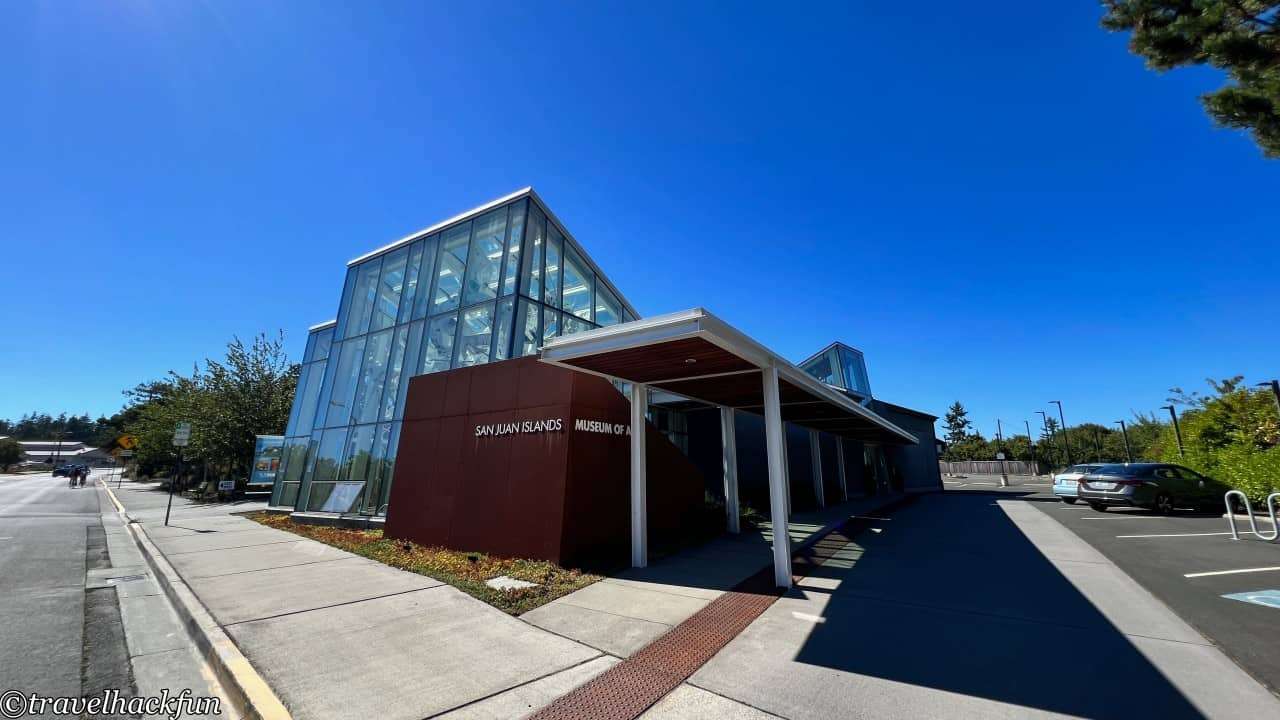 Must See | San Juan Island National Historic Park
San Juan Island National Historical Park is divided into two sections: American Camp in the southeastern part of the island and English Camp on the western side. It's a must-visit attraction when you come to San Juan Island.
American Camp
I would recommend starting your journey at American Camp, beginning at the Visitor Center. This is a National Historical Park commemorating the Pig War. Near the Visitor Center, you can see the pig statue, which is there because of this historical event. Before exploring the park, it's a good idea to learn a bit about the history behind this.
In the 19th century, the United States was a young nation. In 1818, the United States and United Kingdom agreed to divide the Pacific Northwest region into two parts, but they did not establish a clear border. At that time, both Americans and British people were living on San Juan Island, and there was an ongoing dispute over the border.
One day, a British pig wandered onto the property of an American, and the American farmer killed the British pig. This incident sparked a dispute, leading to arguments between the farmers on both sides about which country the land belonged to and whether the American had the right to shoot the pig on this land.
The dispute between the two sides escalated inexplicably. Angry American farmers, numbering more than a dozen, wrote a petition and sent it to Oregon. The commander in Oregon then dispatched a military force of several dozen soldiers. However, upon their arrival, this small military force realized that the British had a larger presence on the island. They had no choice but to take shelter on the southeast side of the island, which is now known as the "American Camp" area, and send for reinforcements.
Later, a higher-ranking commander arrived with a more significant number of troops. However, it is said that upon arriving at the scene, this commander learned that the conflict had arisen over a pig, and he was extremely angry that a war was being prepared over such a trivial matter. Nevertheless, due to matters of national pride, both sides continued to face off for a while. Fortunately, both the United States and Britain recognized the seriousness of going to war, and ultimately, the issue was resolved through diplomatic means, and a war did not actually take place.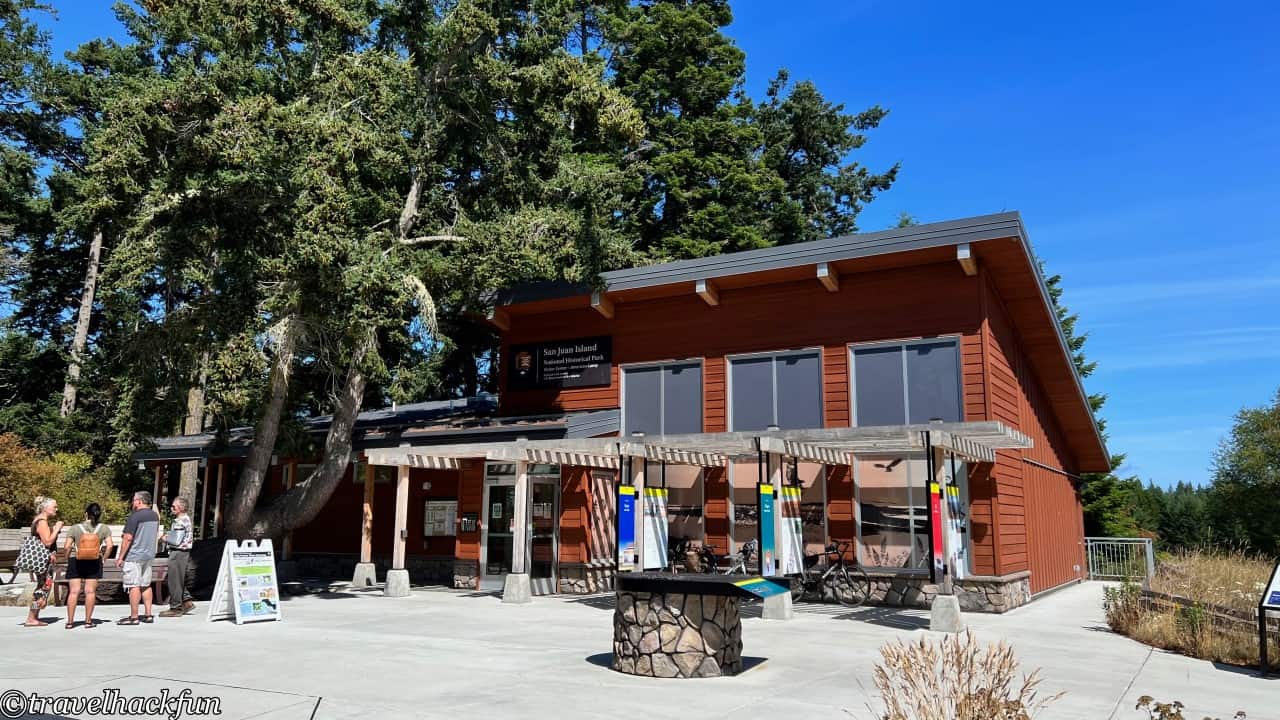 The historical story is complete, and you can now start your visit to American Camp by taking a walk from the Visitor Center along a trail. While this area is designated as a historical park, the park is more famous for its natural scenery. Near the Visitor Center, the recommended route is to head in the direction of Officer's Quarters, walk to Redoubt, and then connect to the Bluff Trail along the south shore.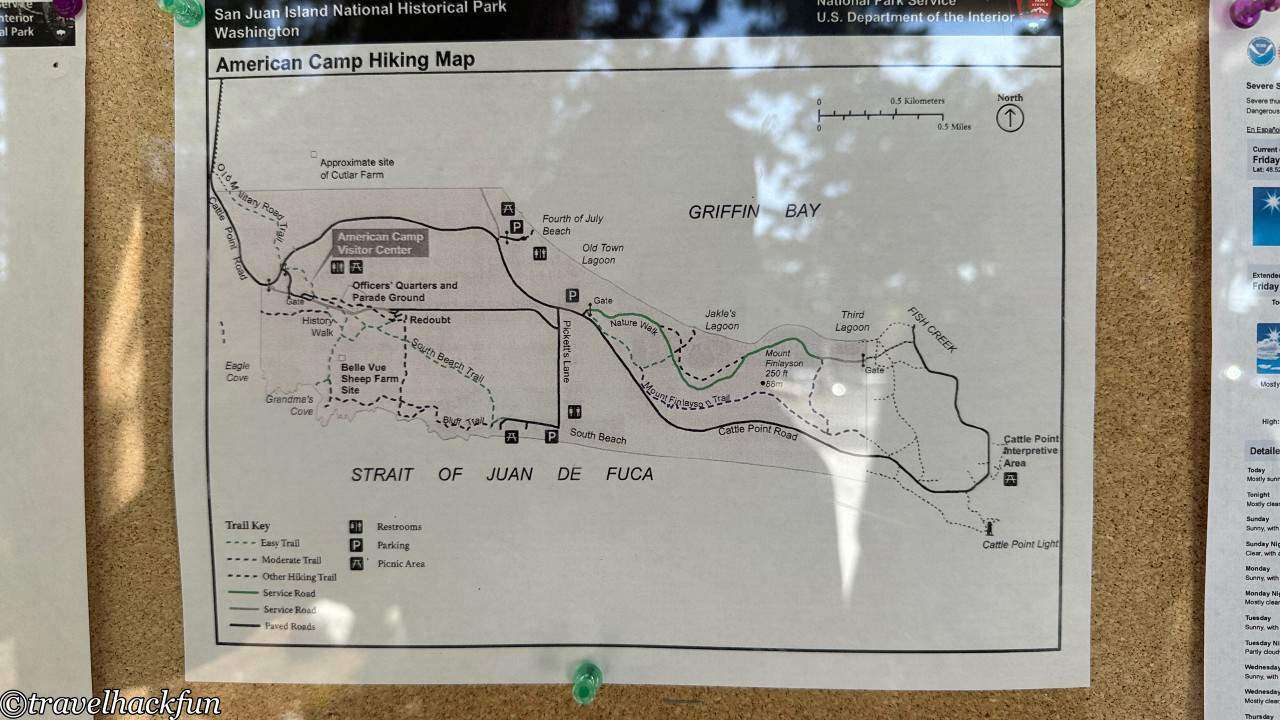 Officer's Quarters
Walking along the trail, you'll quickly come across two white buildings ahead. This is the former site of American Camp. It used to be a military encampment with several more buildings, including a hospital, resembling a small community. However, today, only two buildings remain. Standing around these houses, you can appreciate the commanding views that the officers once enjoyed.
Following the fence, you can complete the Historic Walk as designed by the park. If you want to get a sense of how the military encampment used to look, there is a signpost called "Forgotten Post" along the way, which provides information on the original layout of the camp.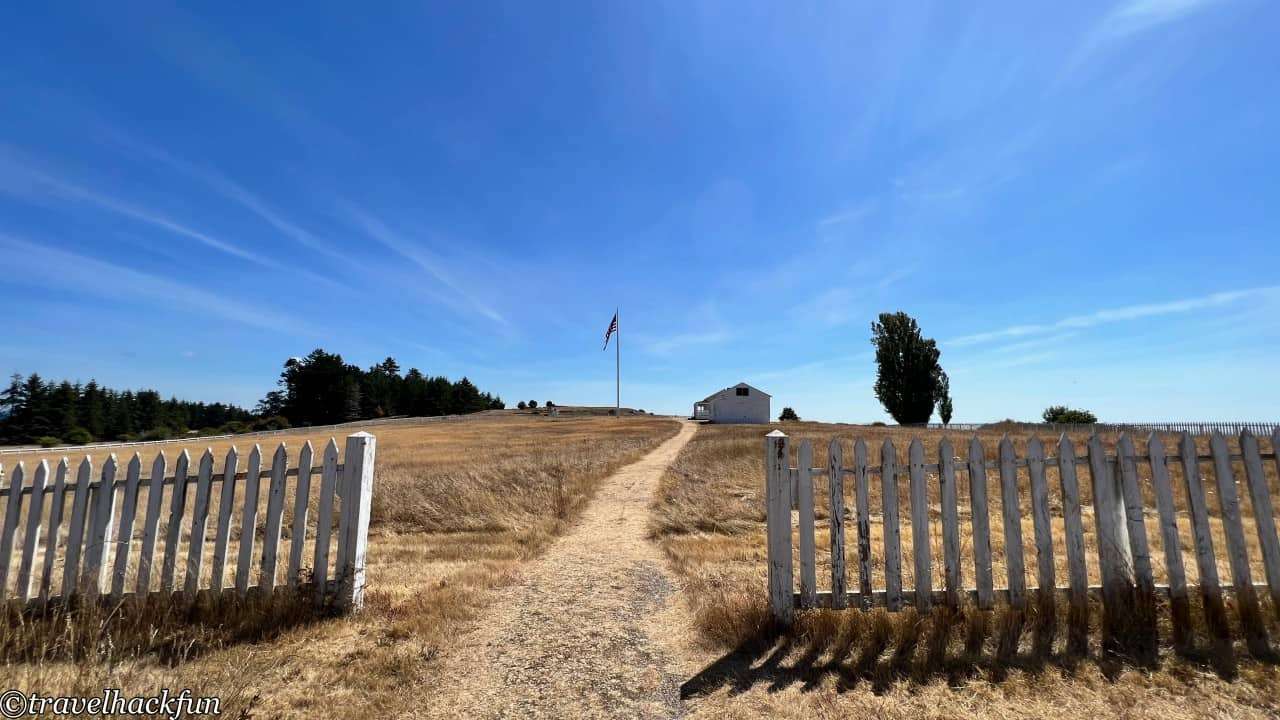 Redoubt
For those who, like me, are interested in enjoying the scenery, you can take the larger loop trail, turning at the Redoubt site. The Redoubt site was for defense and is strategically located on a slope near a high point. While you won't see any weapons there now, it's a great spot for taking in the view. This area also serves as a junction for several different trails, and if you continue eastward, you can walk all the way to South Beach.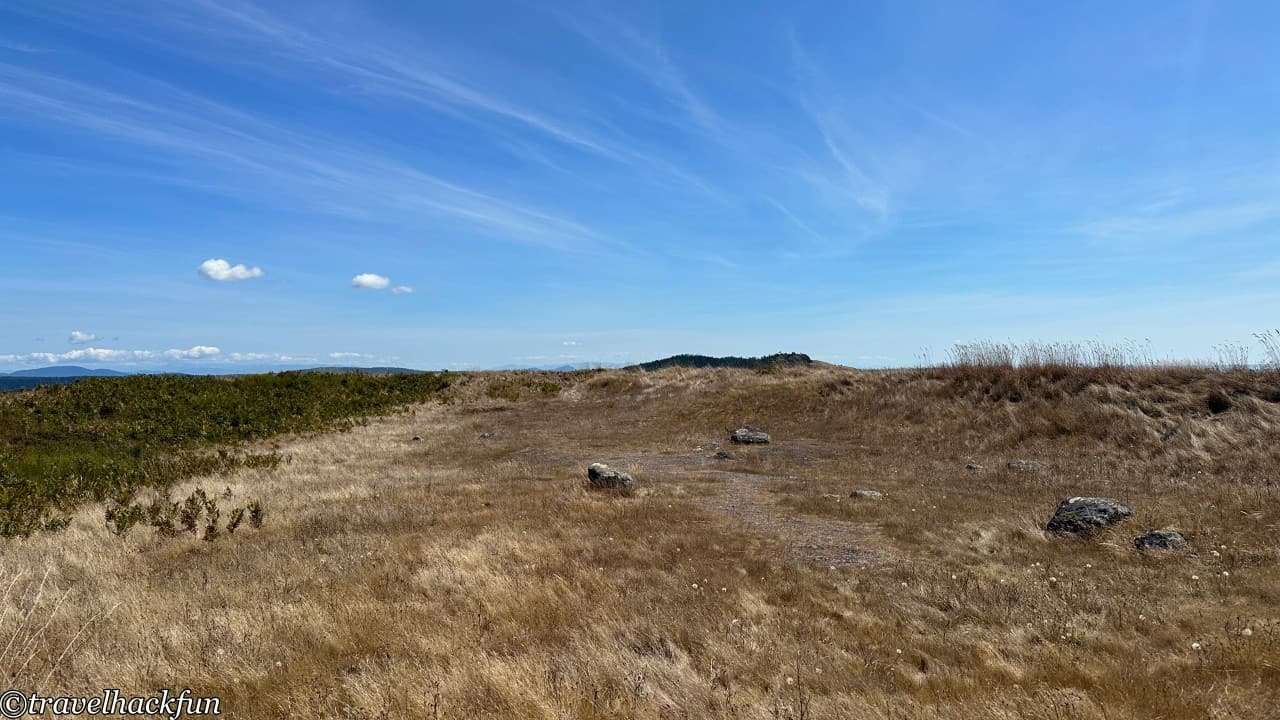 Bluff trail
If you enjoy natural scenery, I recommend taking the Bluff Trail all the way to the beach. You'll get to see beautiful coastal views, and the atmosphere is quite serene and peaceful.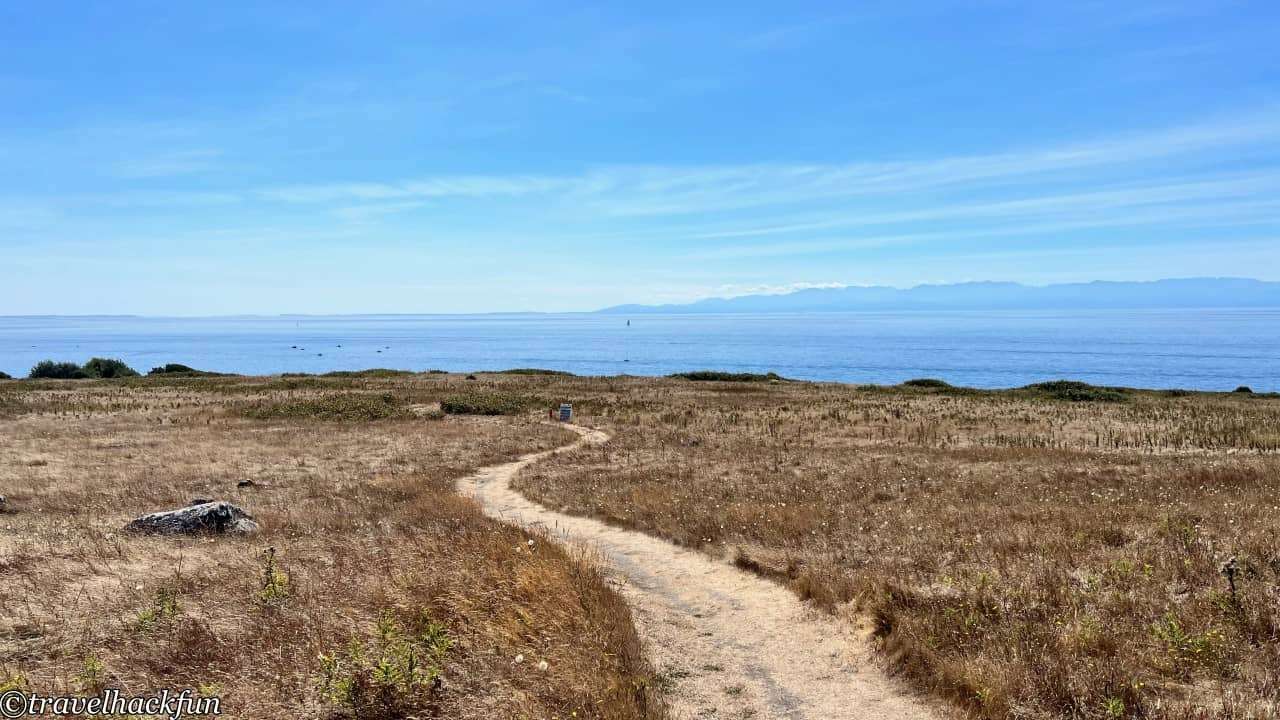 Cattle Point
Cattle Point is located at the southeastern tip of San Juan Island and can be reached by car. The road leading to Cattle Point offers a beautiful scenic drive with coastal views all along the way. There are pullouts along the roadside where you can stop and enjoy the scenic views of the sea. The Cattle Point picnic area at the southeastern tip of San Juan Island is one of the excellent spots for whale watching on the island. Additionally, from here, you can see Lopez Island to the right and Orcas Island to the left.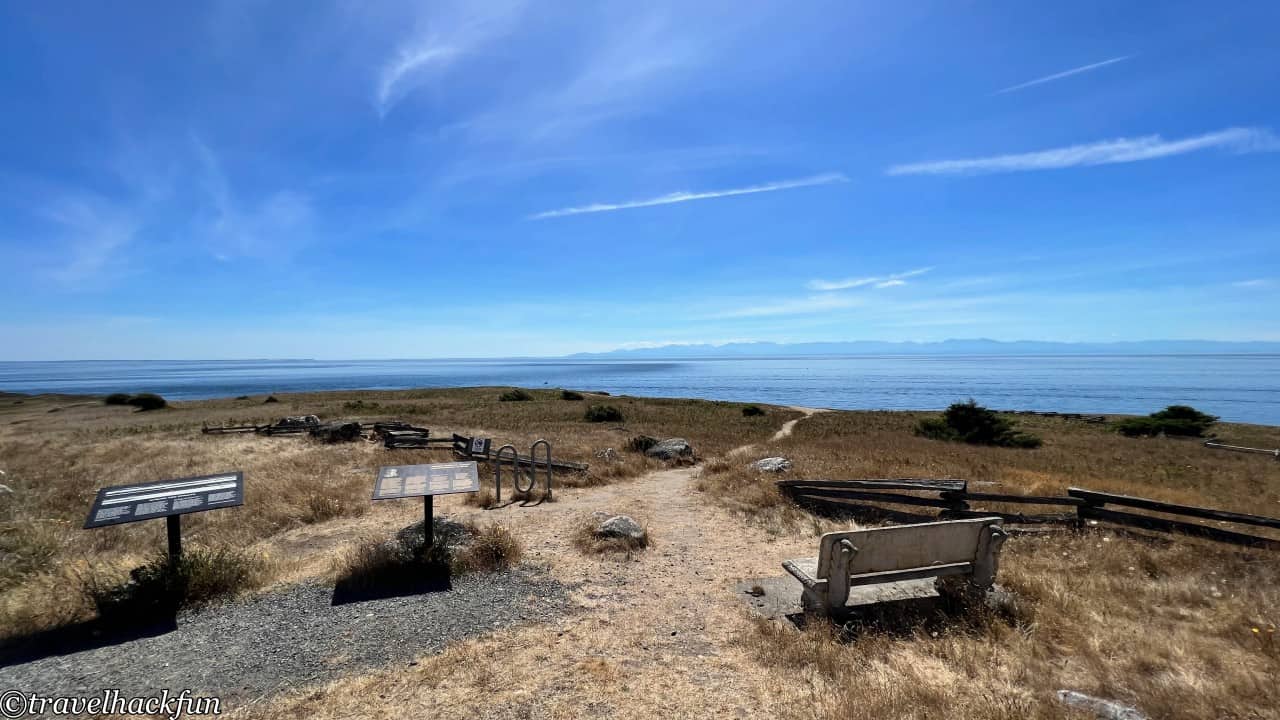 If you're interested in getting to a slightly higher vantage point, there is a small lighthouse nearby called the Cattle Point Lighthouse. From there, you can also enjoy fantastic coastal views.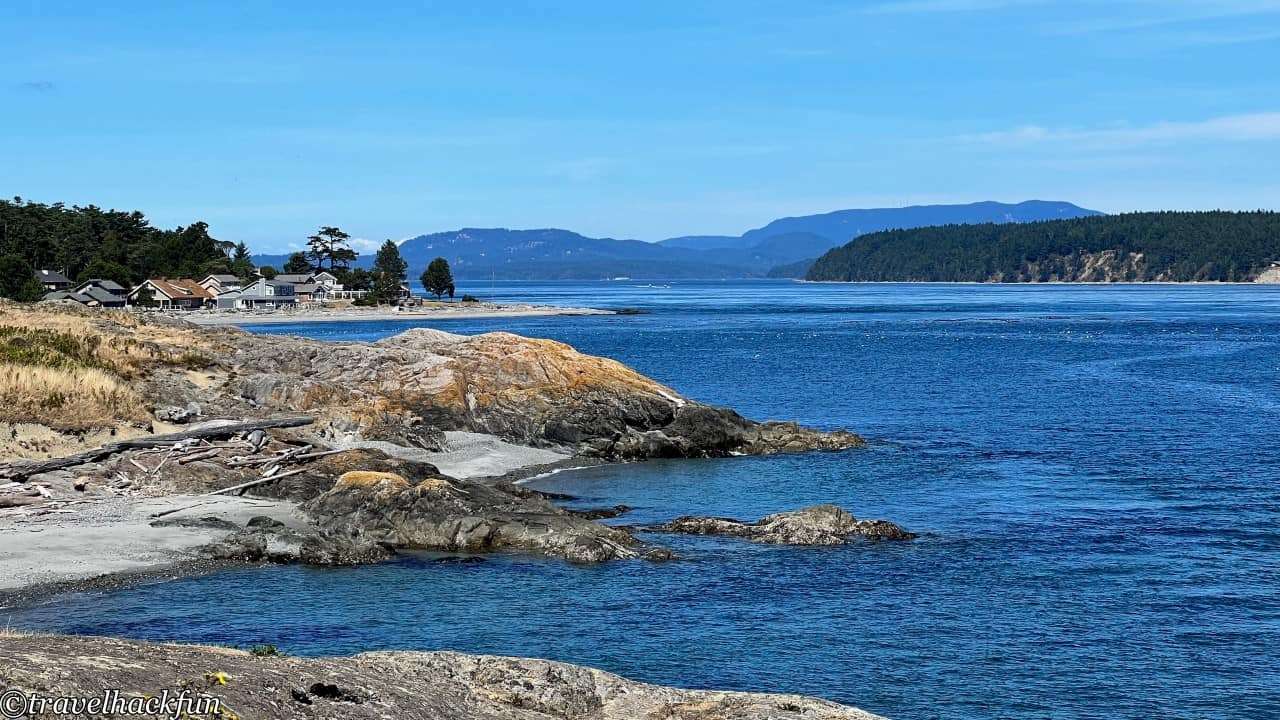 4th of July Beach
San Juan Island being an island naturally has its share of beaches. The larger one is known as South Beach, but I personally prefer 4th of July Beach. This beach is relatively small, with calm waters perfect for swimming, and the surroundings are quite peaceful. It's called 4th of July Beach because the U.S. military used to set off fireworks here to celebrate Independence Day. Interestingly, even during the standoff between the American and British forces on the island, many individuals from both sides had good personal relationships. It's said that during holidays, they would attend each other's celebratory events and parties. Perhaps the common language and similar cultures played a role in preventing a full-scale war between the United States and Britain.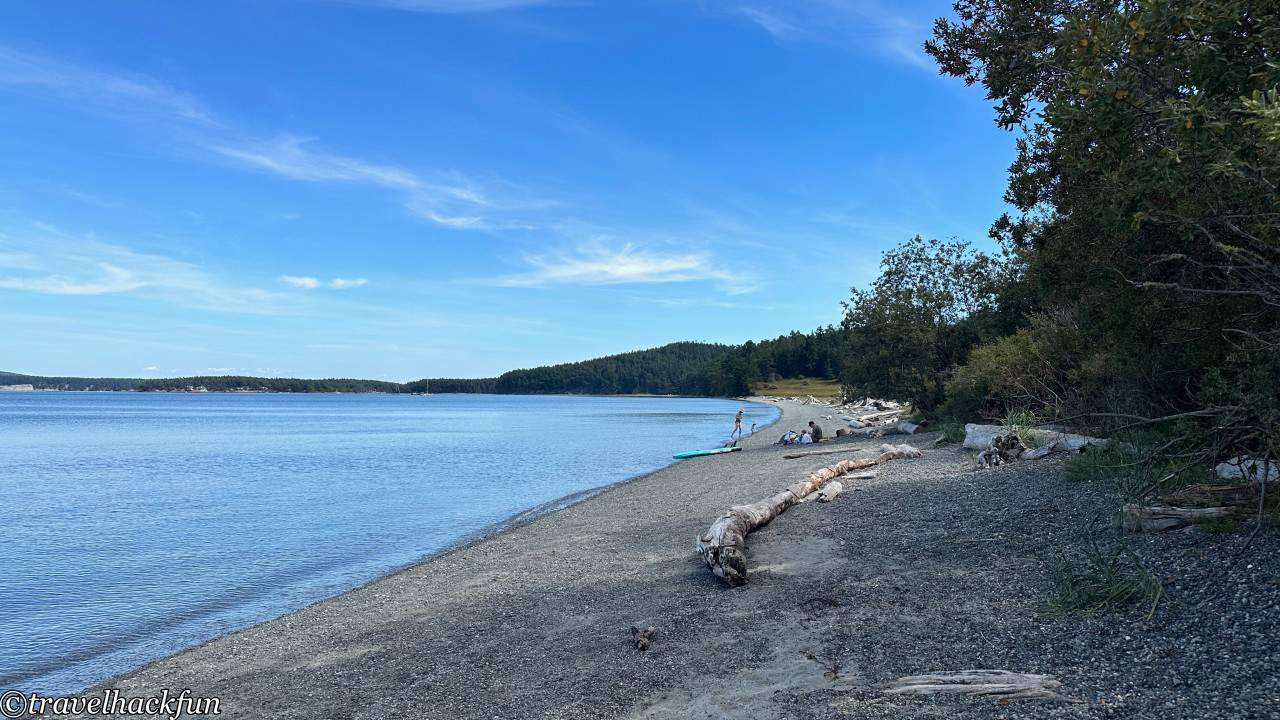 English Camp
Another part of the National Historical Park is English Camp, located on the northwest side of San Juan Island. This camp was where the British stationed their troops back in the day, and it has more preserved historical buildings compared to American Camp.
The most striking features is the well-preserved English garden, which can be clearly seen from the hillside trail. The presence of a beautiful garden within what feels like a primitive military camp can indeed seem a bit incongruous. In reality, this garden originally served as a vegetable patch for the military. However, because there was a commander at the time who was concerned about his wife finding life too dull in a place so far from home, he transformed it into a garden to provide a more pleasant environment for her. This was, of course, a privilege only available to the spouses of high-ranking military officers, while lower-ranking soldiers' families could only relax in the open areas on the hill.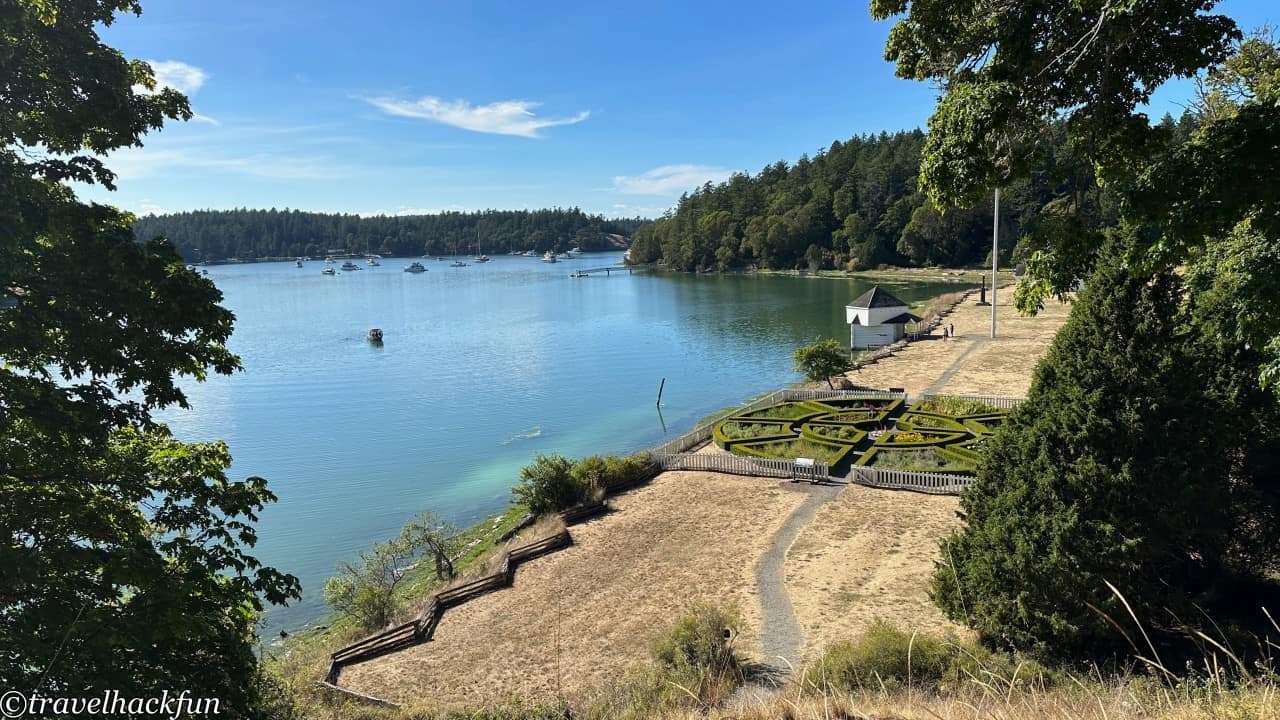 Beyond the open space with the English garden is the British military's parade ground, and there are quite a few historical buildings surrounding it, including the Blockhouse, hospital, shops, and more. Even though the British were stationed here for only 12 years, it does give the impression that they had a more elaborate presence during their time on the island.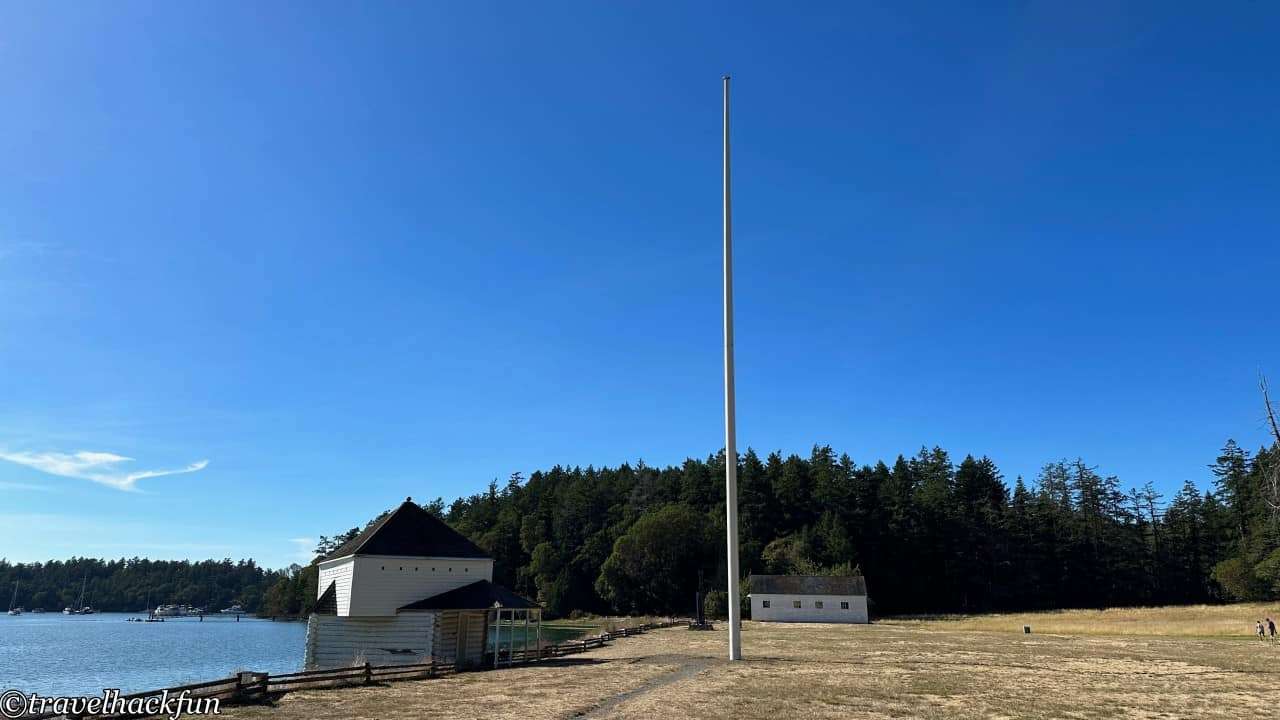 However, not all of the British military camp has been preserved. At the hilltop, there were once more officers' quarters, but they have all disappeared. This area is known as Officer's Hill, and you can hike up to it from the adjacent trail.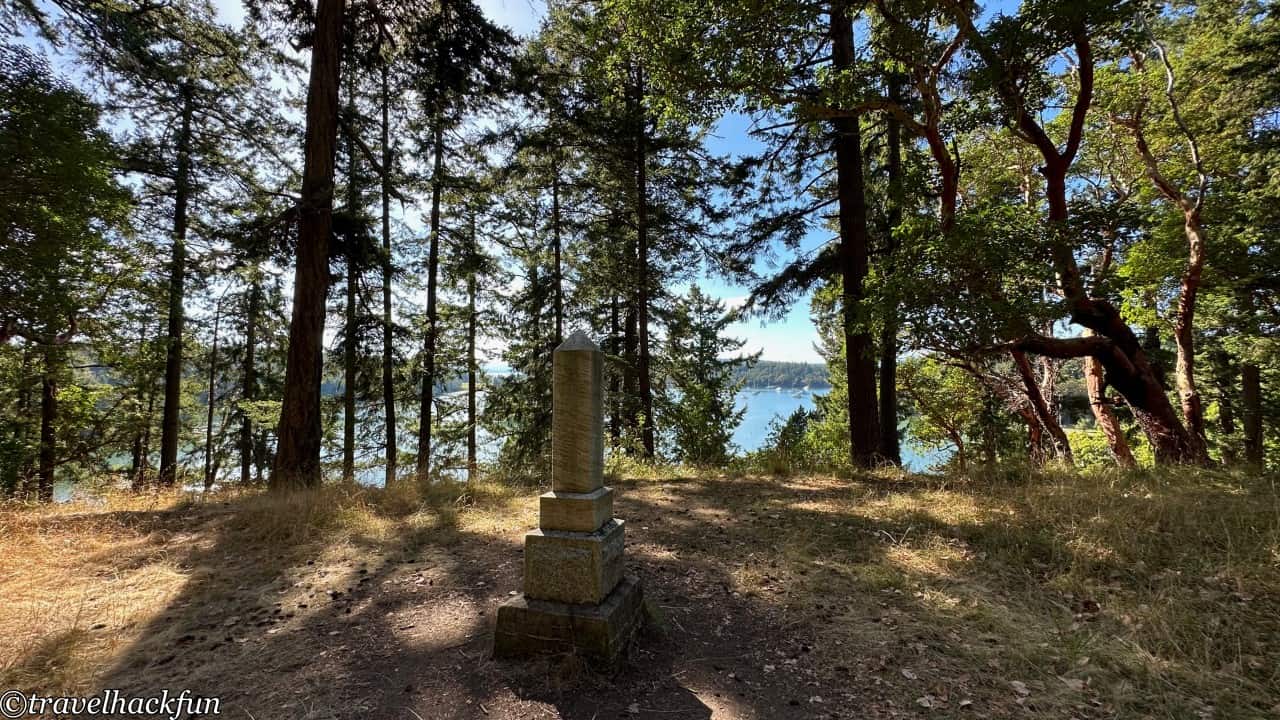 Young hill trail
If you have enough time, the Young Hill Trail near English Camp is definitely worth exploring. You can spot a trailhead from English Camp, but in reality, the trail crosses a road, and you can also park along the road to save yourself roughly a 1-mile walk. The initial part of the trail features a small historical site and passes by the English Camp Cemetery, where a few British individuals who passed away on the island are buried. However, since a full-scale war didn't break out, their deaths were likely due to accidents.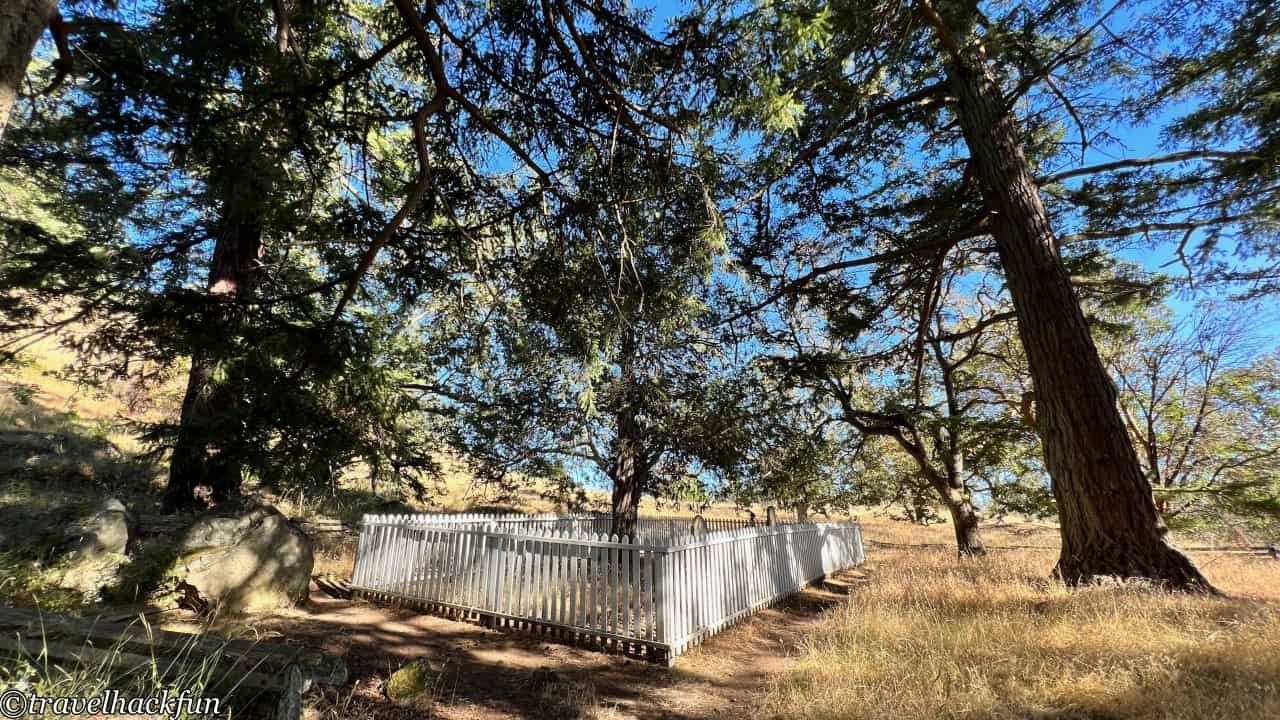 Climbing to the summit of Young Hill provides a panoramic view of the entire San Juan Island.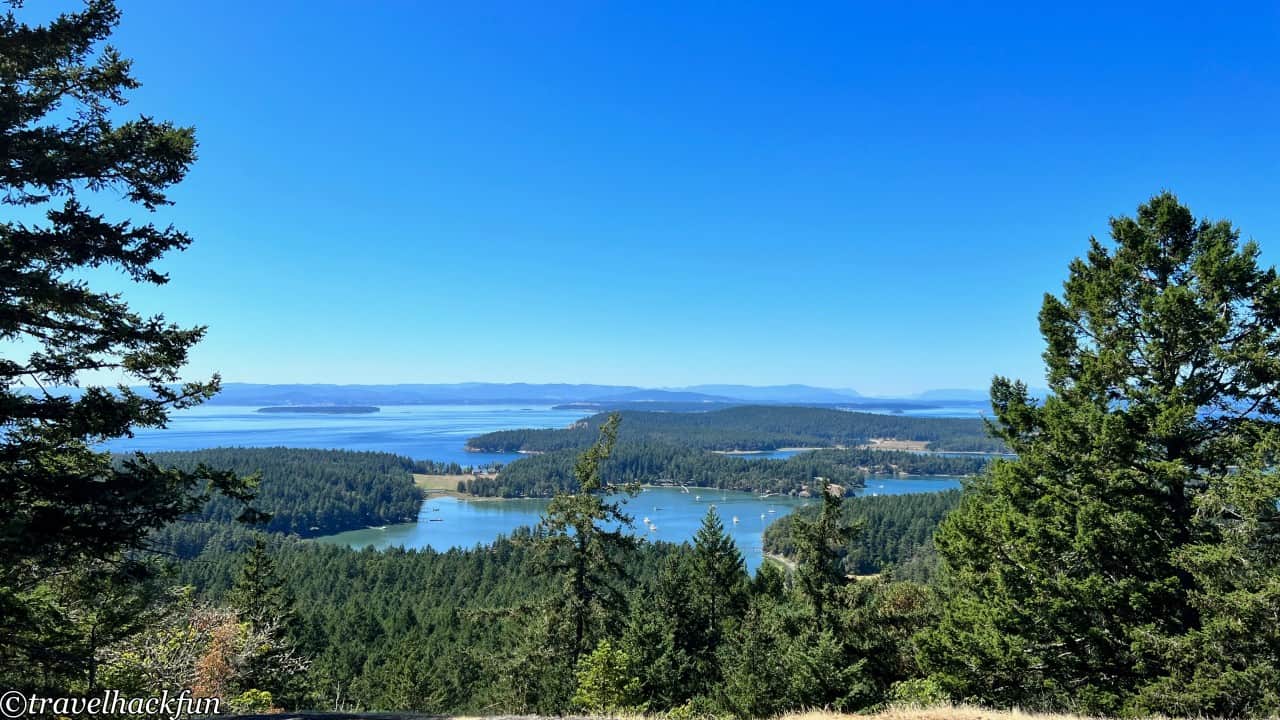 Lime Kiln Point State Park
On the western side of San Juan Island, there are several excellent whale-watching spots near English Camp, one of them being Lime Kiln Point State Park. The visitor center is small but considerately provides free coffee for visitors.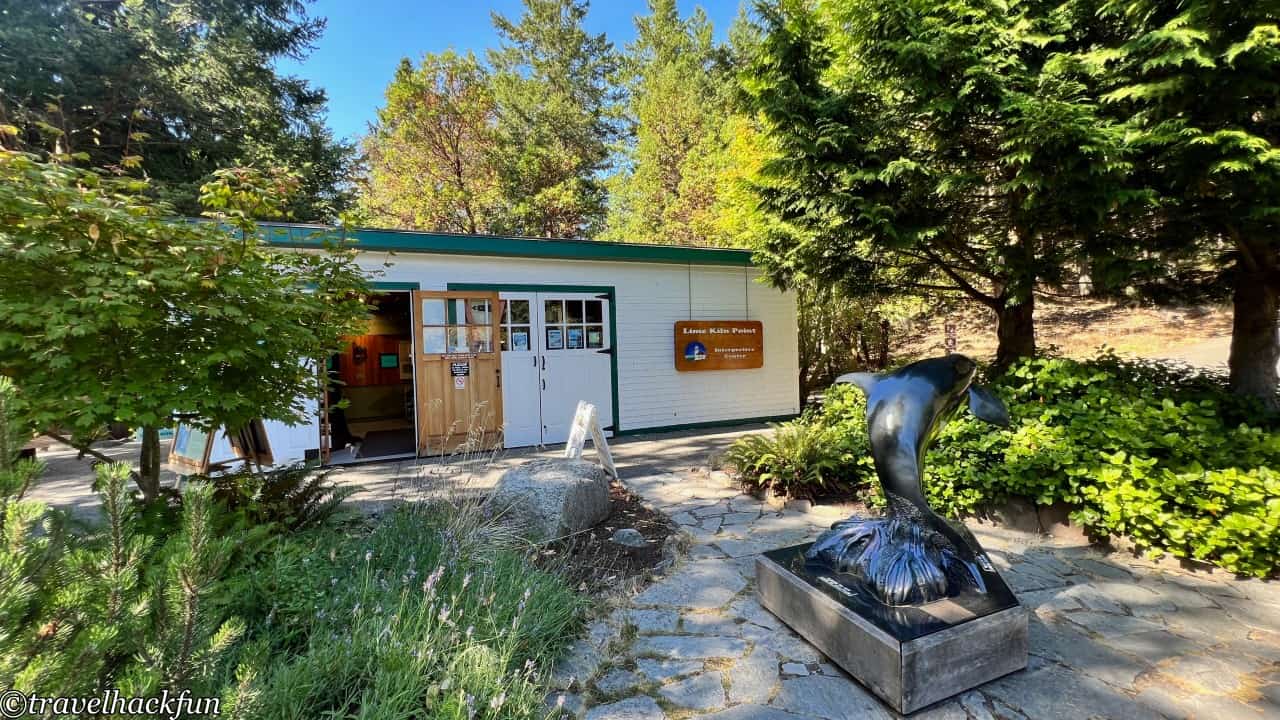 Right in front of the visitor center is the trailhead. From here, you can walk about 0.1 mile to reach the whale-watching point by the sea. The entire trail is 0.4 miles and can be taken in a loop that brings you back to the starting point near the lighthouse.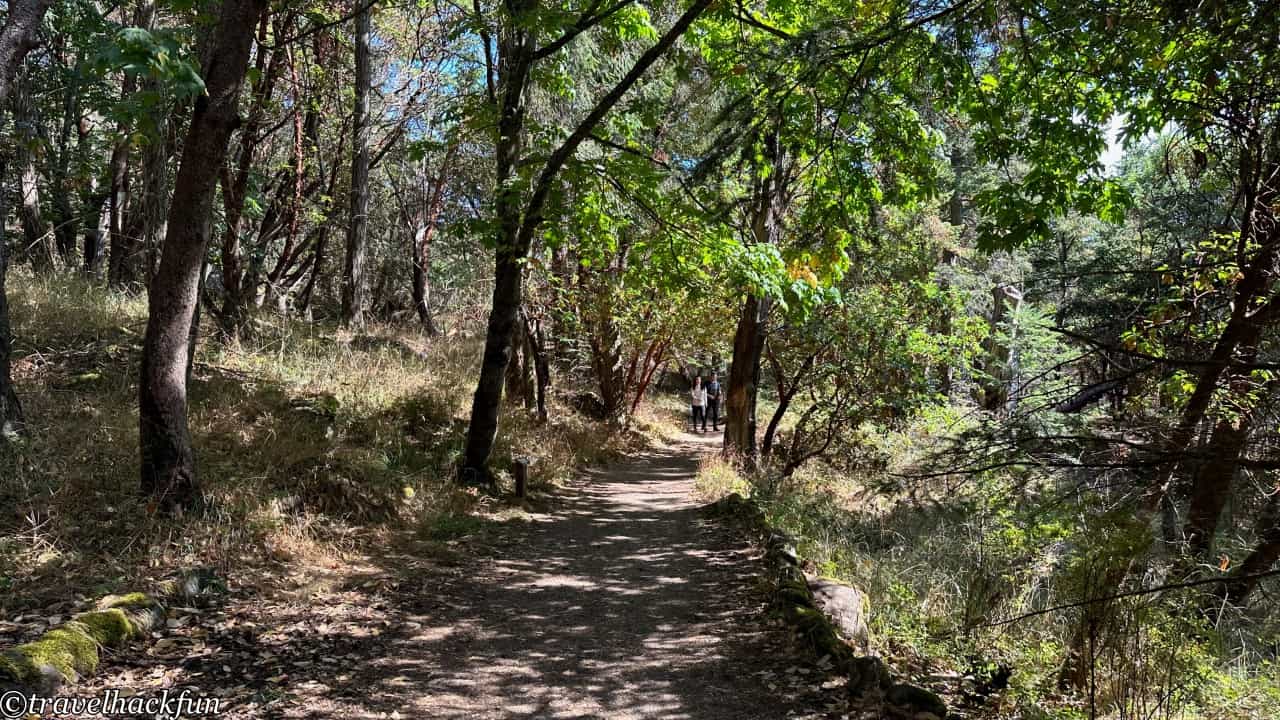 Must See | San Juan County Park
Another whale-watching spot is San Juan County Park, which I personally consider to be the most scenic location on the entire San Juan Island. If you're interested in camping on the island, this is your only option for campgrounds, but there are only 30 campsites, so it's essential to make reservations well in advance. Even if you're not camping, you can still visit the day use area, which is the whale-watching point by the sea. It offers a very comfortable and picturesque seaside view.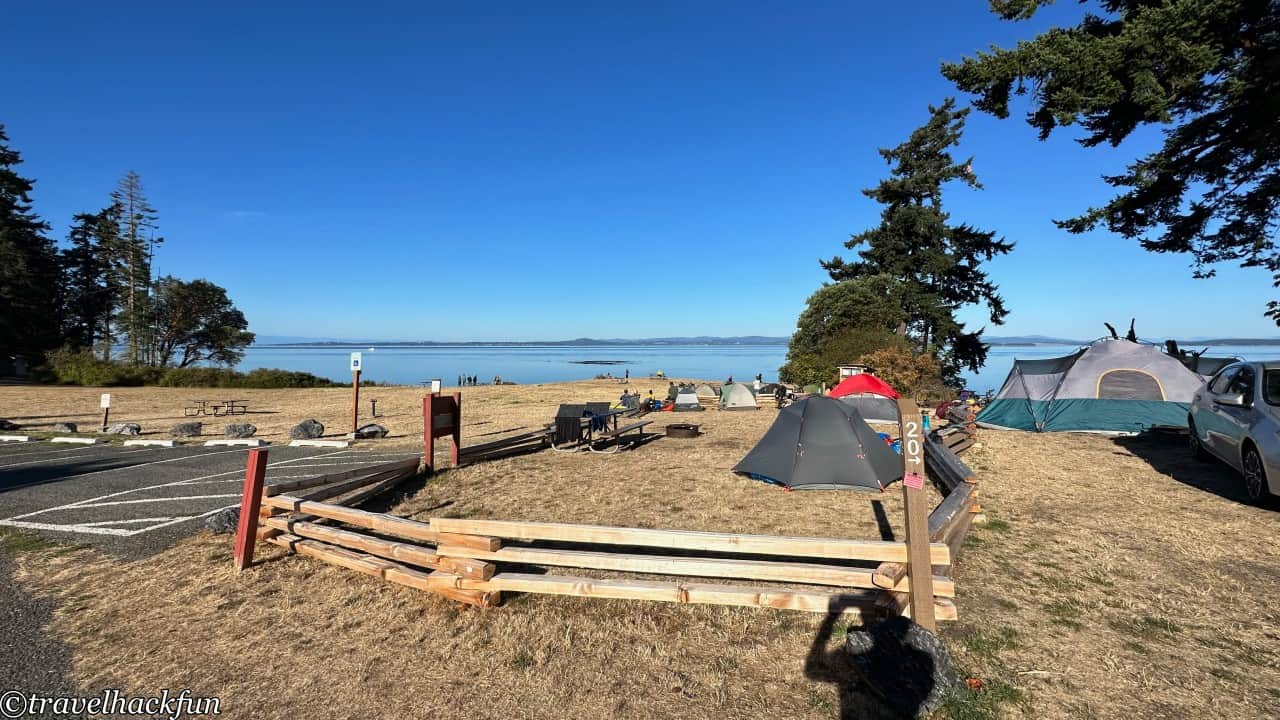 San Juan Island Sculpture Park
Heading slightly north from the western side of the island, you can reach the San Juan Island Sculpture Park. This is a sculpture park featuring numerous sculptures donated by artists, set amidst nature. If you enjoy an artistic atmosphere, it's a great place to visit and take a leisurely walk among the sculptures.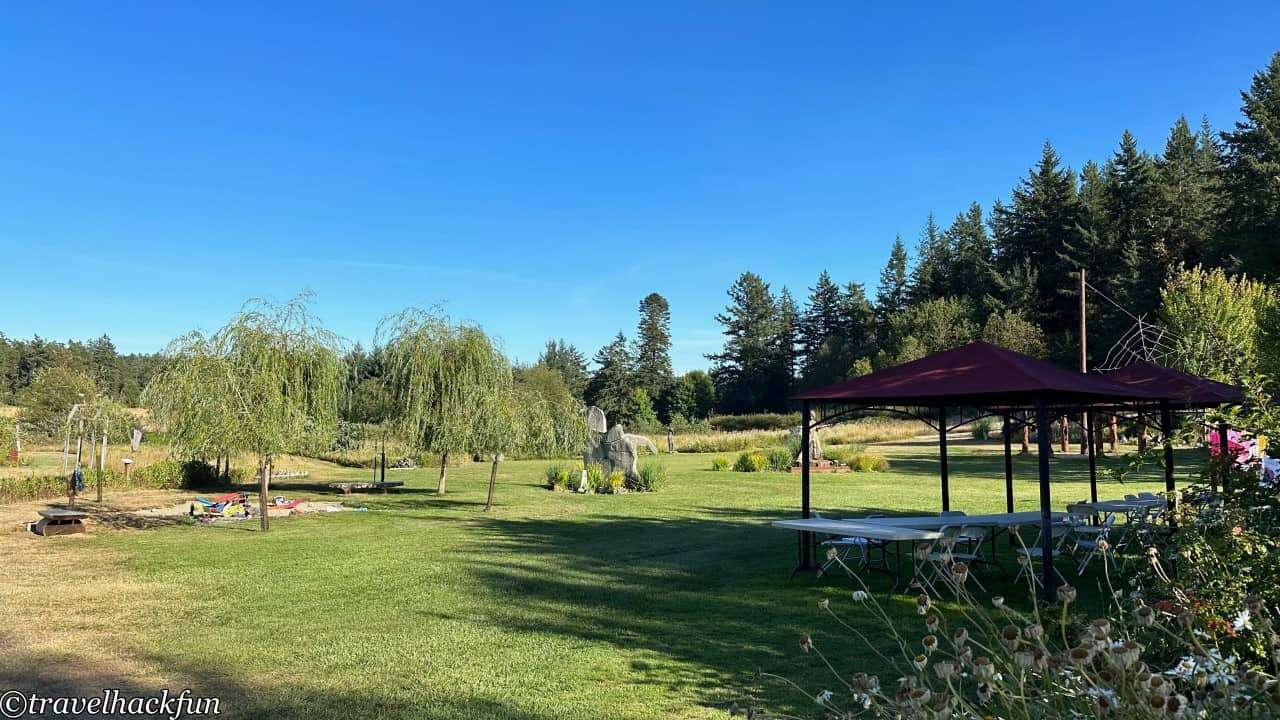 Roche Harbor
On San Juan Island, there are actually two ports. Apart from Friday Harbor, where most regular tourists disembark, there's another one to the northwest, Roche Harbor. Roche Harbor primarily hosts private yachts, and while it has fewer restaurants, they are more upscale, creating a quite different overall atmosphere compared to Friday Harbor.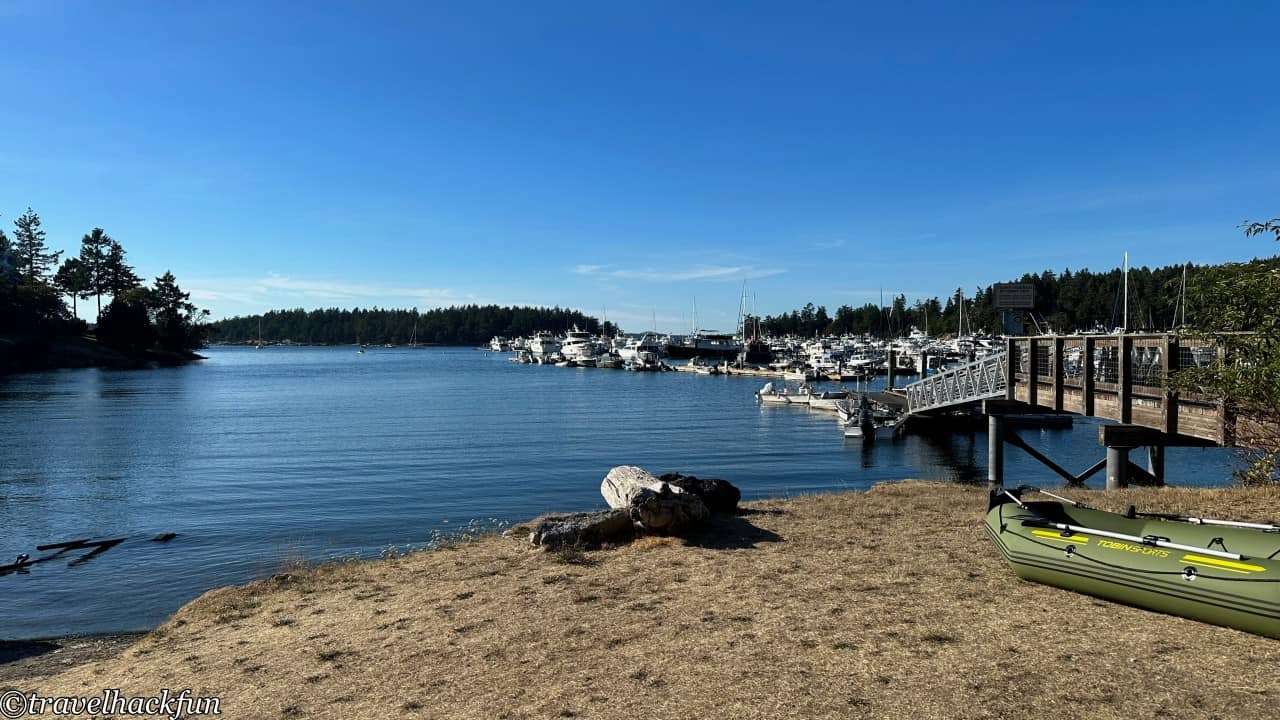 San Juan Island | Activities
In addition to visiting the island's attractions, San Juan Island also offers opportunities for water activities and whale watching. There are many orcas near San Juan Island, and these excursions typically depart from Friday Harbor.
Recommended Whale Watching Tours

Kayaking Trip Recommendation

San Juan Island | Cuisine
San Juan Island Brewery
Rating: ⭐️⭐️⭐️⭐️
Price: $$
This brewery is quite spacious and a bit away from the harbor, but it gets packed with diners looking for a hearty meal in the early evening before their ferry rides. The standout item on the menu is the pizza, which is quite impressive. We also tried the salads and soups, and they were all good. As for the beer, I enjoyed all the ones I tried. It's my top recommendation in the vicinity of Friday Harbor.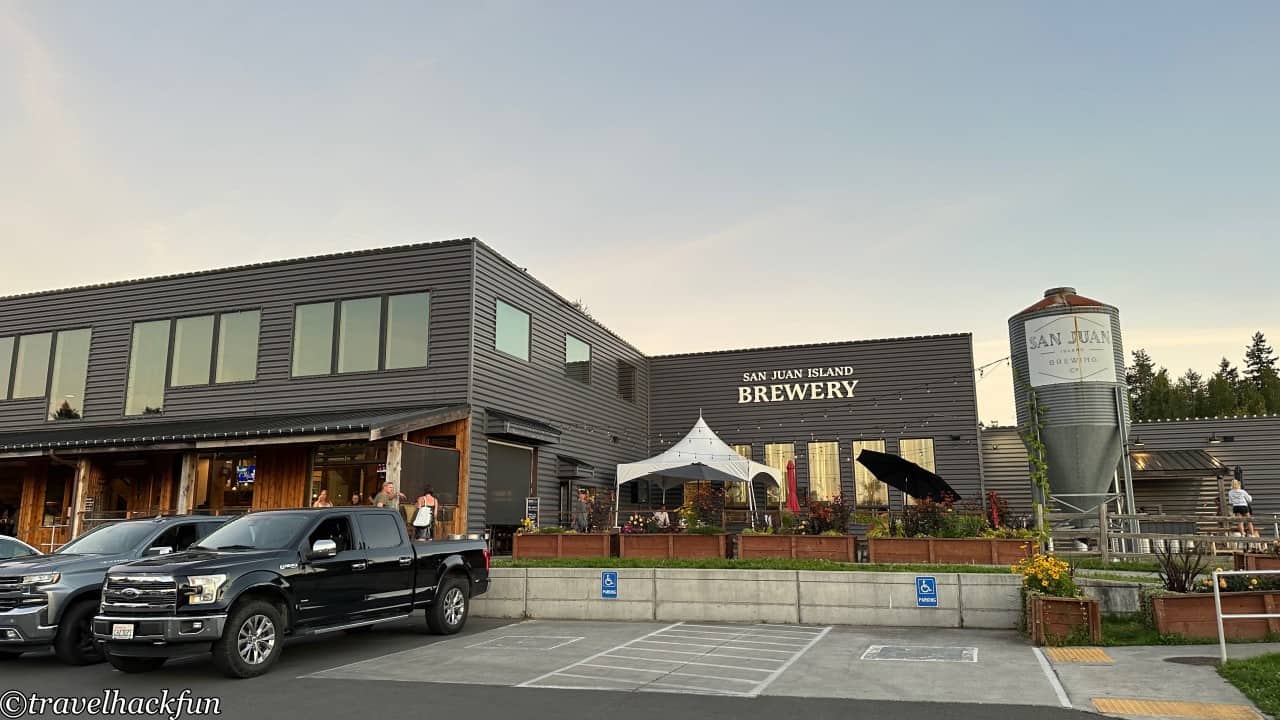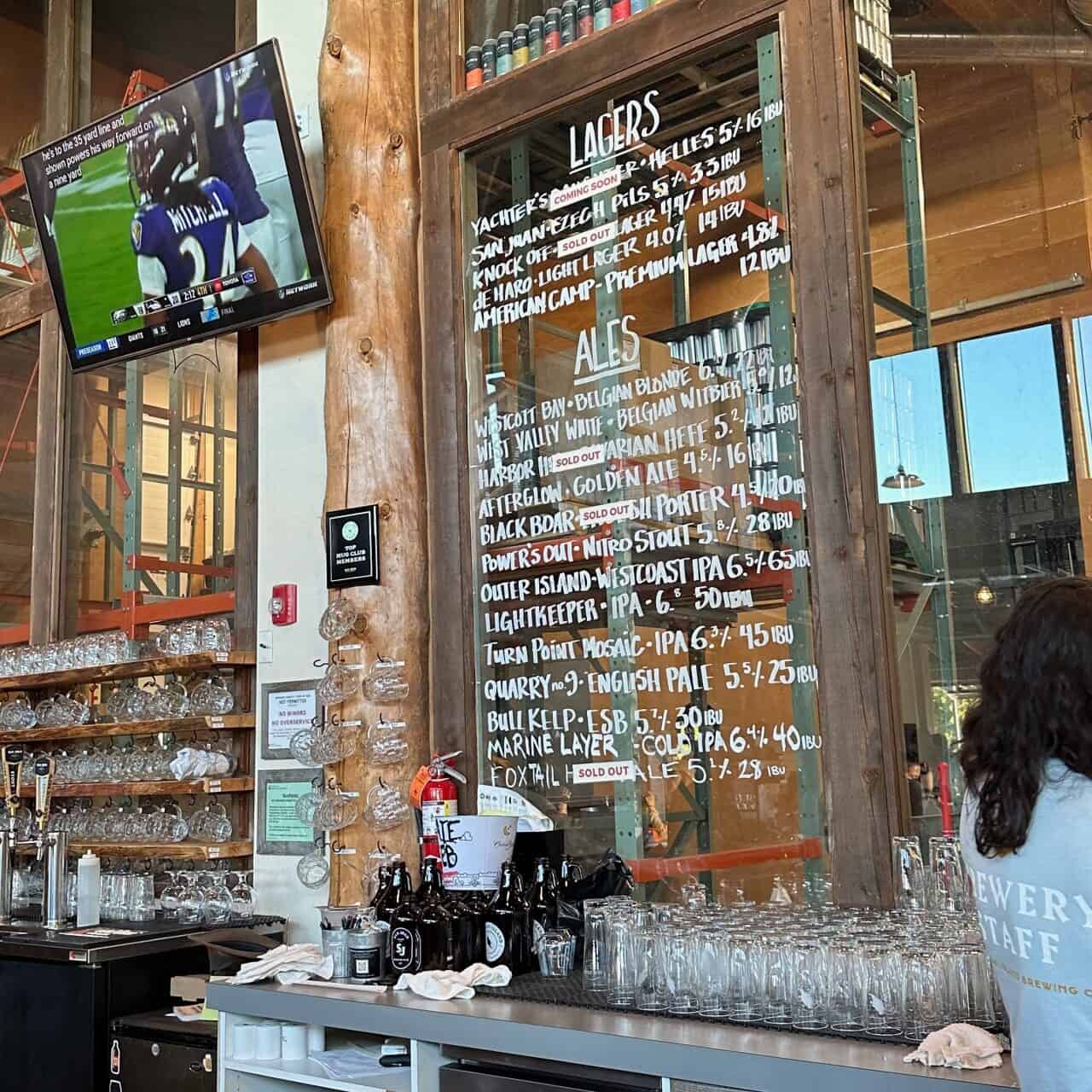 Westcott Bay Shellfish Co.
Rating: ⭐️⭐️⭐️⭐️
Price: $$$$
Westcott Bay Shellfish Co. is located somewhat in the middle of the island, making it a bit distant from both the eastern and western attractions. However, I can recommend it for the quality of oysters. The restaurant at Westcott Bay Shellfish Co. is quite popular, and they have limited seating. Without a reservation, you might have to wait for over half an hour. If you decide to drop by spontaneously, you can also purchase oysters directly from their shack and shuck them yourself; the restaurant provides the necessary tools for that.
We initially waited for a table and then decided to buy a half dozen from the shack to shuck ourselves. The shack only sells one type of oyster, and you have to do everything on your own. The prices are the same as in the restaurant. The oysters here have a stronger, salty flavor, and they are really delicious. If you don't know how to shuck oysters, the staff is quite helpful and will show you how. Shucking your own oysters can also be a fun and unique experience.
Inside the restaurant, the experience is closer to fine dining. They primarily focus on oysters, but they offer some other dishes like cheese platters, grilled oysters, clams, and more. The flavors are all quite good, but my personal favorite remains the oysters.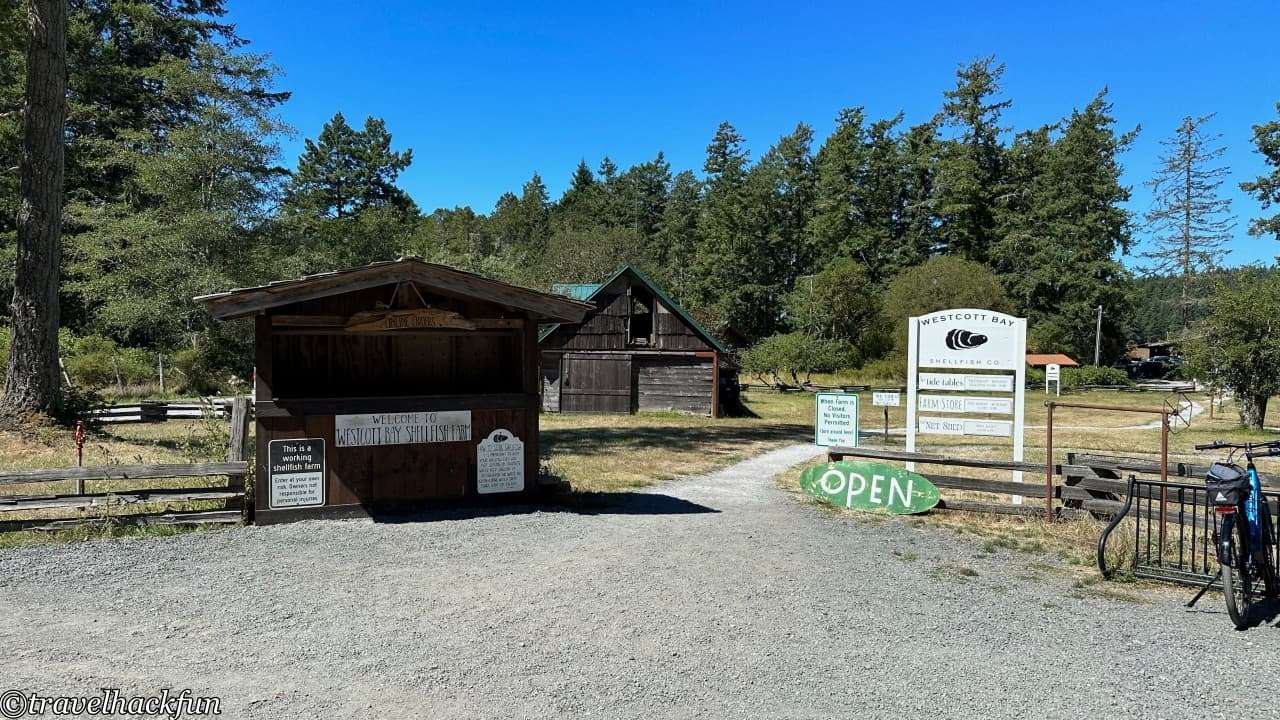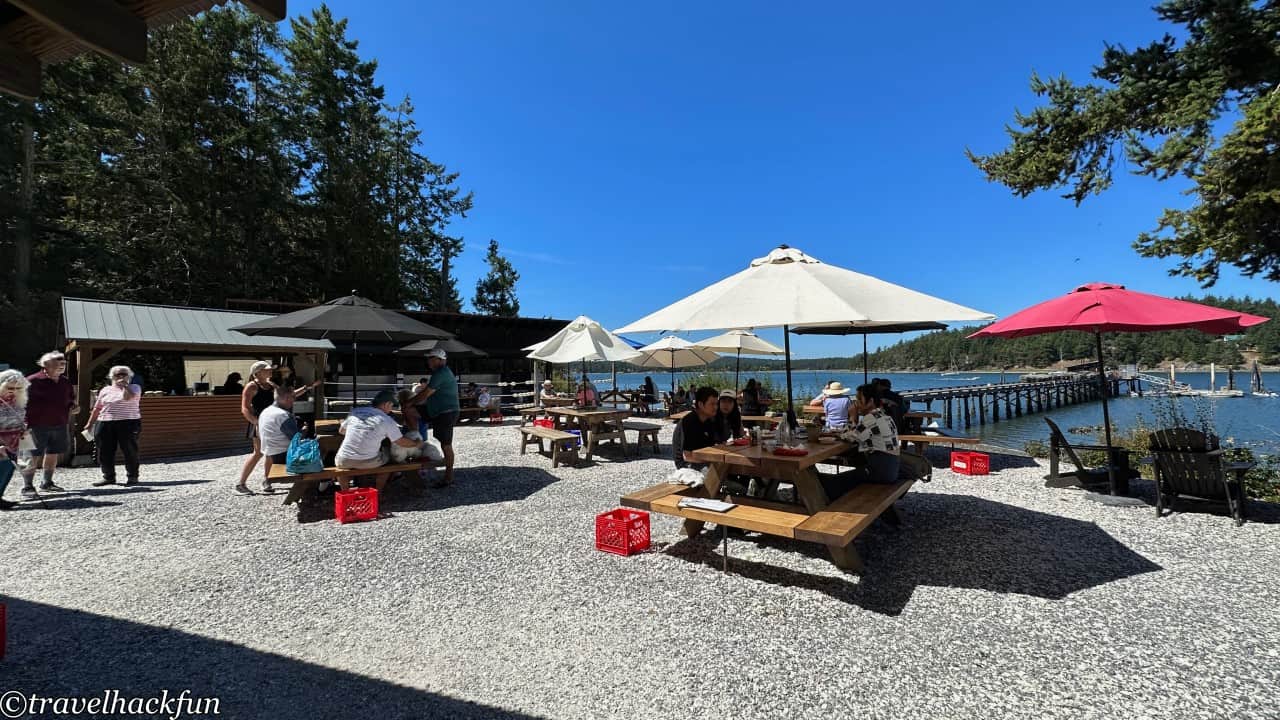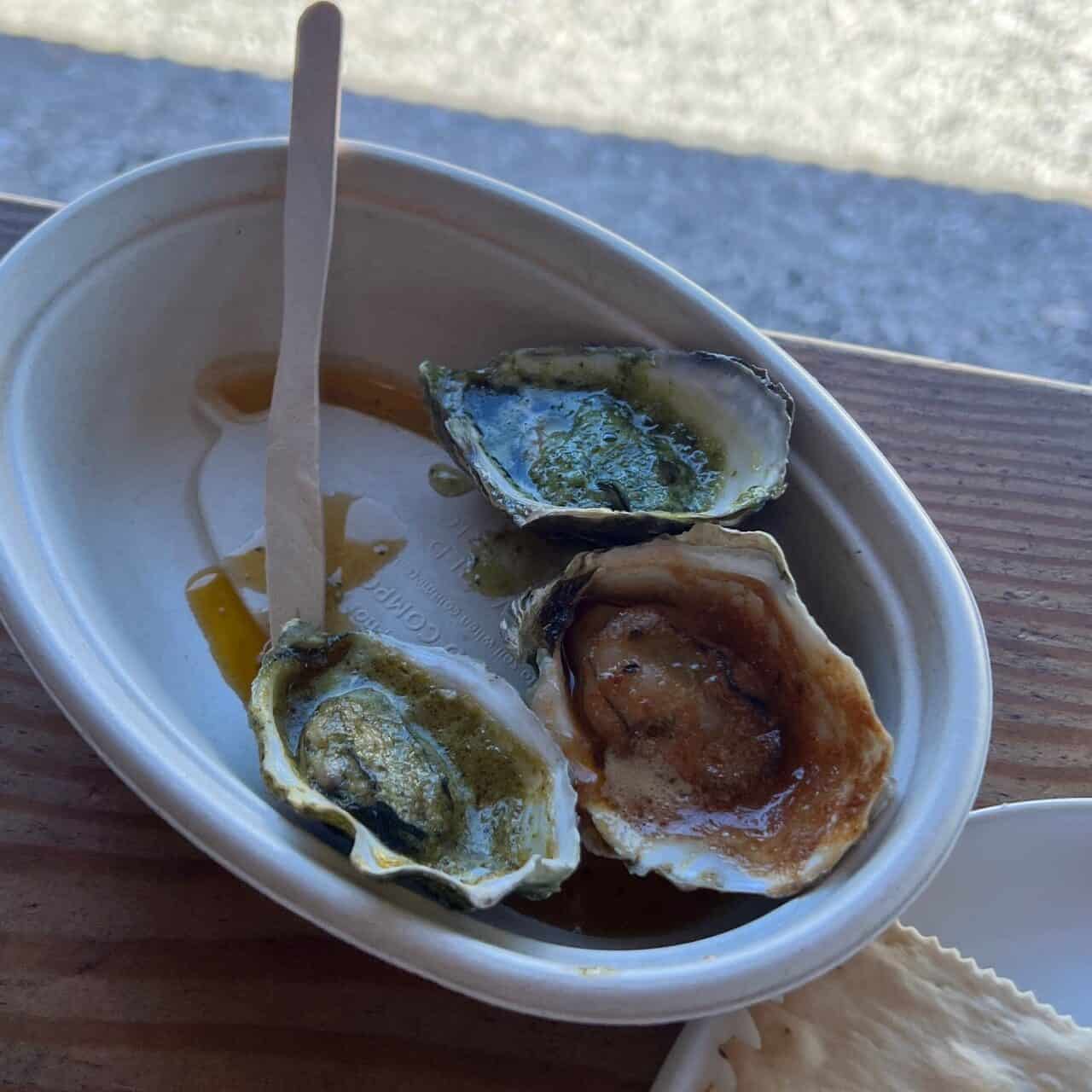 Salty Fox Coffee
You can't miss Salty Fox Coffee, as it's right in front of the Friday Harbor pier. It's a small café with seating outside where you can watch the boats, creating a nice atmosphere. Unlike some of the more casual restaurants in Friday Harbor, Salty Fox Coffee is open every day and is often one of the few options for those looking for coffee. In addition to coffee, they also offer some pastries that you can buy and take with you for a picnic at the nearby attractions.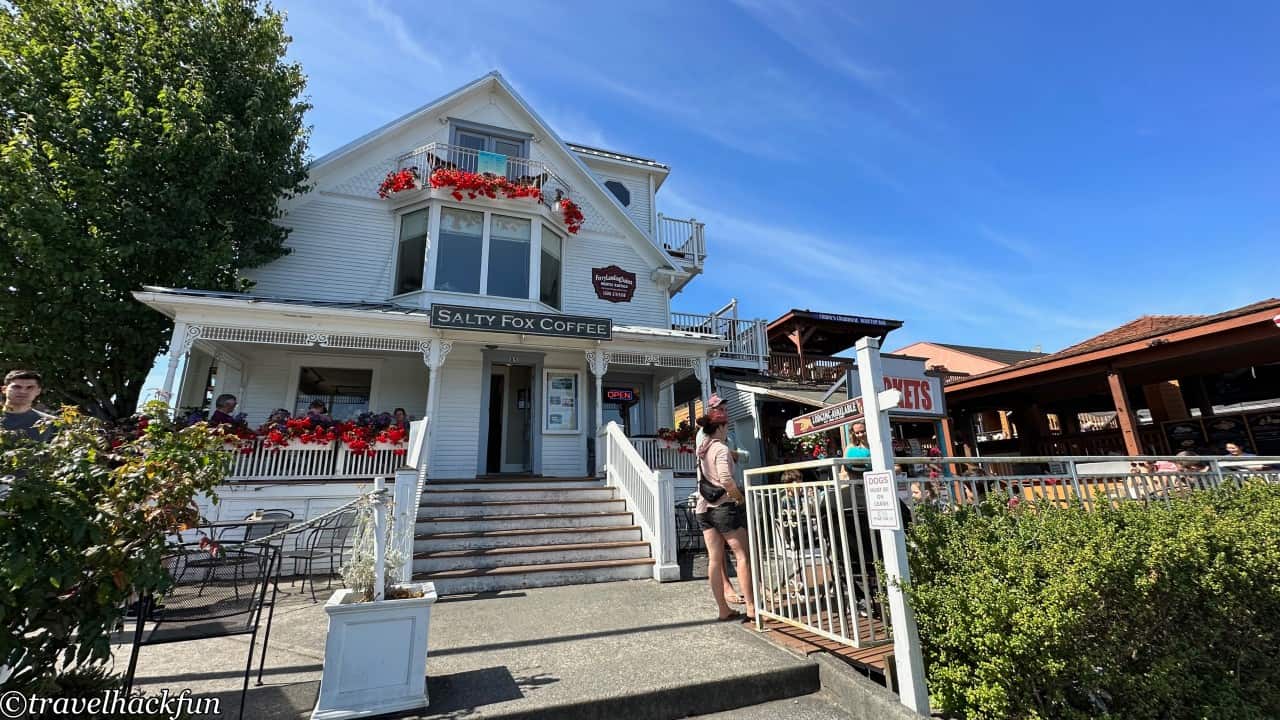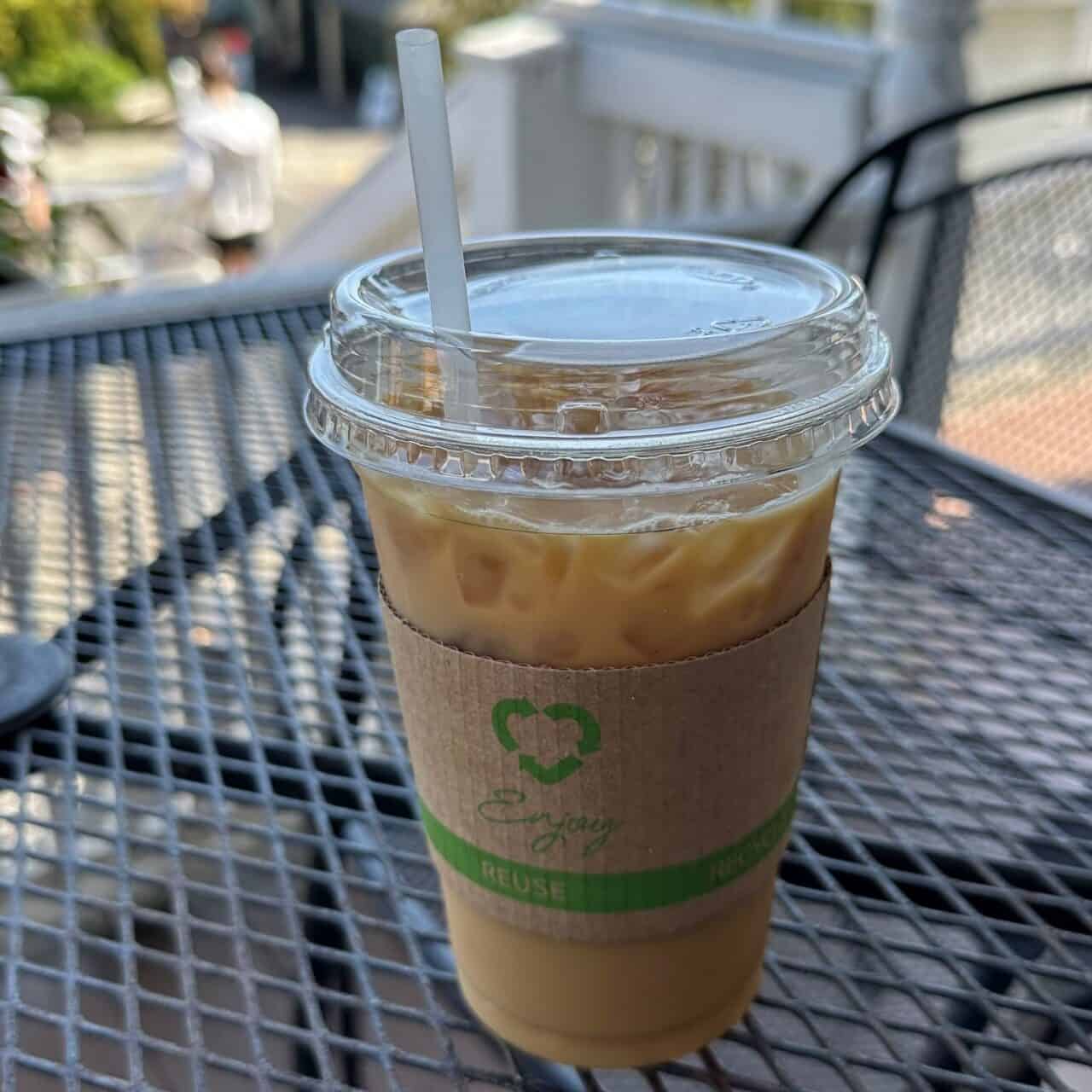 San Juan Island | Accommodation | San Juan Island Hostel
Accommodation options on San Juan Island are not very abundant, and on weekends and holidays, they tend to be fully booked, leading to higher prices. During our stay, we chose to stay at the San Juan Island Hostel, not necessarily because it was the most economical option, but rather because it was the only choice available. Initially, we had some concerns about the quality, but after our stay, we found it to be acceptable. We stayed in a shared room, and aside from the beds not being exceptionally comfortable, we were quite satisfied with everything else.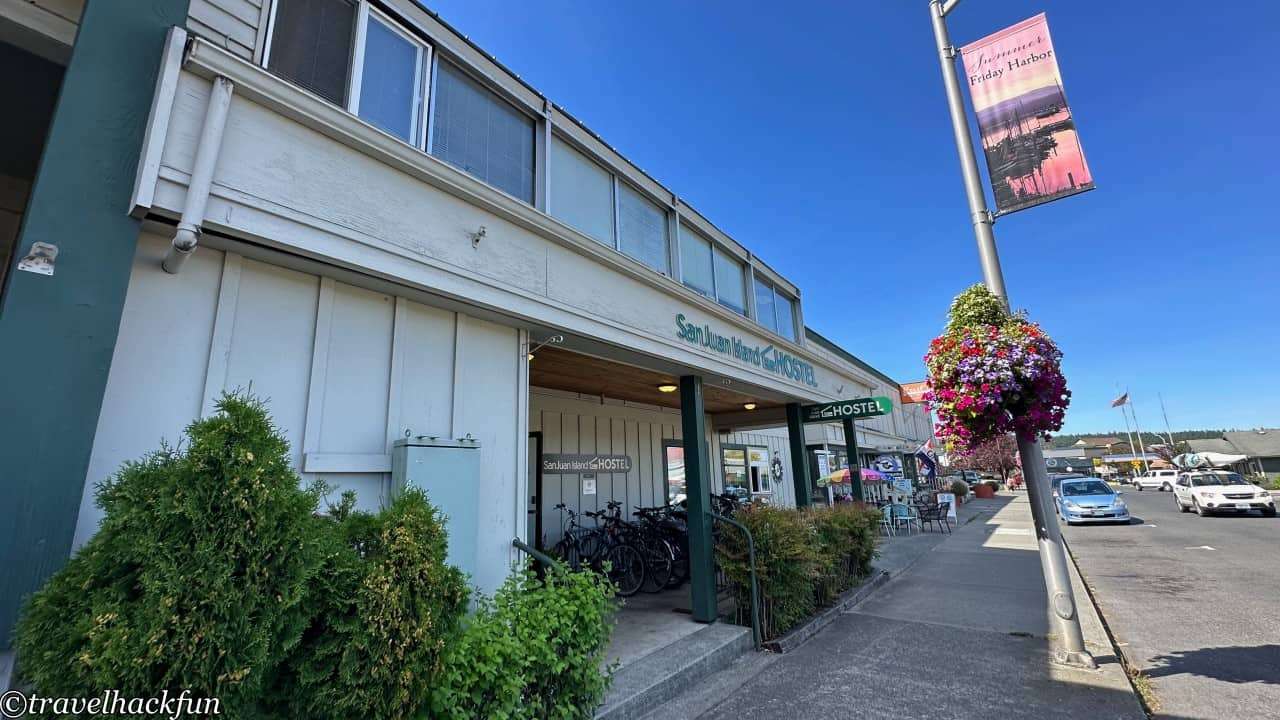 Looking for a stay in San Juan Island?

Further reading
Thank you for visiting our website.

All the content on this site is original and shared with the purpose of providing valuable information. We sustain the operation of this site through a small amount of advertising and sponsored links. If you click on links to third-party merchants on our site and make purchases, we may receive a portion of the sales as a commission. If you click on links to third-party merchants on our site and make purchases, we may receive a portion of the sales as a commission.

Find more posts on a map Here.

My recommended resources for hotel bookings.

My recommended resources for activity bookings.
Buy me a coffee and support my contents!
If you are interested in quoting this article or using any part of its content and images on your website or publication, please contact us via email to request permission.