Orcas Island | Introduction
Orcas Island is located in the northwest of Washington State, USA, and is one of the three main islands among the 170 scattered islands in the San Juan Archipelago (the other two are Lopez Island and San Juan Island). This region is one of the best whale-watching spots in the US. The name "Orcas Island" itself suggests that it's very easy to spot Orca (killer whales) here. The island boasts a beautiful coastline and dense forests. Compared to the more frequently visited San Juan Island, it has a more pristine and unspoiled ambiance, making it more suitable for visitors who prefer a tranquil outdoor experience. Some even believe it's the most beautiful island among the San Juan Archipelago.
Orcas Island is not large, and if you don't consider the transportation time to and from the island, you can visit all the attractions within a day. However, it's best to plan to stay on the island for a night to avoid any disruptions due to ferry schedule delays or to prevent feeling too exhausted from an early start and late return.
Orcas Island | Transportation
Orcas Island is easily accessible by ferry. It's about a 1.5-hour drive from the northern part of Seattle to Anacortes, where you can take the Washington State Ferry to the San Juan Islands. If you're planning a day trip, you can catch the first ferry at 7:25 am. It's more convenient to drive onto the ferry to Orcas Island, and it's a good idea to reserve a spot for your vehicle in advance, especially during the busy summer season.
If you plan to visit multiple islands, it's recommended to go directly to the furthest San Juan Island on your outbound trip, as Orcas Island is a midway stop, and you won't need to pay for the ferry ticket again on your return trip. You don't need to make a separate reservation for vehicle spots from San Juan Island to Orcas Island. However, if you're island-hopping, you'll still need to reserve a spot for your return to Anacortes. Do note that not all ferries stop at every island, so please check the schedule of the ferry you plan to take before departing.
Additionally, a reminder that ferry schedules between the smaller islands can easily be delayed or even canceled. So, if you're planning an island-hopping itinerary, it's best to keep your schedule flexible. On our first visit, we ended up waiting an extra half day at Friday Harbor.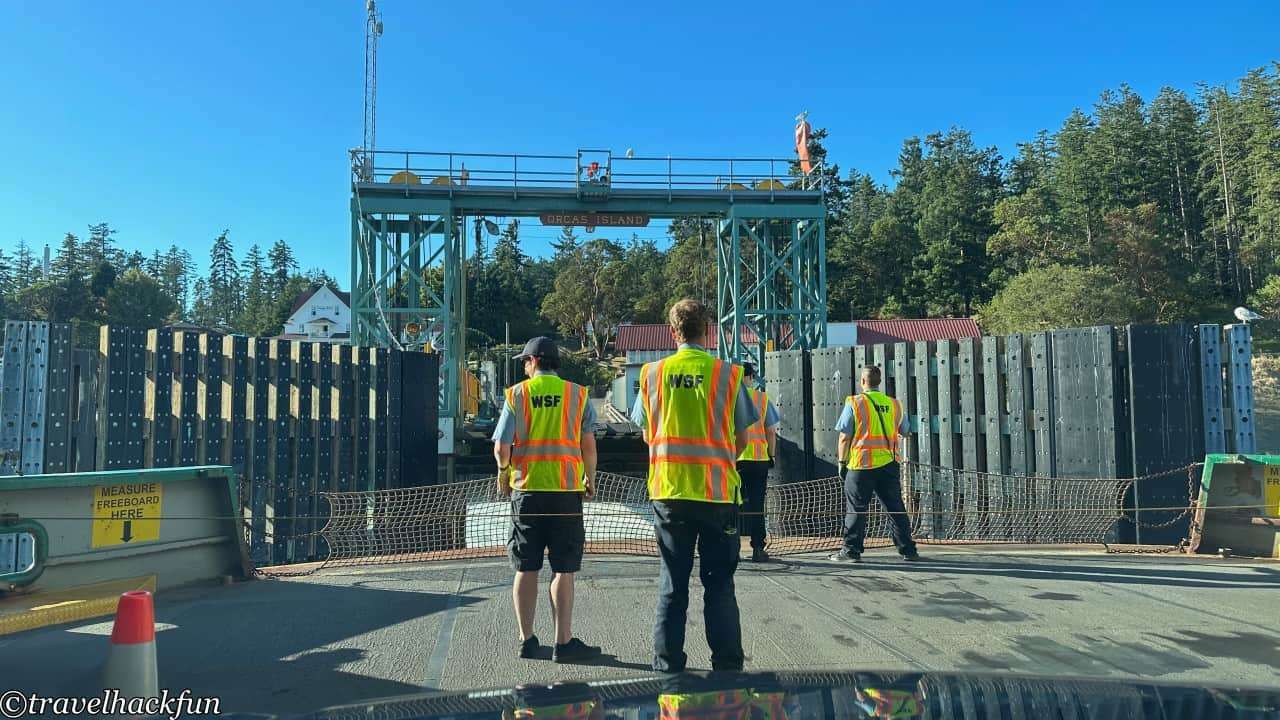 The port at Orcas Island is quite small. For the return trip, you can simply drive up and queue at the port. There are small shops and a picnic area next to the port. The scenery is actually quite pleasant, so if you have some waiting time, it's worth taking a stroll around the area.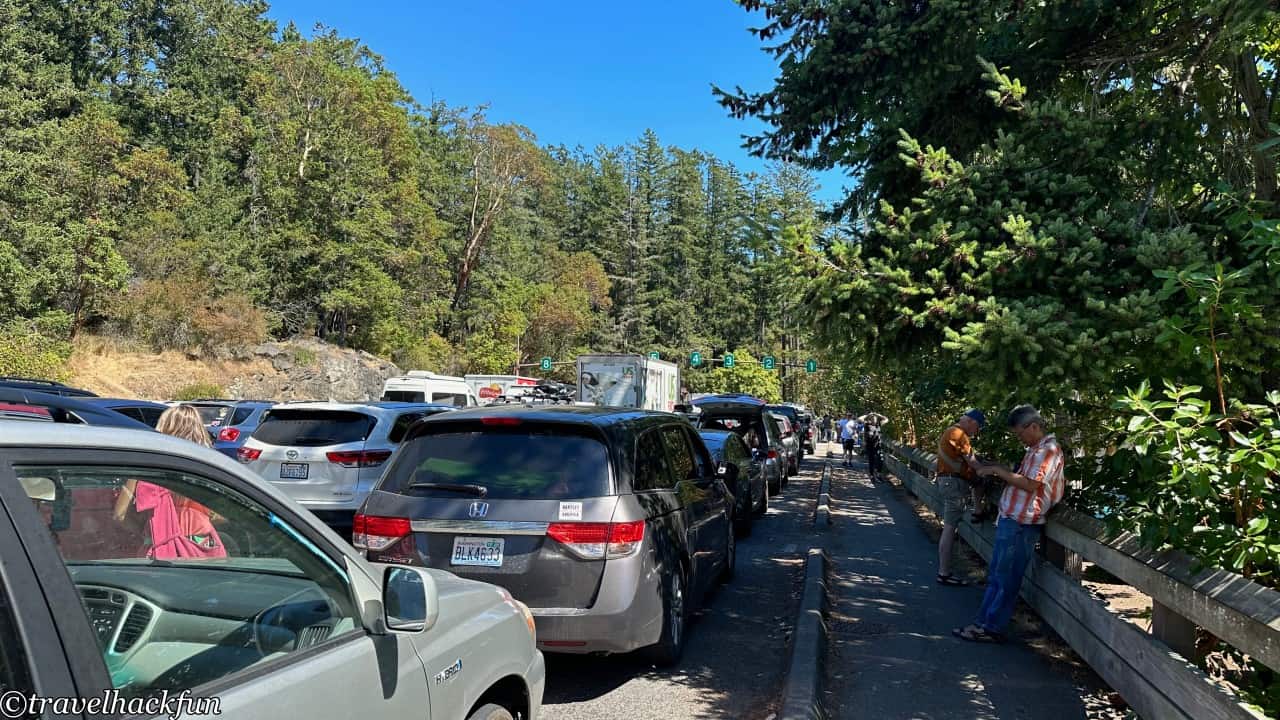 Orcas Island | Lodging
Staying at Eastsound
Eastsound is located in the northern part of the island and is the easiest place to find shopping, dining, and accommodation on Orcas Island. Although Eastsound is the largest town on Orcas Island, it's actually not very big. It offers a tranquil and relaxed environment, unlike the more commercialized Friday Harbor. It's easy to feel that you can spend a pleasant time here. The town features local art galleries, handicraft shops, and bookstores, and there are also quite a few dining options available.
Looking for a stay in Eastsound?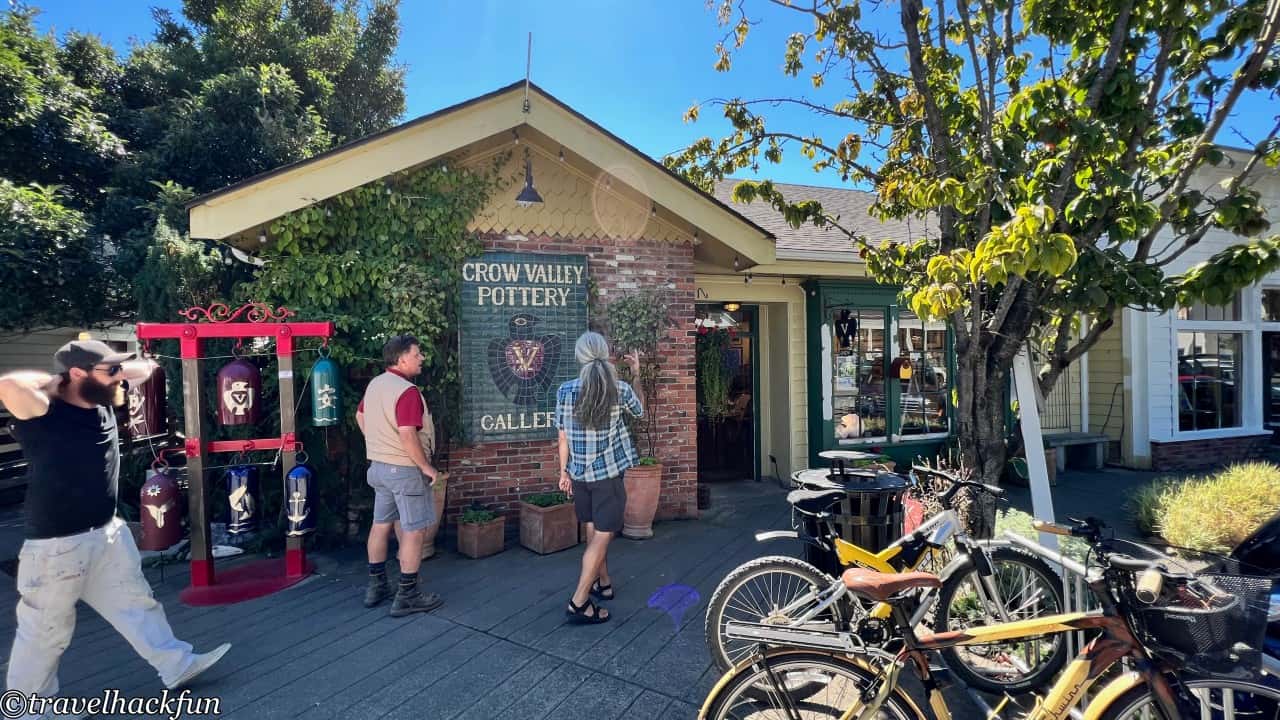 I really like the bookstore in Eastsound. You can buy a cup of coffee, sit down, and read while overlooking the sea.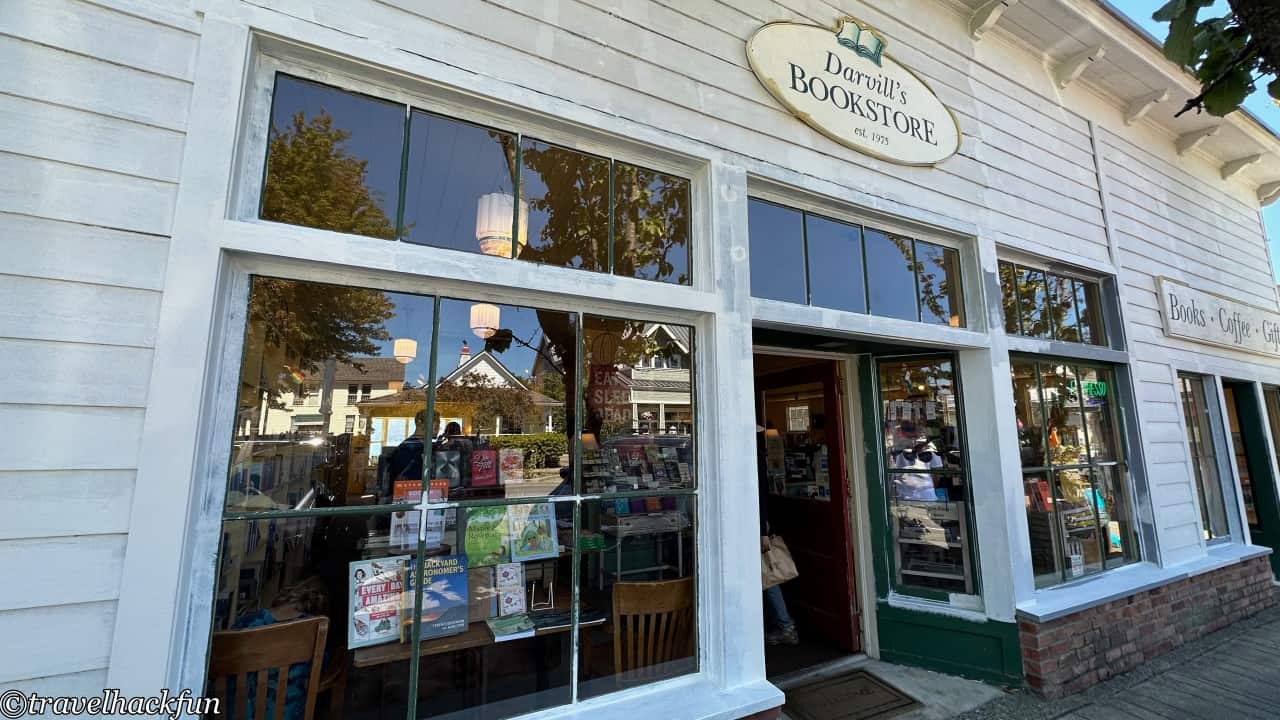 Eastsound offers a variety of accommodation options, but I think the best-located one is the Outlook Inn. In addition to being a hotel, it's also the best upscale restaurant in town. It's directly across from the sea, so if you stay here, taking a morning stroll by the ocean is incredibly relaxing.
Recommended Hotel: Outlook Inn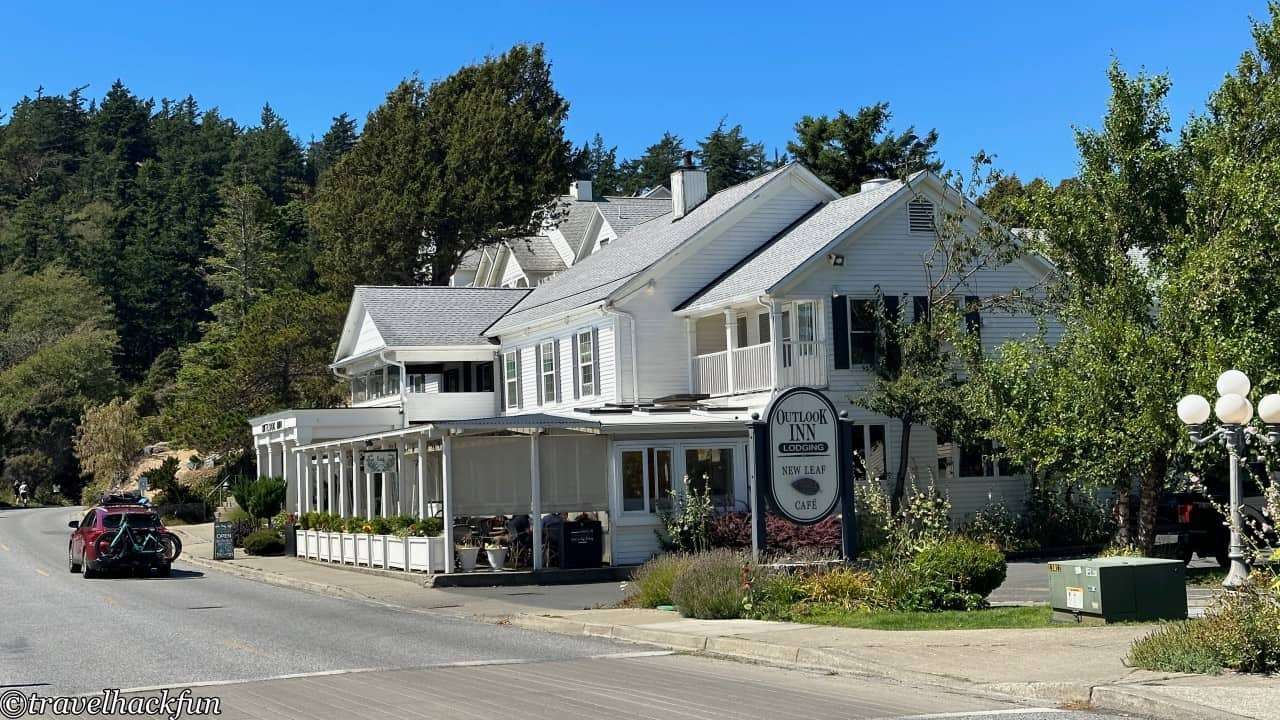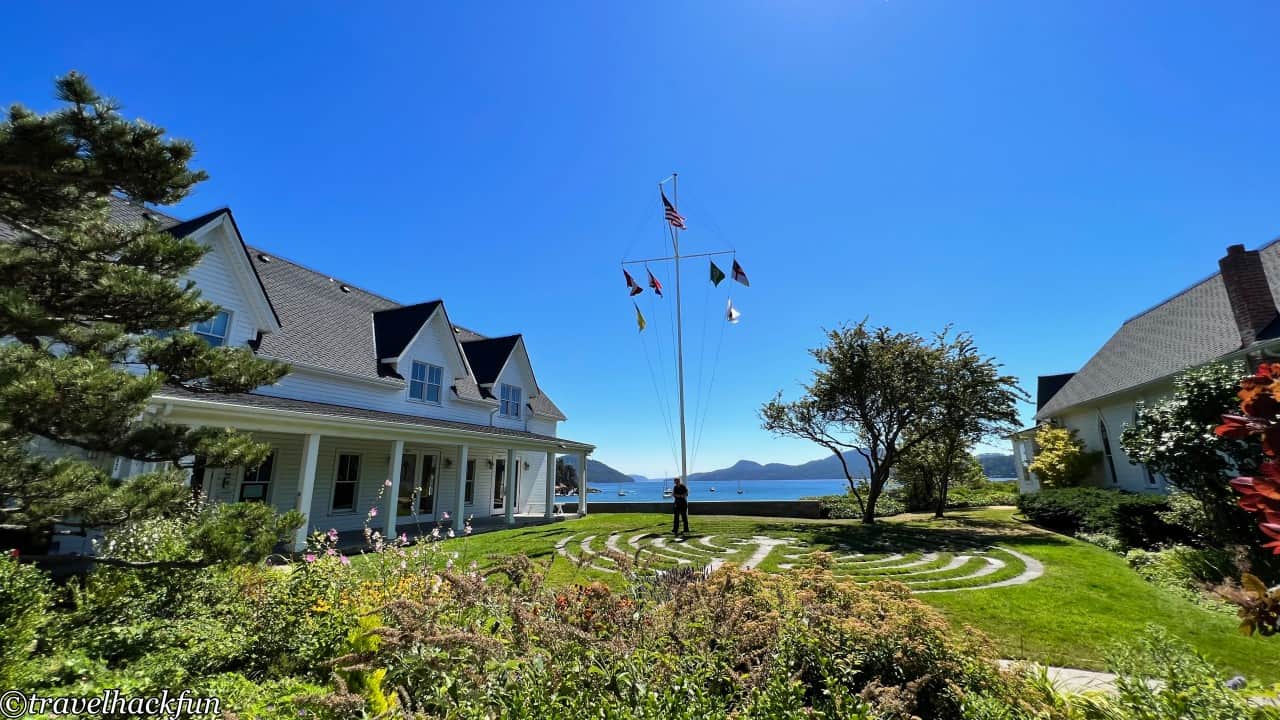 Camping at Moran State Park
Comfort: ⭐️⭐️⭐️⭐️
Space: ⭐️⭐️⭐️⭐️
Cleanliness: ⭐️⭐️⭐️⭐️
Location Convenience: ⭐️⭐️⭐️⭐️
Overall: ⭐️⭐️⭐️⭐️
For those who love camping, Orcas Island is an excellent choice. The largest park on the island, Moran State Park, offers several camping spots, ranging from those close to the lake to more secluded locations deep in the forest. We chose to camp during our visit to Orcas Island. Our campsite had a lake view, and even on extremely hot days, it remained relatively cool in the forest in the mornings. The campsite we stayed at was long and narrow, accommodating about two to three vehicles and suitable for two large families. The facilities were decent, with even hand soap provided in the restrooms. Moreover, my T-mobile phone had good reception throughout the island, making it a very convenient choice.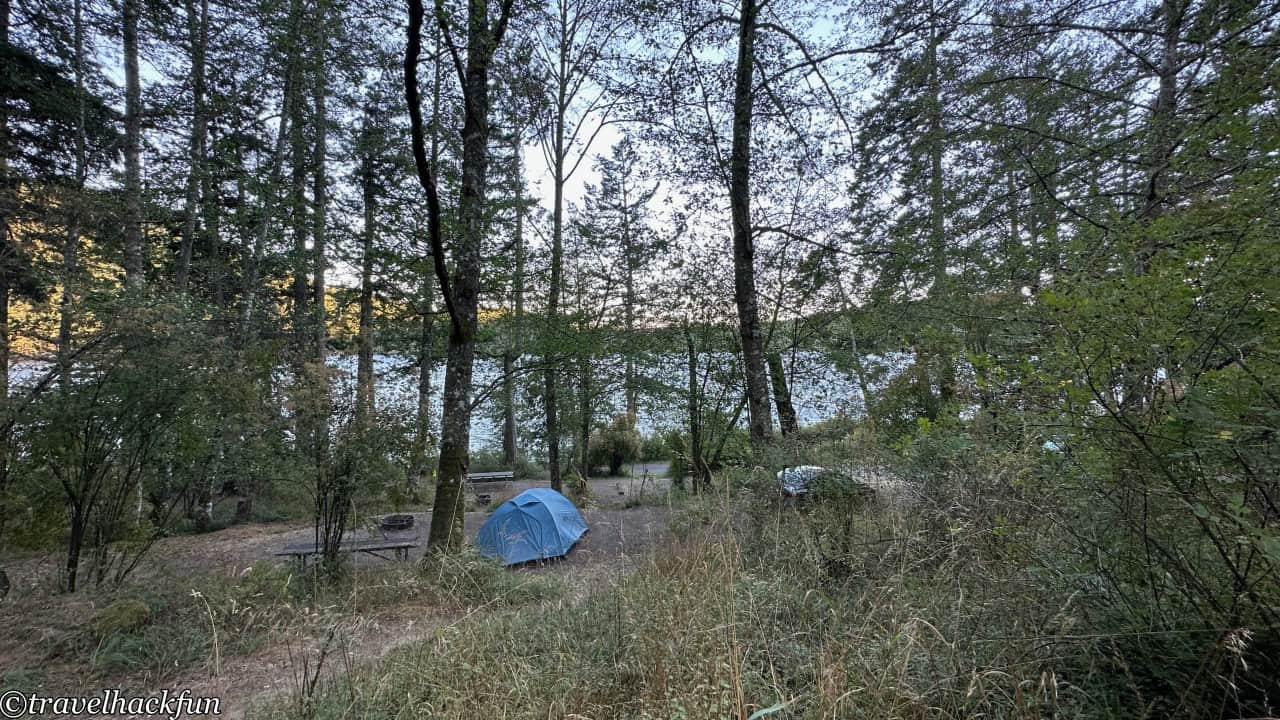 Orcas Island | Attractions
Moran State Park
Moran State Park is located in the center of the island. In 1921, Seattle shipbuilding magnate Robert Moran donated the land to the state of Washington, leading to the establishment of this state park. In addition to being a successful businessman, Moran was also a nature enthusiast. Moran State Park is the largest state park on Orcas Island, covering over 5,000 acres, making it an ideal destination for outdoor activities. The park boasts over 30 miles of trails and features pristine lakes such as Mountain Lake and Cascade Lake.
Mount Constitution Lookout Tower
Mt. Constitution is the highest point in the San Juan Islands, with an elevation of 2,409 feet. Those driving can directly drive up to the observation tower to enjoy the view. Vehicles can be parked at the parking lot in front of the Summit Visitor Center, which is right by the Mt. Constitution Lookout Tower. After parking, we walked to the picnic area in front of the Lookout Tower, and the view was already stunning from there.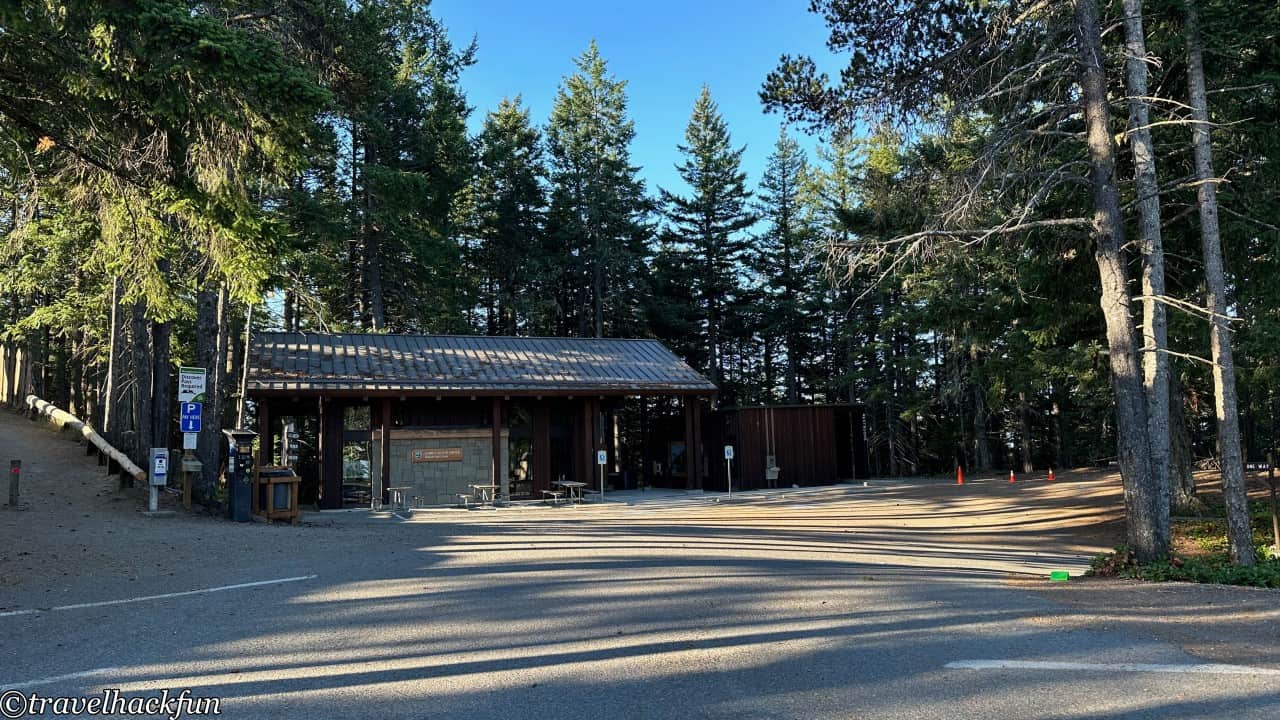 This stone-built observation tower requires climbing roughly five stories to reach the top. Once there, you can enjoy a breathtaking 360-degree panoramic view, overlooking the Cascade Mountains, Olympic Peninsula, and the nearby islands.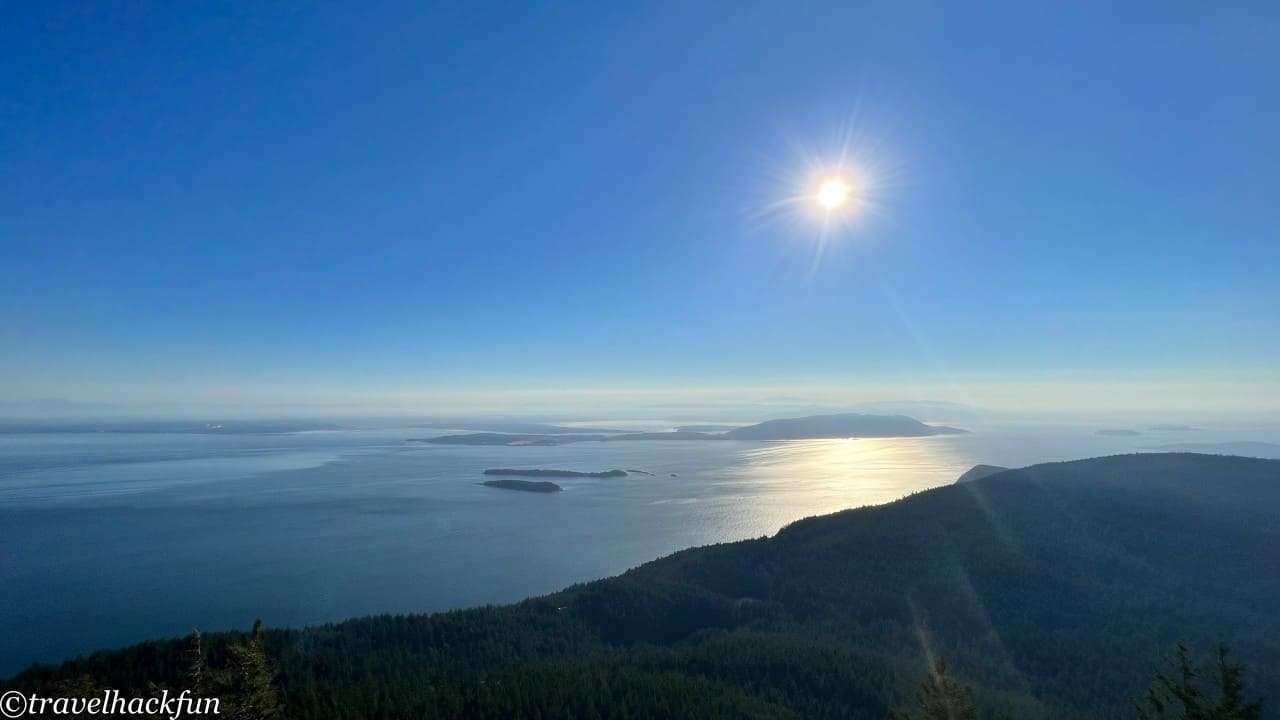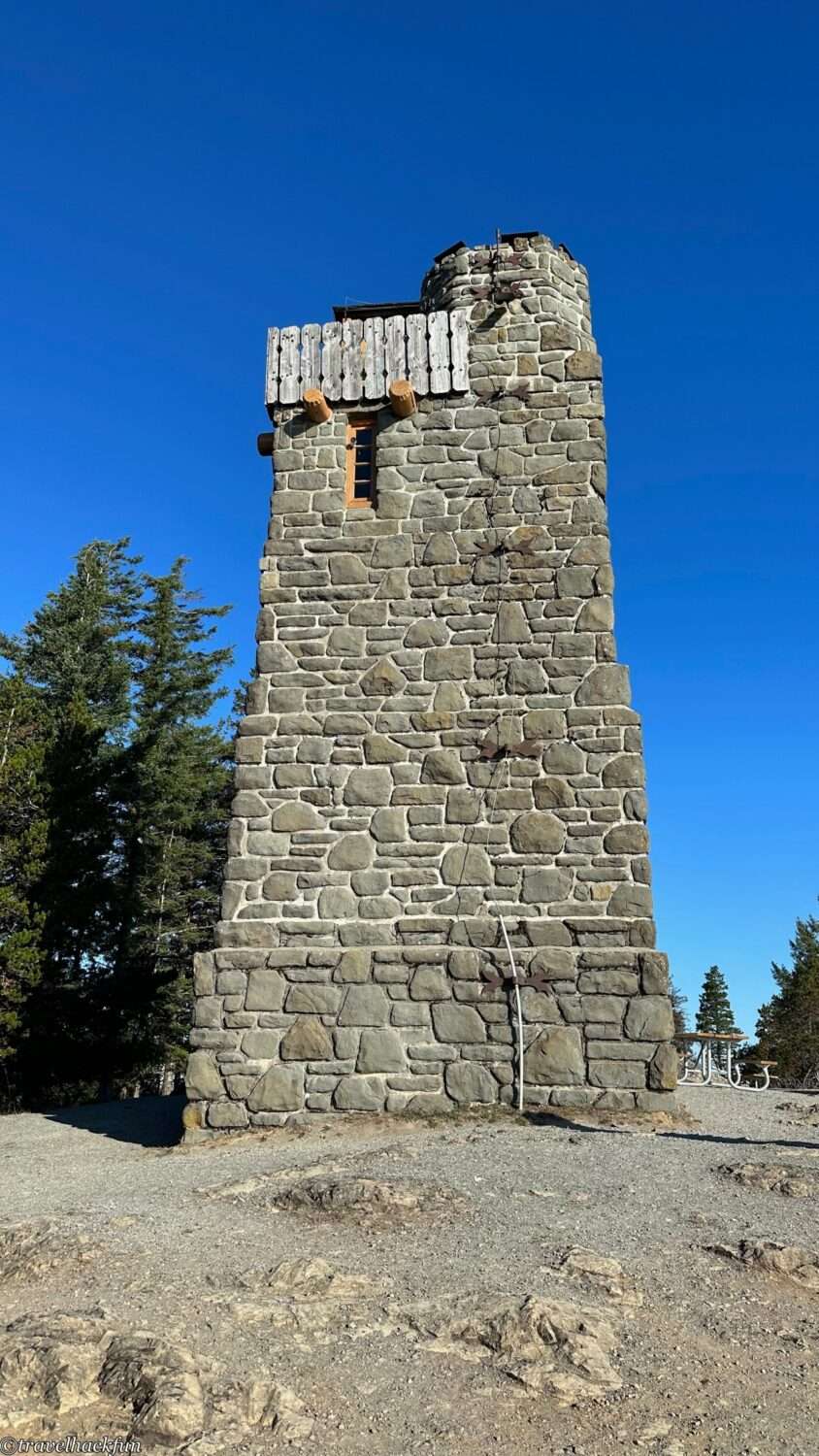 Summit Lake Trail
From the trailhead located behind the observation tower, you can take the Summit Lake Trail, which is a bit longer and leads all the way to the lakeside. The viewpoints along the way are said to be very beautiful, so many hikers who visit the park prefer to park by the lake and hike up this trail to the summit. Due to our limited time, we only walked up to the first viewpoint on this trail before turning back. The forested scenery on the mountaintop trail is truly quite stunning.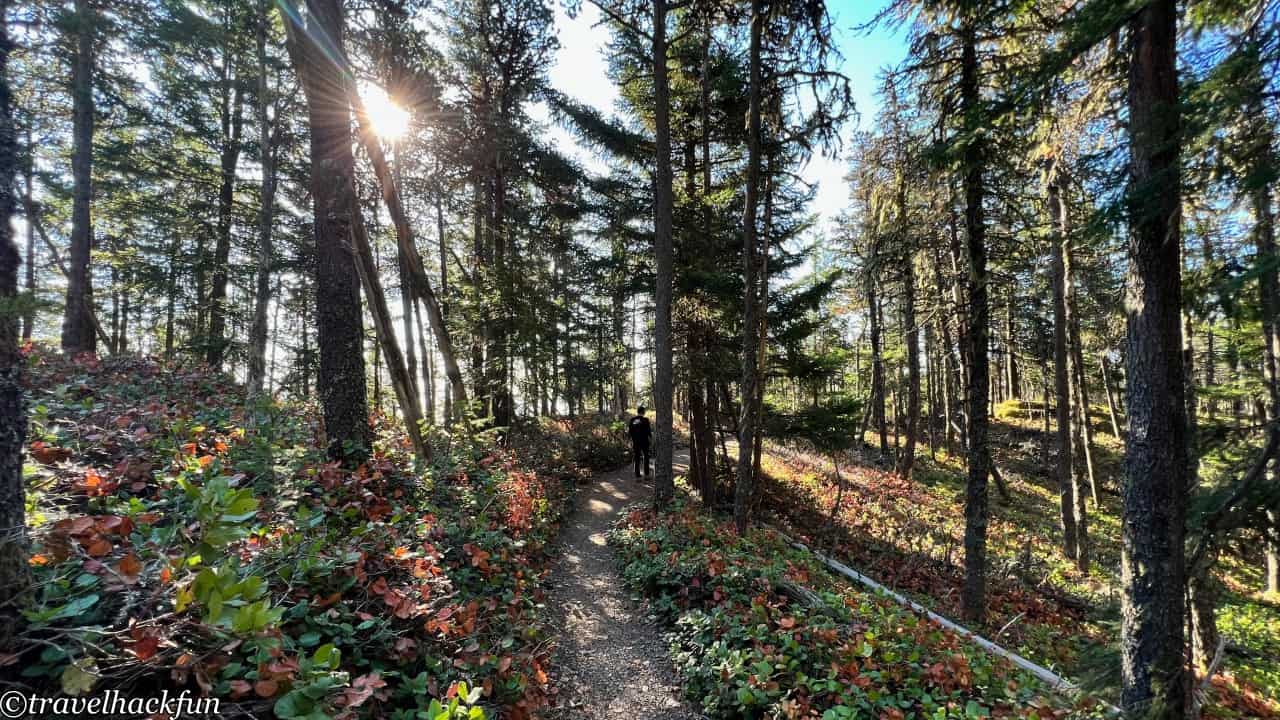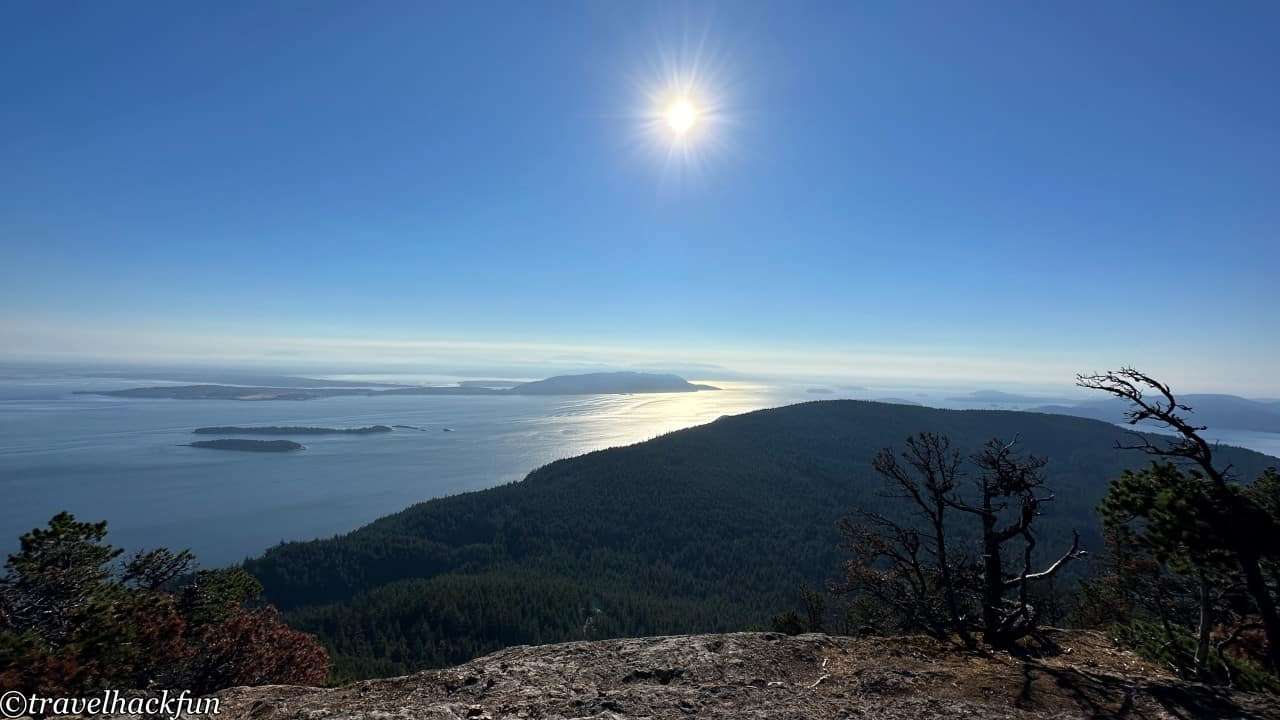 Cascade Fall Trail
This trail is somewhat shorter and leads to the Cascade Fall waterfall. The first waterfall is just 0.2 miles in. According to the official park description, this trail is considered easy. However, in my experience, it felt a bit more challenging than expected, leaning more towards a moderate difficulty level. As the name "Cascade Fall" suggests, the waterfall has multiple tiers. We descended along the trail, passing through both the Upper View and Lower View Areas.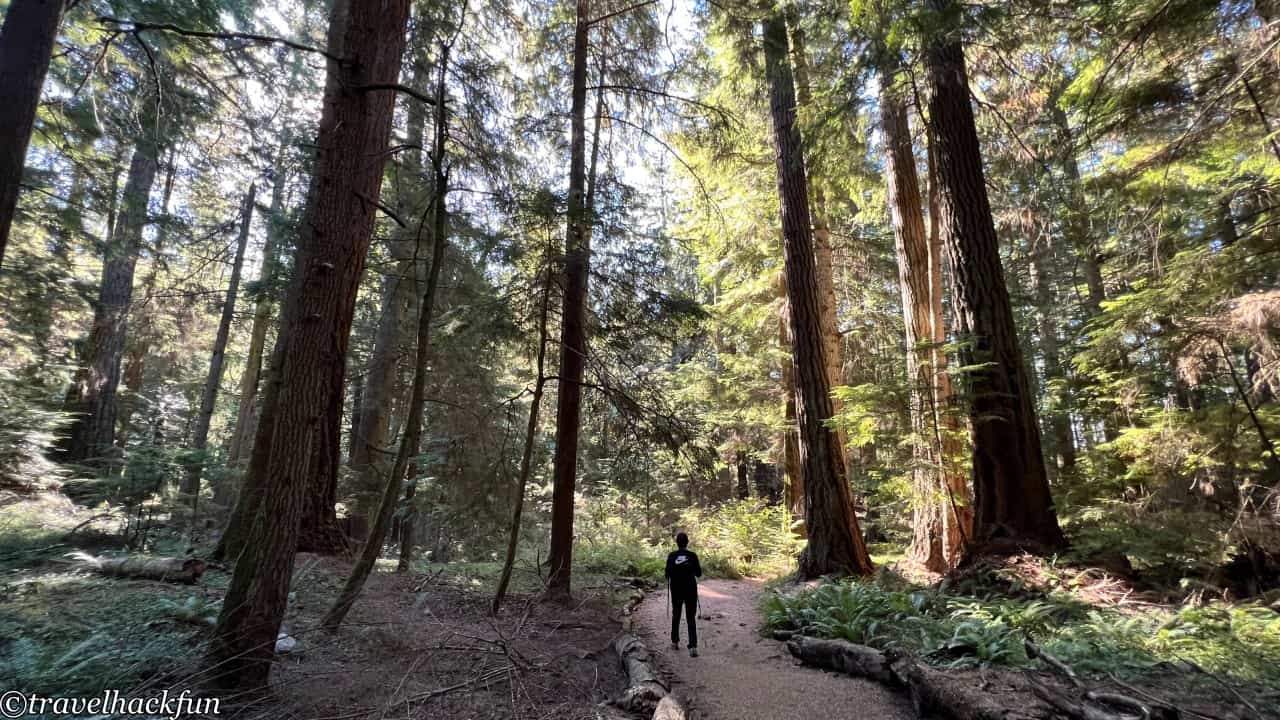 From the Lower View, as you continue, you'll come across a bridge. Standing on the bridge, you can clearly see the cascading layers of the waterfall tumbling down.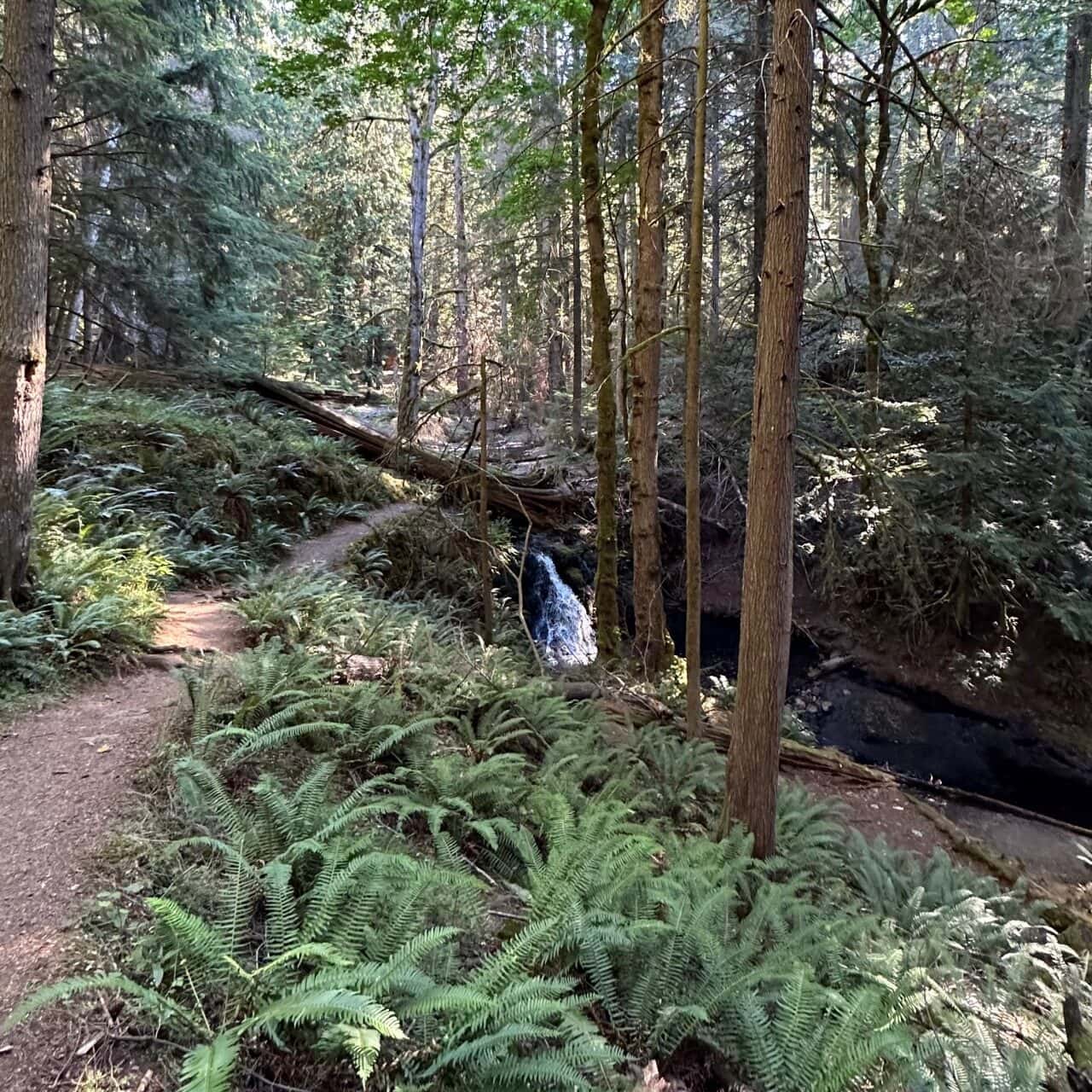 Cascade Lake
Cascade Lake is the most popular lake within Moran State Park, suitable for swimming, boating, and fishing. Adjacent to it is the Day Use area where you can launch boats. There's also a picnic area, and thoughtfully, a designated wading area next to the small sandy beach, making it ideal for families with young children to play.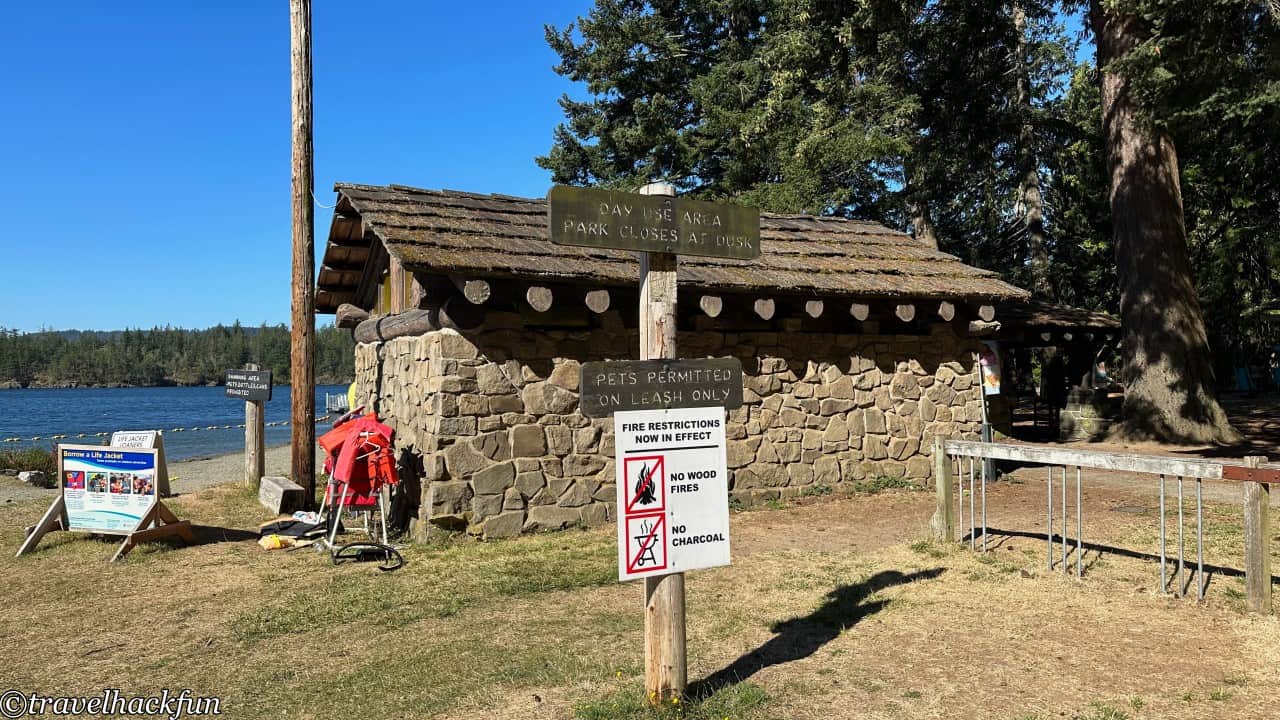 Adjacent to it is the Cascade Lake Loop trail, which circles the lake. It's a total of 2.7 miles long and is gentle and easy to walk.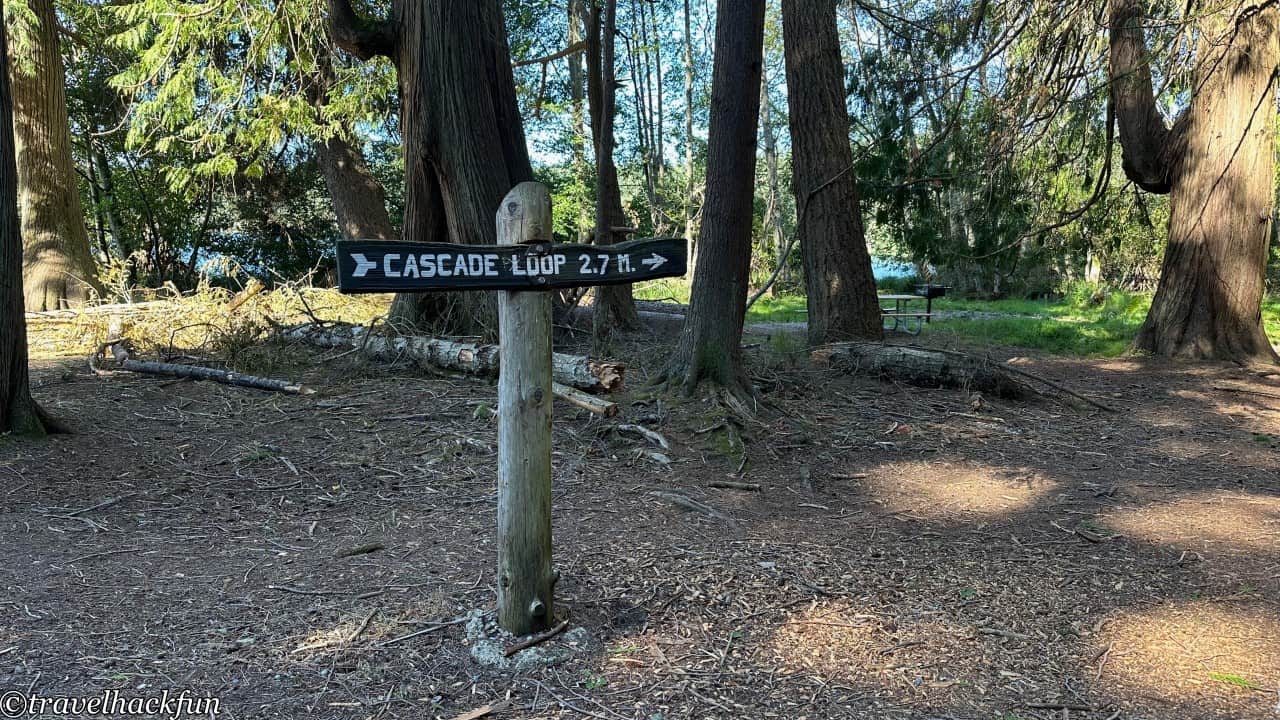 Turtleback Mountain Preserve | Ship Peak
It's about a 15-minute drive from the ferry dock to the starting point of Turtleback Mountain's northern trail. This is a trail of moderate difficulty, spanning at least 5.7 miles round trip with an elevation gain of 1,295 feet, leading up to Ship Peak. From the summit, you can get a panoramic view of the San Juan Islands. Although it's not an easy trail, it's definitely worth the effort.
We chose to park at the South Turtleback Trail and took a counter-clockwise route along the South Trail, connecting to the Lost Oak Trail for a shorter loop. This direction is suitable for those with trekking poles, as the initial 0.8-mile uphill section is steeper, but the descent is faster. We noticed that visitors without equipment typically chose to go clockwise. With our route, after the first 0.6 miles, we were treated to beautiful views, and after the initial 0.8 miles, the rest of the trail was quite relaxed. The highest point is the Ship Peak Overlook, from where we could see the fields and seascapes below.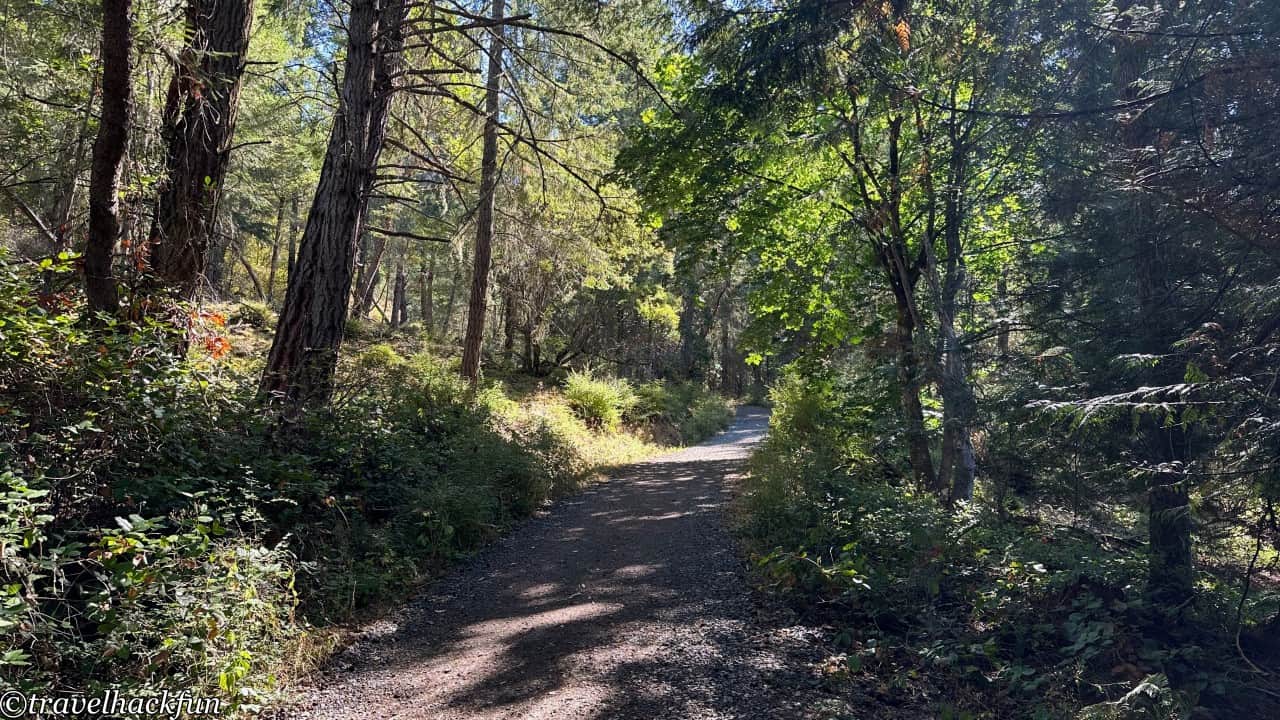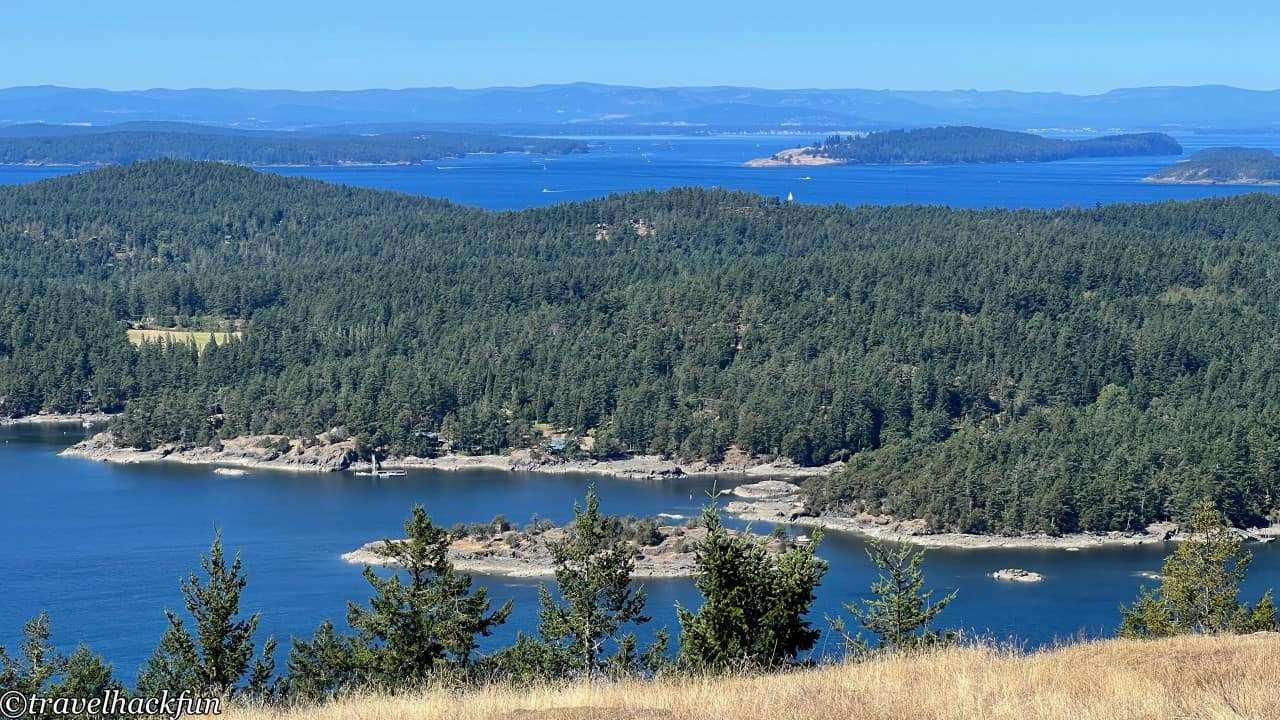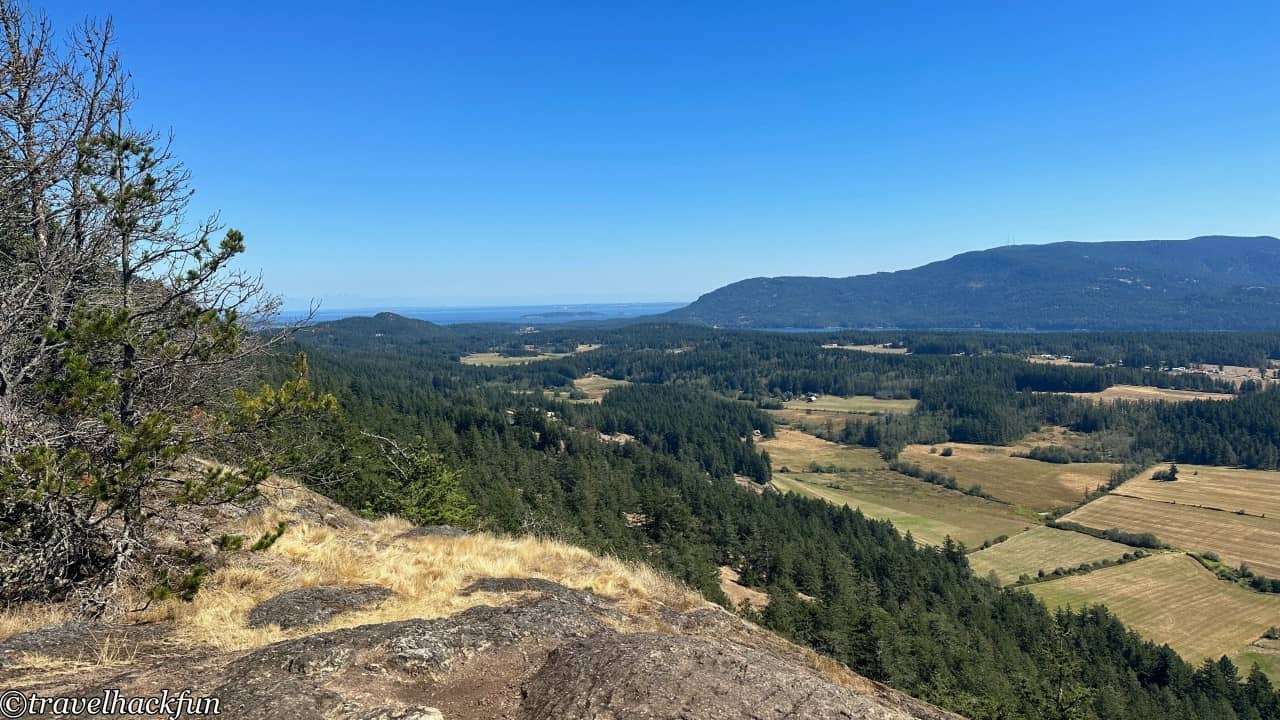 Orcas Island | Dining
Brown Bear Baking
Rating: ⭐️⭐️⭐️⭐️⭐️
Price: $$
Although Brown Bear Baking is located on a remote island, it's actually quite famous. Established in 2007 by baker Martha Fleischman, it has garnered high praise from both locals and tourists. Situated in the heart of Eastsound, this bakery-cum-café offers a rather cozy dining environment, making it a sought-after spot. Due to our limited time, we ended up taking our order to eat on the ferry. We purchased the Salmon Quiche and Jambon Royale sandwich, both accompanied by salads, making them substantial enough for a main meal. While I'm not usually a big fan of bread, I found their offerings to be exceptionally delicious.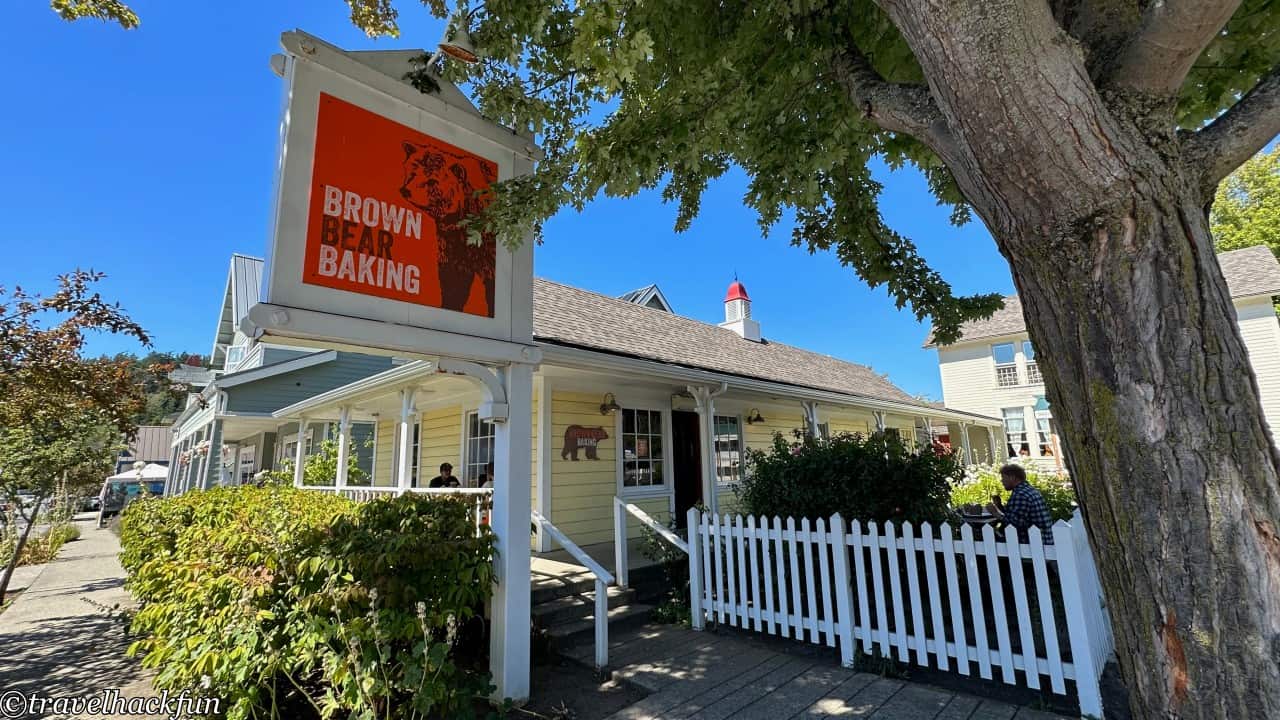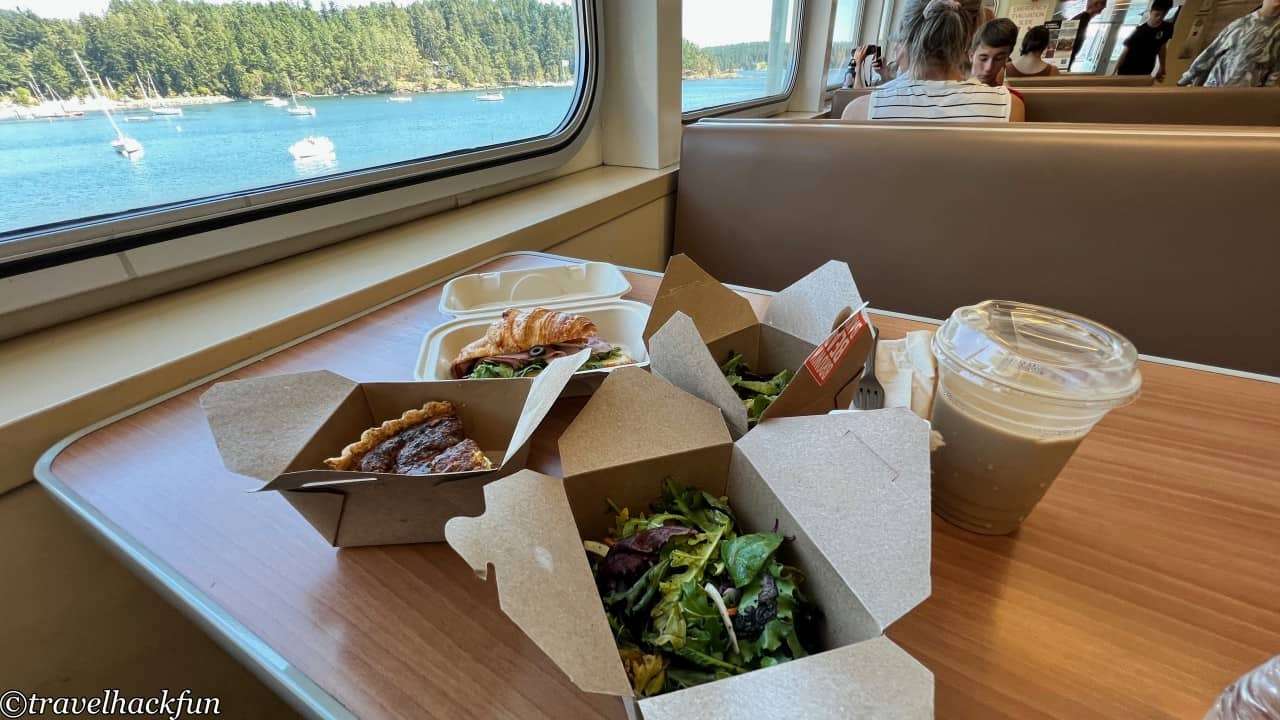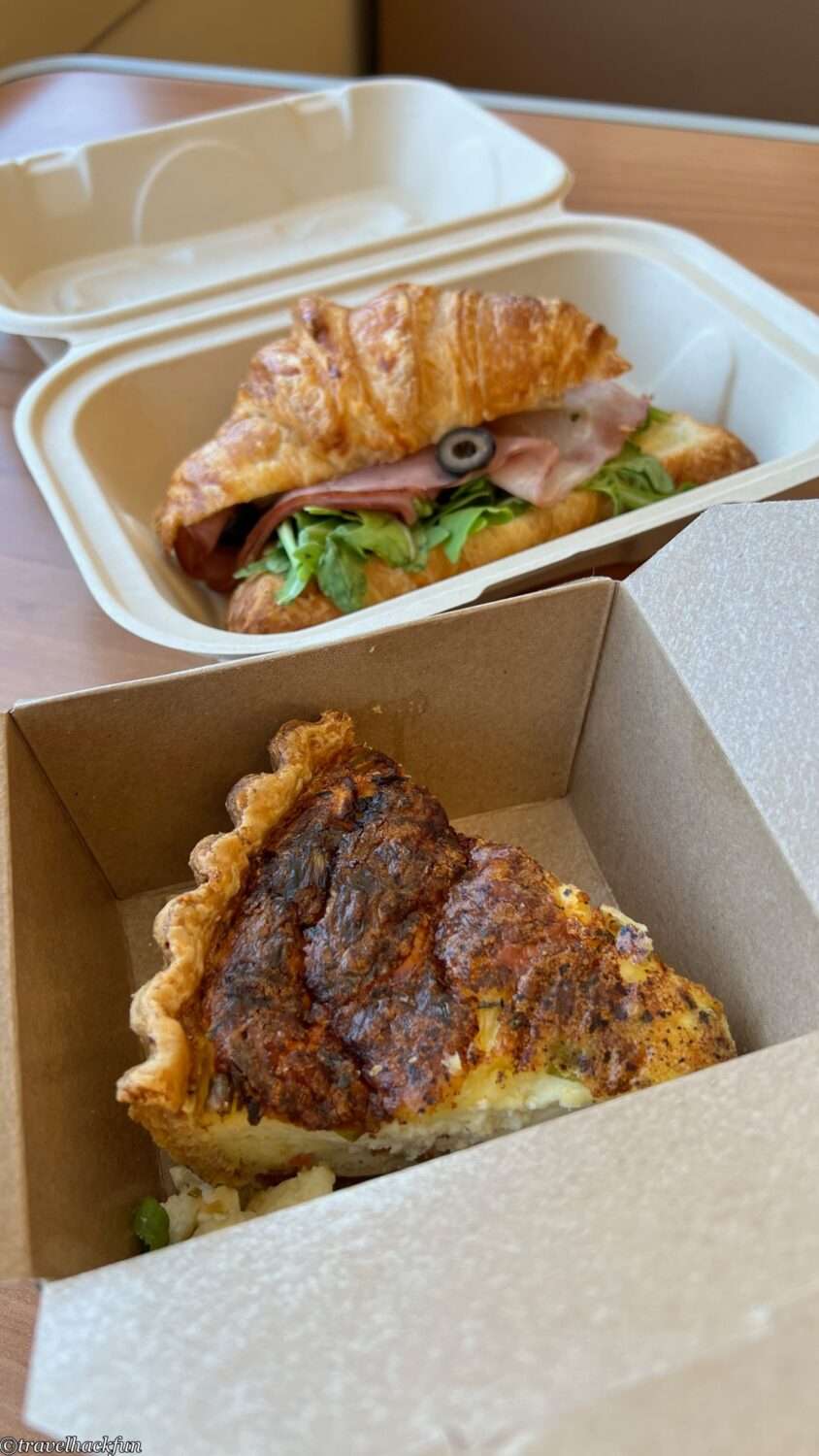 The Lower Tavern
This restaurant is also located in Eastsound and is a typical small bar. When we arrived at Orcas Island on our first night, most other restaurants had already closed, so we chose this nearby place for our meal. The burger was average in taste.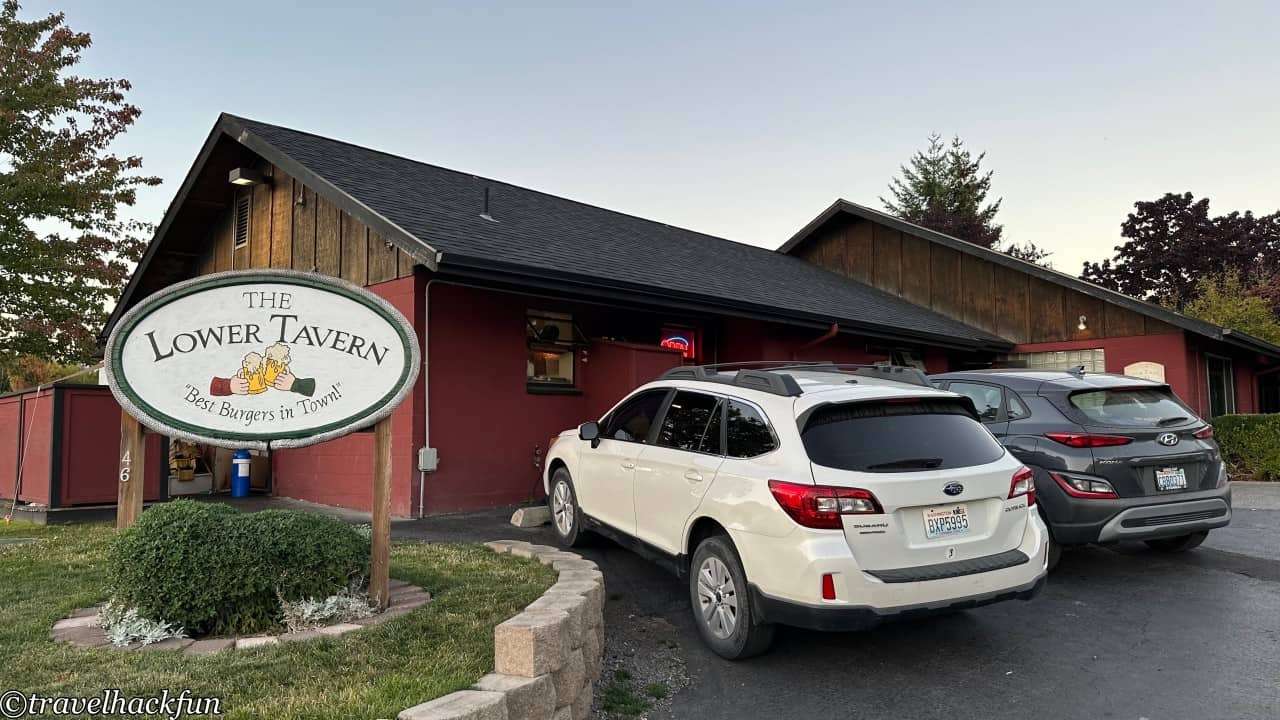 Island Hopping Brewery
This is the only brewery on Orcas Island, and it has been recommended by travel magazines. We love trying beers from different places, so we made a point to visit and taste their offerings before they closed. The overall ambiance is very comfortable, perfect for lounging an entire afternoon. When we visited, they had seven types of beer. After requesting a tasting, they served each type in small glasses, labeled with numbers. The beers here tend to be on the bitter side, but the ones we tried were suitable for summer, having a lighter flavor. My favorite was the No. 3 Sunrise Amber.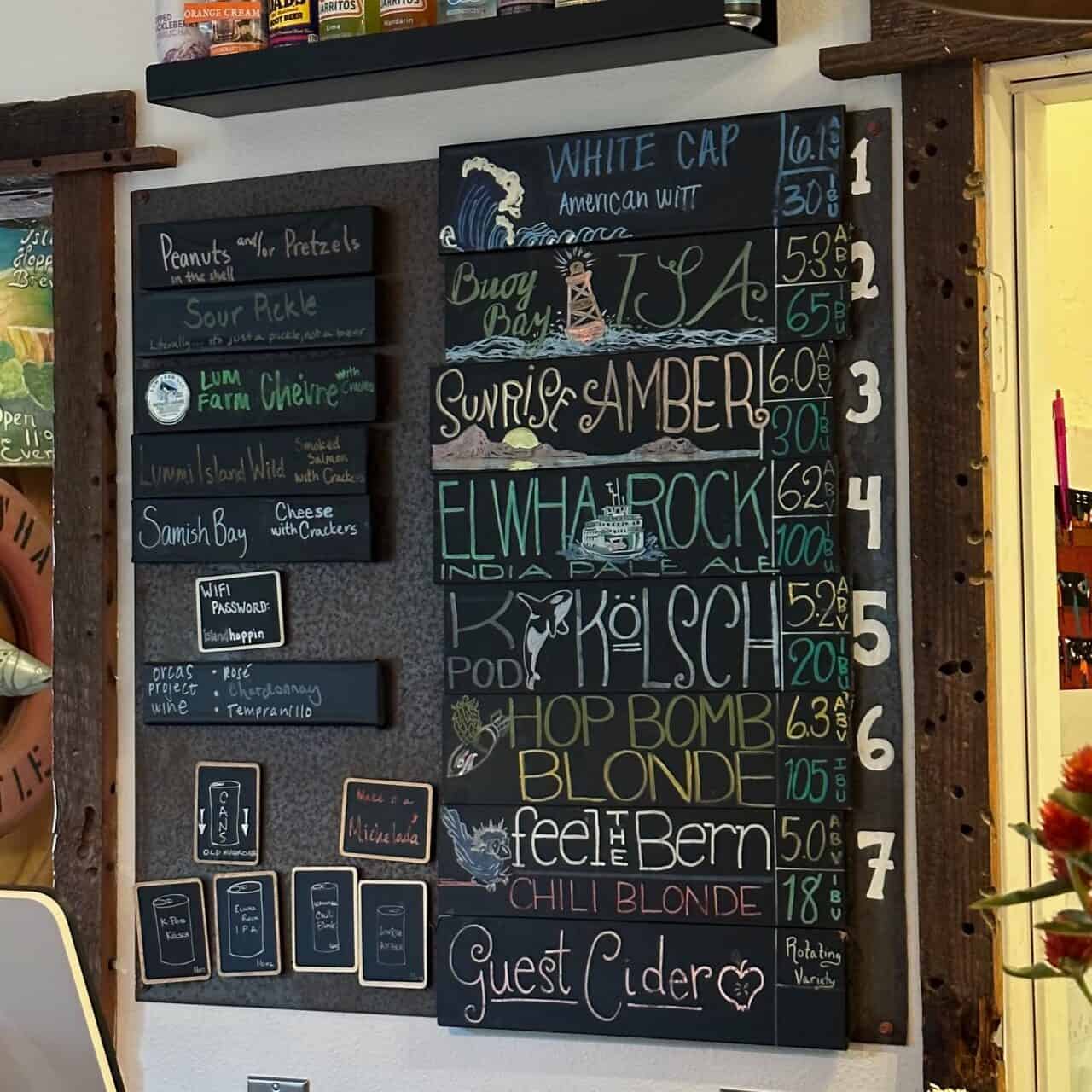 Further reading
Thank you for visiting our website.

All the content on this site is original and shared with the purpose of providing valuable information. We sustain the operation of this site through a small amount of advertising and sponsored links. If you click on links to third-party merchants on our site and make purchases, we may receive a portion of the sales as a commission. If you click on links to third-party merchants on our site and make purchases, we may receive a portion of the sales as a commission.

Find more posts on a map Here.

First time going camping?
Check out Camping 101 | A Simple Gear List for Beginners

My recommended resources for hotel bookings.

My recommended resources for activity bookings.
Buy me a coffee and support my contents!
If you are interested in quoting this article or using any part of its content and images on your website or publication, please contact us via email to request permission.