Whidbey Island | Intro
Whidbey Island is an island located in the northern part of Washington State, situated approximately 30 miles north of Seattle. The island offers picturesque landscapes with stunning coastlines and serene bays. It is home to several state parks and a national historical park, an ideal destination for a wide range of outdoor activities. Additionally, it features charming small towns and historic architecture, making it a highly appealing weekend getaway destination for residents of Seattle.
If you plan to spend a night on Whidbey Island, I recommend staying in Coupeville.
Looking for a stay in Coupeville

How to get to Whidbey Island?
The main attractions on Whidbey Island are located more towards the north, including Deception Pass State Park and Ebey's Landing. When traveling from Seattle to the island, the most common route is to drive to Mukilteo and take the ferry to Clinton. The ferry usually runs every half hour, and the crossing takes just fifteen minutes. Once on the island, you can drive from south to north to reach Deception Pass.
However, if you prefer not to wait for the ferry, an alternative route is to take Interstate 5 and then Highway 20 north, crossing a bridge to reach the island from the north. While this route may be longer in terms of distance, it can be a more time-efficient choice when you consider the waiting time for the ferry. For our trip to Deception Pass State Park, we chose to go from north to south because waiting for the ferry would have taken longer.
Deception Pass State Park
Deception Pass State Park boasts spectacular natural landscapes and offers a wide range of outdoor activities. It's a great location for camping, picnicking, and hiking. This park is also one of the most popular attractions on Whidbey Island, and it tends to get quite crowded on weekends.
The deception pass refers to a narrow strait at the northern tip of Whidbey Island. The reason it was originally named "Deception Pass" is because the British captain George Vancouver, who first arrived here, initially thought that Whidbey Island extended southward as a peninsula. It was only when his ship reached this point that he discovered it was not connected, leading him to feel deceived, hence the name "Deception Pass." However, there is now a bridge over Deception Pass, allowing us to drive directly onto the island.
If you plan to visit Deception Pass State Park for a day trip, I recommend spending around half a day there. The park offers a variety of trails and beaches within its boundaries, so you can choose a few trails to hike or enjoy some water activities based on your physical fitness level. This way, you can have a fulfilling day of exploration and relaxation at the park.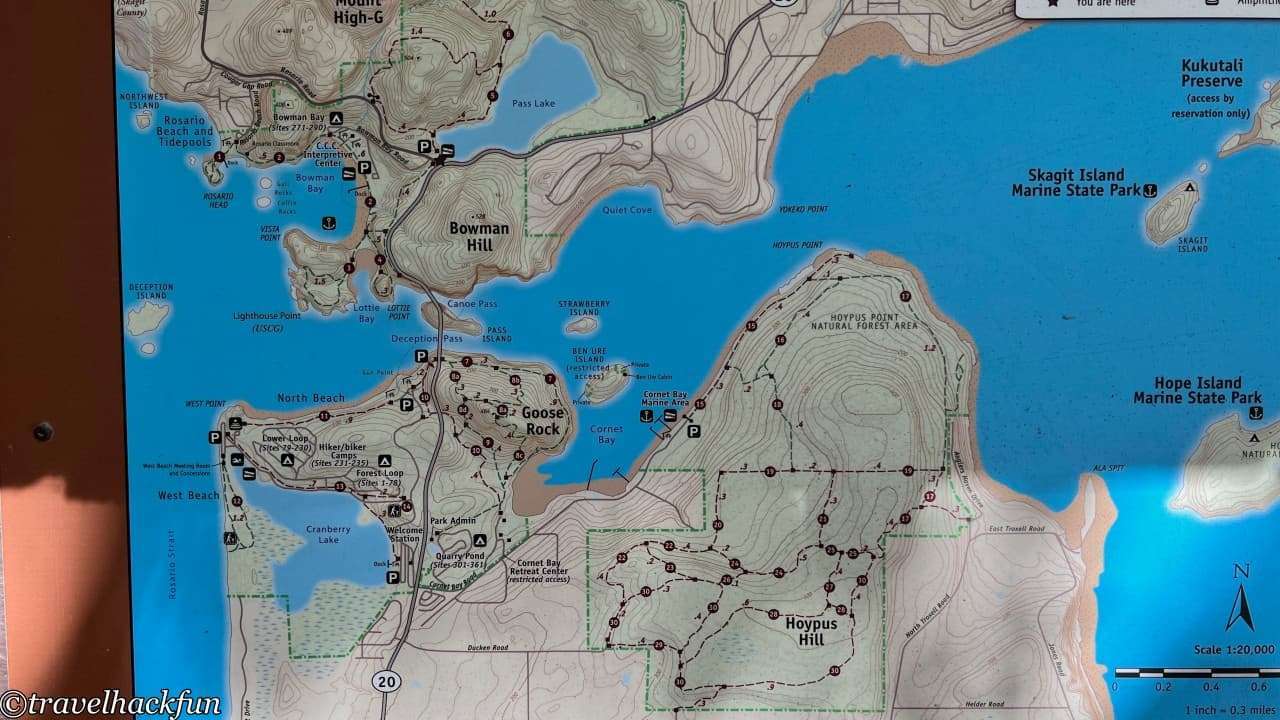 Pass Lake
Traveling from north to south, we first turn from Highway 20 onto Rosario Road towards Bowman Bay before crossing the bridge. The first stop we come to after making a turn is Pass Lake. Here, you'll find the Pass Lake Loop Trail, which allows you to hike around the lake in a 2.2-mile loop.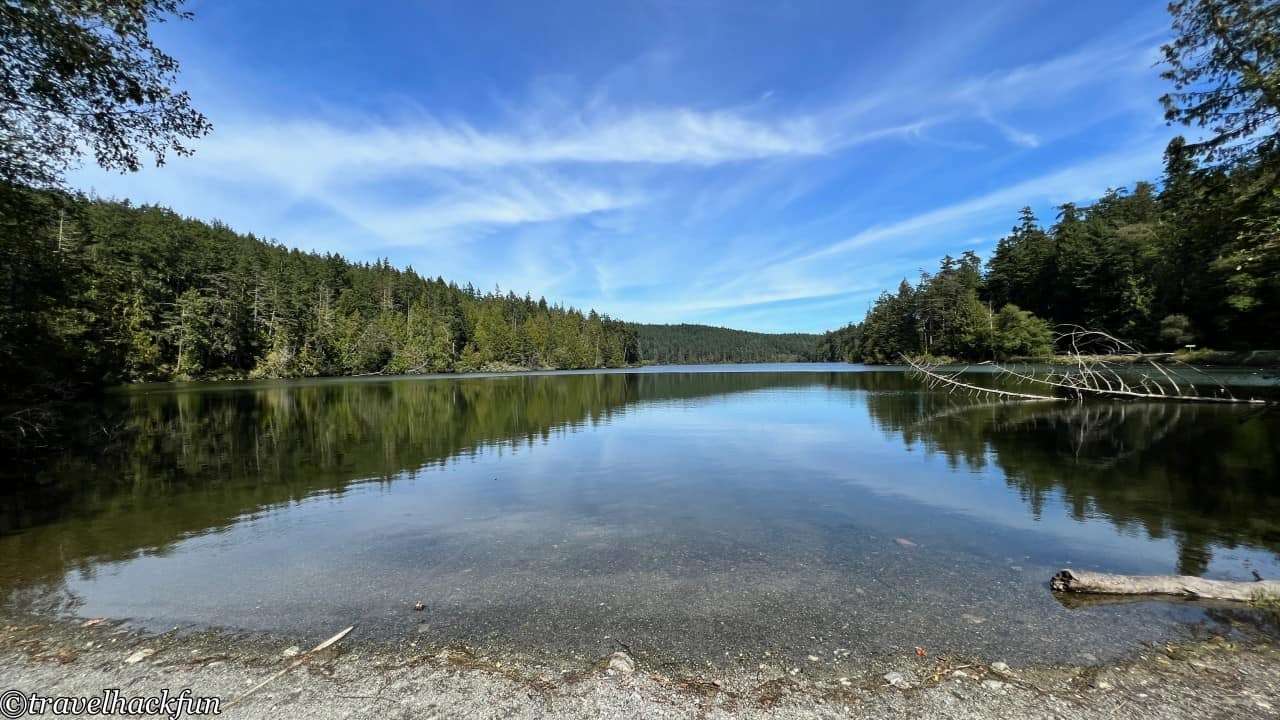 Rosario Beach
Rosario Beach is a sandy shoreline located at the westernmost point of Bowman Bay, offering a tranquil and serene ambiance. Before reaching the beach, there is a fairly large parking lot, and after parking your car, you can follow the trail to reach Rosario Beach and the farthest west point, Rosario Point. This spot is ideal for observing intertidal zones, and many people enjoy picnicking here. Along the trail, you'll find a wooden carving of a woman holding a fish. Her name is Ko-kwal-alwoot, a legend among the Samish tribe. According to the legend, Ko-kwal-alwoot married the Sea King, and in exchange, the Sea God ensured an endless supply of seafood for the Samish people.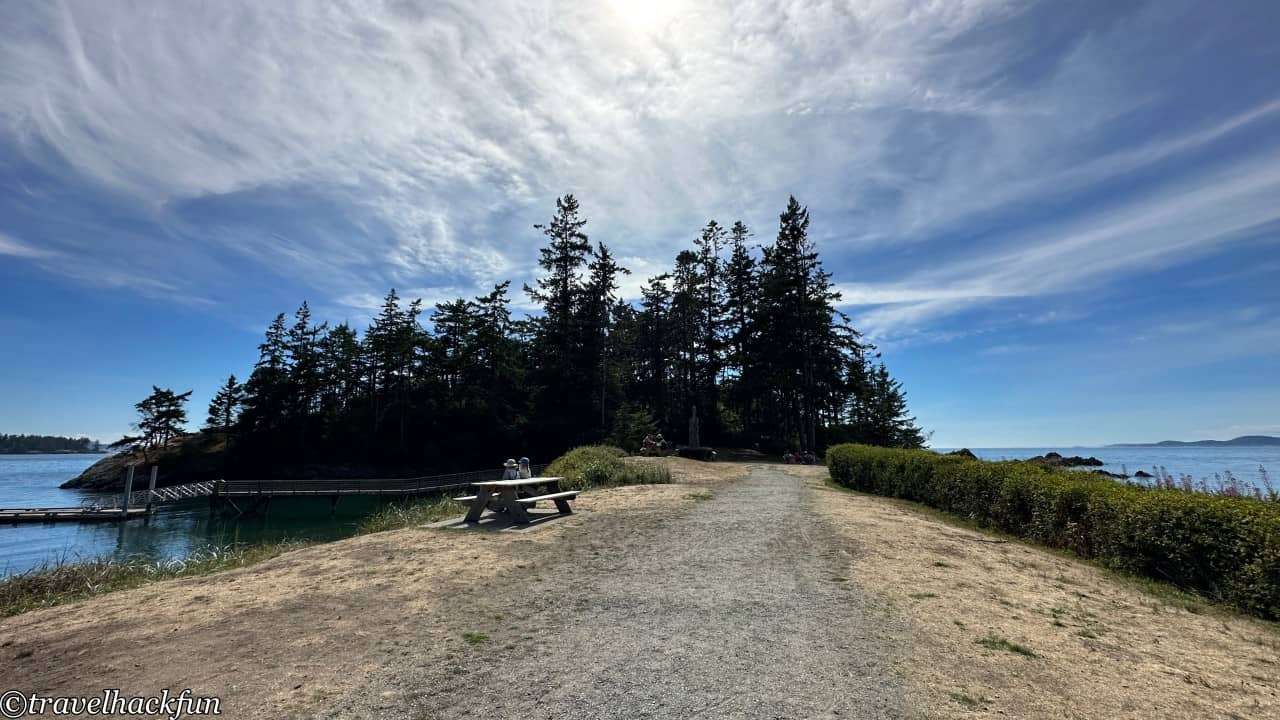 Bowman Bay
You can follow the Bowman Bay/Rosario Beach Trail, which leads you all the way to the inland part of Bowman Bay. The bays along this route are incredibly picturesque. Closer to the inner bay, it's a great spot for kayaking, so you'll often find many people engaging in water activities right here on the beach.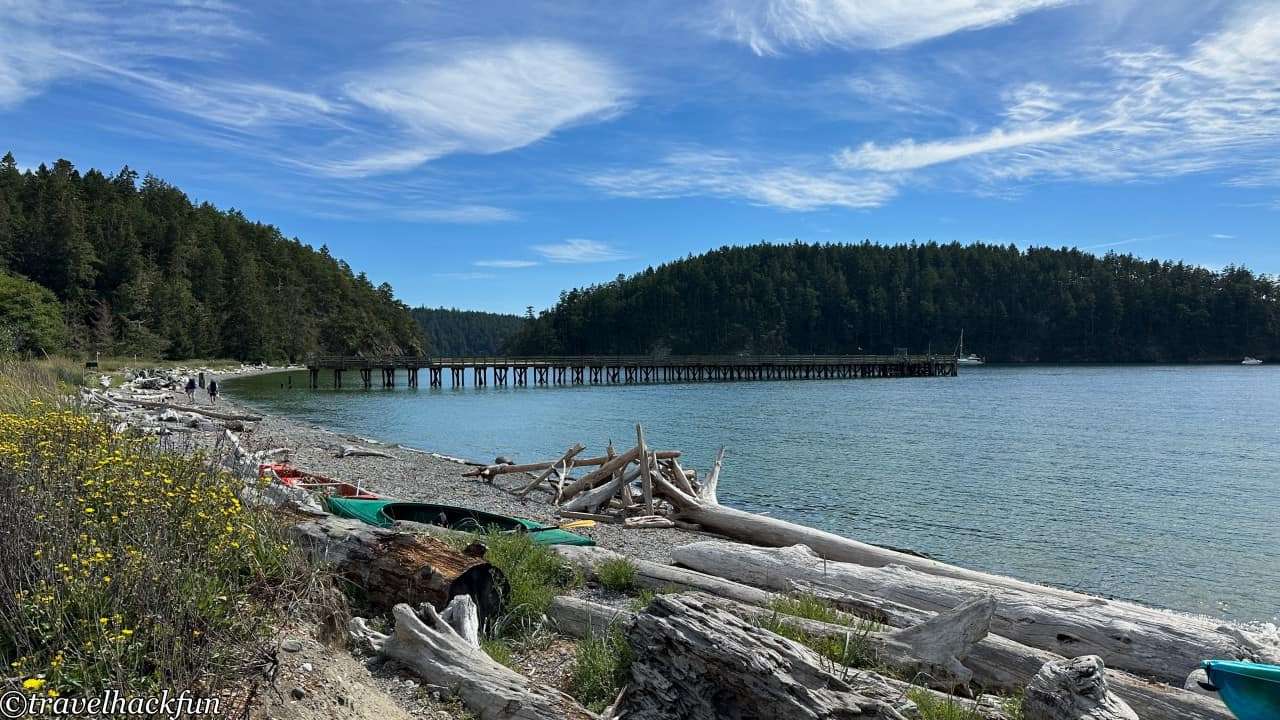 Lottie Point | Lighthouse Point
Continuing southward, you can reach Lottie Point and Lighthouse Point trails, both of which offer stunning views of Deception Pass. While it's possible to hike all the way from Bowman Bay along the trails, we found another trailhead by the roadside and parked there to take a shortcut. This way, we saved about 4 miles of hiking, and from this point, it's only a 0.2-mile walk to reach Lottie Point.
The path to Lottie Point can be quite steep. If you simply want to enjoy the view of the deception bridge, it's best to drive to the nearby viewpoint. This hike is recommended for those who have a preference for more strenuous uphill climbs.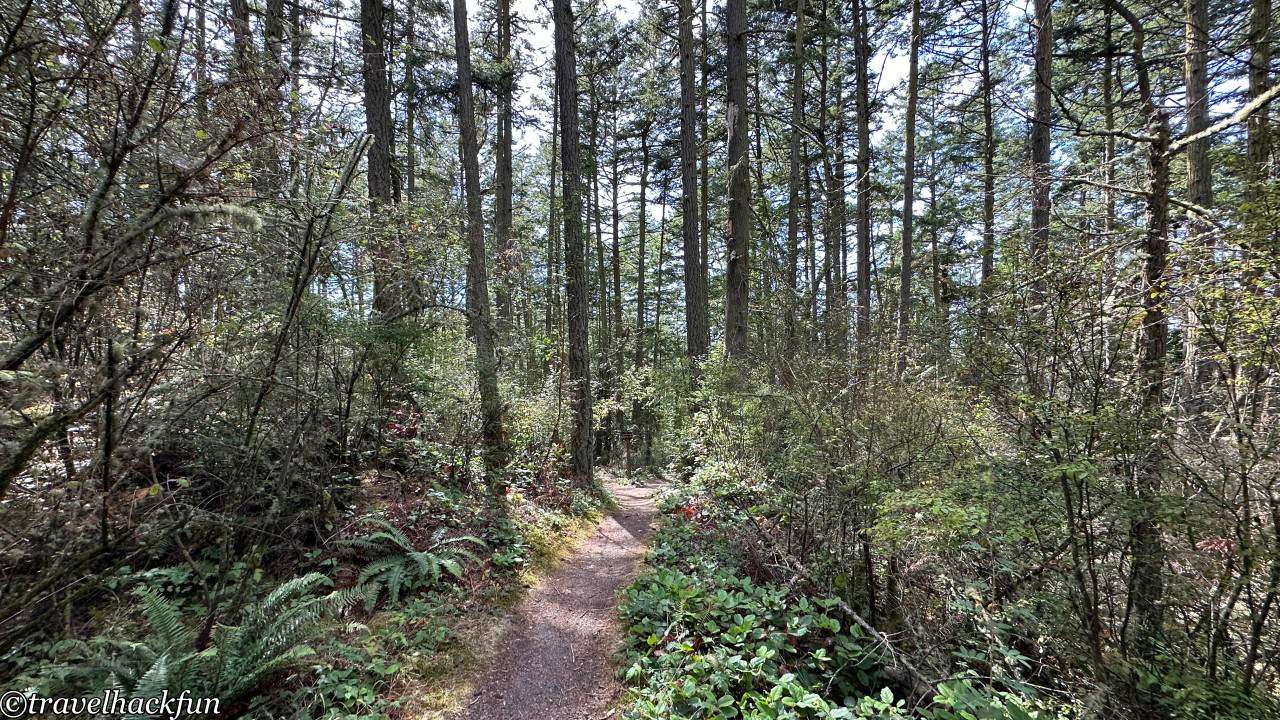 Deception Pass Bridge
The Deception Pass Bridge spans across Deception Pass, connecting Whidbey Island and the northern Fidalgo Island. It is the most famous attraction in Deception Pass State Park. This bridge is a suspension bridge, approximately 453 meters long, suspended high above the bay. Underneath the bridge, you can see Pass Island below.
The viewpoint at the north end of the bridge, where you can park on the roadside and see the Deception Pass Bridge, is indeed considered one of the best spots to view the bridge.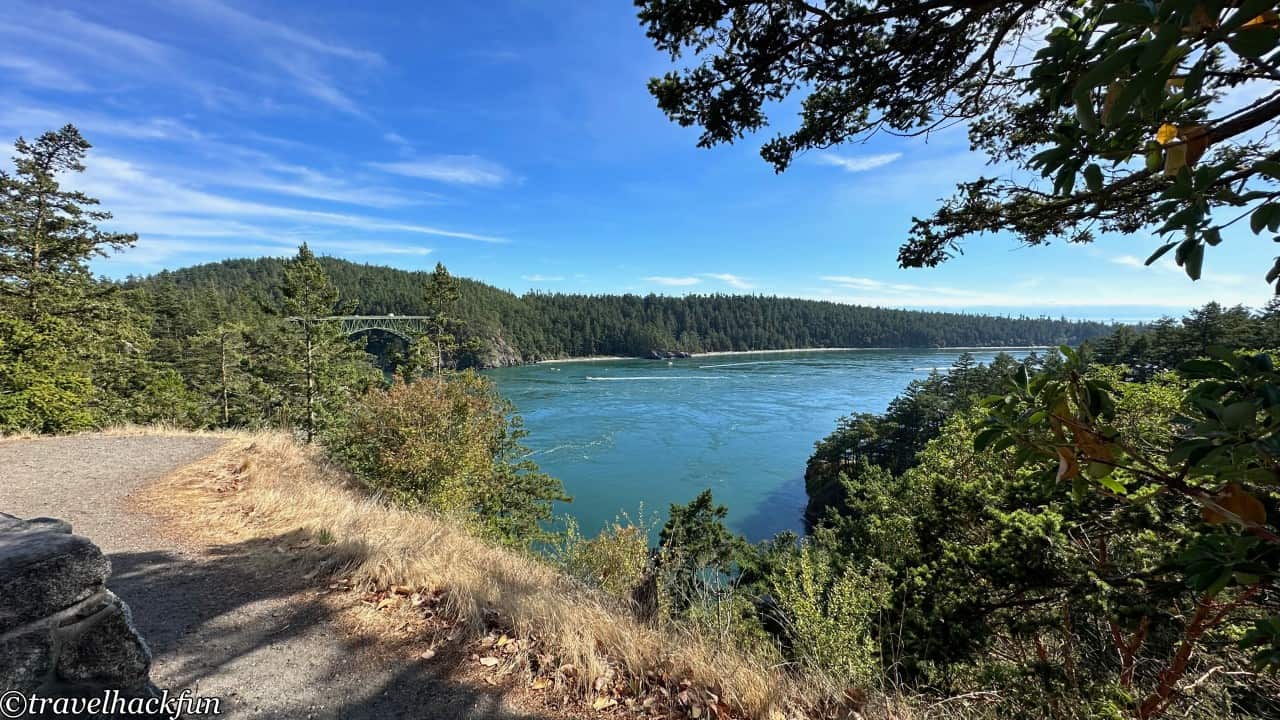 Parking your car at the south end of the Deception Pass Bridge allows you to walk onto the bridge and enjoy the bay's scenic views. From this vantage point, you can see the Lighthouse to the north, as well as many people below engaging in various water activities.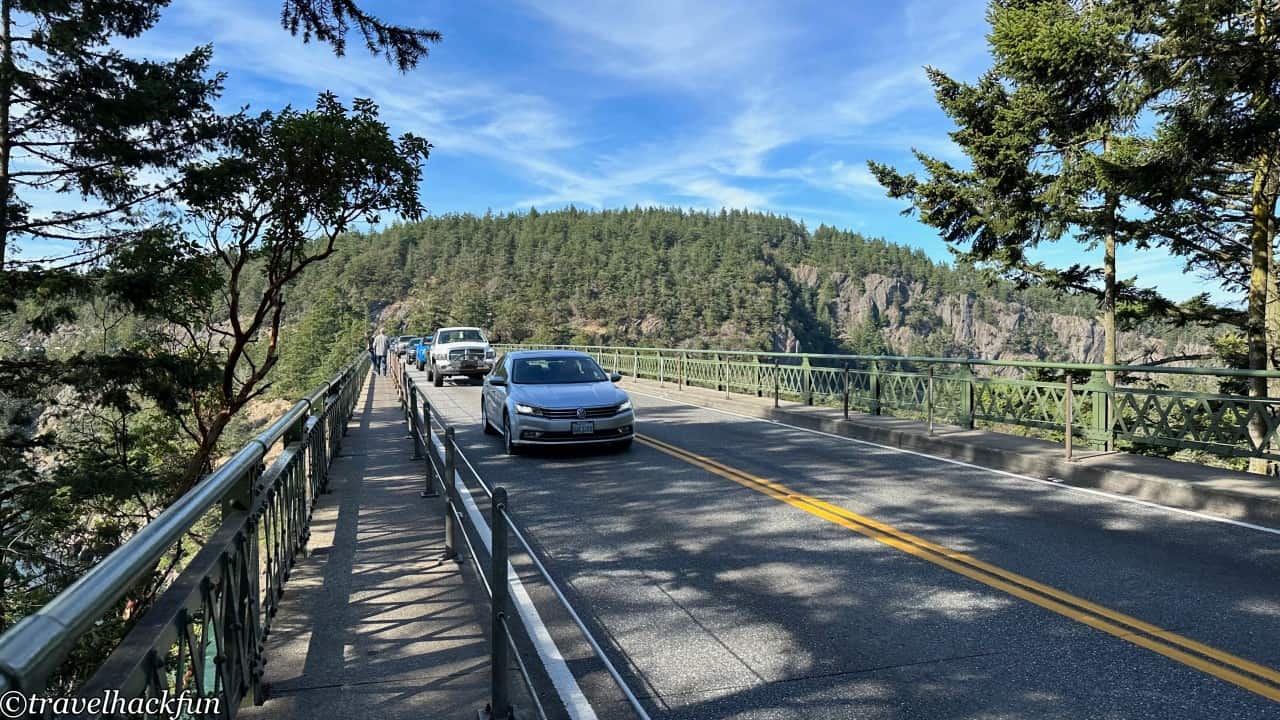 Walking down the stairs along the side of the bridge, you can follow the trail beneath the bridge that leads to North Beach and West Point.
Ebey's Landing National Historic Reserve
Ebey's Landing, located to the south of Deception Pass, is said to be the first National Historic Reserve in the United States, established in 1978 with the primary goal of preserving the historical communities along the shores of Puget Sound. The history here primarily revolves around 19th-century European American settlers and the later military base history during wartime. However, what truly captivates visitors is the area's breathtaking coastal scenery. Even if you're not particularly interested in history, a visit to the Bluff Trail by the seaside is highly recommended when on Whidbey Island.
Bluff Trail
The Bluff Trail is right by the seaside, and the parking lot at the trailhead belongs to Ebey's Landing State Park, where you need to purchase a state park parking pass for parking. However, there are plenty of free parking spots along the coastline just before the parking lot. If you prefer not to pay, you can simply turn the corner and find a spot there.
The Bluff Trail follows the cliff along the coastline. When looking out to sea, you can see the prominent peaks of Washington's two major national parks, Mt. Rainier and Olympic Mountains, as well as the occasional ferry crossing the waters. The scenery is truly magnificent. Inland, there is a vast expanse of meadows, and in that direction, you can also catch a glimpse of the distant Mt. Baker.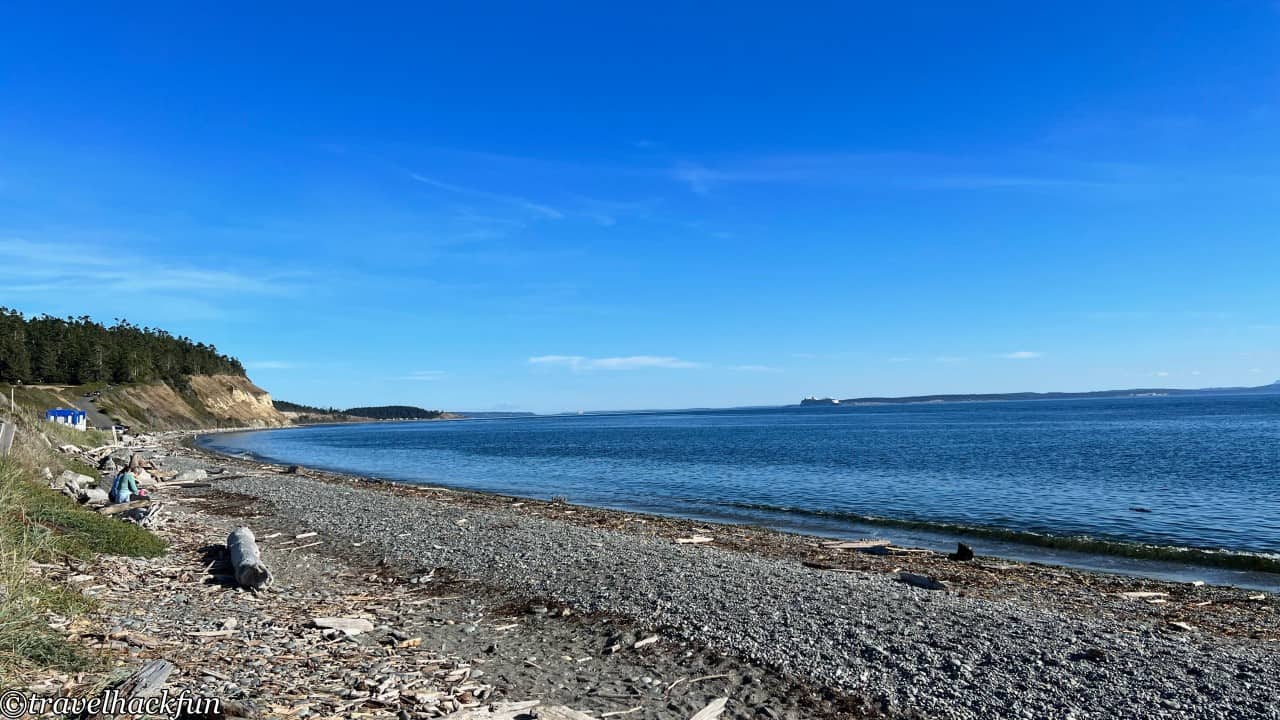 Ridge Trail
From Bluff Trail, you can turn onto the Ridge Trail, which leads inland to the historic Ebey House.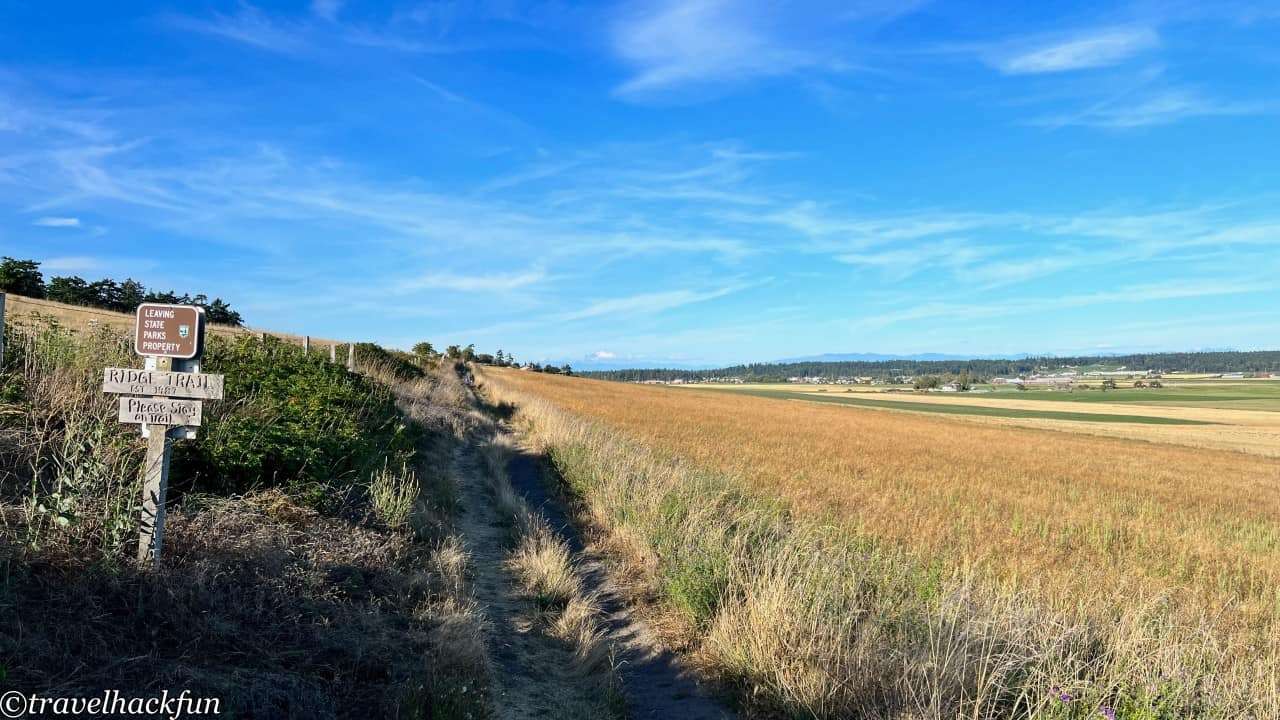 The earliest settler in this vicinity was Isaac Ebey, who was the first European-American to settle on Whidbey Island. In 1850, he established a farm here. Later on, he became a successful businessman and politician, advocating for ferry routes connecting Whidbey Island with other new towns in Washington State. This visionary planning eventually evolved into the ferry routes that now link Whidbey Island with Seattle, showcasing his foresight.
Here, we can see two buildings that are historic landmarks left by the Ebey family. The larger one, Ebey House, was established as the residence of Jacob and Sarah, Isaac's parents, when they arrived here in 1854. The smaller adjacent structure, Ebey Blockhouse, was built as a defensive fortification due to the tense relations between European-Americans and Native Americans at the time, designed to guard against potential attacks.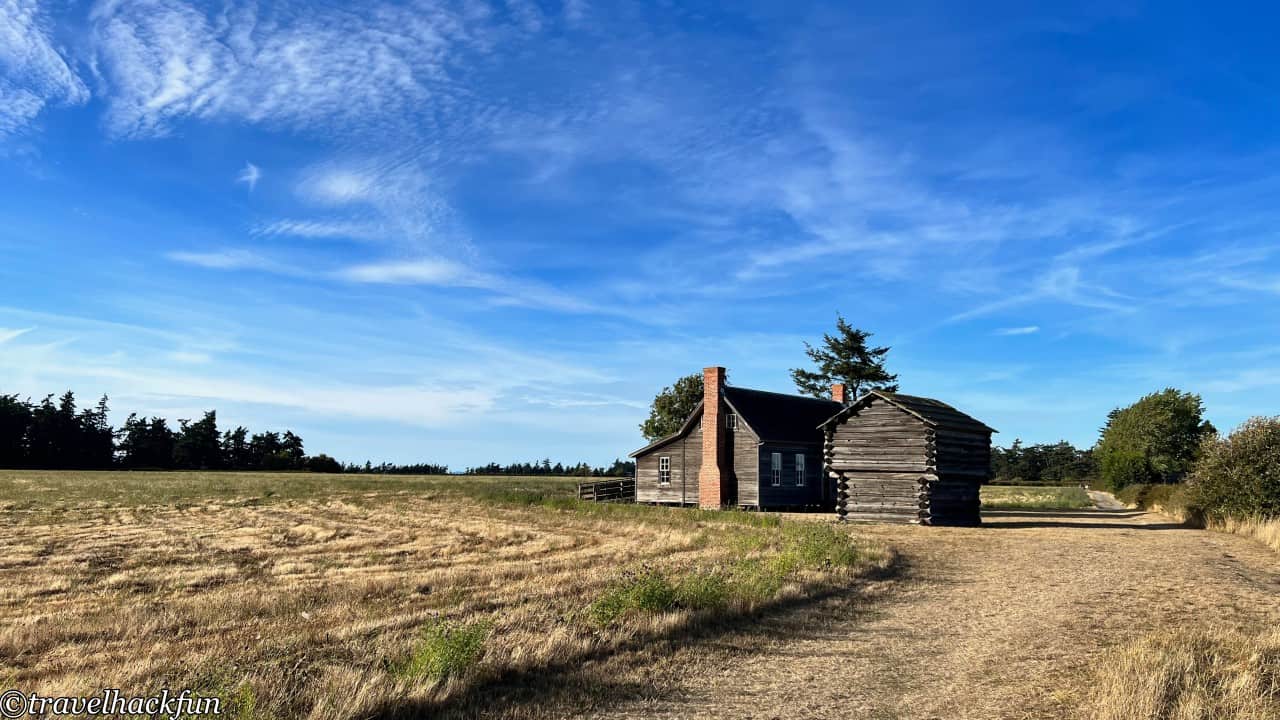 Continuing forward, you can reach Sunnyside Cemetery, where you'll find other blockhouses dating back to the 19th century and historical records of conflicts between them and Native Americans. Isaac Ebey tragically lost his life in an attack by Native Americans in 1857, and you can now find his grave in the cemetery.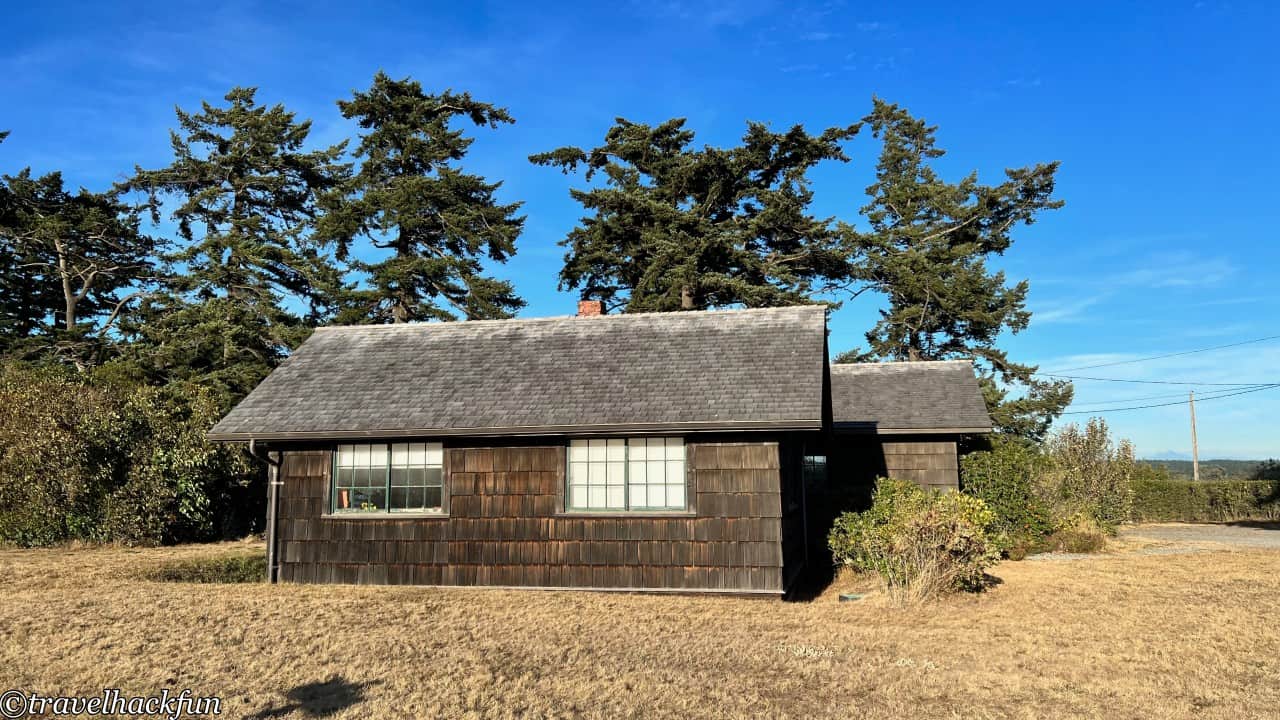 Coupeville
Coupeville is currently one of the oldest towns in the state of Washington, and its core is also part of the National Historic Reserve. After European-American settlers arrived in the 19th century, Coupeville began to develop, thanks in part to Lieutenant Coupe of the Royal Navy, who established it in the vicinity in 1852. Today, it's one of the most popular tourist towns on Whidbey Island, and the town's restaurants make it a great place to dine during a day trip to Whidbey Island.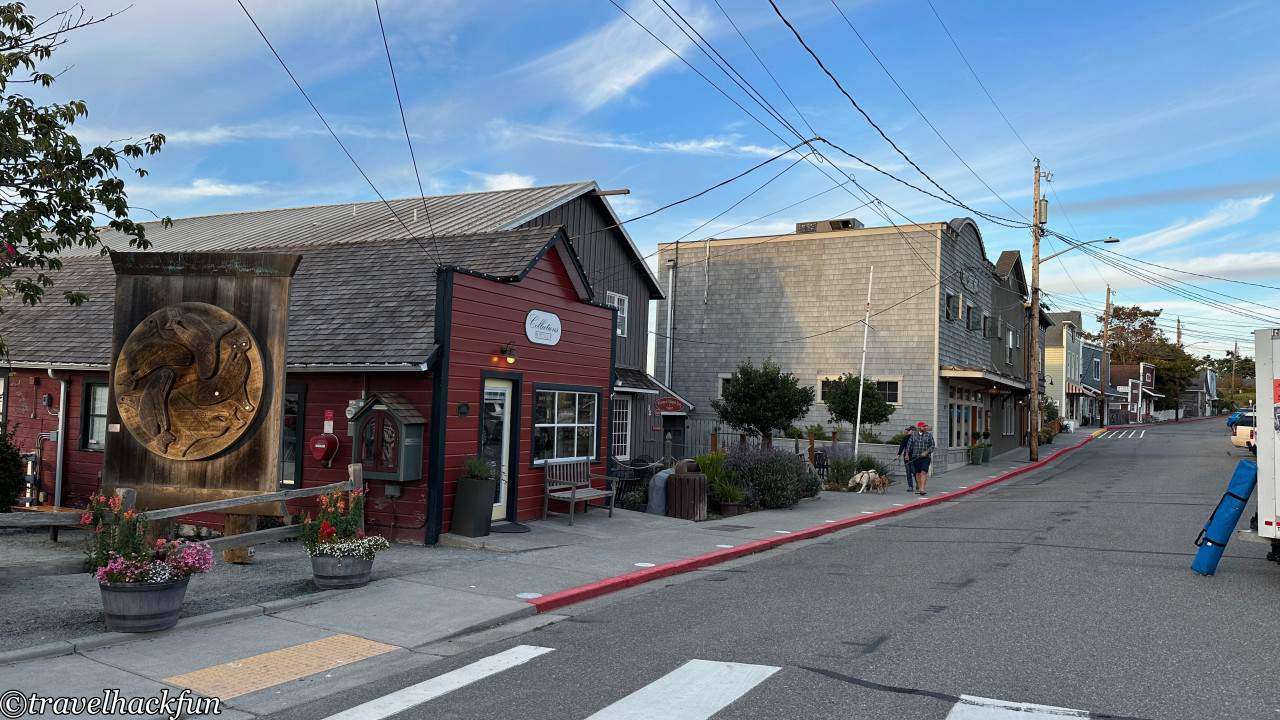 The scenery by the pier is exceptionally beautiful, with a nostalgic charm. Strolling along the old streets, you can admire the Victorian-style architecture that dates back to the 19th century.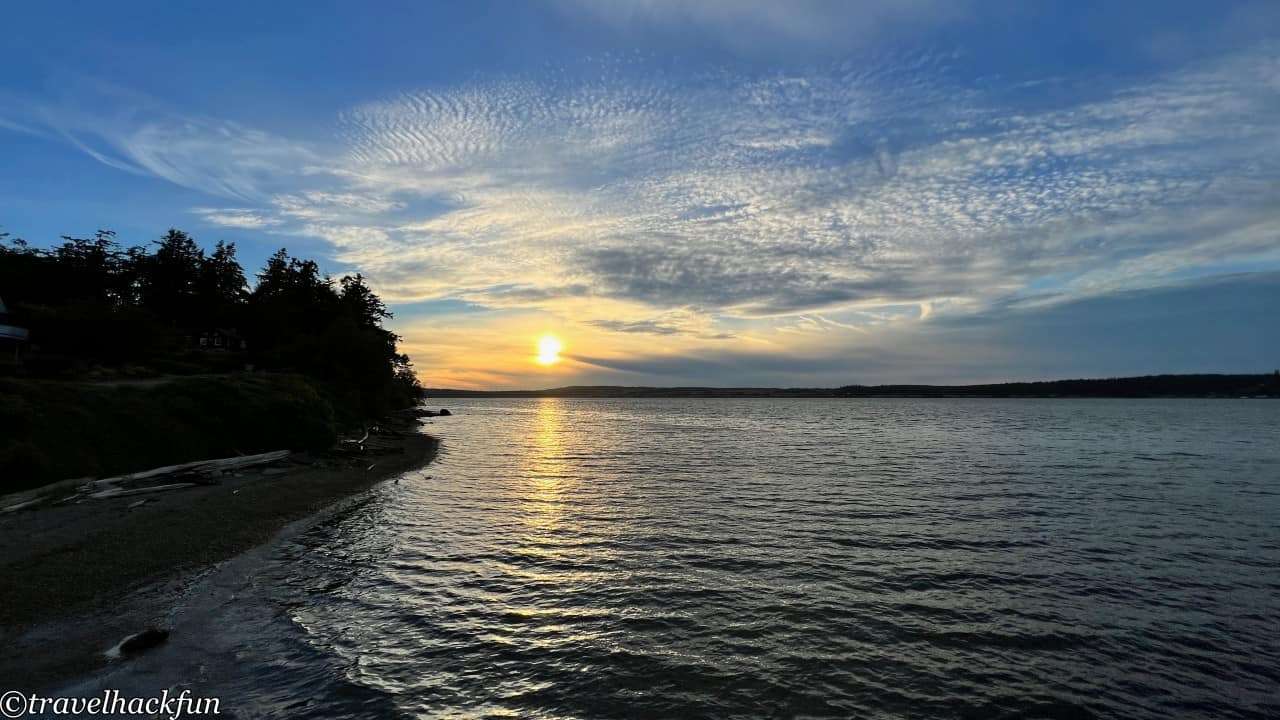 Recommended Restaurant | Shrimp Shack
Rating: ⭐️⭐️⭐️⭐️
Price: $$
Shrimp Shack, located north of Deception Pass, may appear unassuming from the roadside, but it's a highly recommended restaurant by those who have visited. They specialize in serving coral shrimp, a delicacy not easily found in other places. If you visit during the right season, it's definitely worth trying out.
In addition to shrimp, they also offer other seafood options, and the two separate order windows make it convenient for those who are just buying shrimp to grab their order and go. Many people choose to bring their shrimp to Deception Pass for a picnic. We ordered a pound of medium-sized shrimp and also tried the Oyster burger and popcorn shrimp at the BBQ window, but the standout recommendation is still the coral shrimp. It's important to note that coral shrimp may not be available every day, so it's a good idea to check the restaurant's website to confirm availability before visiting.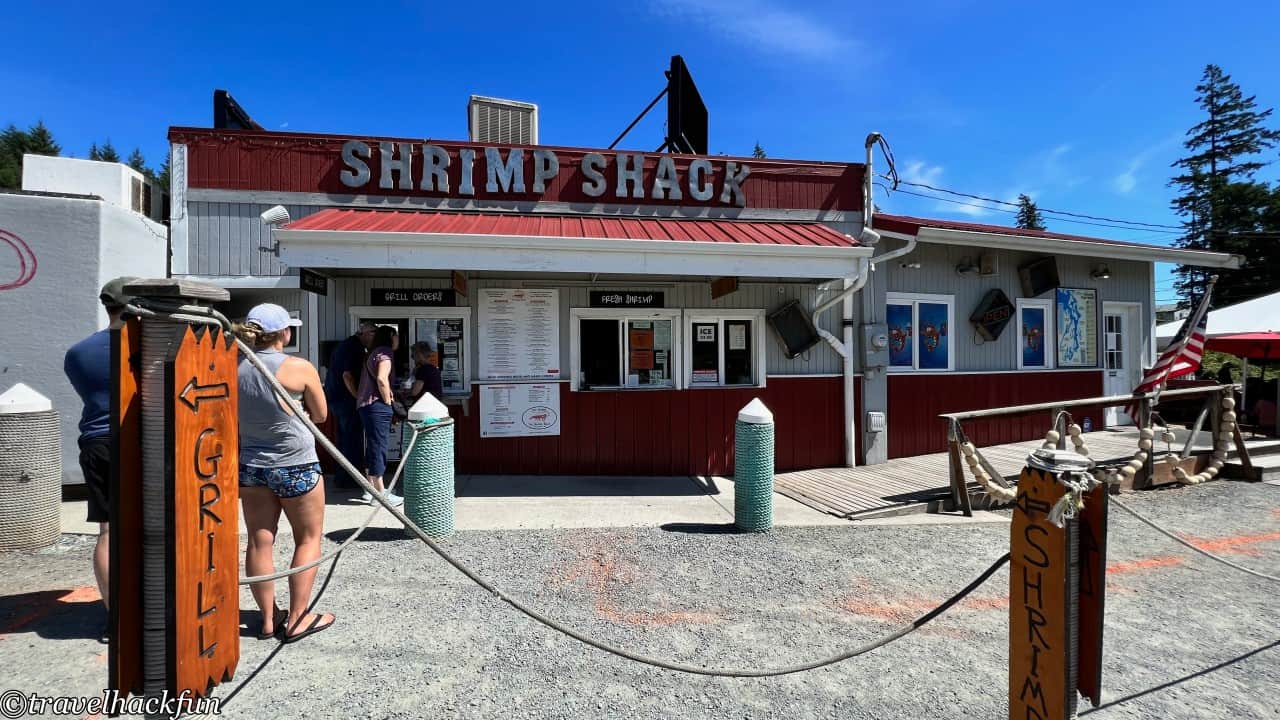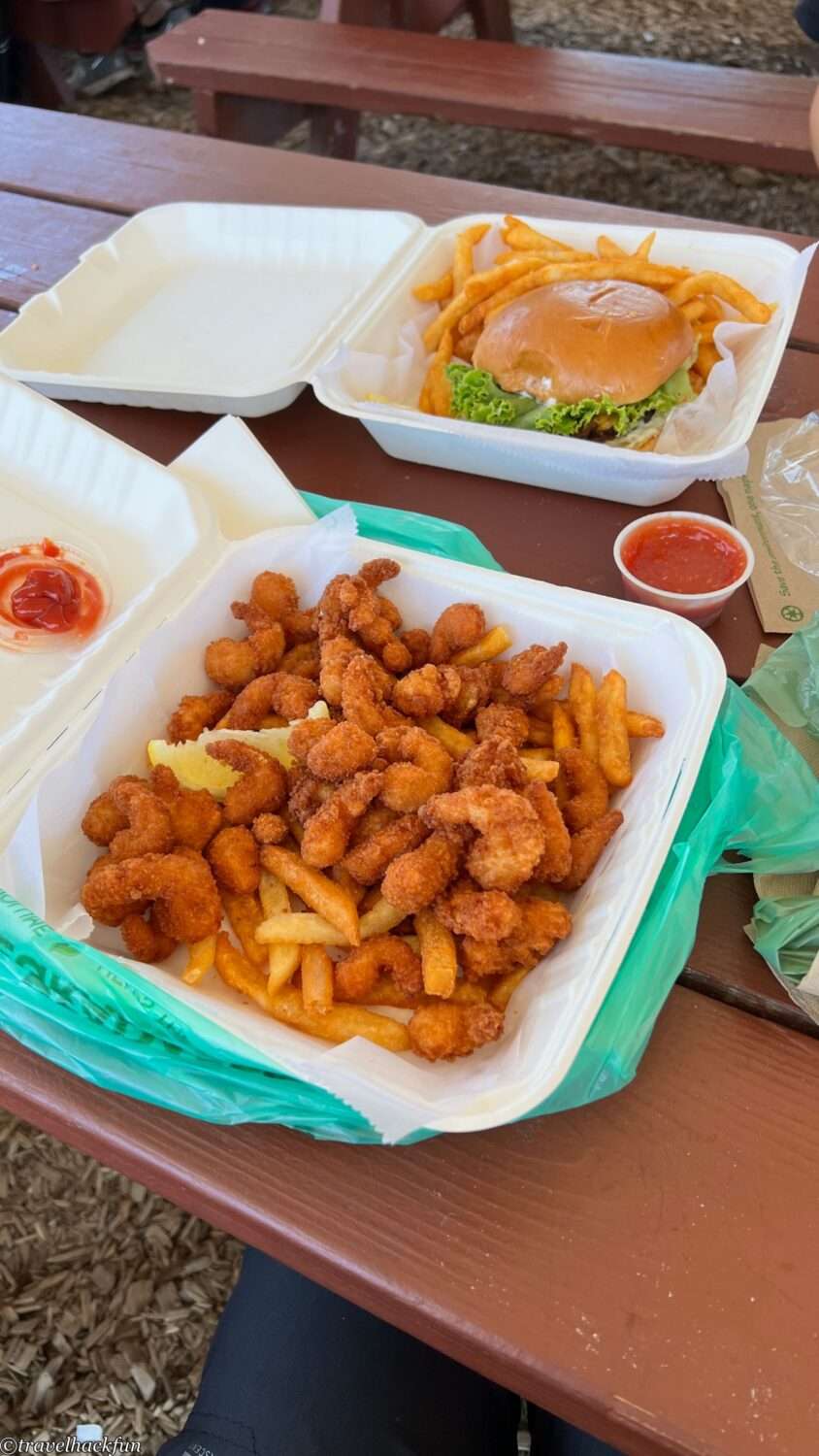 Further reading
Thank you for visiting our website.

All the content on this site is original and shared with the purpose of providing valuable information. We sustain the operation of this site through a small amount of advertising and sponsored links. If you click on links to third-party merchants on our site and make purchases, we may receive a portion of the sales as a commission. If you click on links to third-party merchants on our site and make purchases, we may receive a portion of the sales as a commission.

Find more posts on a map Here.

My recommended resources for hotel bookings.

My recommended resources for activity bookings.
Buy me a coffee and support my contents!
If you are interested in quoting this article or using any part of its content and images on your website or publication, please contact us via email to request permission.