Trang An | Introduction
Trang An Landscape Complex is located 7 kilometers west of downtown Ninh Binh. In 2014, the Trang A Landscape Complex was designated as a UNESCO World Heritage site. Its ecosystem comprises limestone mountains with a geological age of 2.5 million years, which over time have shaped numerous caves, lakes, and lagoons. This area preserves diverse wetland ecosystems, forests on limestone mountains, archaeological sites, and historical cultural relics. A typical highlight of visiting is taking a boat tour to explore the stunning scenery of the limestone mountain area, river caves, and ancient relics on islands. The boat tour typically lasts for three hours, a half day experience.
Transportation
If you are already in Ninh Binh, the most convenient way to get to Trang An is a Grab ride. You can also ride a motorbike like we did. The ride was about 20 minute from Tam Coc. The parking lot is very easy to find, and there was no annoying vendors to stop you.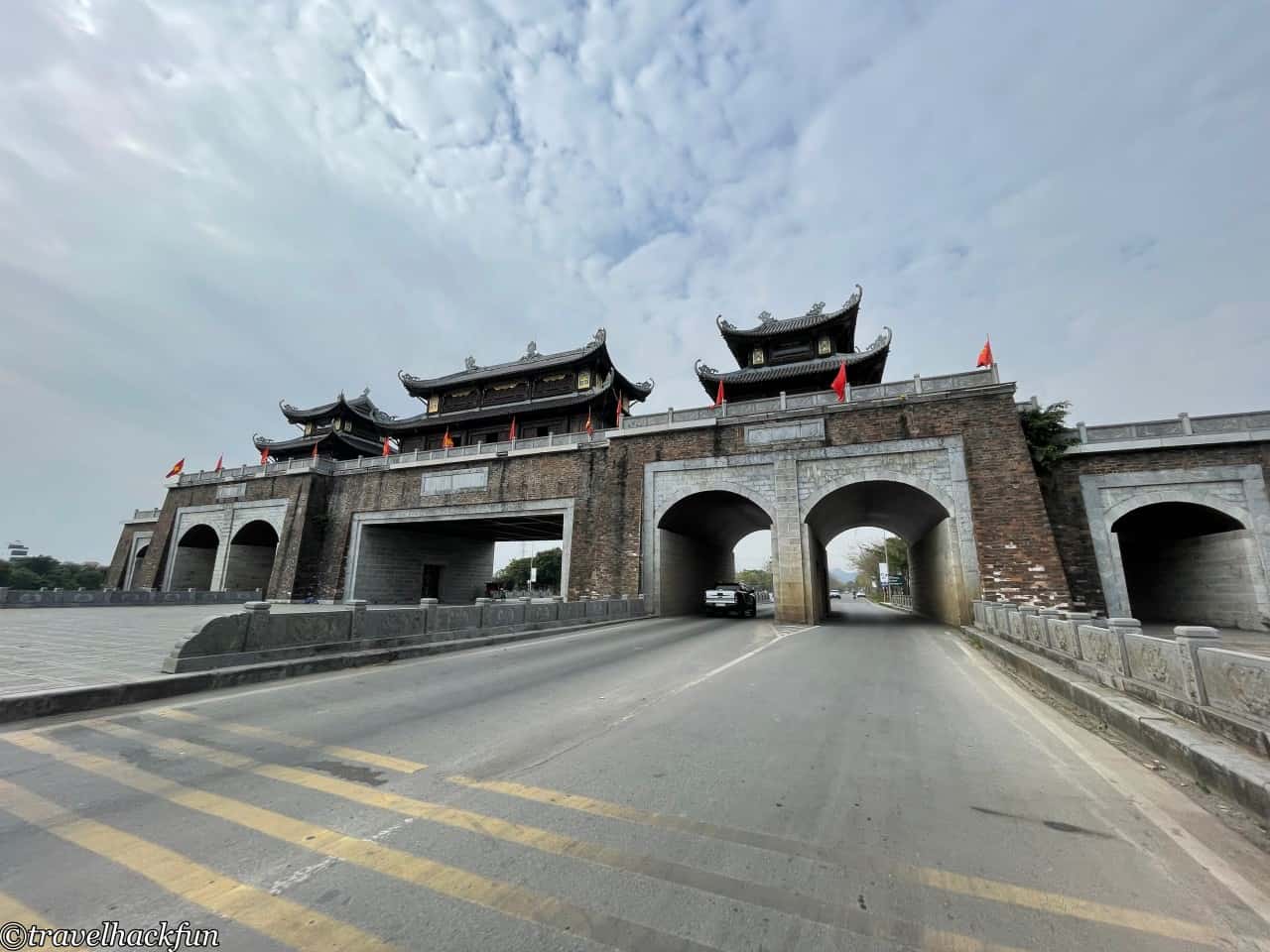 If you have limited time and are departing from Hanoi, most likely, a day trip would include a visit to Trang An. I recommend checking out tours on KKday or Klook. They offer reasonably priced options for various day tours in Vietnam.
Ninh Binh Day Trip: Bai Dinh Temple/Trang An/Mua Cave

Ninh Binh Day Trip: Hoa Lü / Trang An / Mua Cave

Trang An Boat Tour: Ticketing and Route Selection
Trang An Landscape Complex is a top-notch attraction organized by the official authorities in Ninh Binh. The whole process, from parking to ticket purchasing, is hassle-free, and there isn't excessive marketing. The boat ticket costs 250,000 VND per person. Once you've obtained your tickets at the ticket counter, you can proceed directly to the boat boarding area.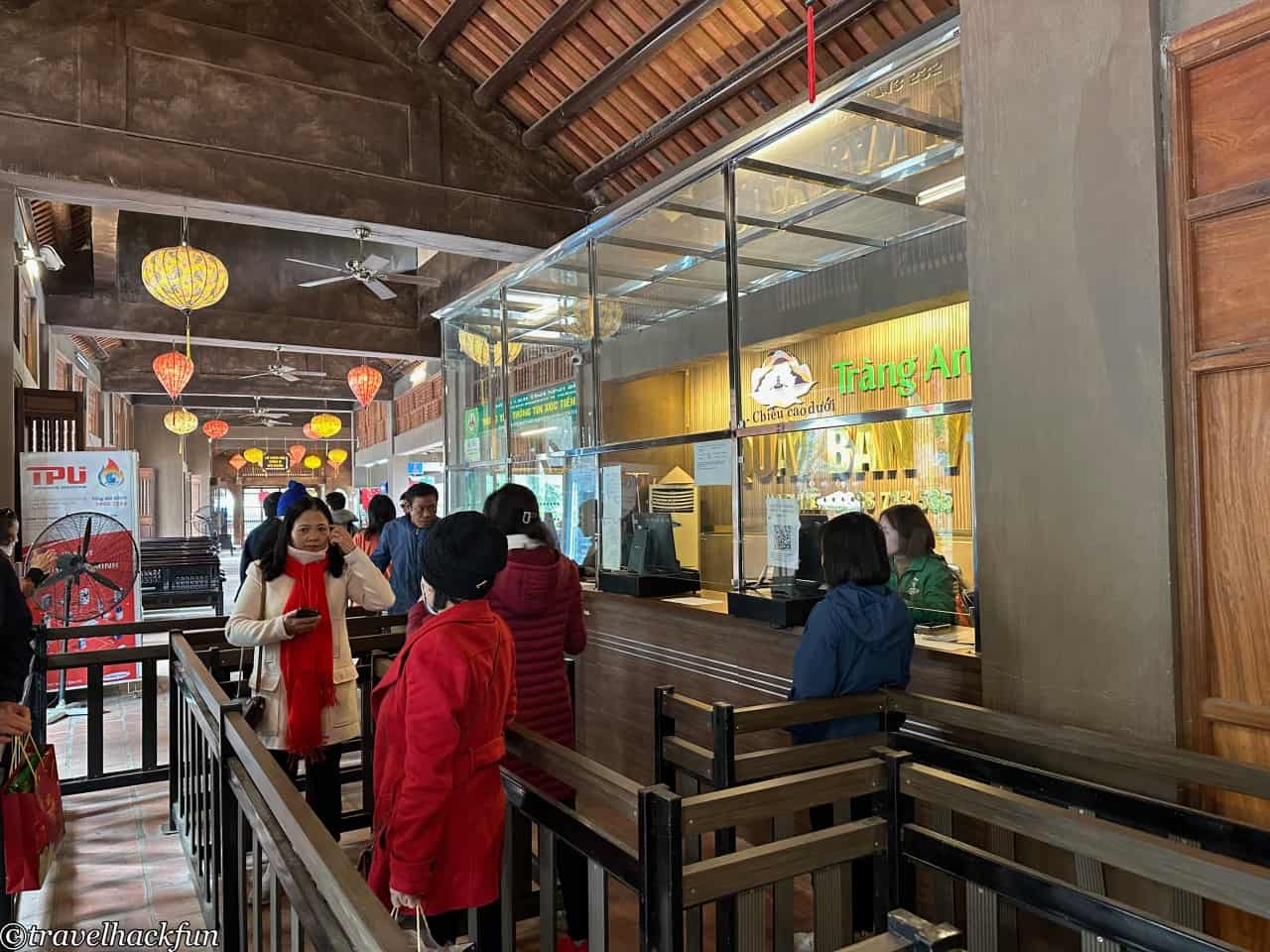 After obtaining your tickets, you'll receive a booklet with information about the routes. Visitors can choose the route that aligns with their interests. During our visit, there were three available routes, mainly differing in the number of caves and cultural landmarks you'll pass through. The routes available to us were as follows, and some attractions might overlap between different routes:
Route 1: Trinh Temple - Dark and Bright Cave - Nau Ruou Cave - Tran Temple - Ba Giot Cave - Seo Cave- Son Duong Cave - Khong Palace - Bao Hieu Temple- Khong Cave - Tran Cave Seo Cave - Son Duong Cave - Khong Palace - Bao Hieu Temple- Khong Cave - Tran Cave - Quy Hau Cave
This route passes through nine caves and three temples and is suitable for those who like to see caves.
Route 2: Lam Cave - Thanh Cao Son Temple - Vang Cave - Thanh Truot Cave - Suoi Tien Temple - Dai Cave - Hanh Cung Vu Lam Temple
Four caves and three temples, including the filming site of King Kong. This was the most popular route when we were there.
Route 3: Trinh Temple - Dot and May Cave - Suoi Tien Temple - Dia Linh Mountain - Dai Cave - Hanh Cung Vu Lam Temple - Kong: Skull Island Film Se
Three caves and three temples, including the King Kong filming location and the 1km, longest Dot Cave. We decided to choose this route, mainly because this is the only route to going to the 1km cave.
Once you've selected your route, simply inform the staff members in charge of assigning boats about the route number. Since each boat accommodates four people, if your group isn't large enough to fill the boat, you might need to wait for other interested visitors to join and complete a full boat. Please note that routes could change, so it's the best to spend a bit of time reading the explanations provided.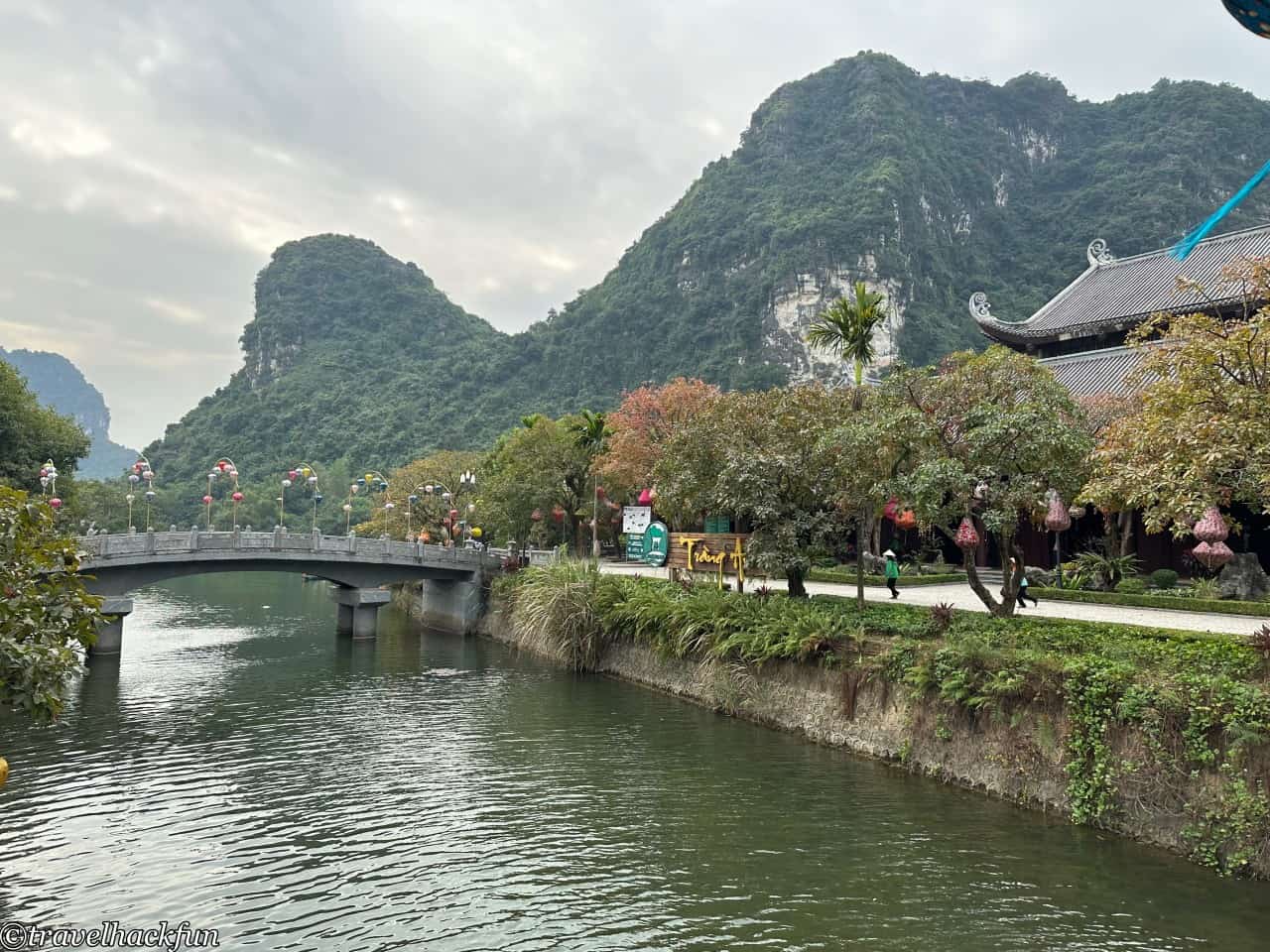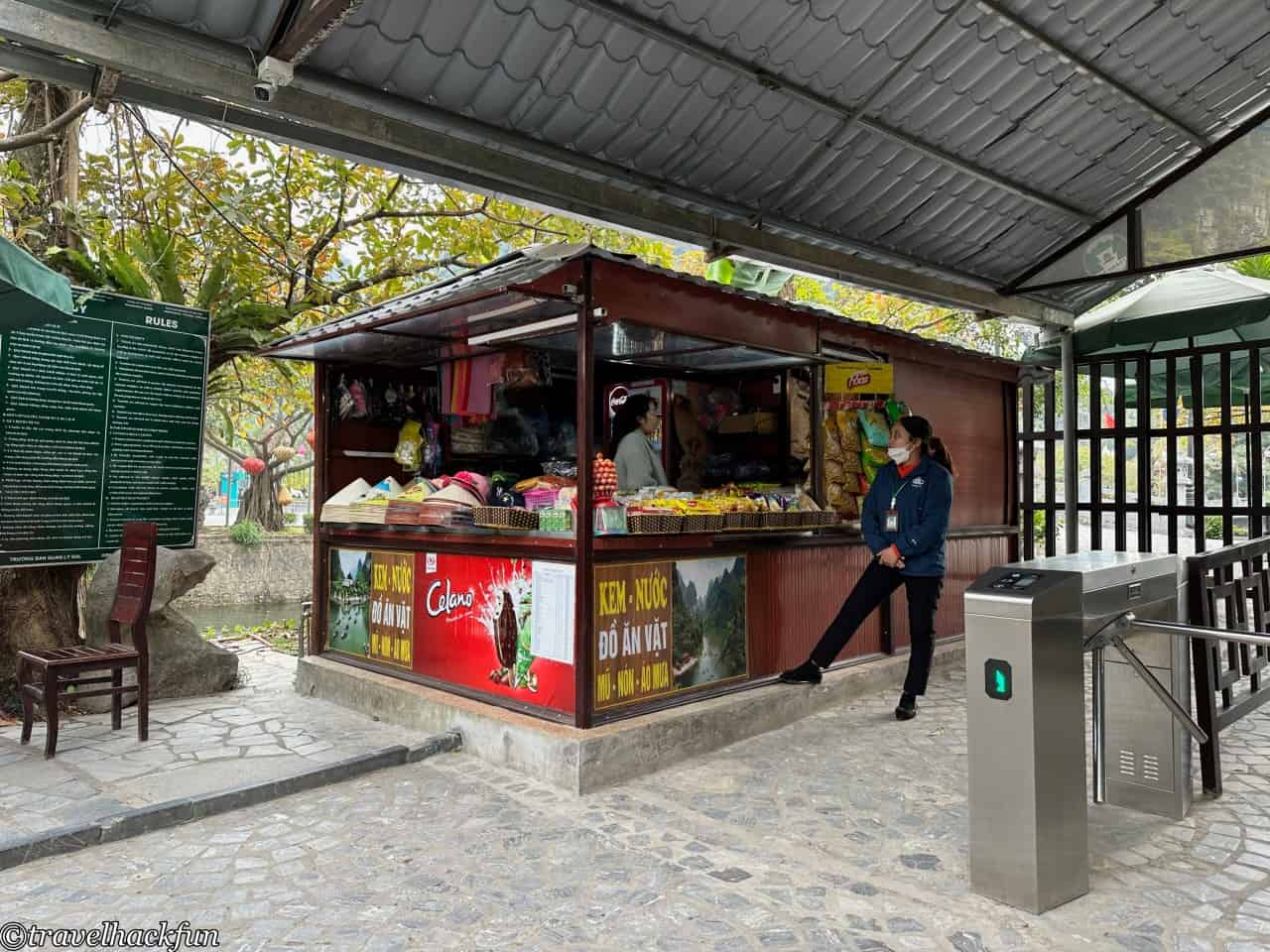 Route 3: Trinh Temple - Dot Cave - Suoi Tien Temple
After boarding the boat, we started to travel slowly. The water here is shallow and not suitable for motorized boats, so the rowing is done manually by the boatmen. Despite occasionally seeing other tour boats, the journey is characterized by serene and tranquil scenery throughout.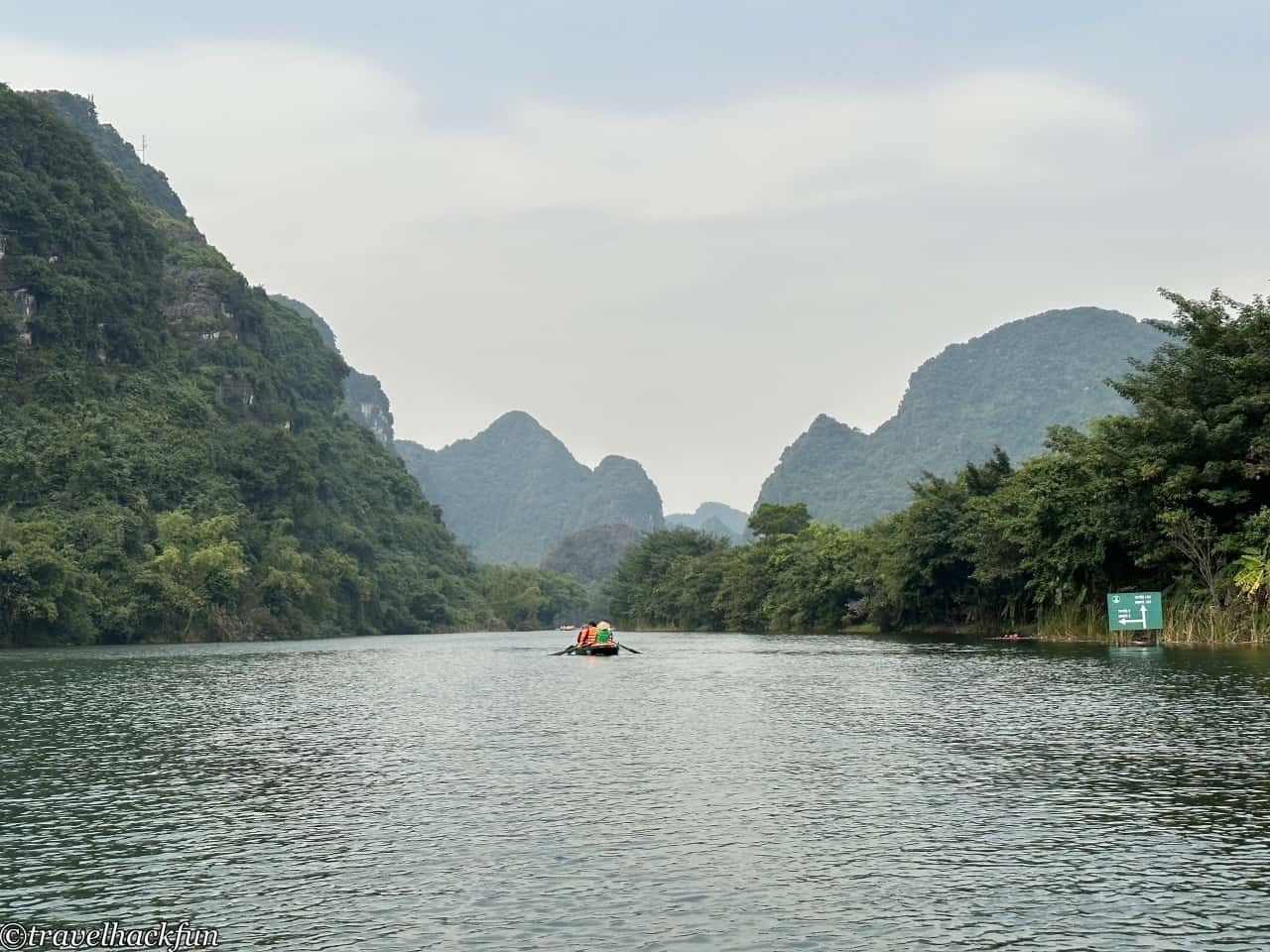 Trinh Temple
The first stop on our route was Trinh Temple, a stop on both Route 1 and Route 3. The boat docked for us to disembark.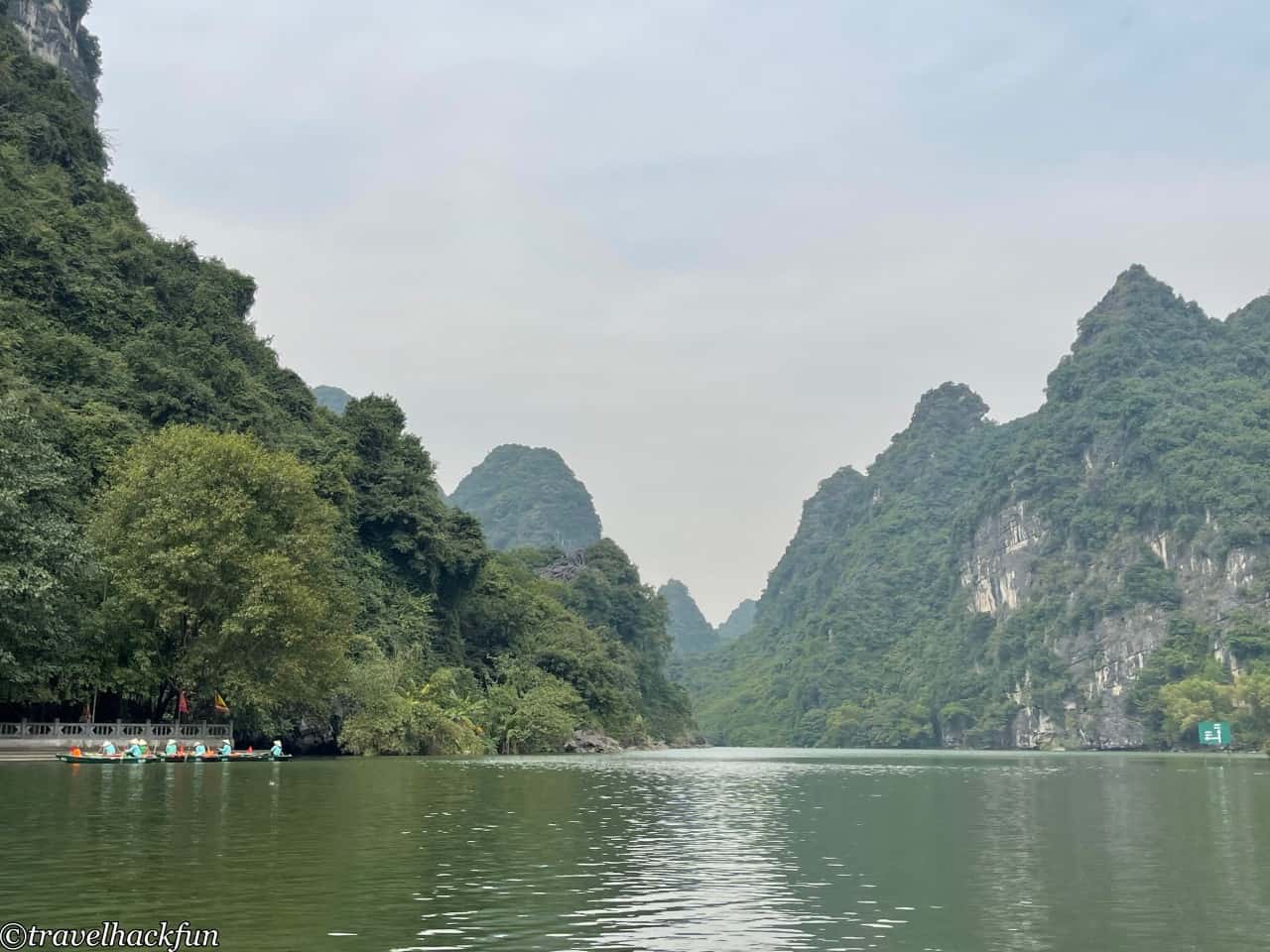 Trinh Temple is a thousand-year-old temple, one of the four temples of the Dinh Dynasty, or Dai Viet State. It is one of the four temples of the Dinh Dynasty (i.e. Dai Viet State). The Dinh Dynasty was founded in 924 AD, marking a millennium of history. The temple itself has undergone multiple renovations and reconstructions over the years and is now quite spacious and beautiful.
The main temple commemorates the four monks who assisted the Dinh Dynasty's emperor in conquering and unifying the country. It was their support that contributed to the emperor's success in establishing the Dai Viet nation. The four stone steles at the entrance are relics from the Le Dynasty.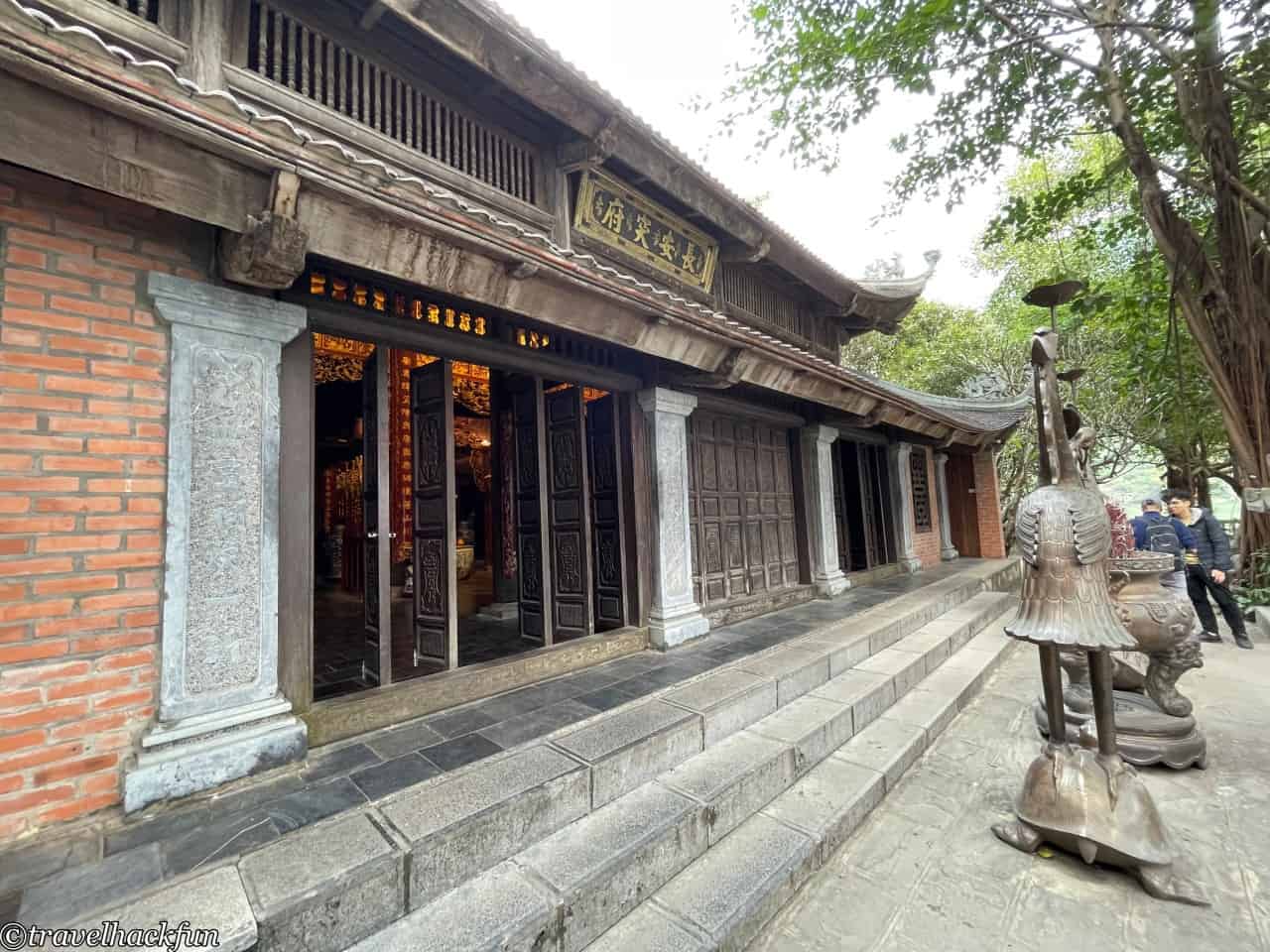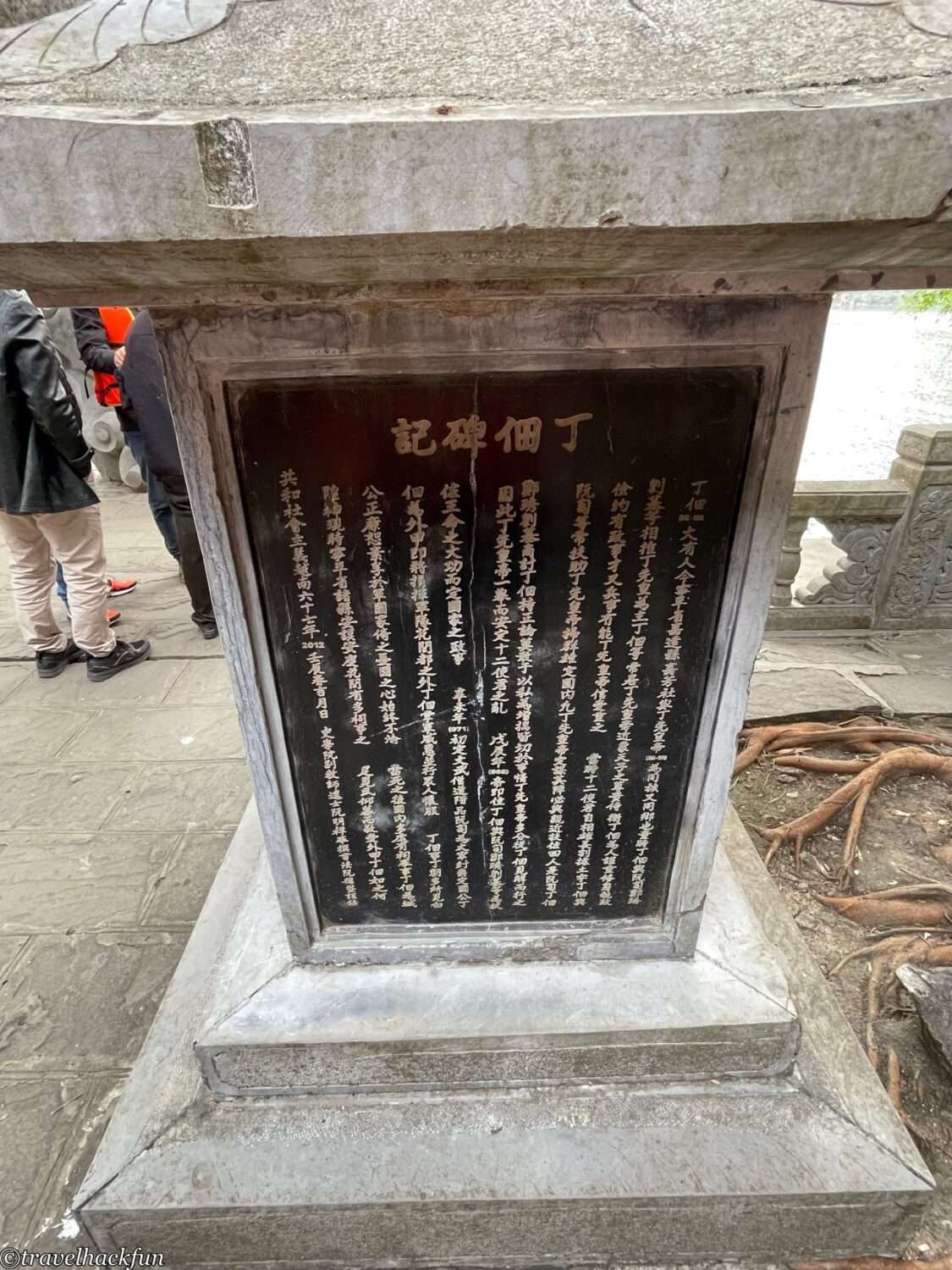 Dot Cave
Dot Cave is the longest cave within the Trang An Landscape Complex, spanning a distance of 1 kilometer between its two ends. Among all the available routes, only Route 3 passes through this cave, which was the main reason for us to choose this route. As our small boat ventured into the cave, we quickly realized that it was not only long but also required everyone to bow their heads as they moved forward. The rock walls above were low, and a slight misstep could lead to a head bump.
The cave had several narrow passages, and the passing boats occasionally experienced minor collisions, adding a touch of amusement to the experience. Inside the cave, there was no wind, and it felt somewhat warm. Despite the boat's relatively quick pace, it took quite a bit of time to navigate through the cave. Visitors can truly immerse themselves in the sensation of traveling within the limestone cave.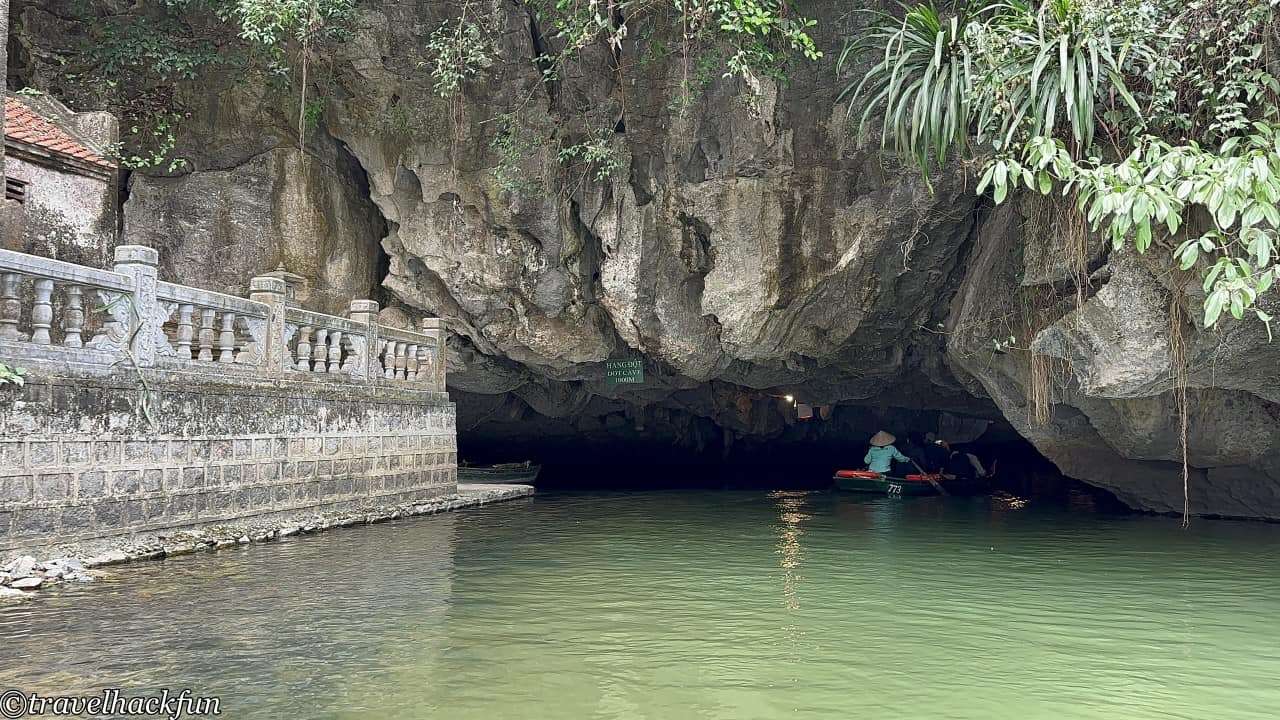 After Dot Cave, we soon entered the second cave, Van Cave, which is much wider and 400 meters long.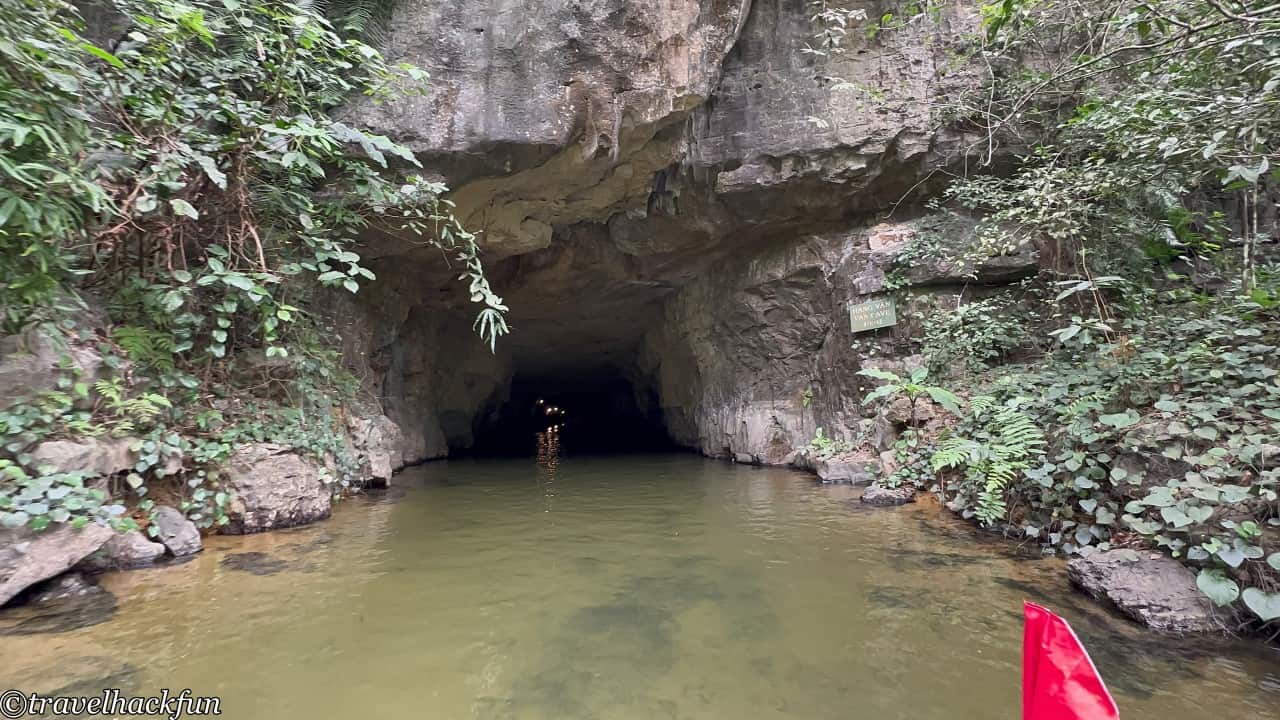 Shou Tien Temple
The second on-land stop is Suoi Tien Temple, which is visited on both Route 2 and 3. This stop has two ports: once we disembarked, the boat would travel to the other port to wait for us. The route took us through mud walls and thatched-roof houses before crossing a picturesque small bridge to reach Suoi Tien Temple.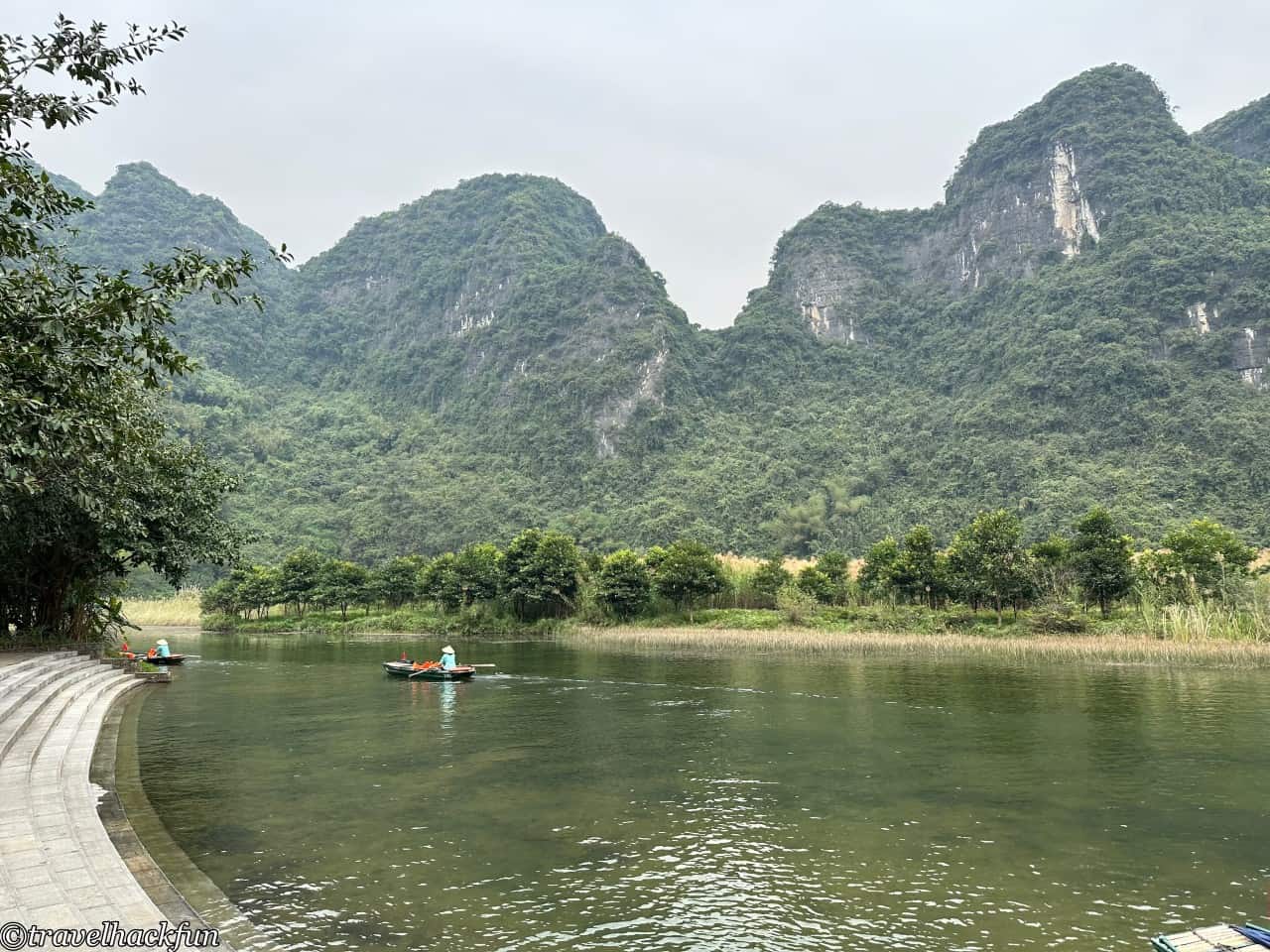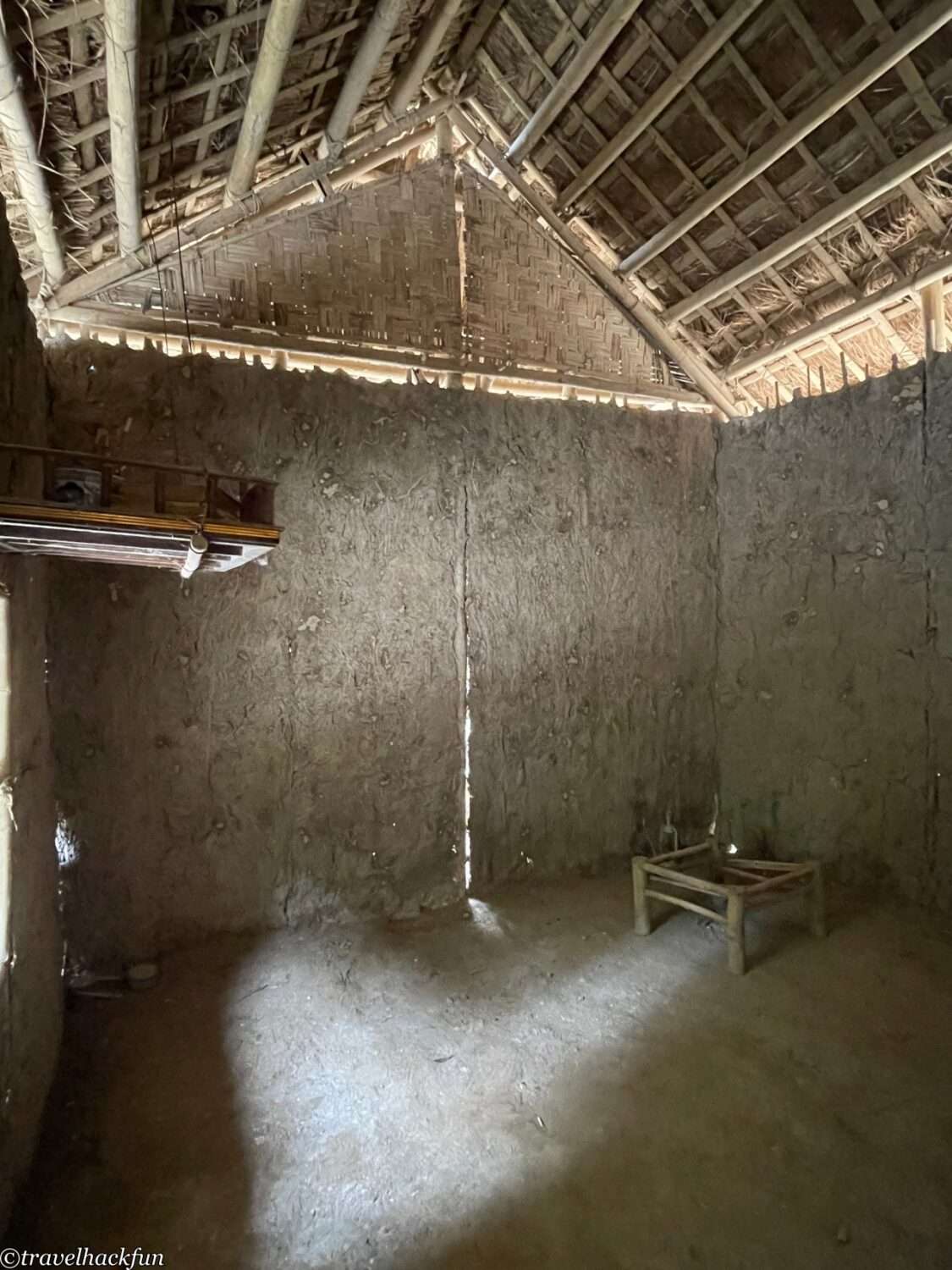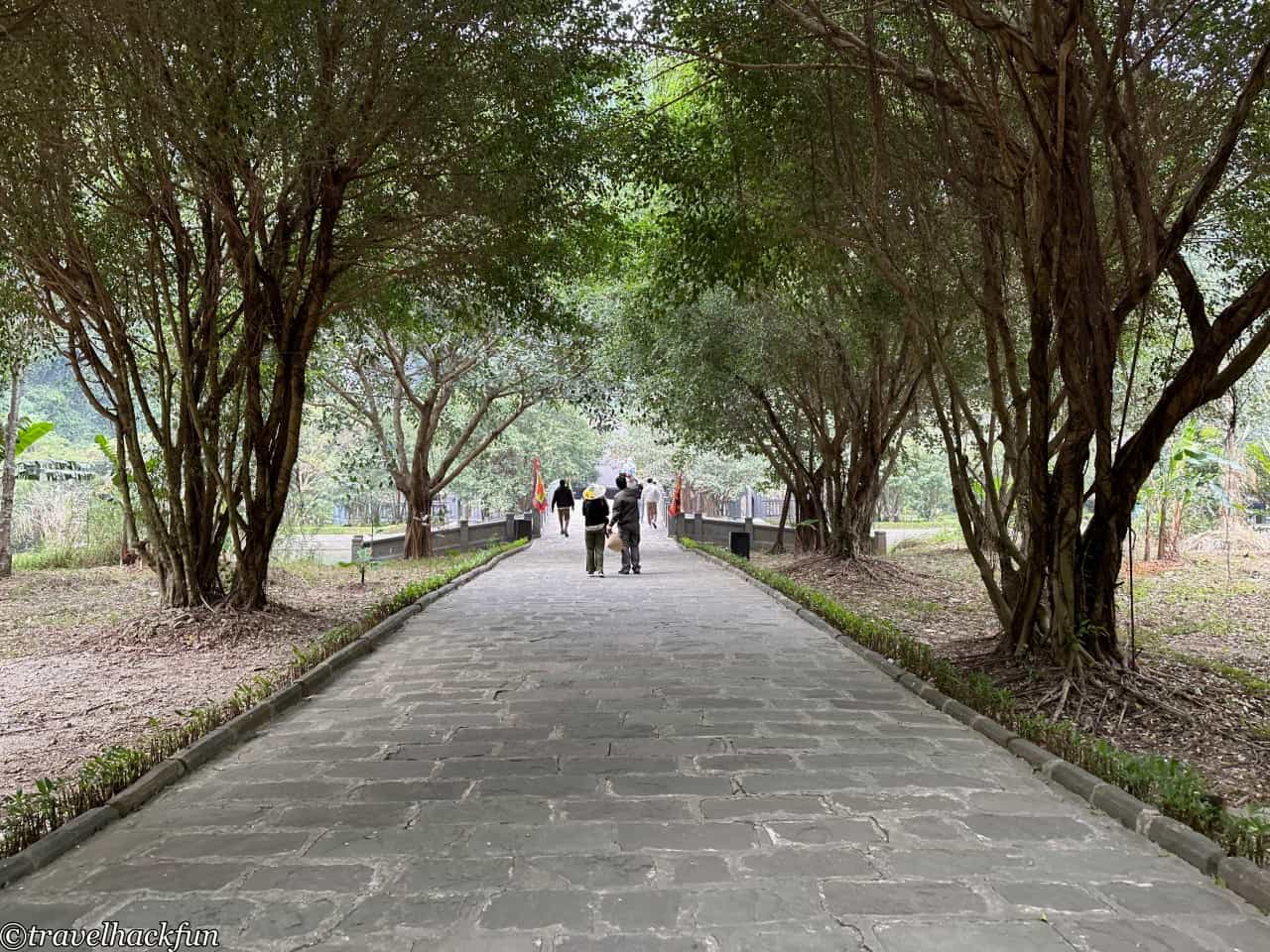 The signboard of Narcissus Temple reads "Fook Tak Koo Shrine", which was first built during the Dinh Dynasty to worship a god known locally as Thanh Cao Son. It is said that this god guarded the ancient capital of Namsan, which is now known as Hoa Lu.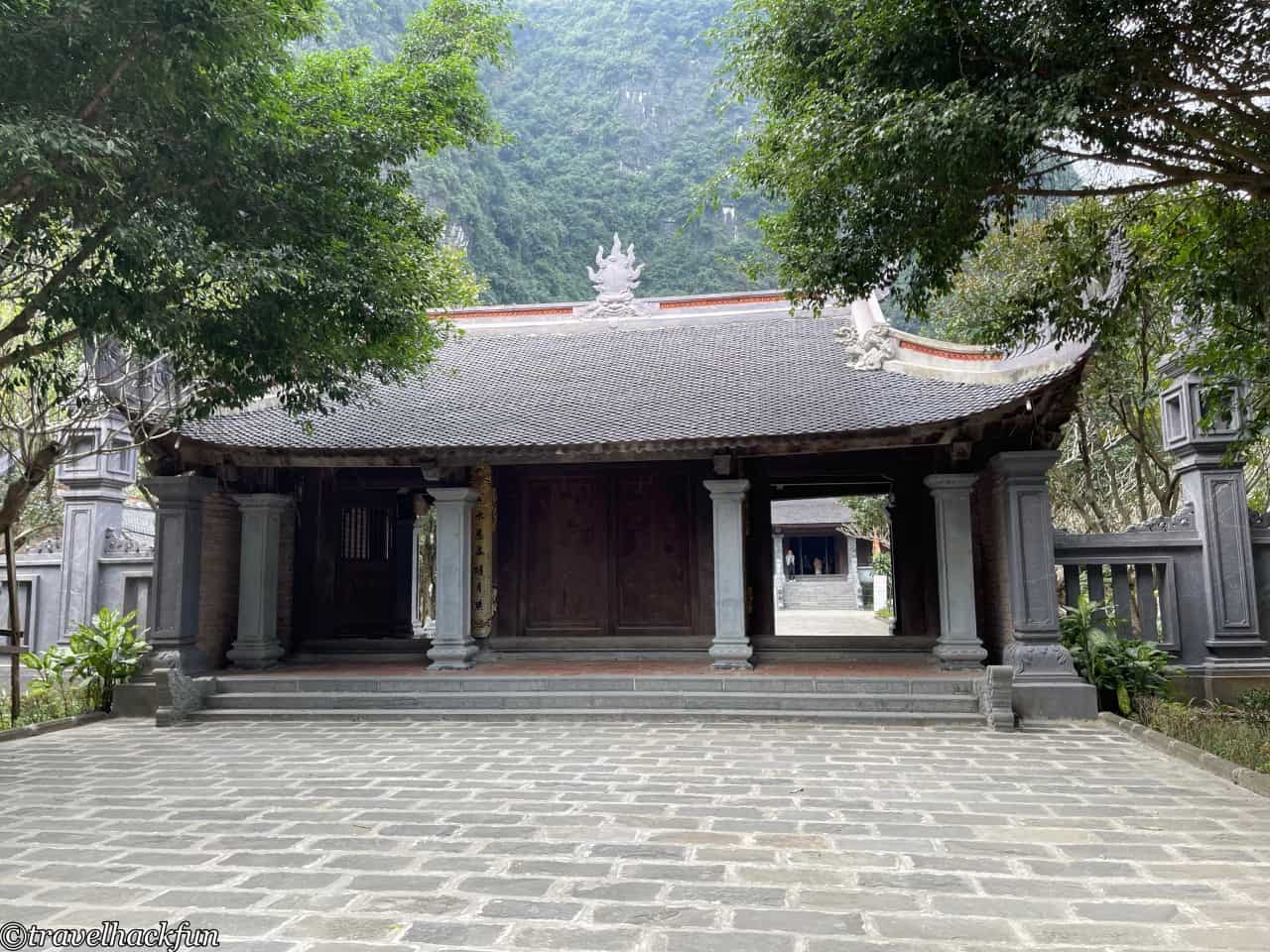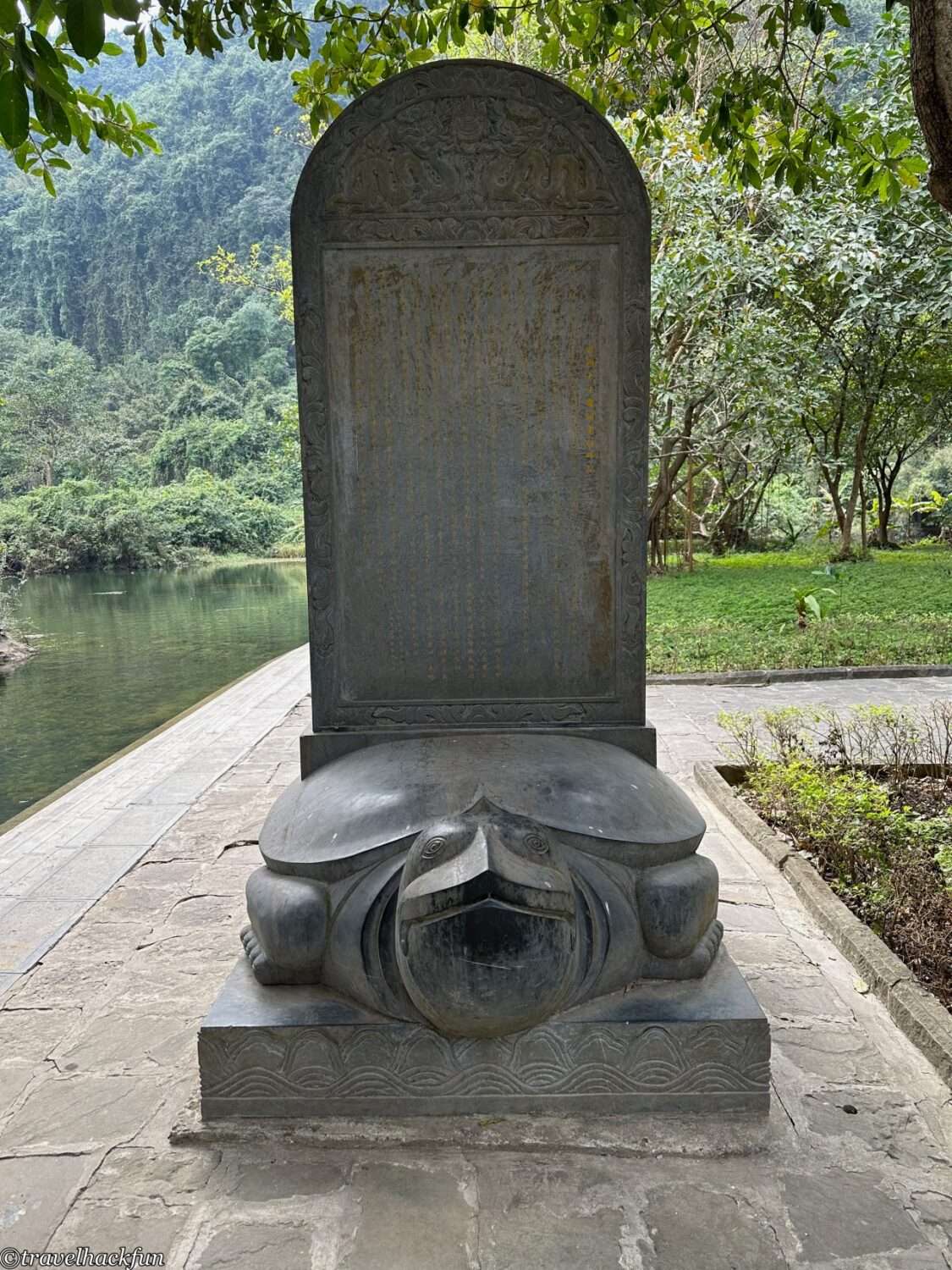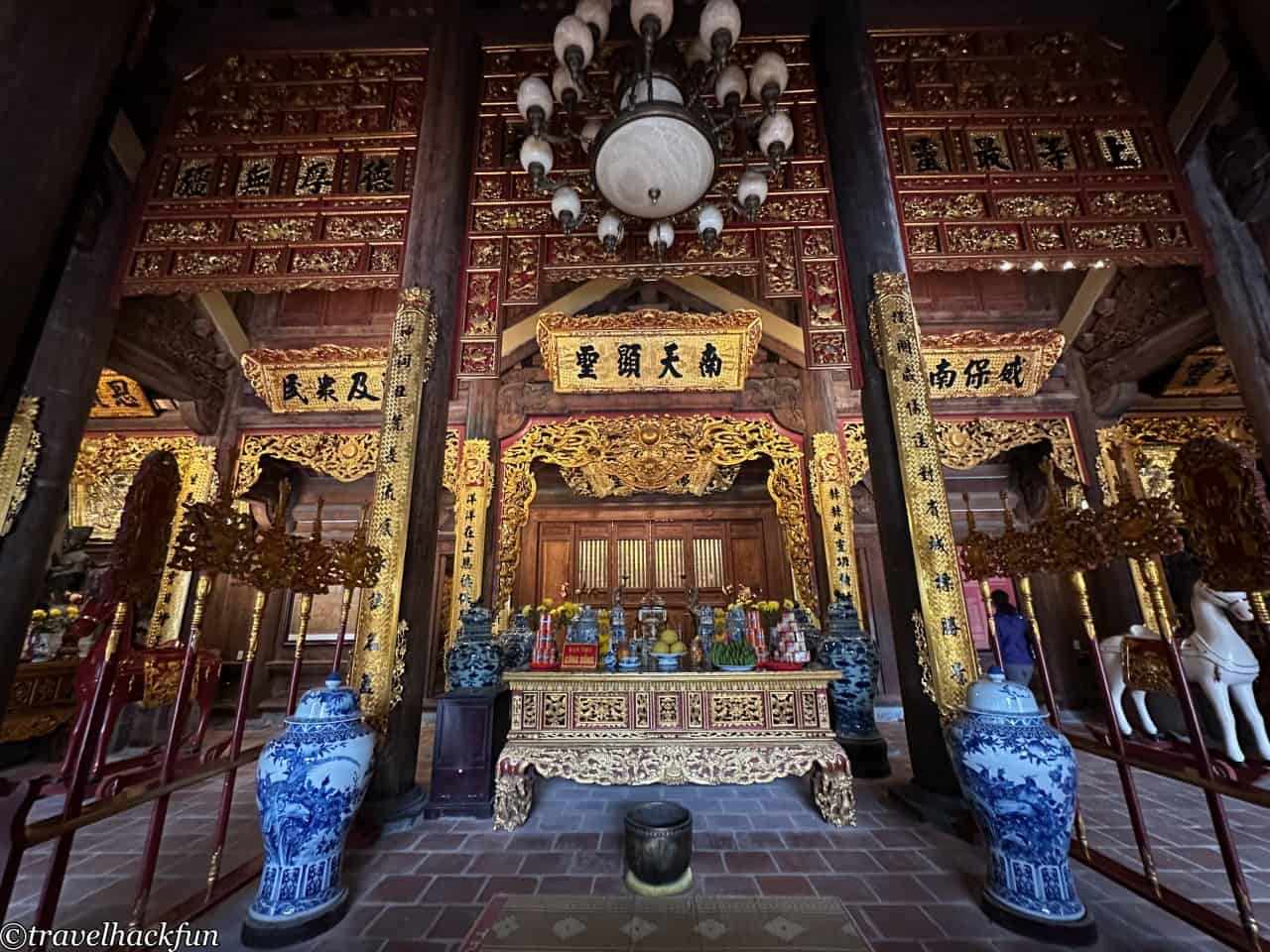 Dia Linh Mountain
After Shou Tien Temple there comes a longer stretch of water, passing through Dia Linh Mountain, one of the iconic landscapes of Trang An. Both Route 2 and Route 3 pass through this area. This part of the journey can be quite challenging. The boatwoman gestured to the oars in silence, indicating that it was time for us passengers to help. So, the four of us took turns rowing, and the boat moved forward slowly. We weren't entirely sure if our efforts were helping or hindering, but we were determined not to let her do all the hard work alone. Some other boats' passengers got quite enthusiastic and even started racing. Our boat, however, remained calm, with our focus entirely on appreciating the natural beauty along the way.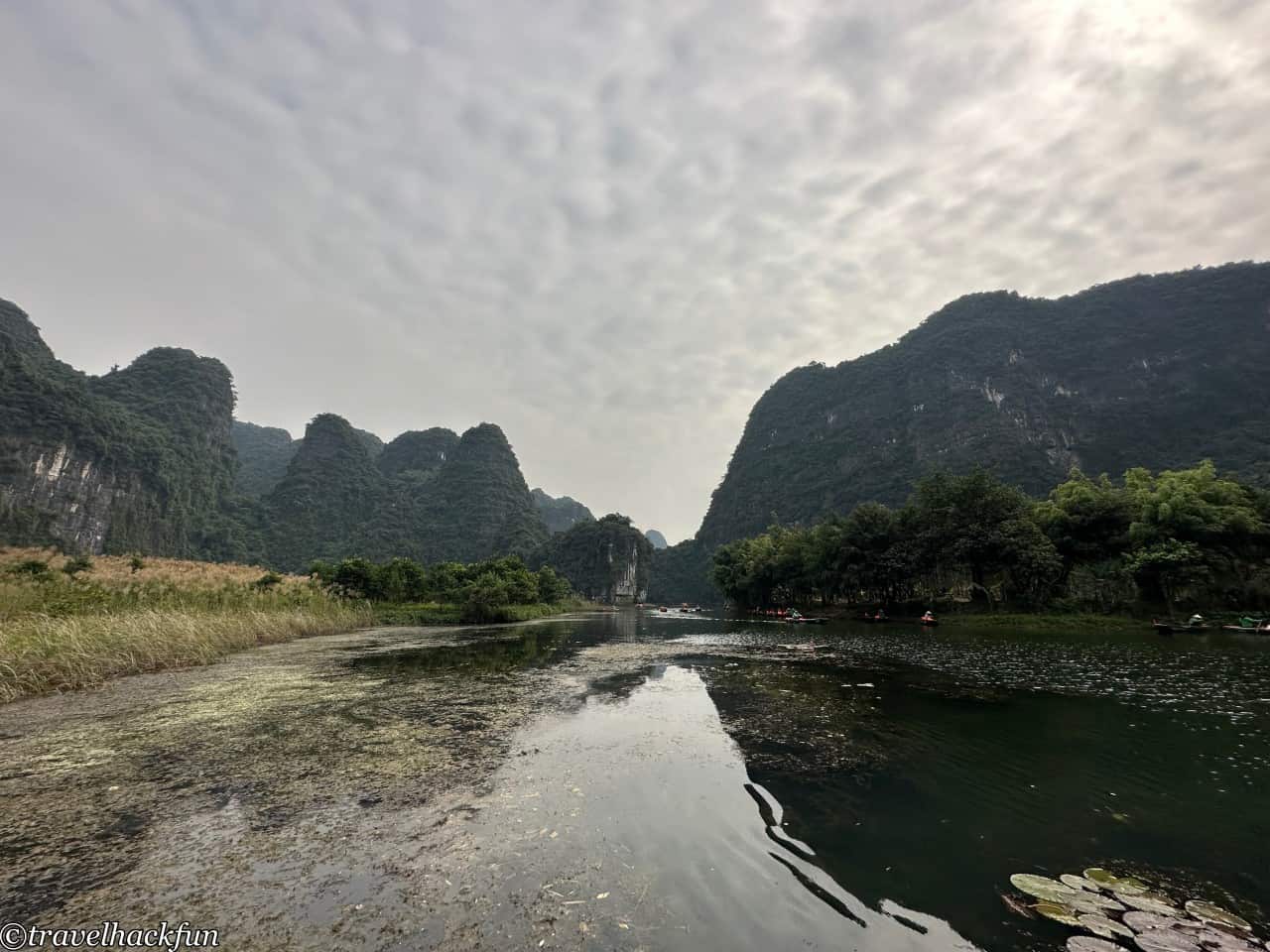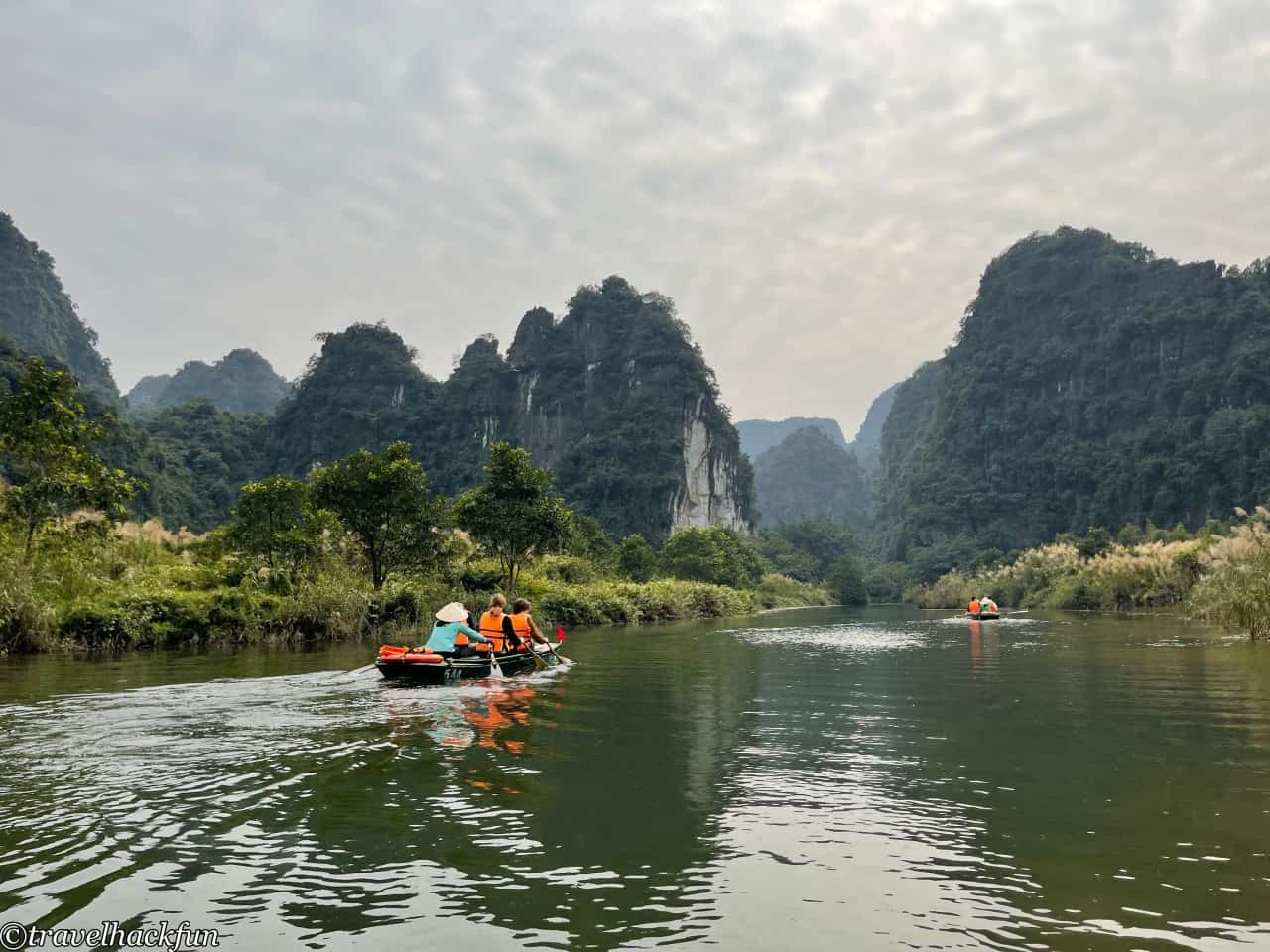 Dai Cave
At this point, we passed the last cave, Dai cave, which is much shorter than the previous ones, only 150 meters, but the boats from Route 2 and Route 3 converged here, so it seems busier.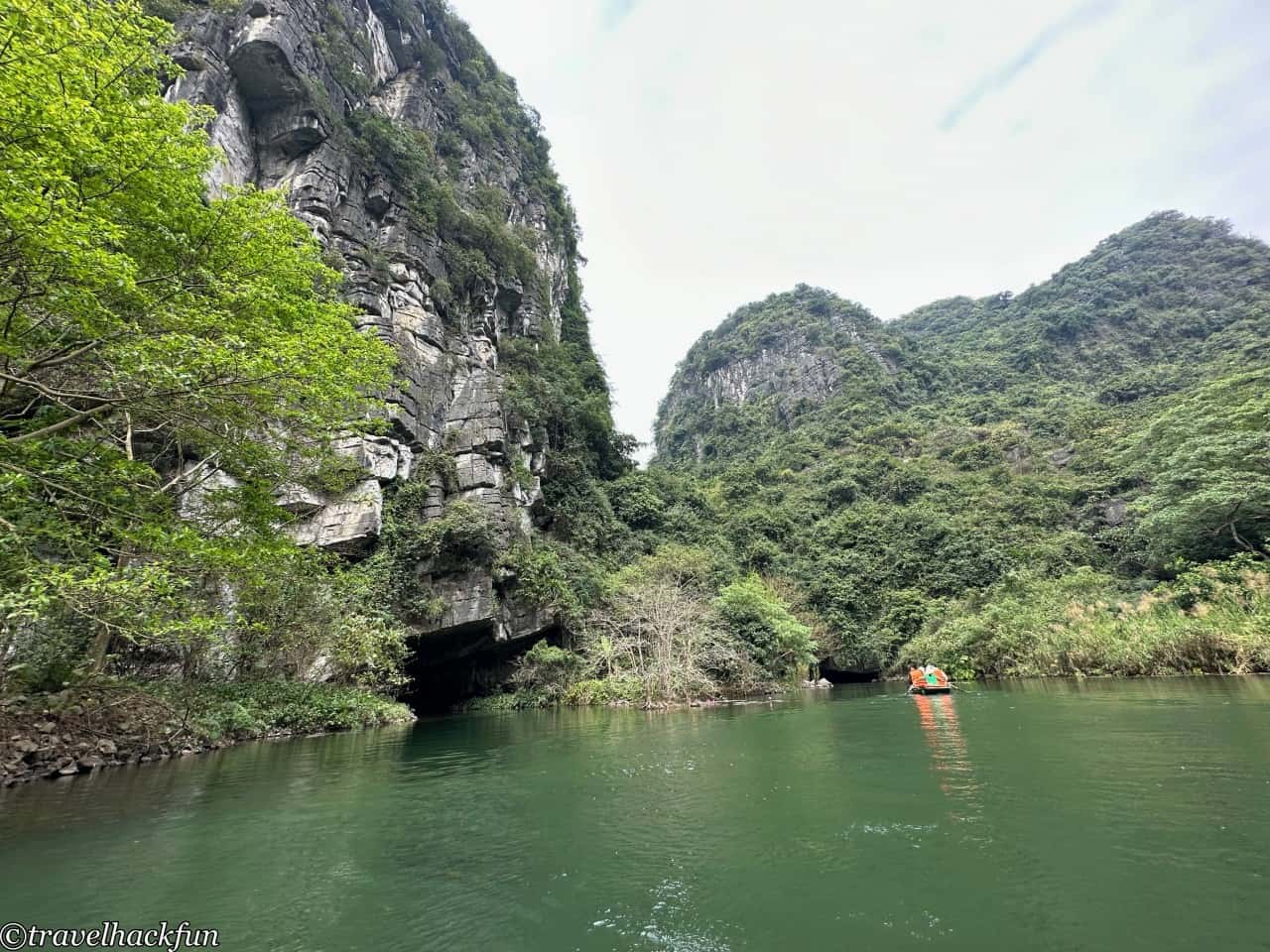 Vu Lam Royal Step
Once you exit Dai Cave, there is a small temple on the water next to it, which is the Vu Lam Royal Step. Although the boat doesn't stop here, the view is definitely worth seeing.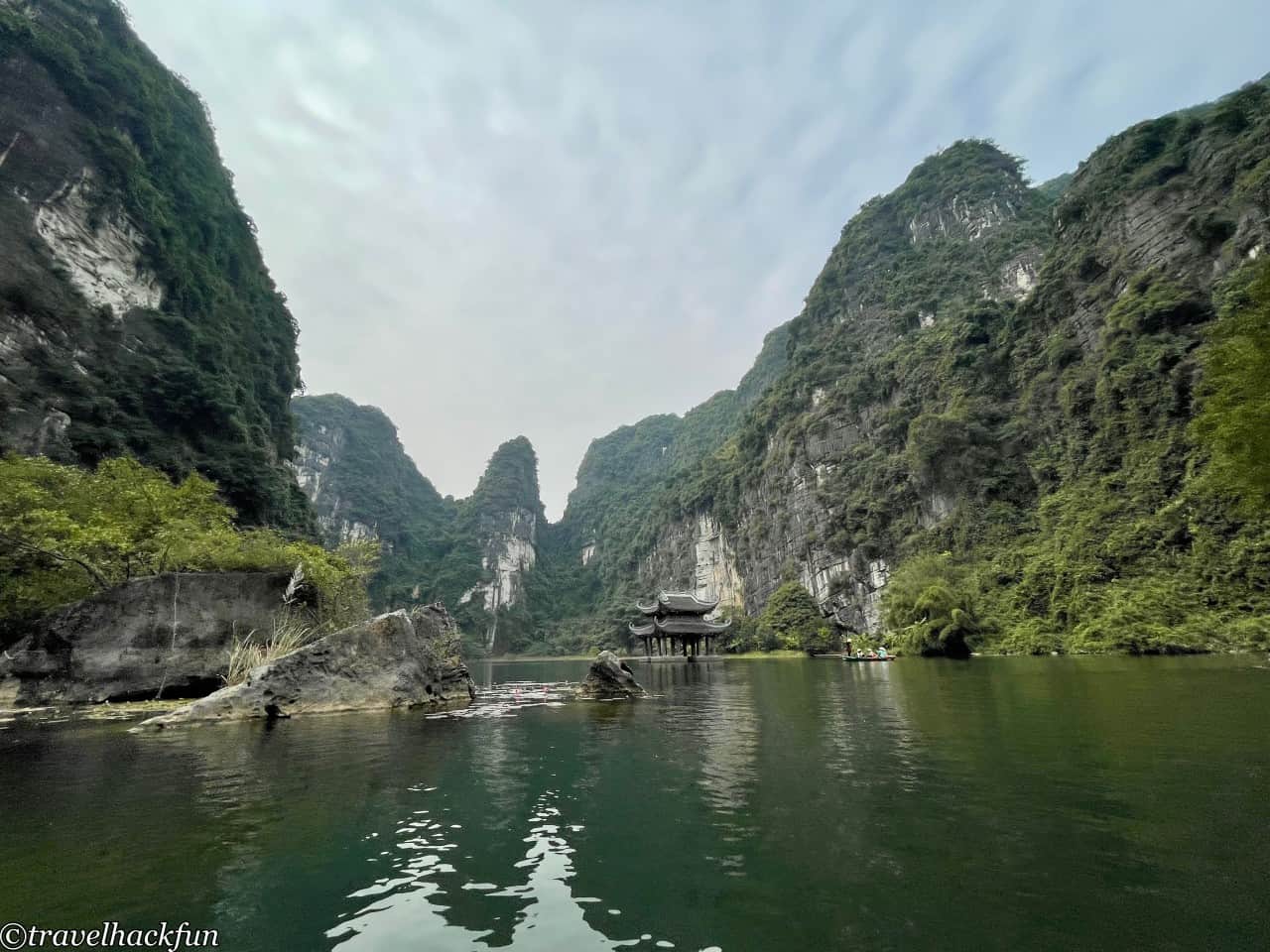 Hanh Cunt Vu Lam Temple
Hanh Cung Vu Lam Temple is also a shared destination for both Route Two and Route Three. Over several generations, Tran Dynasty emperors led numerous wars from this temple, giving it a unique historical significance. Initially, Emperor Tran Thai Tong was captivated by the extraordinary landscape of the area and constructed the temple for meditation and practice. Later, recognizing the defensive advantages of the limestone terrain, he established a military training base here to resist invasions from the Mongols and the Nguyen Dynasty. After abdicating in favor of his crown prince, Emperor Tran Thai Tong continued his personal cultivation here. The surrounding area developed into an important town during the Tran Dynasty era.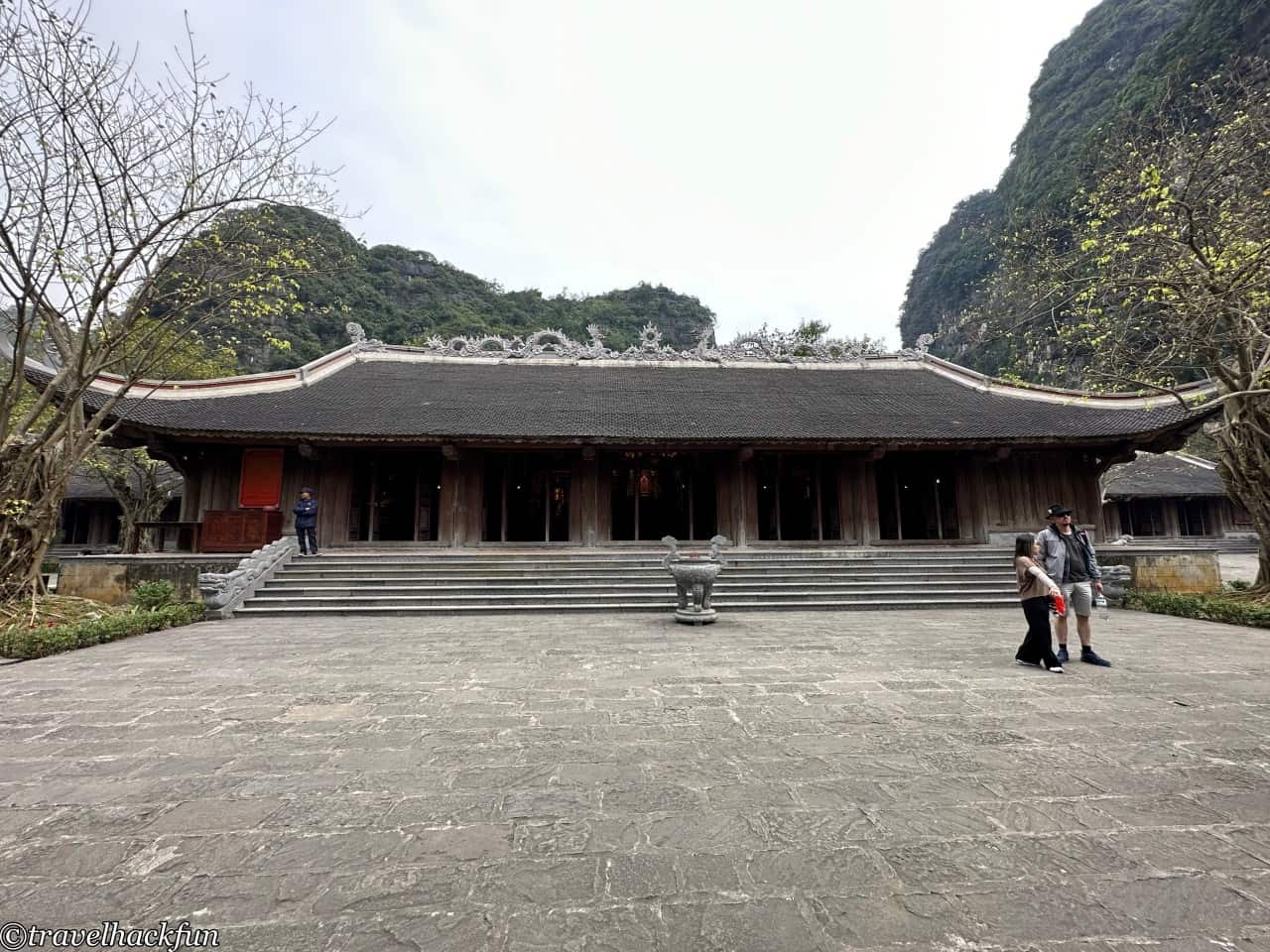 Kong: Skull Island Film Set
After passing through the mountain path, lake views, and wooden walkway behind Hanh Cung Vu Lam Temple, you'll come across a cluster of thatched-roof houses. This area is actually a part of the Kong: Skull Island Film Set, a filming location for the King Kong movie. Fans of the film shouldn't miss out on this unique opportunity to visit a real-life movie set.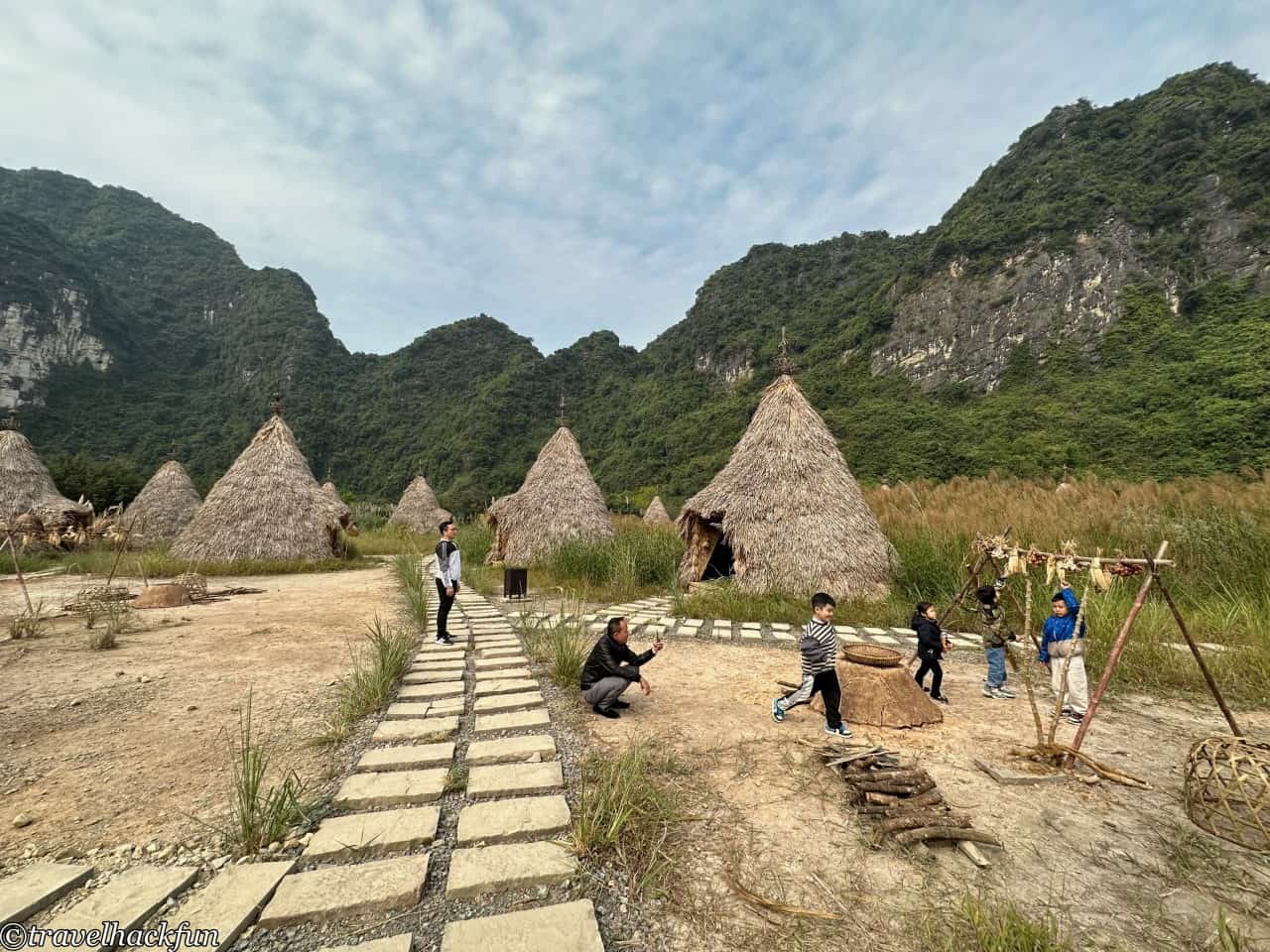 On the return journey, the bamboo boat takes you back to the starting point, completing the three-hour trip. Throughout the journey, you'll have enjoyed the breathtaking scenery and admired the hard work of the boat paddlers.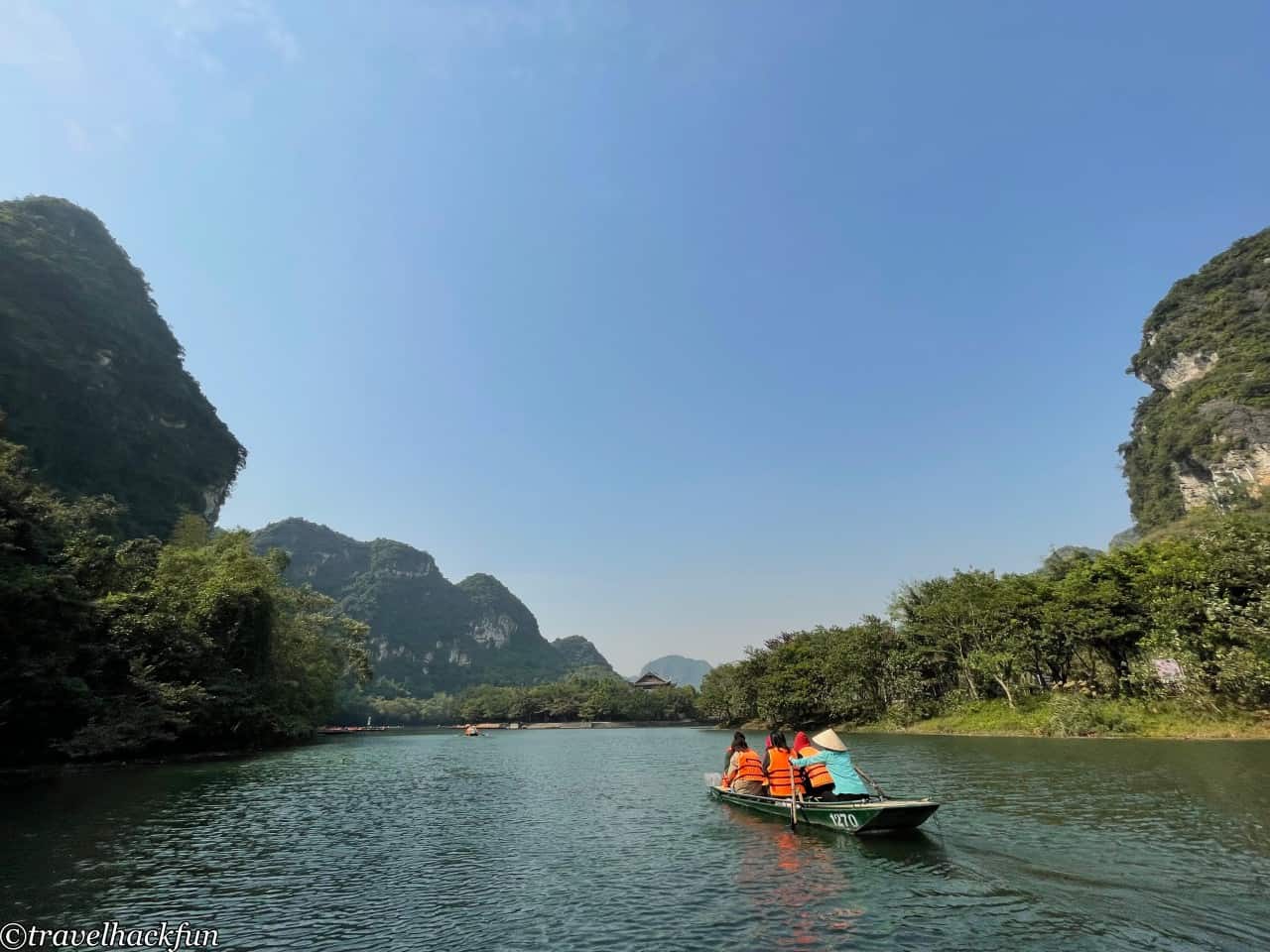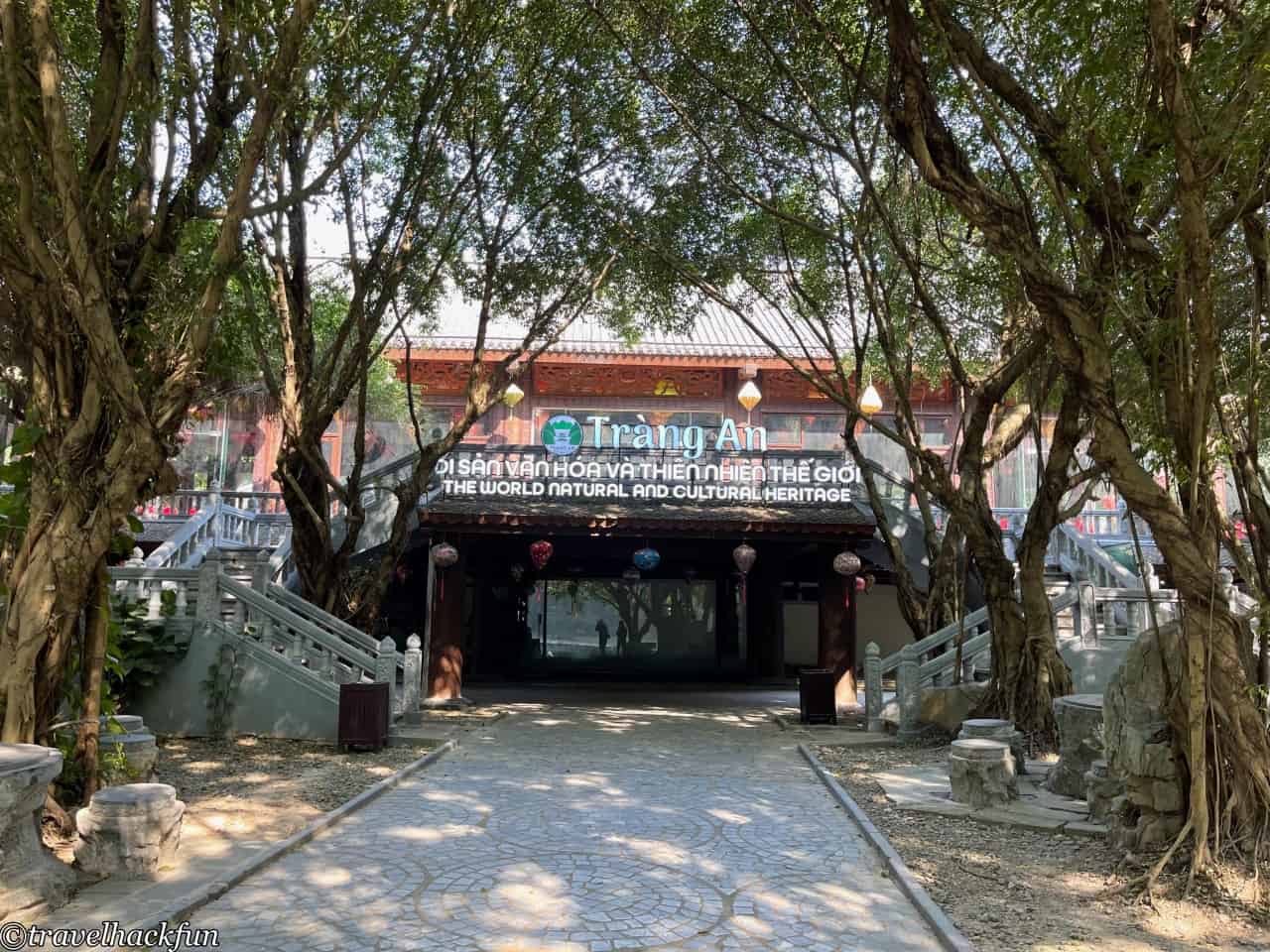 Further reading
Thank you for visiting our website.

All the content on this site is original and shared with the purpose of providing valuable information. We sustain the operation of this site through a small amount of advertising and sponsored links. If you click on links to third-party merchants on our site and make purchases, we may receive a portion of the sales as a commission. If you click on links to third-party merchants on our site and make purchases, we may receive a portion of the sales as a commission.

Find more posts on a map Here.

My recommended resources for hotel bookings.

My recommended resources for activity bookings.
Buy me a coffee and support my contents!
If you are interested in quoting this article or using any part of its content and images on your website or publication, please contact us via email to request permission.