Hokkaido Winter Road Trip | Itinerary Organizer
At the end of 2019, during the Christmas and New Year holidays, I planned a self-driving winter trip to Hokkaido, Japan. This trip was prepared somewhat hastily (as it often seems to be the case with my trips to Japan!). Before departure, I had initially focused on Hokkaido as the main destination. However, due to the need to transit through Tokyo or Osaka when flying back to San Francisco and the fact that some businesses in Hokkaido close during the New Year holiday season, I adjusted the itinerary accordingly. The final plan included spending ten days in Hokkaido, flying via Haneda to Hakodate just before Christmas, staying a day in Hakodate, and then embarking on a three-day self-driving journey from Hakodate to Sapporo. Subsequently, I used Sapporo as a base for exploring Sapporo and Otaru, and enjoyed skiing in the vicinity during the New Year holiday.
Here is the detailed itinerary for our trip to Hokkaido, spanning ten days. After our time in Hokkaido, we actually spent an additional five days in Kansai, but this article focuses mainly on the Hokkaido portion of the trip, with a brief mention of our experiences in Kansai. Due to the New Year celebrations, the first half of the itinerary was quite packed, while we deliberately kept the latter part more relaxed. If you prefer a more intense schedule, you can complete the Hokkaido portion of the trip within a week by excluding the skiing activities.
I found the accommodations to be quite excellent. They were reasonably priced, conveniently located, and all of them had hot spring baths, which made it very relaxing to soak in after a day of exploring and shopping. We thoroughly enjoyed our stay at each place.
| | | |
| --- | --- | --- |
| Day | Itinerary | lodging |
| 0 | Originally, I was supposed to have a layover at Haneda and then fly to Hakodate, but due to missing the connecting flight, it turned into a half-day tour in Haneda. | Tokyo Haneda Airport |
| 1 | Early in the morning, I flew to Hakodate. In the morning, I visited the morning market and Goryokaku. In the afternoon, I went to Motomachi, Kanemori Red Brick Warehouses, and in the evening, I enjoyed the night view of Hakodate. | La'gent in front of Hakodate Station |
| 2 | After picking up the car, I hit the road. In the morning, I visited Onuma National Park, and in the afternoon, I arrived in Toya. | Toyano Breeze Lake View Hotel |
| 3 | After having breakfast, I drove from Toya to Noboribetsu, primarily to visit Jigokudani (Hell Valley). | Noboribetsu Shimizuya |
| 4 | I traveled through Lake Shikotsu and Muroran before heading to Sapporo. | Sapporo Odori La'gent |
| 5 | I took a train to Otaru for a day trip. | Sapporo Odori La'gent |
| 6 | In Sapporo, I explored the Nijo Market, Sapporo Beer Garden, the Clock Tower, the TV Tower, and Tanukikoji Shopping Street, among other places. | Sapporo Odori La'gent |
| 7 | In Sapporo, I visited the Hokkaido Shrine and the Shiroi Koibito Park (White Lover Park). | Sapporo Odori La'gent |
| 8 | I went skiing at Teine Mountain. | Sapporo Odori La'gent |
| 9 | I went skiing at Teine Mountain. | Sapporo Odori La'gent |
| 10 | I flew from New Chitose Airport in Sapporo to Osaka and explored the city. | Hotel Monterey Le Frere Osaka |
| 11 | Himeji Castle Day Trip | Hotel Monterey Le Frere Osaka |
| 12 | I went on a one-day trip to Arima and enjoyed the Arima Onsen hot springs. | Hotel Monterey Le Frere Osaka |
| 13 | Nadagogo Sake Tour | Hotel Monterey Le Frere Osaka |
| 14 | Return | Hotel Monterey Le Frere Osaka |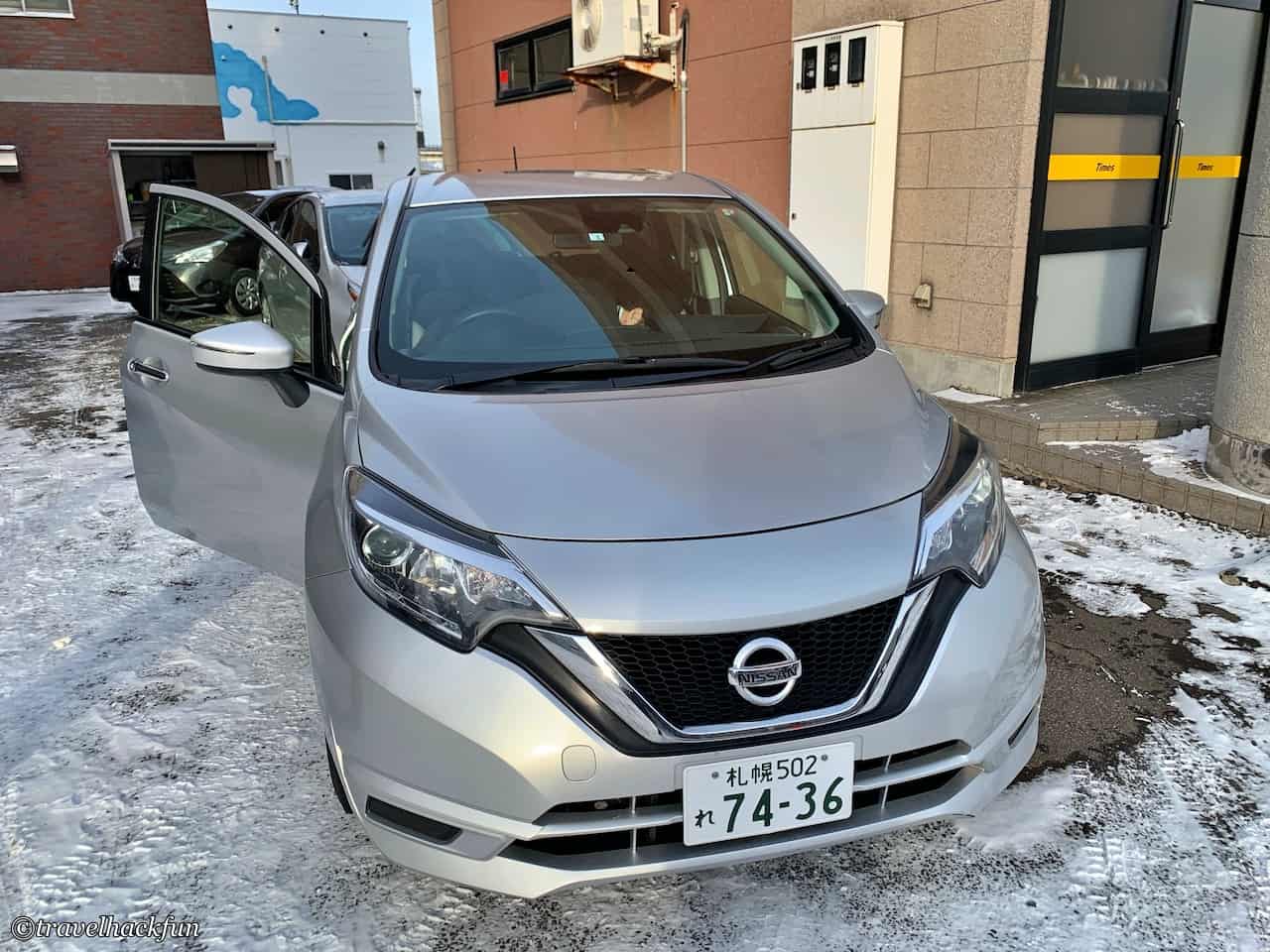 Hokkaido Winter Road Trip | Driving Route
Our self-driving route took us from Hakodate, passing through Lake Toya, and Noboribetsu, all the way to Sapporo. The actual driving route had a total length of approximately six hours, split into three days of traveling, with a relaxed atmosphere throughout the journey. The final return of the car was near Sapporo Train Station, and afterward, we resumed our exploration of Japan as pedestrian tourists.
Choosing to drive in Hokkaido had a couple of reasons. On one hand, it offered a more flexible itinerary, and on the other hand, it was a fresh experience to try driving on the right side. While many people might be apprehensive about driving in snowy conditions during winter, having lived in snowy areas previously, I was already familiar with such conditions. In reality, driving in Hokkaido was a pleasant experience. I found that the roads in Japan were much cleaner than rural areas in the United States. Despite renting a small car, there weren't many moments that required genuine nervousness.
Regarding my first experience with right-hand driving, I quickly adapted to the different seating position. The only aspect that took some time to get used to was making right turns, where I had to be particularly cautious and stay as close to the left lane as possible. This was mainly due to the snowy conditions in Hokkaido, where road markings were not as clear as I would have liked.
Day 1 - 2 | Hakodate
Our first stop in Hakodate, which is the southernmost city in Hokkaido, featured significant historical sites such as Goryokaku, the iconic Mount Hakodate with one of the world's top three night views, the bustling Hakodate Morning Market with fresh seafood, and the charming Motomachi district, which exudes a distinct foreign ambiance that Japanese people find appealing.
Originally, we had planned to spend three days and two nights in Hakodate. However, due to an unexpected missed connecting flight and an unintentional overnight stay in Haneda Airport, our stay was shortened to two days. Despite the slightly rushed schedule, we managed to visit all the intended attractions.
Day 2-3 | Lake Toya
Lake Toya is a volcanic caldera lake formed by the eruption of Mount Usu in the Showa era. Since we visited during the winter, our primary goal was to enjoy the snowy landscape. Our one-day itinerary in Lake Toya was focused on admiring the winter scenery and relaxing in the hot springs.
Day 3-4 | Noboribetsu
Noboribetsu Onsen is one of the most famous hot spring resorts in Hokkaido, known for its various types of hot spring waters, with around 10,000 tons of hot spring water flowing annually. Noboribetsu is perfect for planning a one or two-day itinerary. You can stroll through the hot spring street, explore Jigokudani (Hell Valley), and if possible, staying at a nearby hot spring hotel for a night is undoubtedly the best way to fully enjoy the experience.
Day 4 | Lake Shikotsu | Eight Views of Muroran
This day's primary mission is to drive from Noboribetsu to Sapporo. Lake Shikotsu and the Eight Views of Muroran are located along the route between Hakodate and Sapporo, making them excellent stops for a self-driving route. The entire journey offers stunning natural landscapes, and taking breaks at these two locations in the middle of the trip is a great arrangement to minimize the travel fatigue.
Day 5 | Otaru
Starting from this day, we transitioned into the mode of traveling without a car. The itinerary for this day involved taking a train from Sapporo for a day trip to Otaru. Otaru is a charming port city with a rich history and culture. We spent the day exploring the first railway in Hokkaido, Otaru Canal, Triangle Market, Sakaimachi Street, the Glass Museum, the Music Box Hall, and indulging in Otaru's delicious cuisine.
Day 6-10 | Sapporo
Sapporo served as our base for the latter half of our Hokkaido trip, and we actually stayed in Sapporo for a total of five days. These five days spanned over the New Year holiday period, and to accommodate the varying opening hours of different attractions, we staggered our itinerary. Apart from the first day's one-day trip to Otaru and spending two days skiing at Teine Mountain during New Year's, we had two days within Sapporo city itself.
Further reading
More Kansai Itinerary
Thank you for visiting our website.

All the content on this site is original and shared with the purpose of providing valuable information. We sustain the operation of this site through a small amount of advertising and sponsored links. If you click on links to third-party merchants on our site and make purchases, we may receive a portion of the sales as a commission. If you click on links to third-party merchants on our site and make purchases, we may receive a portion of the sales as a commission.

Find more posts on a map Here.

My recommended resources for hotel bookings.

My recommended resources for activity bookings.
Buy me a coffee and support my contents!
If you are interested in quoting this article or using any part of its content and images on your website or publication, please contact us via email to request permission.