Noboribetsu | Introduction
Noboribetsu Onsen is the most famous hot spring resort in Hokkaido. Due to the existence of the Kuttara Volcano, there are many hot springs in Noboribetsu, and there are many kinds of springs, and it is said that there are 10,000 tons of hot springs in a year. Noboribetsu is a good place for a one-day or two-day itinerary, so take a stroll through the hot spring towns, go to Jigokudani, and if you can stay overnight, booking a hot spring ryokan nearby and enjoying yourself for a night is of course the best thing you can do. If you can't stay at a hotel, there are many hot spring inns in Noboribetsu where you can just enjoy the hot spring.
If you are traveling to Noboribetsu Onsen by public transportation, you can take a train to JR Noboribetsu Station and then transfer to Minami Bus to Noboribetsu Onsen Station. If you come by car like us, you can also arrange a few days of onsen tour, such as with another onsen resort nearby an hour's drive away.cavemanArrange it together.
Noboribetsu Attractions | Jigokudani
The hot springs in Noboribetsu are mainly fromHell's HollowWhen you come to Tengboche, you can't avoid going to Hell Valley. Before entering the valley, you can smell the strong sulfur odor. Nowadays, Noboribetsu Hot Spring Town is a hot spring town formed by a volcanic eruption 10,000 years ago, and it is said that 10,000 tons of hot spring water can be gushed out in a day.
Iron Spring Pond Walking Trail
At the entrance is a very large lookout point of Jigokudani, and from here you can see the walking path that you are going to take later on. The long walkway is surrounded by air vents and hot springs, so visitors should stay on the walkway, otherwise it will be very dangerous.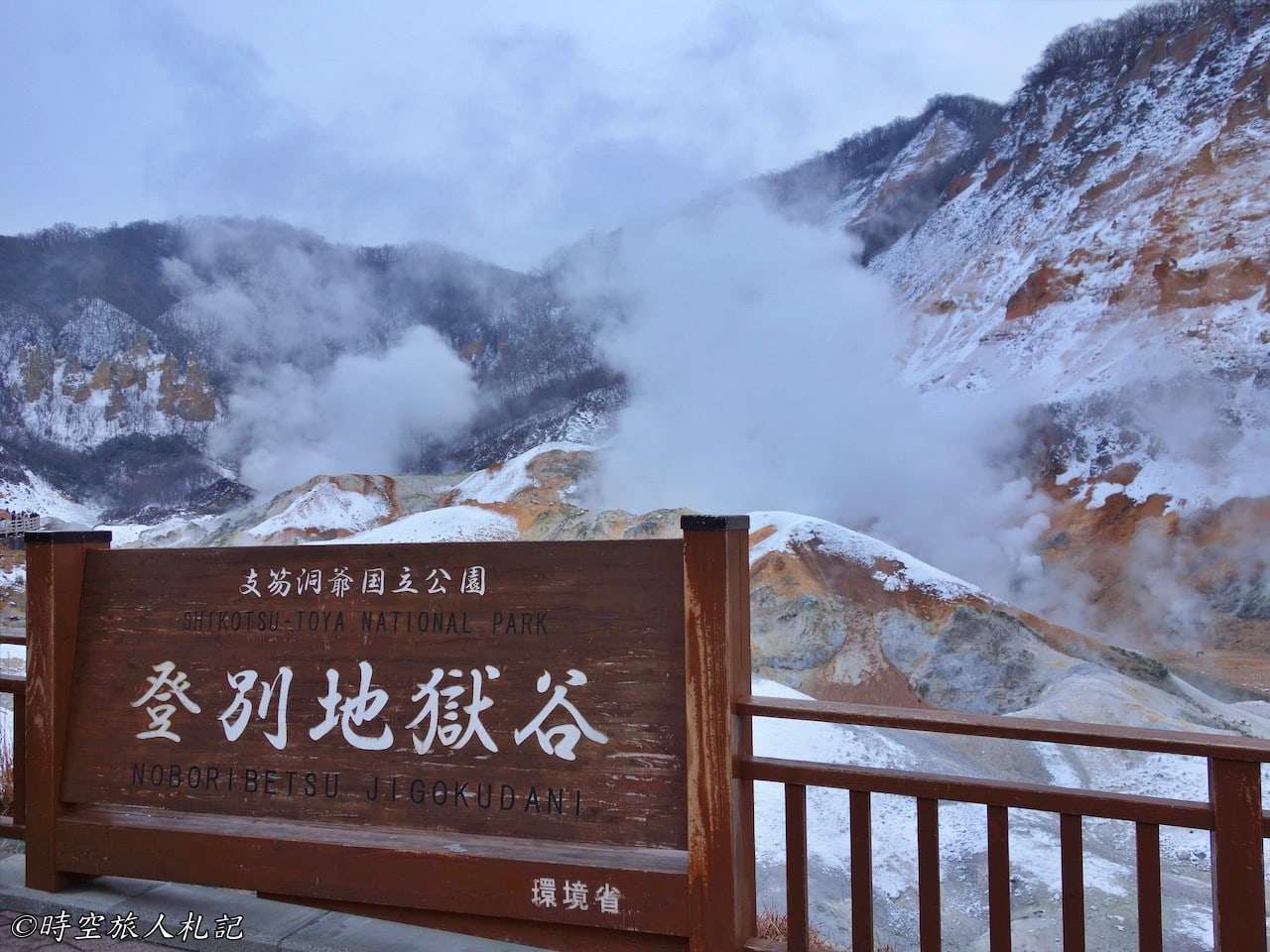 There is a lot of heat at the end of the walkway to the Iron Spring Pool of the geyser. Although it was winter, I didn't feel cold at all on this hot spring path, but I had to be careful because the snow was melting. There are various geothermal landscapes along the path, the most famous one being the Iron Spring Pool. The most famous one is the Iron Spring Pool. It's interesting that people love to throw coins, and when they see the pool, they want to do it.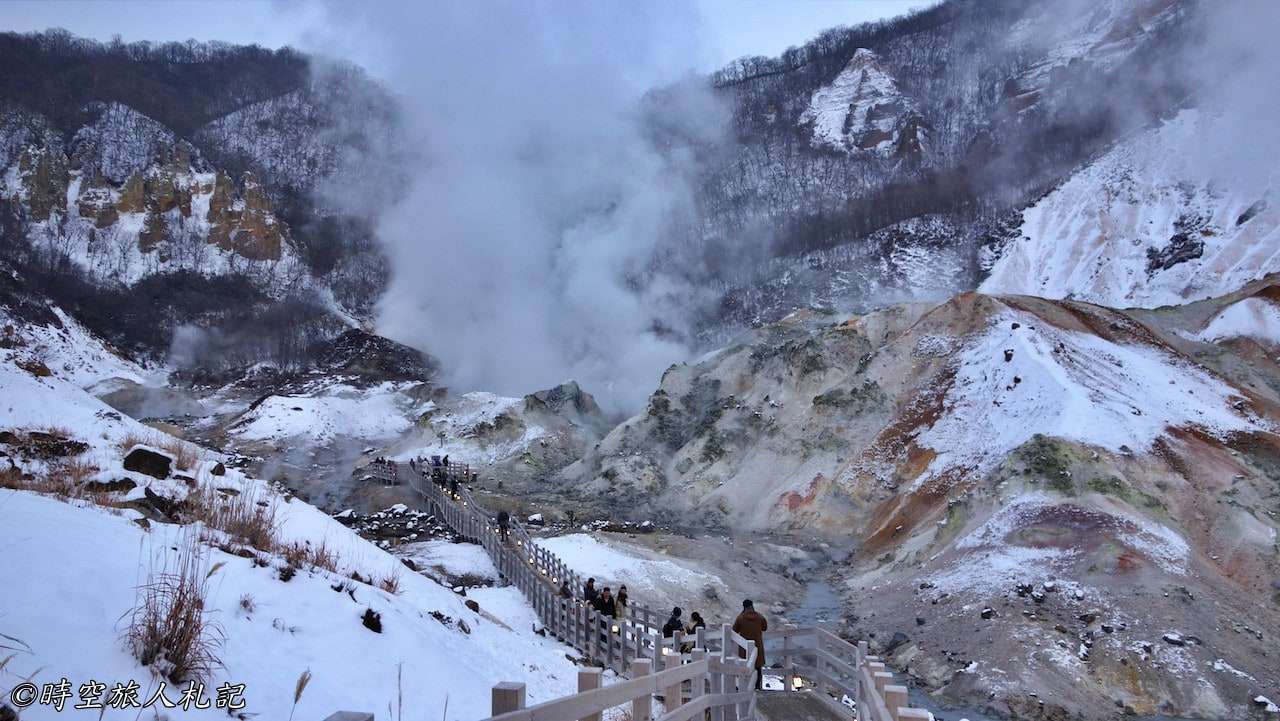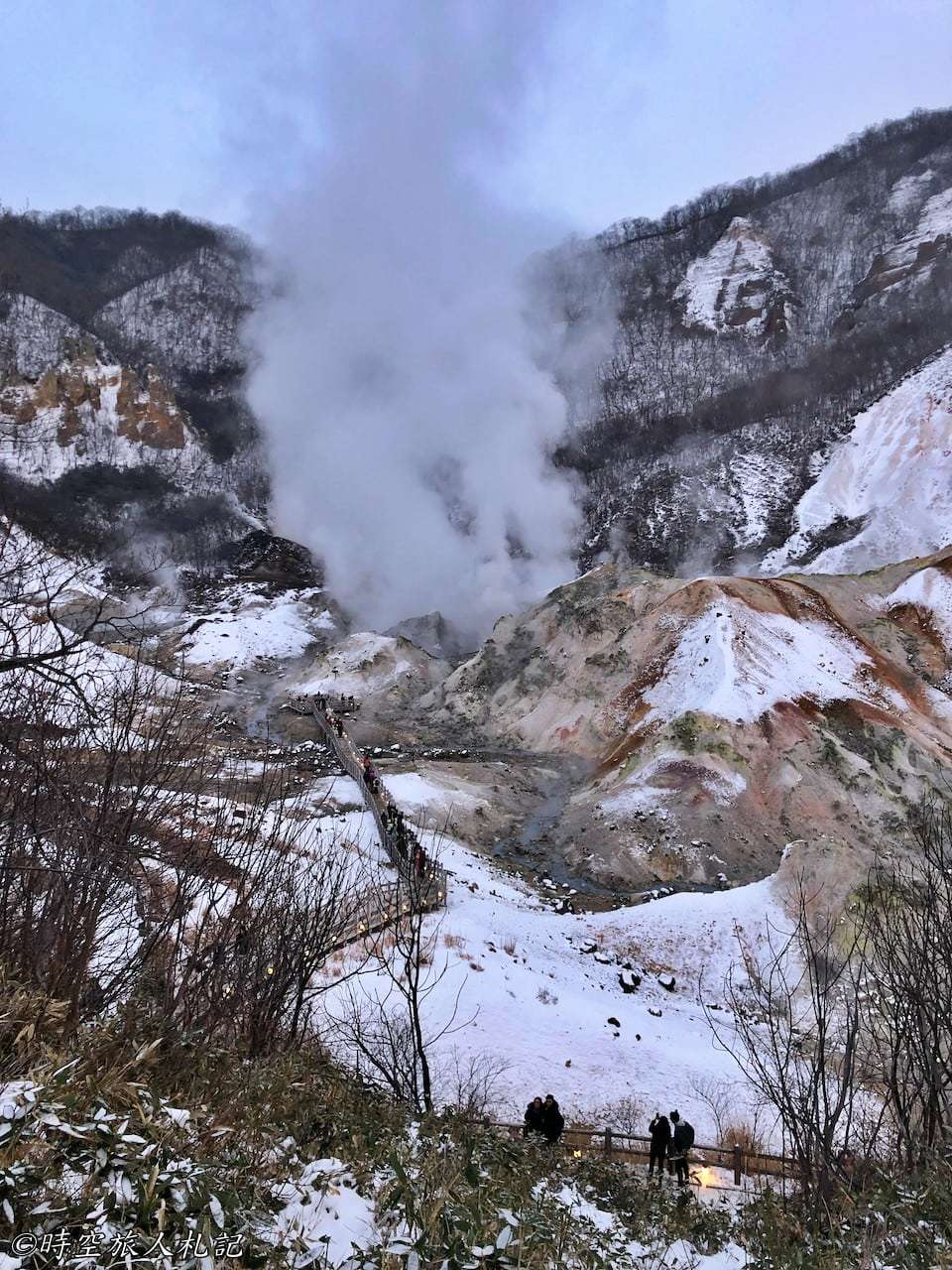 Oyunuma
To get to Oyunuma, you need to go up the mountain. After walking along the Iron Spring Pond Trail, you can go directly to the Oyunuma Trail. When it is not snowing, you can go all the way to Oyunuma to take a free footbath, but it is too dangerous to do so in winter, so you can only stop at the observation deck, from which you can see the gourd-shaped Oyunuma very clearly.
If you come here in winter, you have to be careful, especially if you have old people and children with you. We finally climbed up to Oyunuma Observatory after a lot of hard work, and when we left, we saw several groups of tourists who didn't know what to do when they went up and down the mountain. In winter, the sky starts to darken early and the road starts to freeze. Because the road was so slippery, there was a part of the road so slippery that even men, women and children could only sit on the ground and crawl, and could not stand up at all.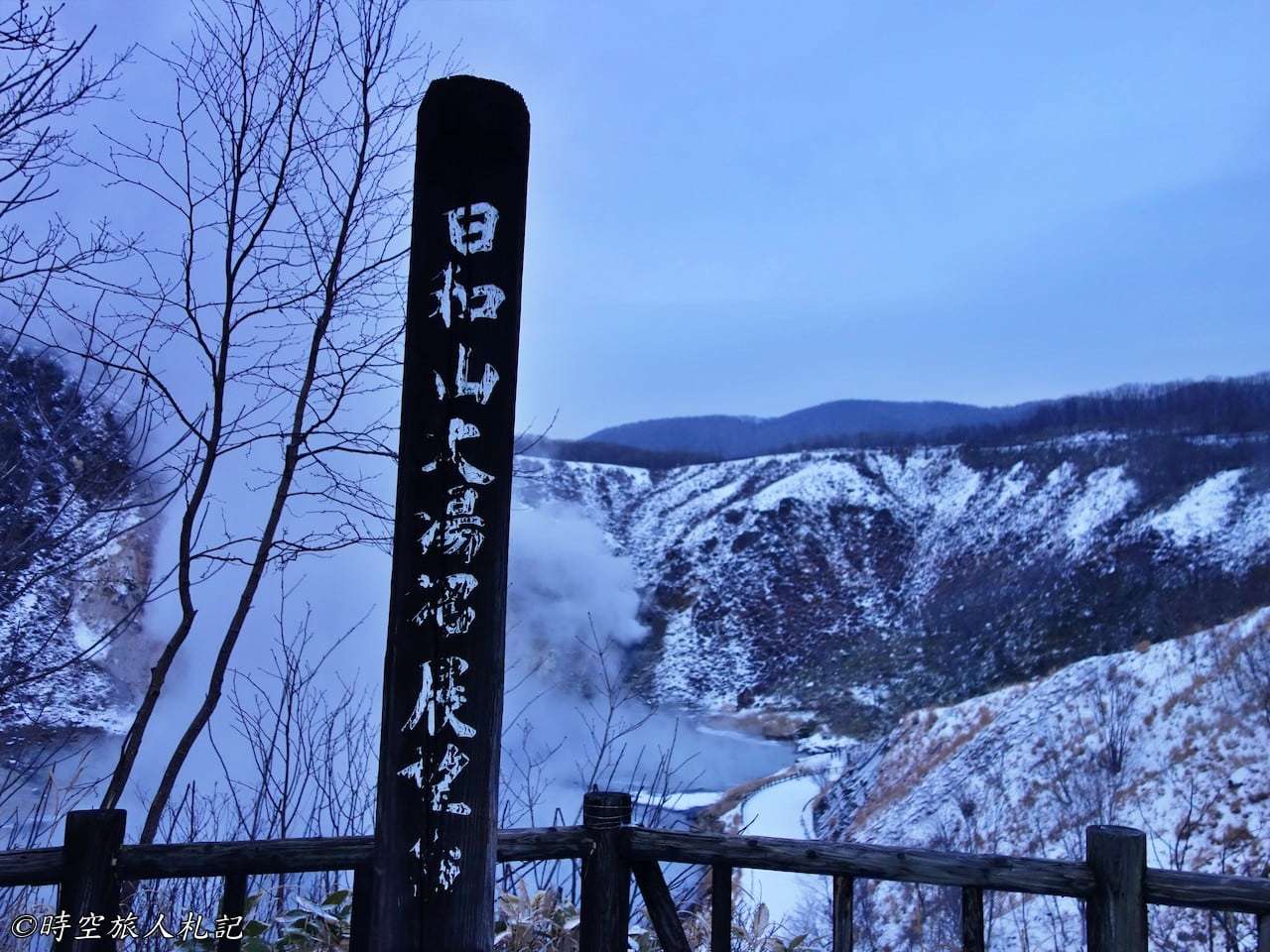 Tierra del Fuego at night
Evening is actually the most popular time in Jigokudani, and it is a very busy night with many visitors enjoying the night view. Earlier in the day, the lights along the walking paths and the rising heat add to the psychedelic color of the valley.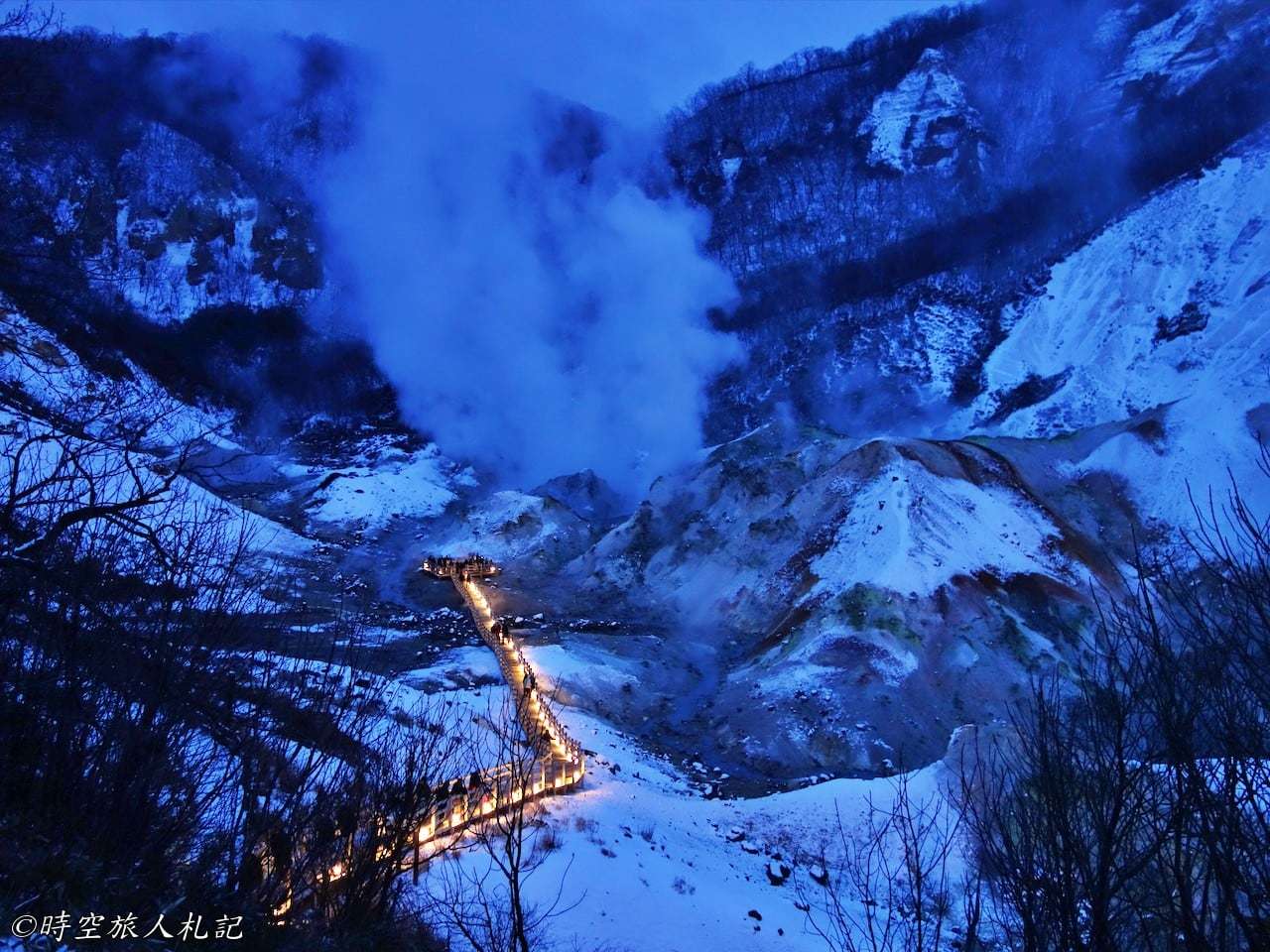 Must-see Attractions in Noboribetsu | Onsen Street
When you come to Noboribetsu, you must take a stroll along the hot spring street, which is full of ghosts, and you will know that Noboribetsu is here when you see a huge red ghost holding a wolf's tooth stick. Ghosts are a well-known theme in Noboribetsu, and it is said that the boiling hot water in Noboribetsu's Jigokudani Valley makes it look like a hell where ghosts live.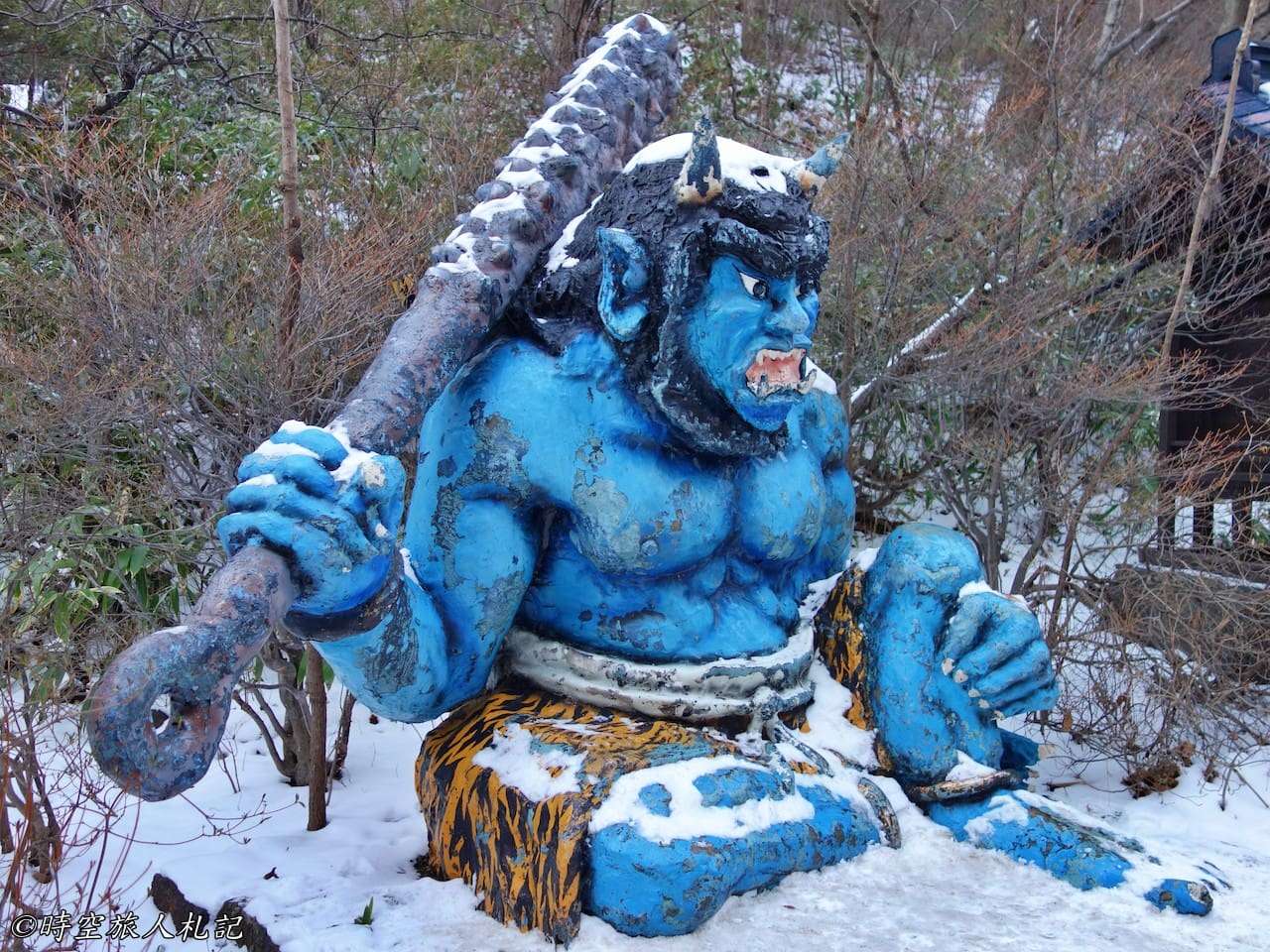 If the time is right, don't forget to come to the Erimochi (Hall of the Erimochi) in Onsen-dori to see the king of Yan change his face. Inside the Hall of Erimo is the King of Erimo, who usually has a kind face. Five times a day, he conducts a two-minute "Judgment of Hell," when he changes his face into a ghost.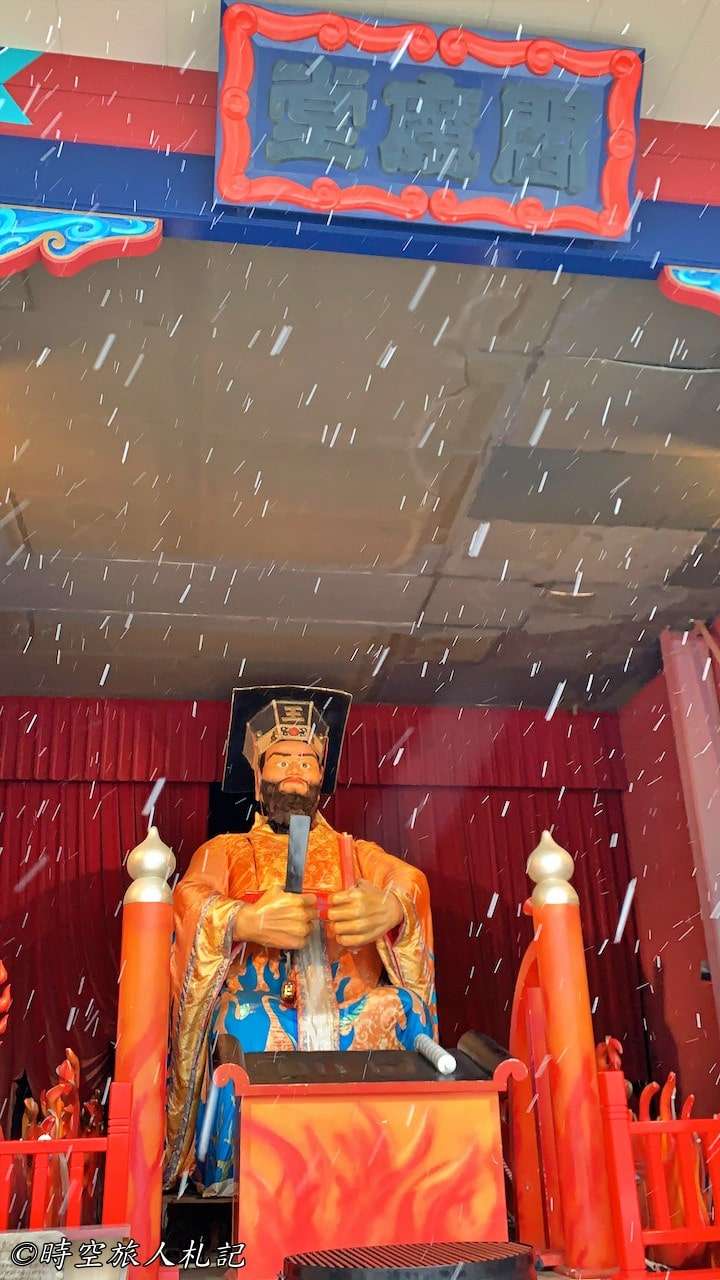 Recommended Accommodations in Noboribetsu | Noboribetsu Goshuku Kiyomizuya
Noboribetsu Goshuku Kiyomizuya Booking Comparison
There are as many as nine different types of hot springs in Noboribetsu, each with a different therapeutic effect, so it is worthwhile for visitors to try a different type of hot spring each time at one of the various hot spring inns, and of course, there are large hot spring inns that offer a wide range of different types of hot springs at one time. We stayed at the Goshuku Kiyomizuya, which has both Japanese and Western-style rooms. The onsen baths are not too big, but when we were there, it was not too crowded and the overall feeling was not bad, but we should pay attention to the time for men and women to change their baths.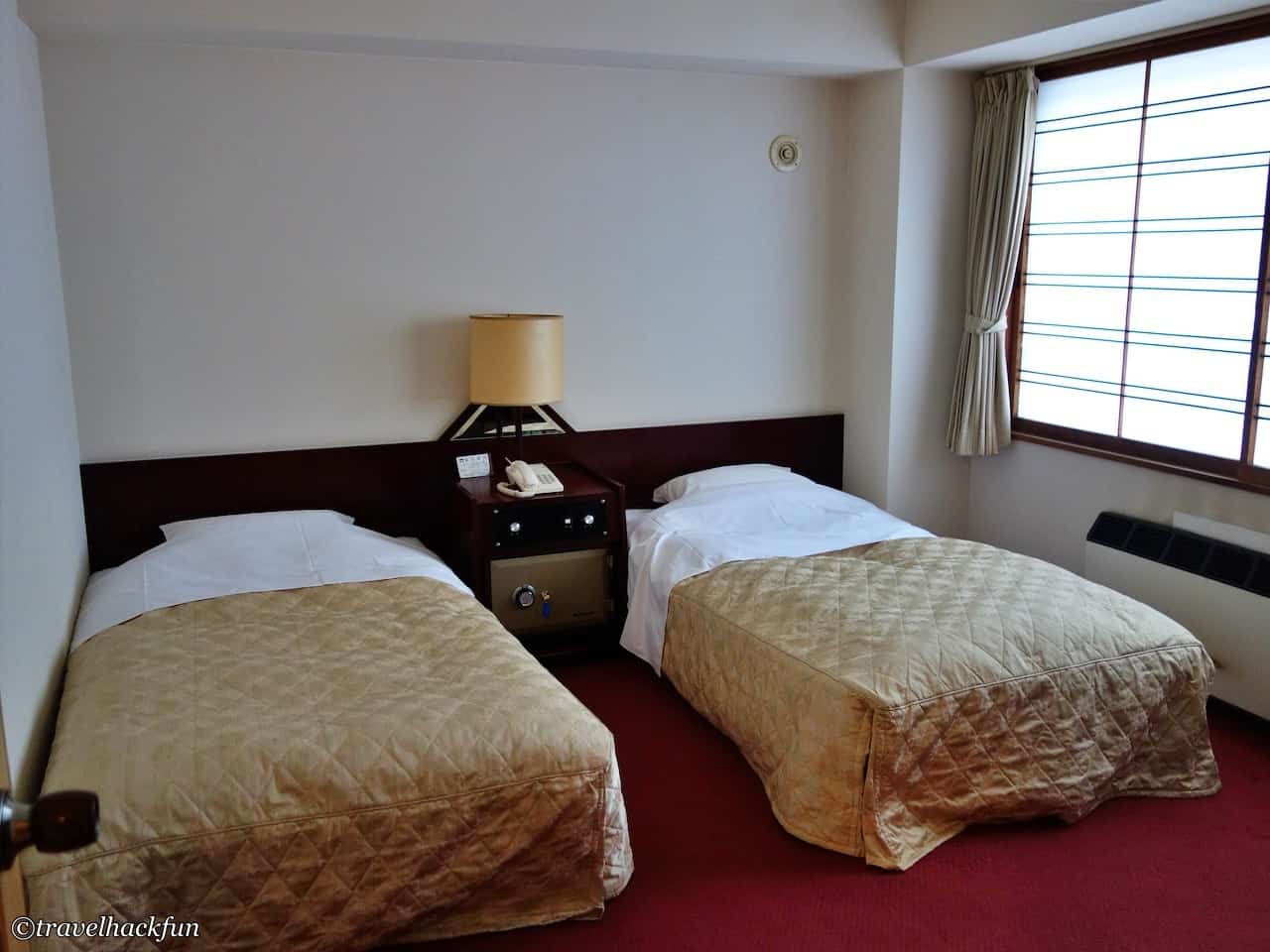 I chose Ojuku Shimizuya mainly because of the good reviews of the meal, since there were before in theHakone ShizukansoAfter the experience of our trip, we realized the importance of choosing the accommodation as well as the catering, and this time we came here with the same expectation. We chose the dinner at One Park Two Eat, which included crab cuisine, and the main dish was sashimi with crab. The main course was sashimi with crab. The sashimi, pot, and side dishes did not disappoint, and the ingredients and cooking were excellent. The ryokan is served by an older woman, who is a bit slow, so we were able to take our time and enjoy our meal without any pressure.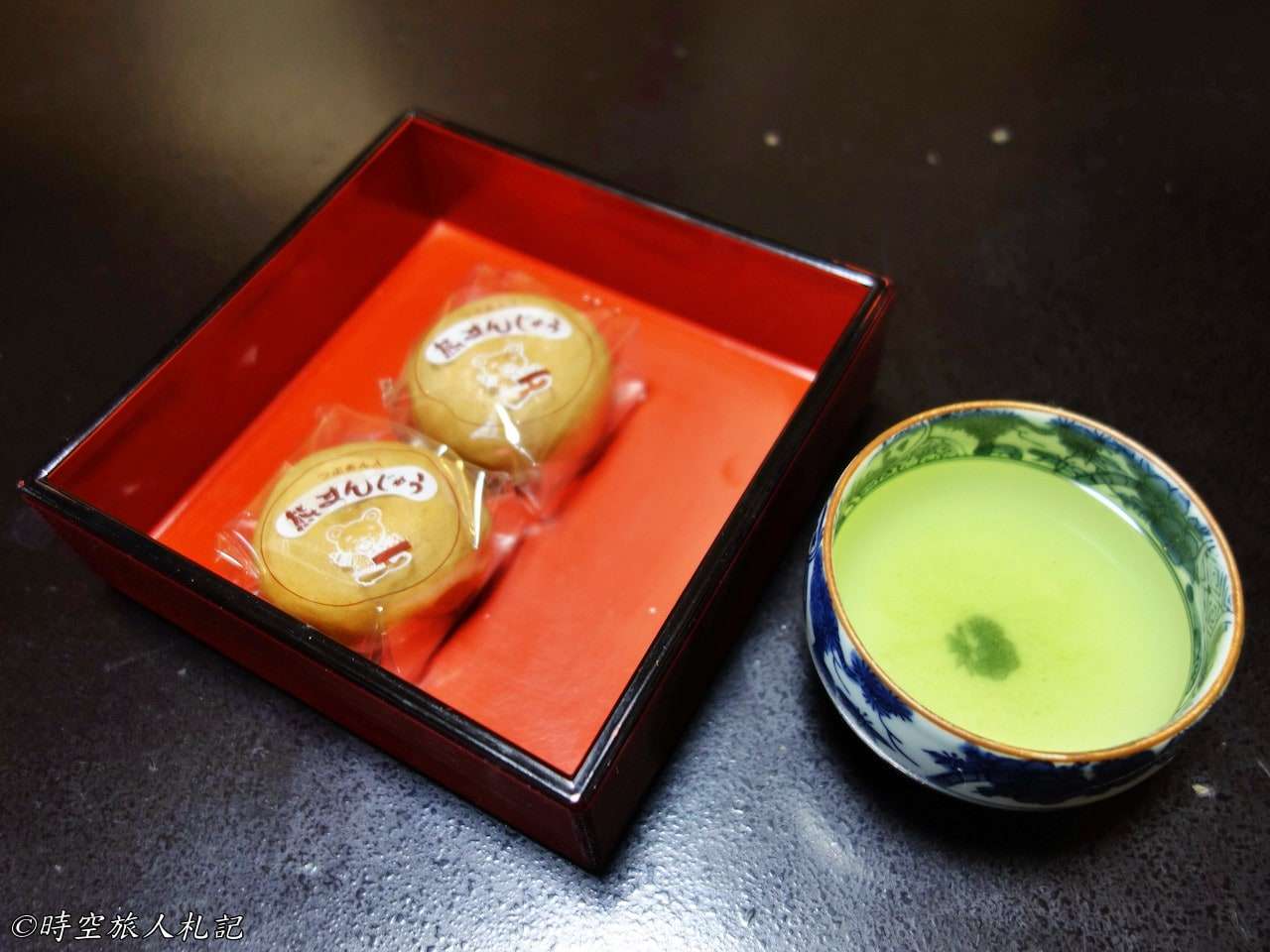 Breakfast looks simple, but in fact, it's superb. The salmon and omelette alone were enough to fill me up, but the pickles really made the meal go down well, so I ended up eating all of it.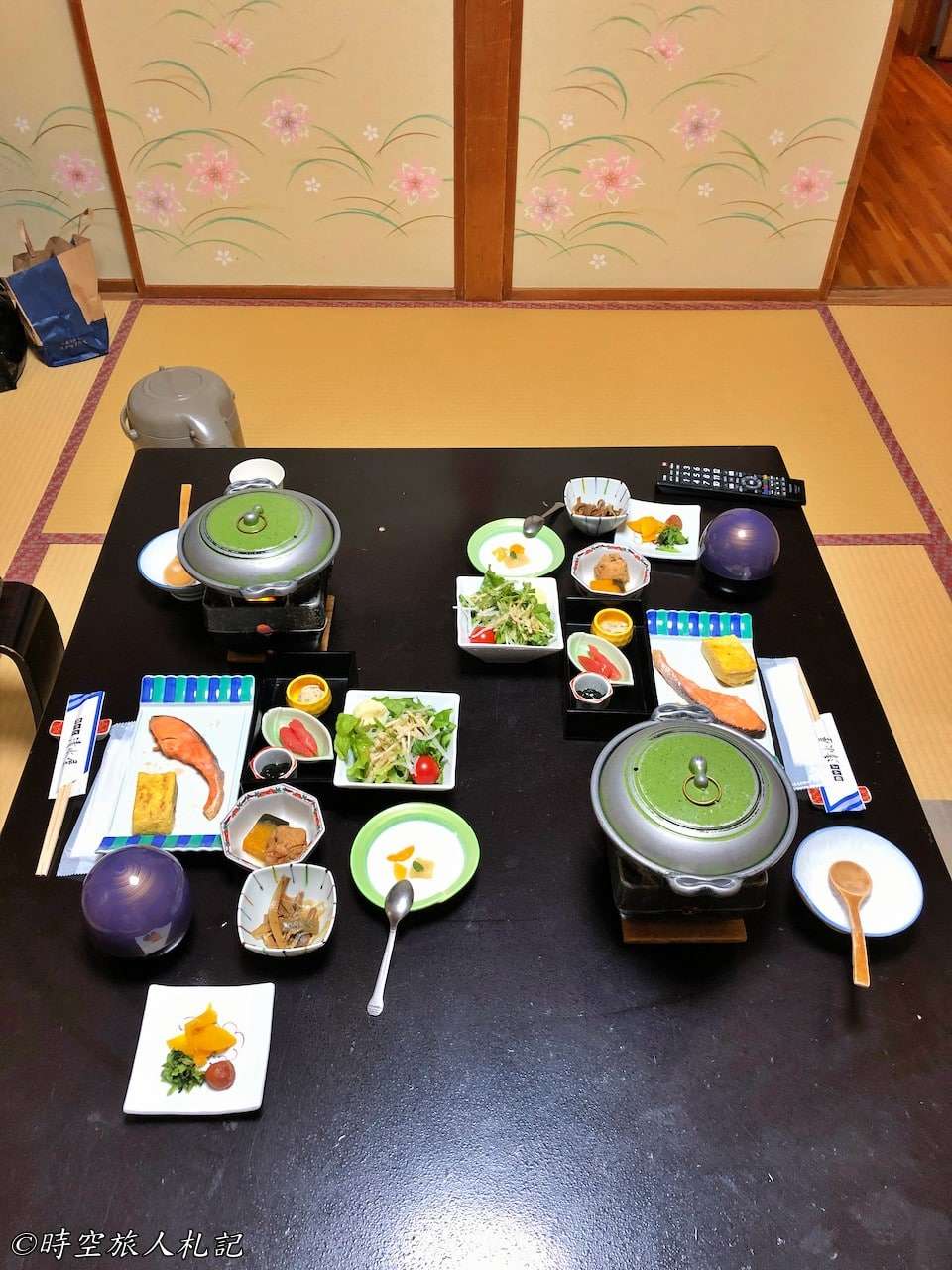 Noboribetsu Goshuku Kiyomizuya Booking Comparison
Further reading
Thank you for visiting our website.

All the content on this site is original and shared with the purpose of providing valuable information. We sustain the operation of this site through a small amount of advertising and sponsored links. If you click on links to third-party merchants on our site and make purchases, we may receive a portion of the sales as a commission. If you click on links to third-party merchants on our site and make purchases, we may receive a portion of the sales as a commission.

Find more posts on a map Here.

My recommended resources for hotel bookings.

My recommended resources for activity bookings.
Buy me a coffee and support my contents!
If you are interested in quoting this article or using any part of its content and images on your website or publication, please contact us via email to request permission.