Chicago Cuisine | Introduction
Chicago cuisine is one of the icons of American culinary culture, and coming to theChicago, USAIn the past, I heard about Chicago deep dish pizza, Chicago hot dogs and other famous snacks that must be tried. After spending a week in Chicago, I realized that eating only hot dogs and pizza is really underestimating Chicago. There are many great restaurants in Chicago, and the high end restaurants are so good that you can't help but to pay for them every day. In this post, I'm going to organize all the food we ate in Chicago!
Chicago | Hot Dogs
Must Eat | Devil Dawgs
Rating: ⭐️⭐️⭐️⭐️
Price: $
Devil DawgsThere are a few locations in the Chicago metropolitan area, but we came to the one on State St, not far from Grant Park. Chicago Dog is a very famous snack food, the hot dog is topped with chopped onions, tomatoes, pickles, mustard and other vegetables. We passed by in the afternoon and simply ordered a Chicago Dog and Chicago Polish. The hot dog looks small, but it is actually quite filling, one hot dog is enough to feed a person. The soft bun with lots of veggies made it taste like a refreshing hamburger, which is very different from the hot dogs in other parts of the US.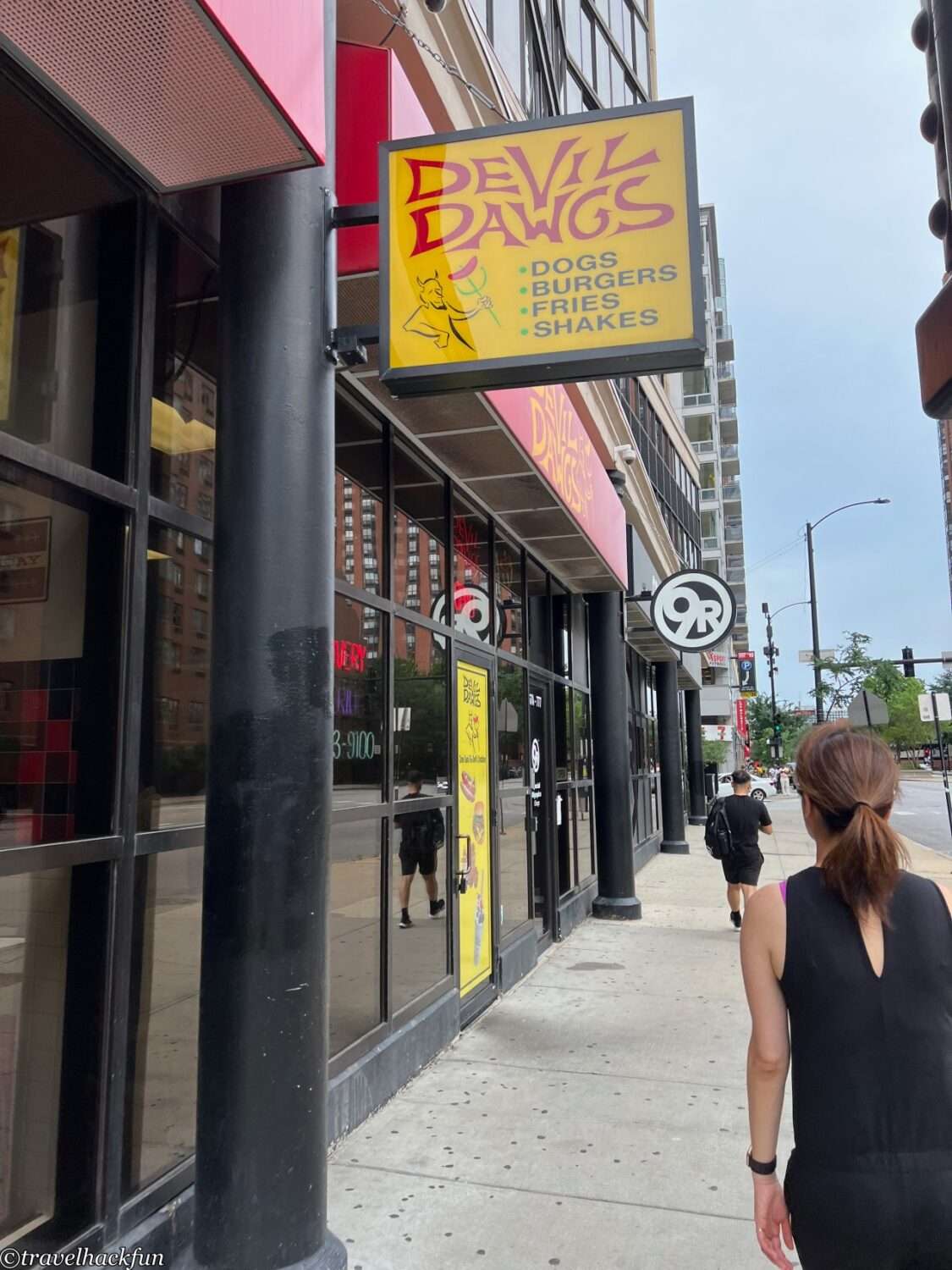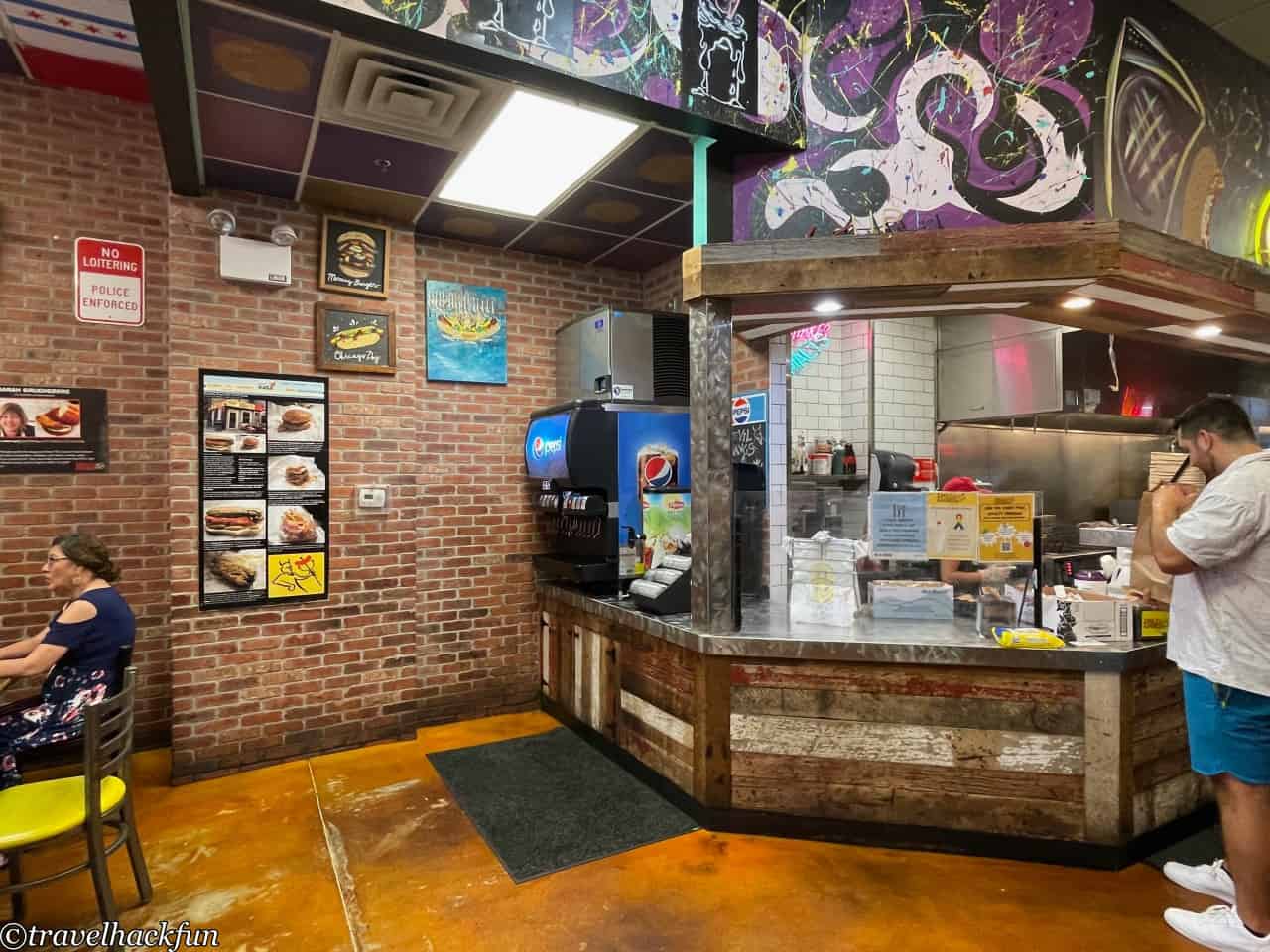 Must Eat | Portillo's
Rating: ⭐️⭐️⭐️⭐️
Price: $
Portillo'sUndoubtedly the most famous hot dog restaurant in Chicago, although there are many branches, the most crowded is the River North store. This is a fast food restaurant where you order at the window and find your own seat. There are many tourists, but the store itself is very big, so it's easy to find, and the style of the store is quite interesting, we even took a stroll after eating.
For food, of course, we have to order the famous Hot Dog, which still has the same refreshing flavor as the Chicago Hot Dog. We actually preferred the Italian Beef Sandwich, which is also one of Chicago's famous dishes, usually served with gravy, you can choose how much gravy you want when ordering, it's very flavorful and tasty.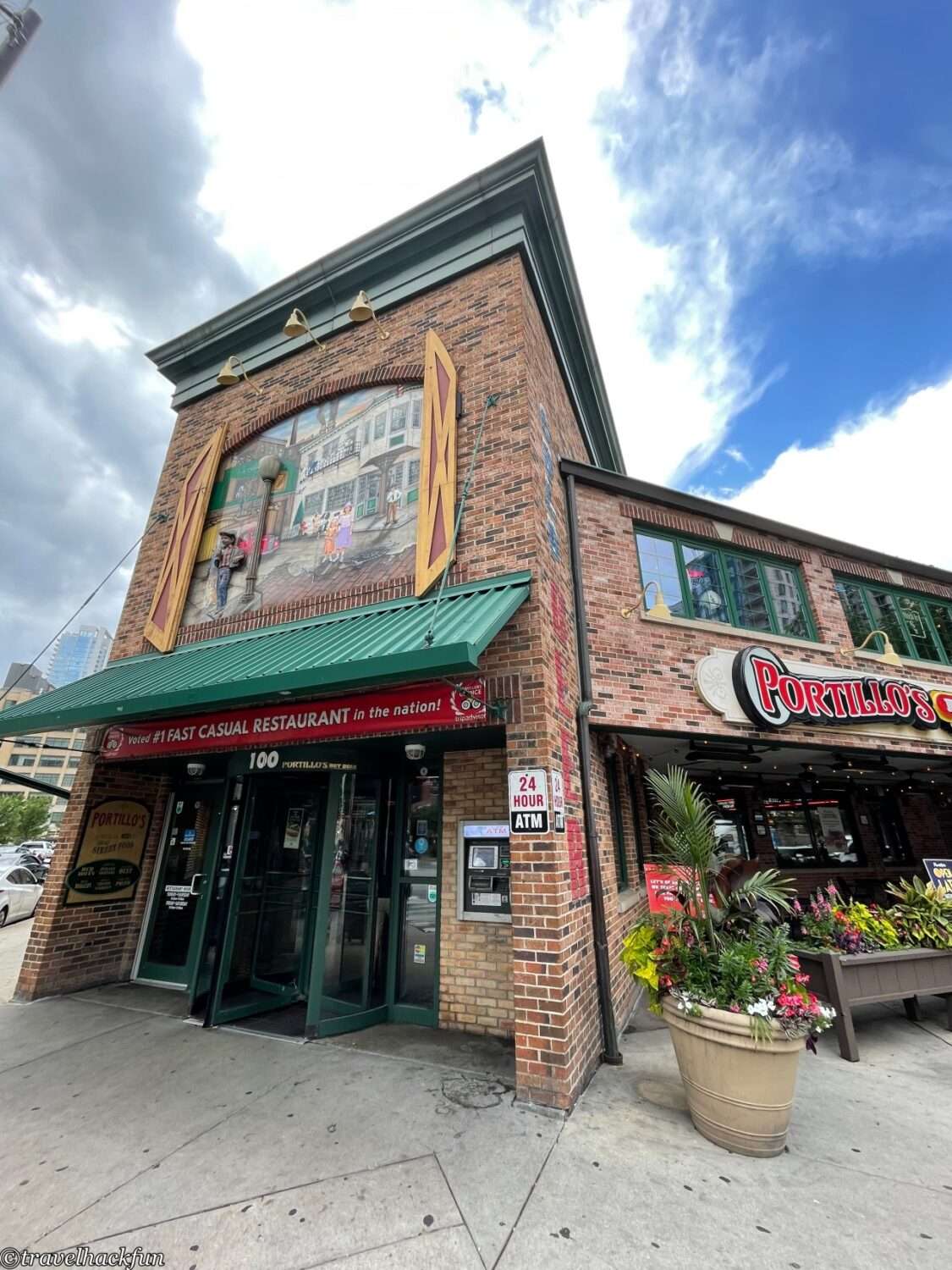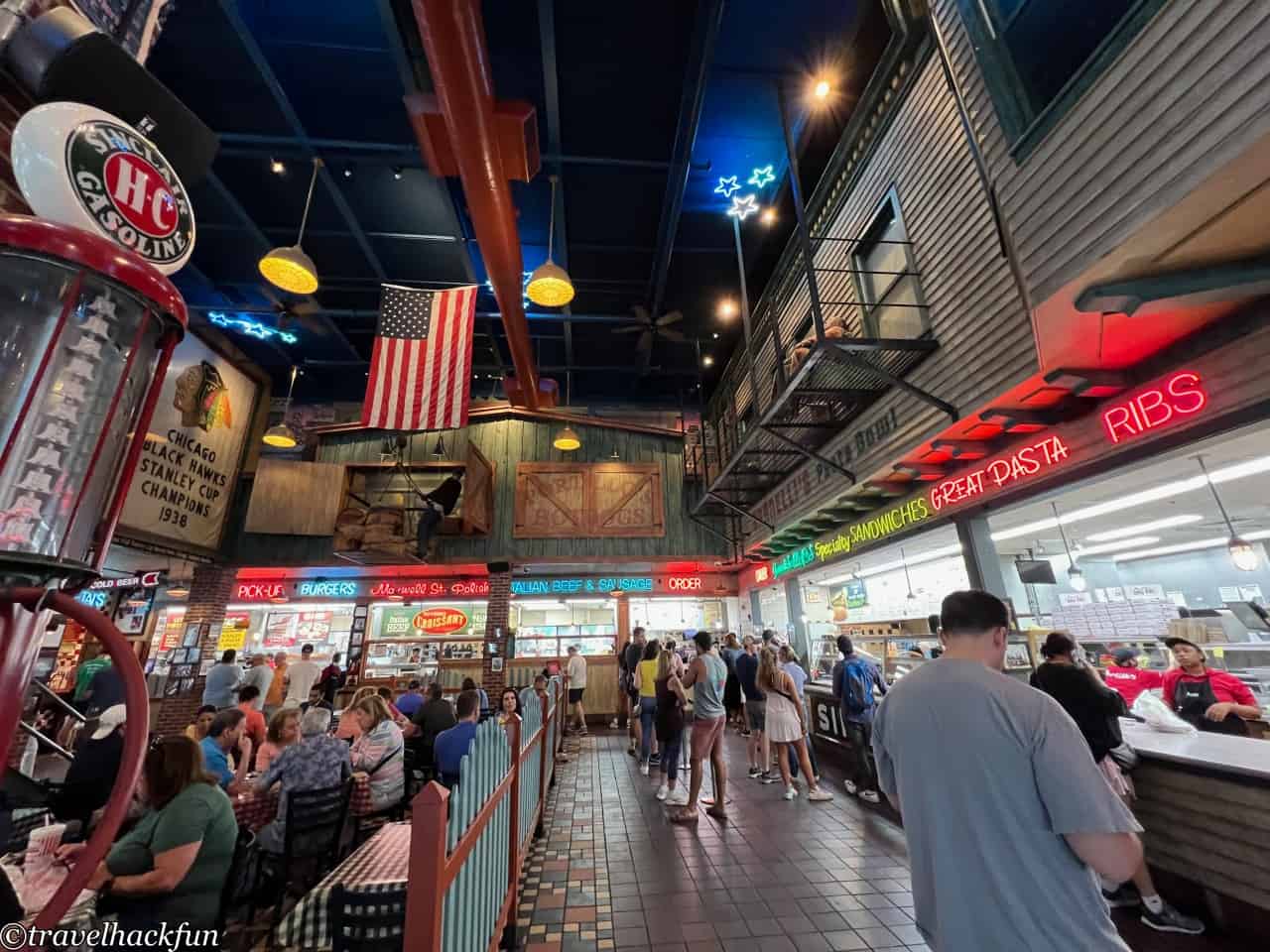 Chicago | Pizza
Chicago's pizza is also one of the Chicago cuisine with its own unique style, there are a lot of delicious Chicago Pizza restaurants, and even a lot of the city's Pizza food trip program for visitors to participate. We only had a chance to eat two of the most famous pizza restaurants in this trip, which we share below.
Chicago Pizza Itinerary
Must Eat | Lou Malnati's
Rating: ⭐️⭐️⭐️⭐️⭐️
Price: $$
Lou Malnati'sIt is one of the two most famous Chicago pizza stores, and the queue was so long that we arrived just before the opening time. Chicago pizza is deep-dish style with a thick crust, filled with sauce and tons of toppings.
We wanted to try different flavors, so we ordered two small pizzas, one was The Malnati Chicago Classic, which was filled with sausage and cheese, and the other was The "Lou", which was filled with spinach and mushrooms, topped with tomatoes. Both pizzas were very tasty, especially the freshly baked pizza with rich cheese and chewy texture, and the beer was so flavorful and enjoyable.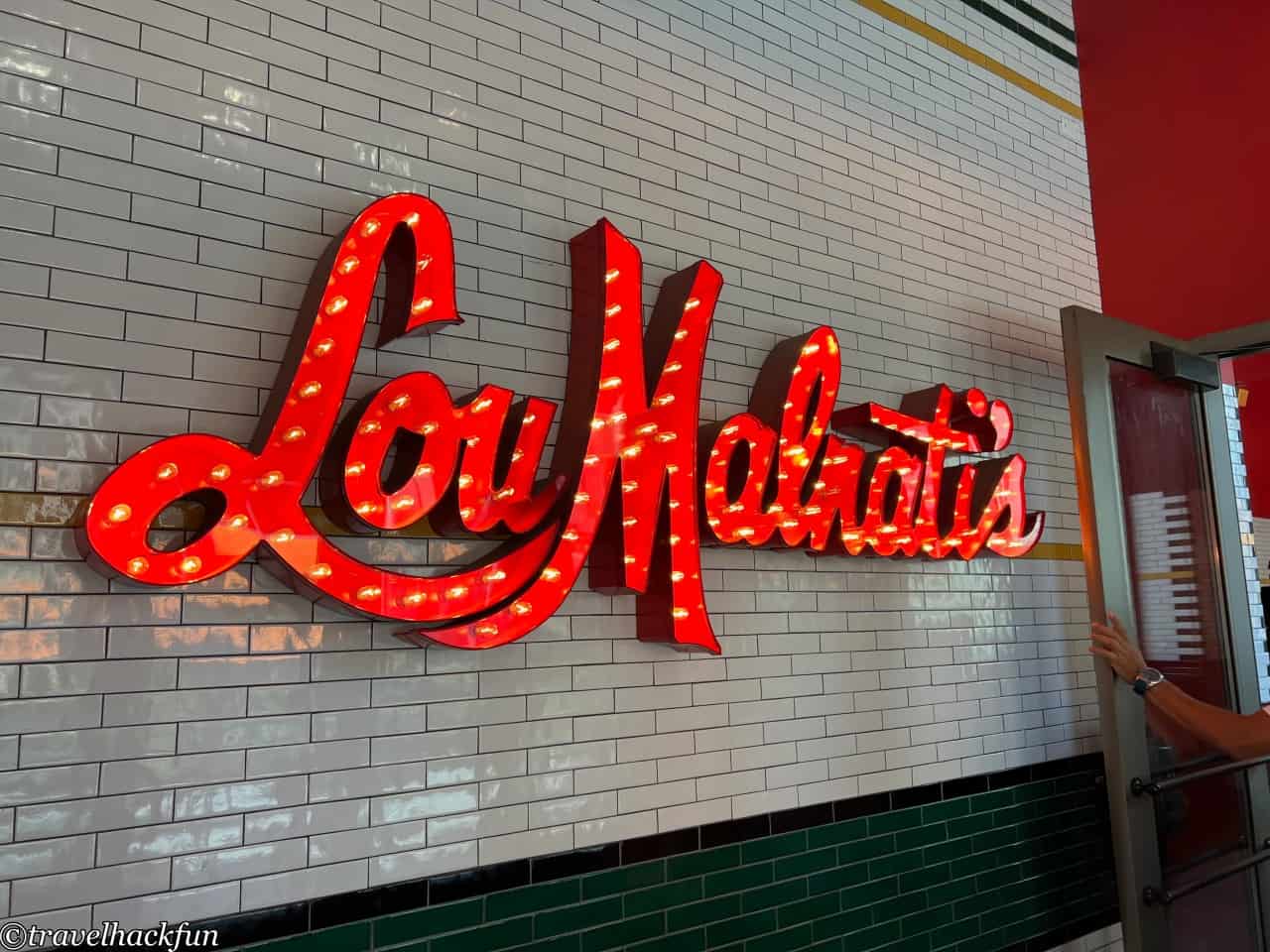 Must Eat | Giordano's
Rating: ⭐️⭐️⭐️⭐️
Price: $$
Giordano'sIt's another one of the two most famous Chicago pizza places. It looks a bit plainer, but the pizza here is actually very good. I went to this place on my way toMillennium ParkI bought a takeaway pizza on the way to the concert, so I took the picture randomly. The takeaway pizzas don't look so pretty, but the taste is still great. I chose my favorite toppings and sat down on the grass to eat it while listening to the outdoor concert, it was very enjoyable. When I was halfway through the meal, the audience who was watching me ate so much that they couldn't help but ask me about my favorite toppings!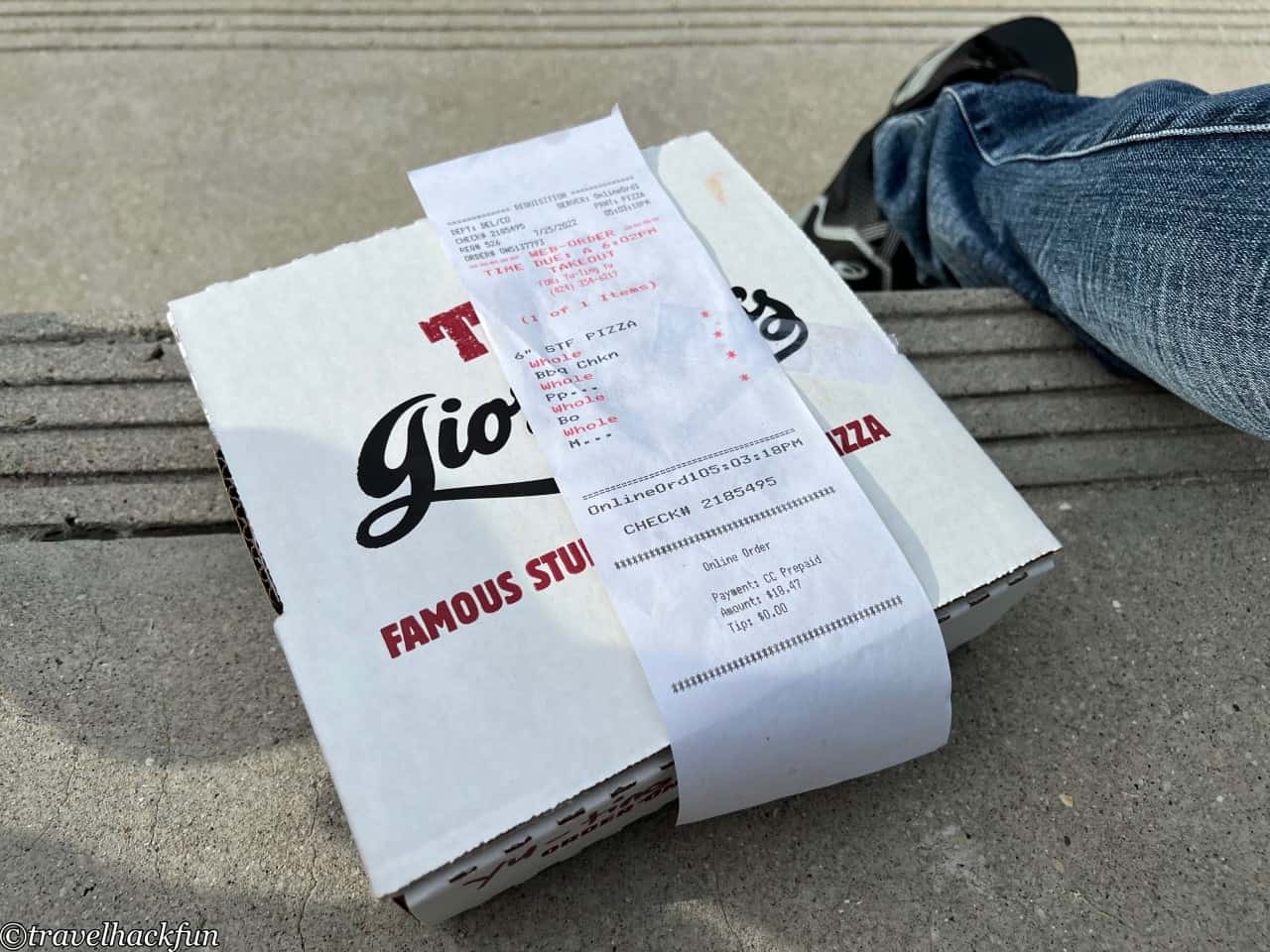 Chicago | Fine Dining
Must Eat | Girl & The Goat
Rating: ⭐️⭐️⭐️⭐️⭐️
Price: $$$$$
Girl and the goatA fine dining restaurant that I don't usually go to, Girl and the Goat was founded in 2010 by renowned chef Stephanie Izard, and features a menu of fresh local ingredients and innovative dishes that incorporate many different styles and flavors. The main focus is on sheep products, but all of the dishes we tried, from the cocktails to the entrees, were delicious, so it's no exaggeration to say that Girl and the goat is the best restaurant in Chicago. The restaurant is very popular, so reservations are a must.
Most of the dishes at Girl and the goat are not big in size, they are small dishes, so it is usually recommended to order 4-6 dishes for two people, and if you add drinks, the meal may be close to 200 magnesium. However, because the food is so delicious, despite the high price, we couldn't help but come back twice to try more different dishes.
On our first visit, we ordered 4 dishes. The first course was the chickpea fritter, a sweet and sour fried bean puree, which is a type of food I don't usually appreciate, but I thought it was superb. The second course was Goat liver mousse, a lamb liver mousse spread on a super soft and flavorful biscuit, accompanied by three different side dishes including jam and cucumber, which I wouldn't normally want to put together, but it was actually so delicious, and it was one of my favorites. The third course was the Goat belly, which was a very tender and flavorful lamb stew, and the Roasted pig face was topped with a poached egg, which was our main course. The food was very good but the portion was small, so we ordered Goat cheese for dessert. We ordered Goat fashion, lychee lychee lychee, which were all very good, and because we liked them so much, we ordered a second ring of fire, and the whole meal was very satisfying.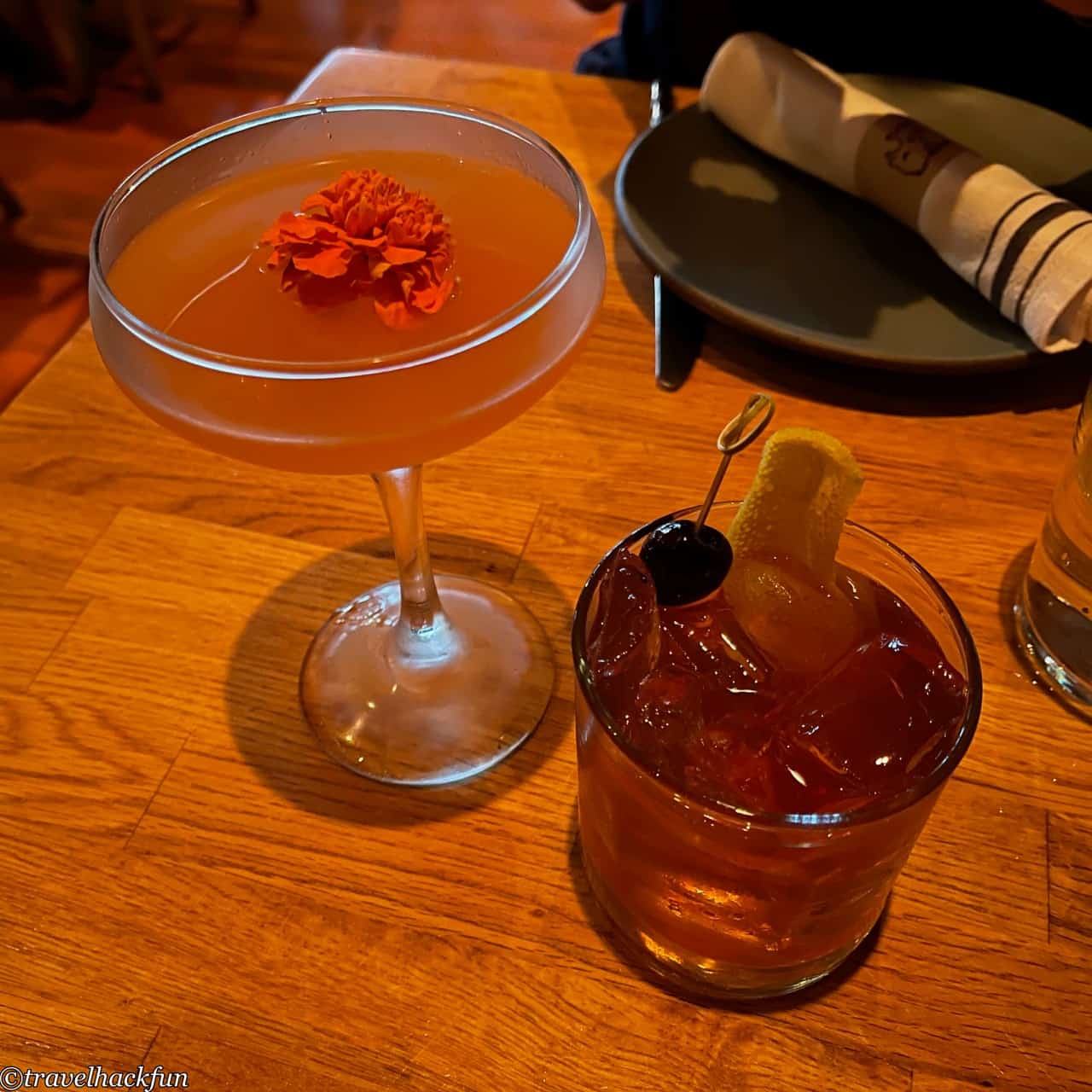 Because it was so delicious, I came back for a second time at the end of the trip. This time, I ordered hamachi poke, goat empanadas, blistered shishito peppers, and sticky glazed pork shank, all of which were very delicious.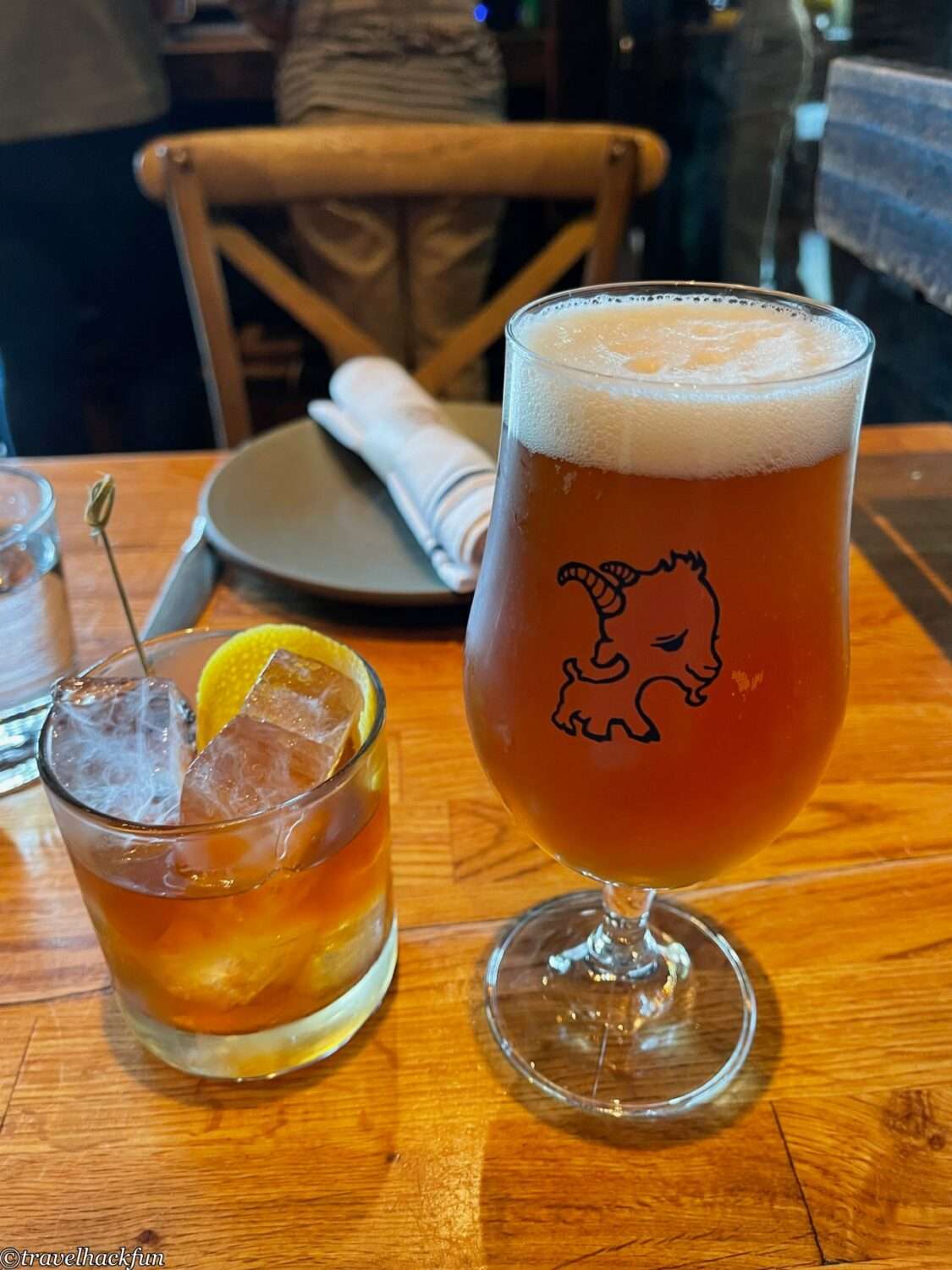 Must Eat | Monteverde
Rating: ⭐️⭐️⭐️⭐️
Price: $$$$
MonteverdeIt's Chicago's #1 Italian restaurant, and we arrived at Monteverde just in time to have Girl and the goat the night before, so our tastes became very selective. We ordered the day's special, the pork skewer, an appetizer of Burrata e Ham, and two entrees, the Gnocchetti con Pesto and the Spaghetti al Pomodoro. the pork skewer was surprisingly tasty, but I was most impressed with the Burrata e Ham, which is served as a Proscuitto, sandwiched inside a pizza and smeared with the current season's ingredients. Burrata e Ham is eaten with proscuitto, seasonal jam, cheese and prosciutto butter, which is very, very flavorful.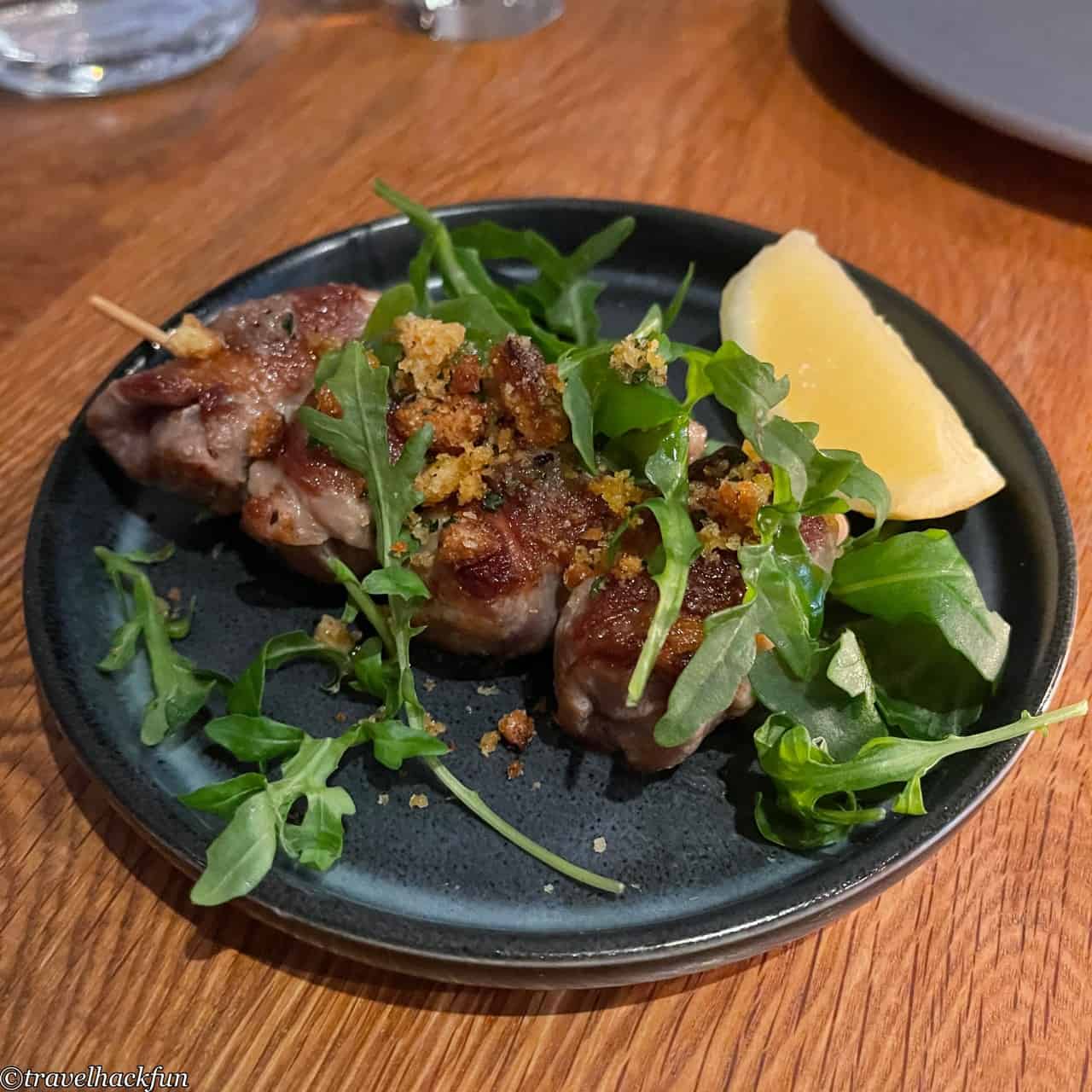 Must Eat | Bavette's Bar & Boeuf
Rating: ⭐️⭐️⭐️⭐️
Price: $$$$$
Bavette's Bar & BoeufLocated at River north, we took the river walk to get here. This is one of the most famous French steakhouse in Chicago, and the business is very good. Since we couldn't make a reservation beforehand, we came here with the intention of giving it a try, and we were lucky enough to get two empty seats at the bar. We were lucky to get two seats at the bar. If you can, make a reservation.
The interior design of the restaurant is full of vintage style, with a long oak bar that creates a sense of turning back the clock. The menu specializes in premium steaks, originally we were going to order a New York steak and a filet mignon, but we were advised to order a porterhouse for two, and with the addition of the side dishes of potatoes and spinach, the portion became very large. The beef was of very high quality, and was cooked to a very tender texture.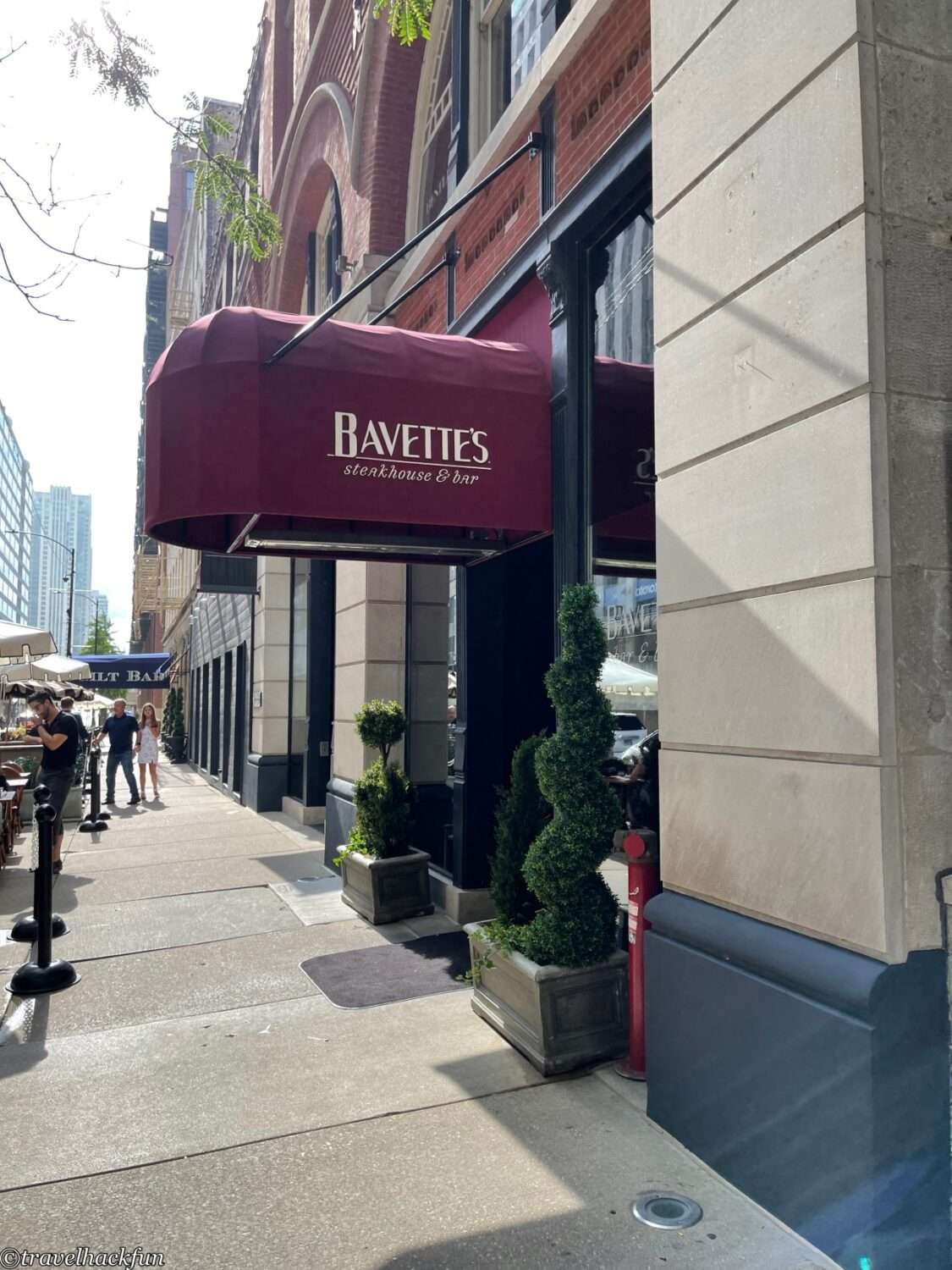 RPM Steak
Rating: ⭐️⭐️⭐️⭐️
Price: $$$$$
RPM SteakAn upscale barbecue restaurant in the heart of Chicago with an elegant atmosphere, this is a great choice for business dinners. The menu specializes in grilled meats, using prime Wagyu, rib eye and Angus beef, as well as fresh seafood. The meat is the most appreciated of the several courses, with the Wagyu sampler being the most popular.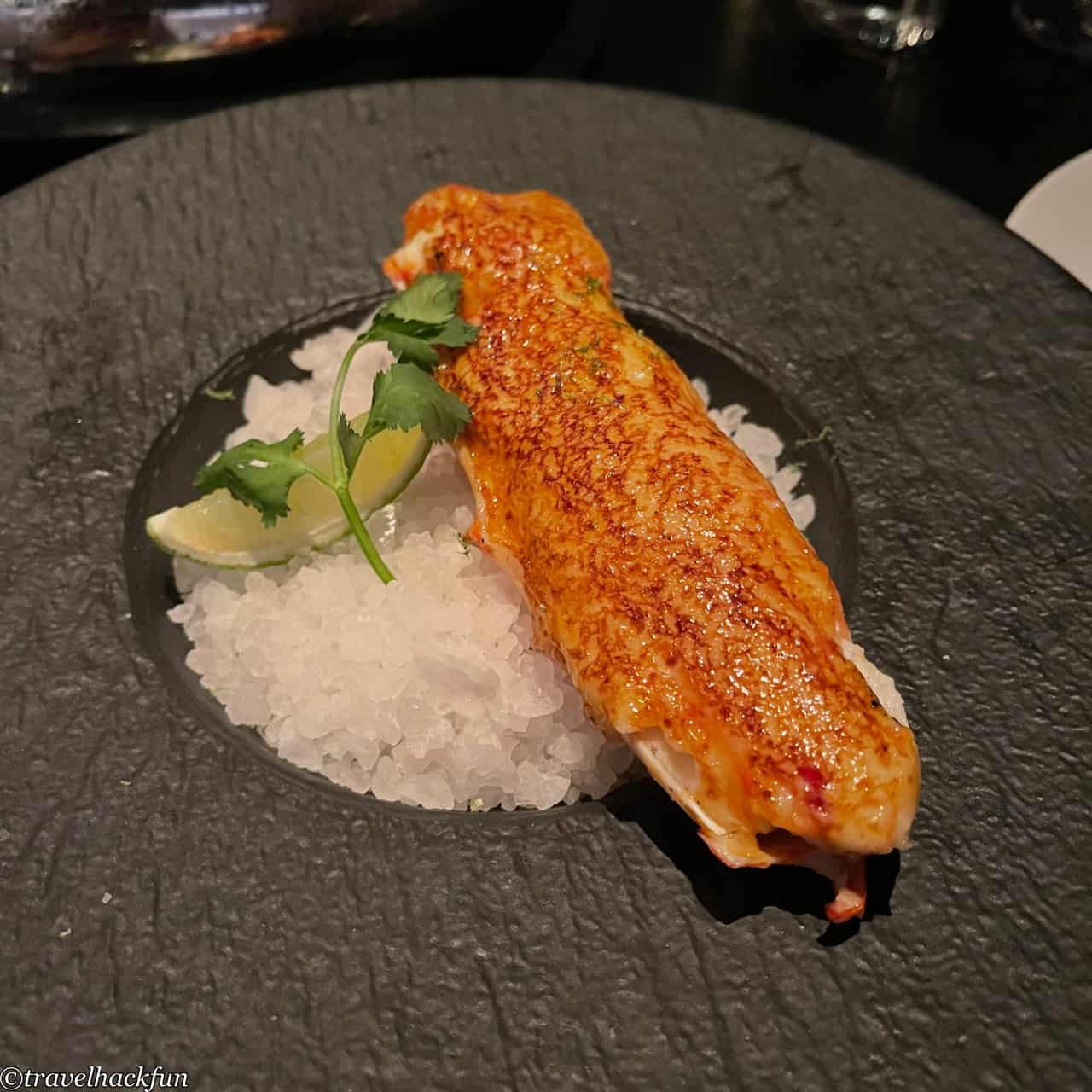 Chicago | Specialty Restaurants
Must Eat | Little Goat Diner
Rating: ⭐️⭐️⭐️⭐️⭐️
Price: $$
When you come to Chicago, you'll find a lot of famous restaurants with Goat in the name that are owned by Stephanie Izard, just like Girl and the goat.Little Goat DinerLocated in the heart of Chicago, the restaurant is also a creative mix of cultures, but the food is completely different. The menu here is a mix of pancakes, burgers, sandwiches, fried chicken and muffins. We came to Little goat diner for brunch and ordered okonomiyai and French toast, both of which were quite good. My favorite was the Okonomiyaki. I was a bit skeptical about this "pseudo-Japanese cuisine" at first, but it was really delicious.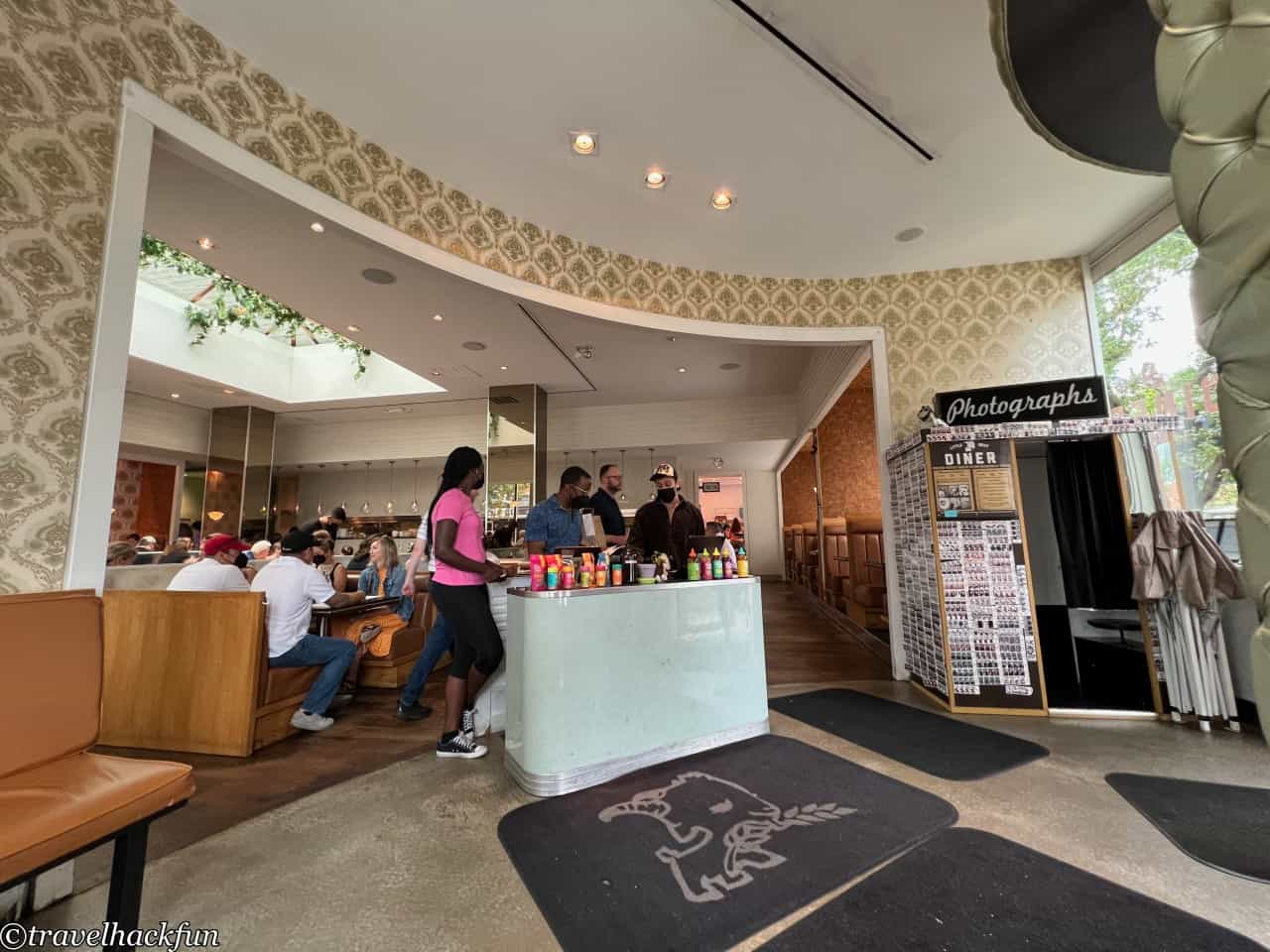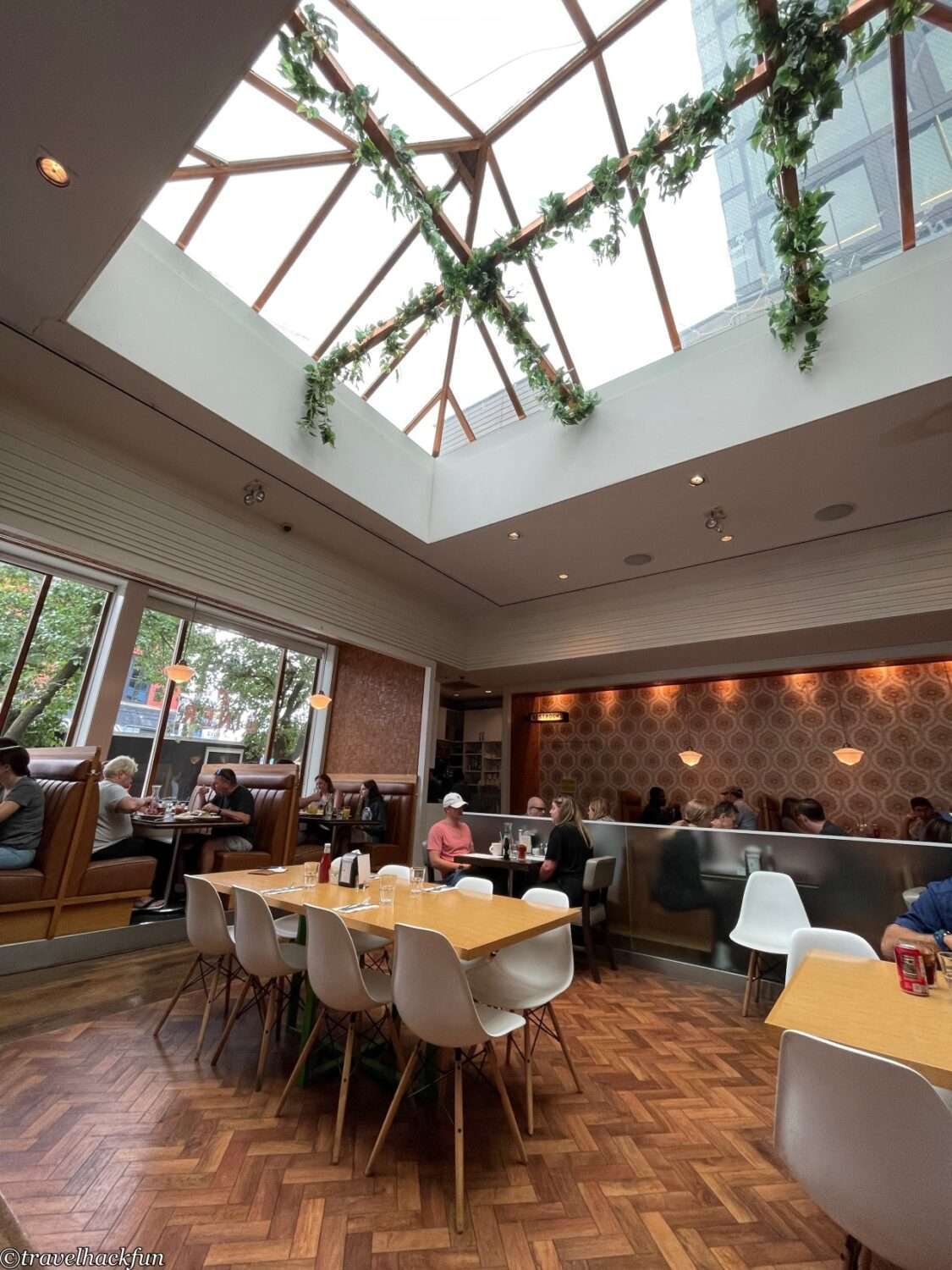 Frontera Grill
Rating: ⭐️⭐️⭐️⭐️
Price: $$
Frontera Grill is a famous Mexican food restaurant, which is very popular in Chicago. Because of time constraints, this meal was ordered for delivery, a Carne Asada, although the delivery is less beautiful, everything inside is super tasty, especially the small piece of unassuming Mexican corn tamales.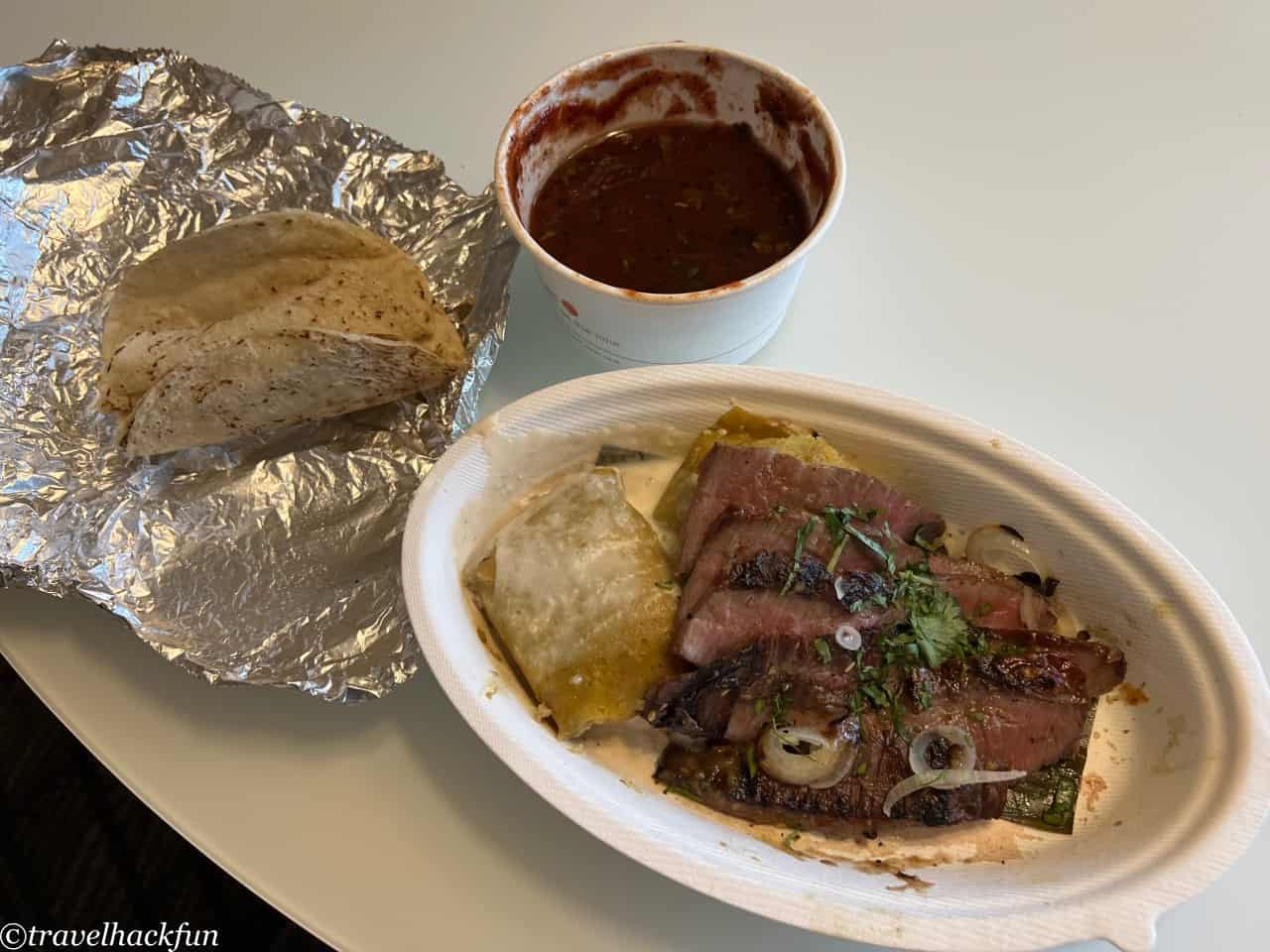 Must Eat | The Purple Pig
Rating: ⭐️⭐️⭐️⭐️
Price: $$
The purple pigIt's a Mediterranean style restaurant, which is also very famous in Chicago. Since we couldn't get a reservation, we bought takeout and went to Lincoln Park for a picnic. The restaurant's specialty is pork, and we ordered two entrees, Milk Braised Berkshire Pork Shoulder and Pork belly, both of which did not disappoint. We will definitely come back if we have the chance.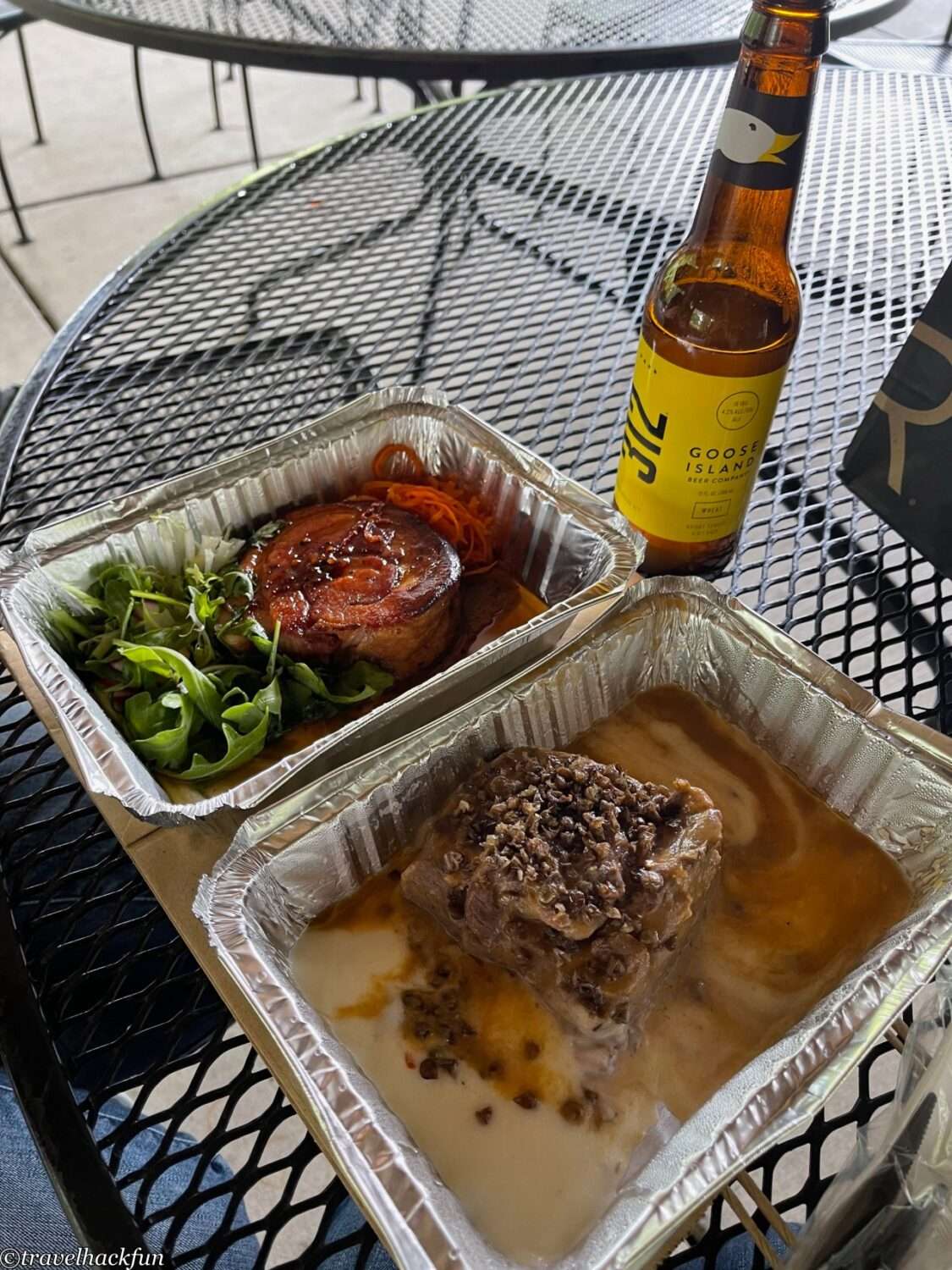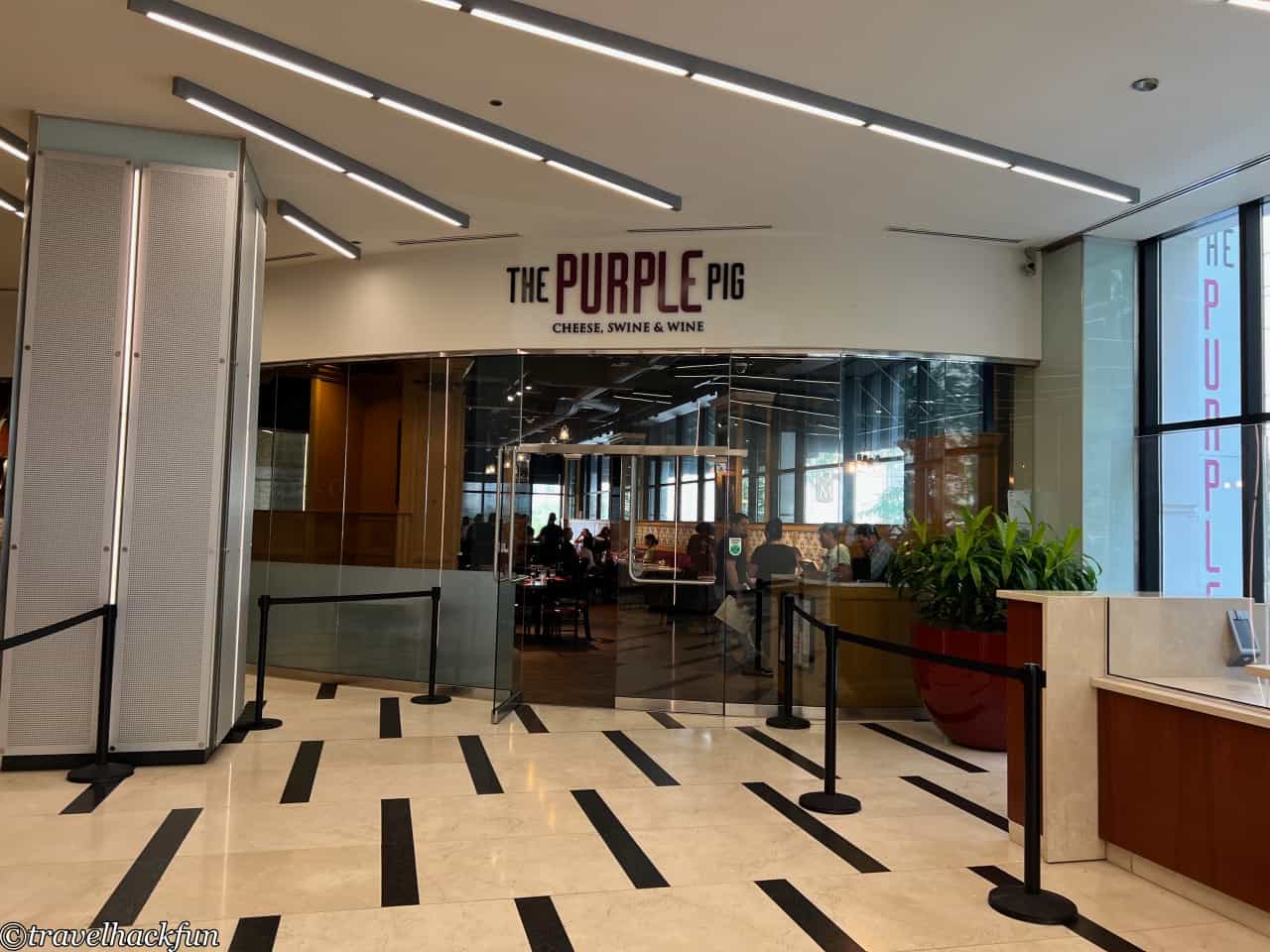 Duck Duck Goat
Duck duck goatJust look at the name and you'll know it's Stephanie Izard's restaurant, with a menu that focuses on Chinese flavors, but it still doesn't lose the creative nature of the cuisine, which is considered to be Asian Creative Cuisine. This is also a takeaway restaurant, and I ordered the signature Duck Fried Rice and Lamb Fried Noodles. The flavors are very Chinese, but there is something special about them that is hard to describe. My personal taste is still more accustomed to traditional Chinese cuisine, so this is not as impressive as the other Stephanie Izard's, but it's still a restaurant worth trying.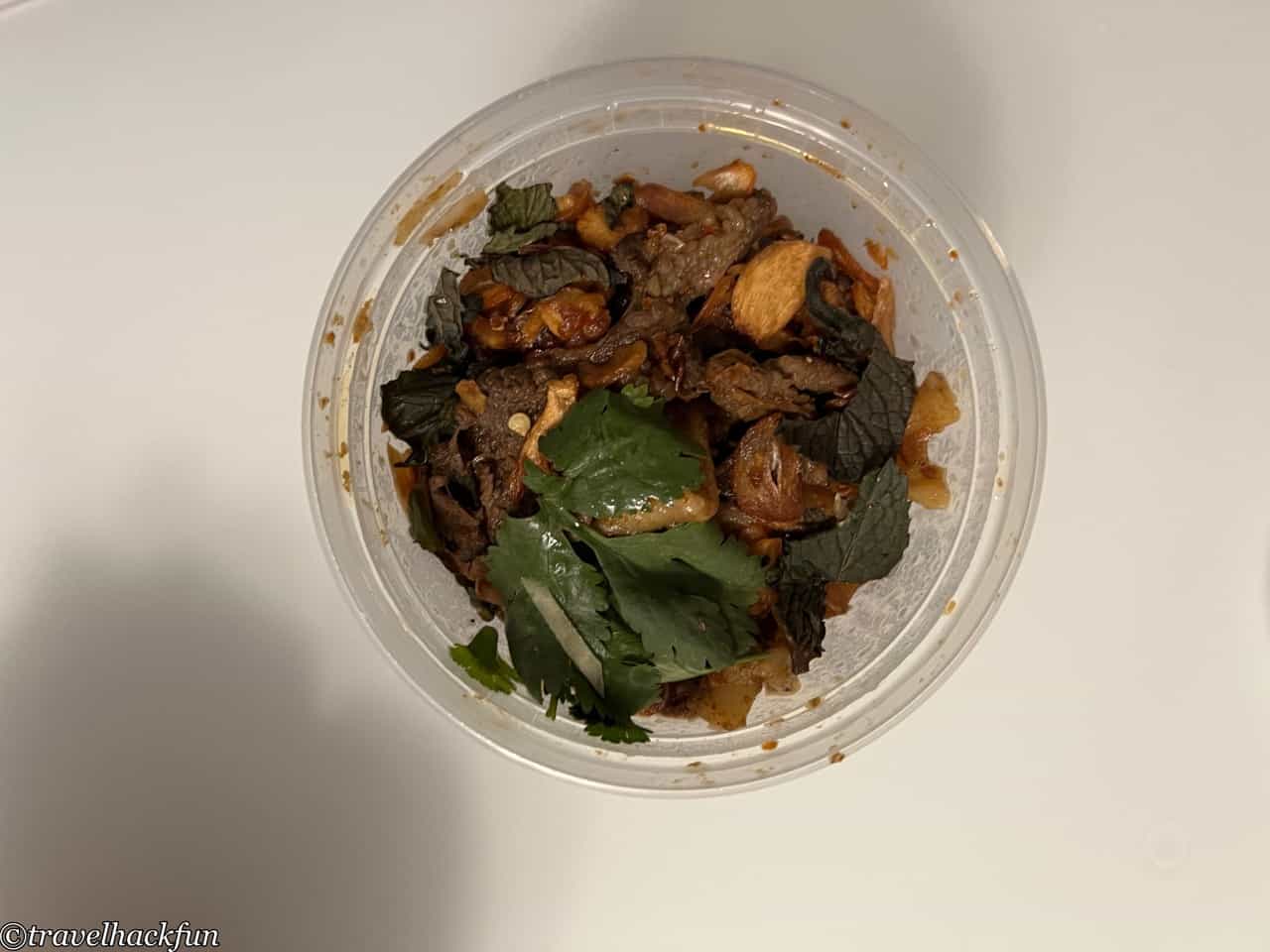 Chicago | Coffee & Desserts
Colombe
Rating: ⭐️⭐️⭐️⭐️
Price: $
Colombe is a coffee brand from Philadelphia, famous for producing high quality, carefully selected and roasted coffee, which is handmade on site. The store is spacious and bright, and the coffee was my favorite of the whole trip.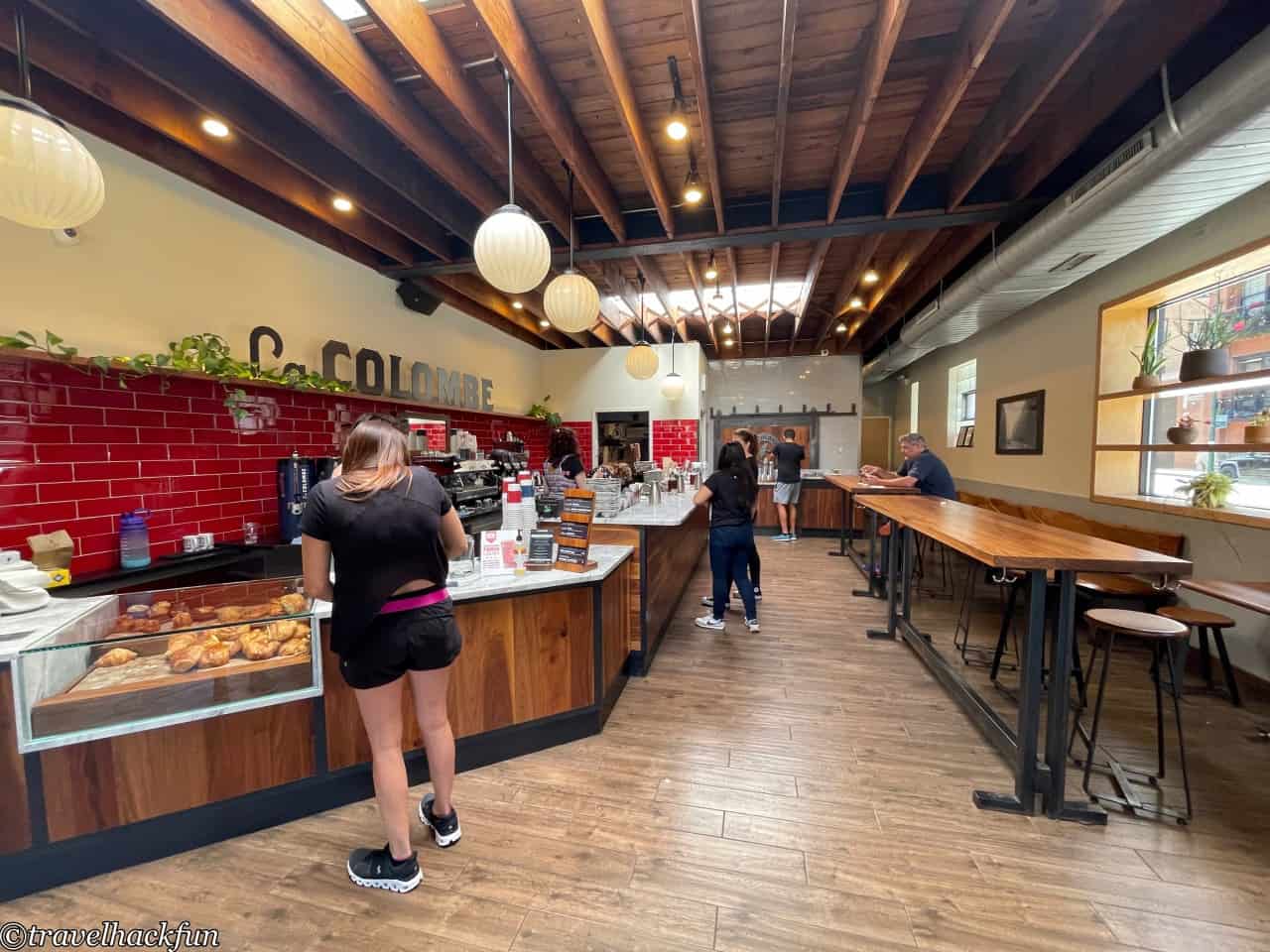 Sugargoat
Rating: ⭐️⭐️⭐️⭐️
Price: $$
Sugarcoat is actually the dessert department next to Little goat diner, selling cakes, donuts, cookies, puddings, ice cream and candies, etc. The interior of the store is bright and cute. The shop is brightly decorated and cute. The red velvet cake is quite famous.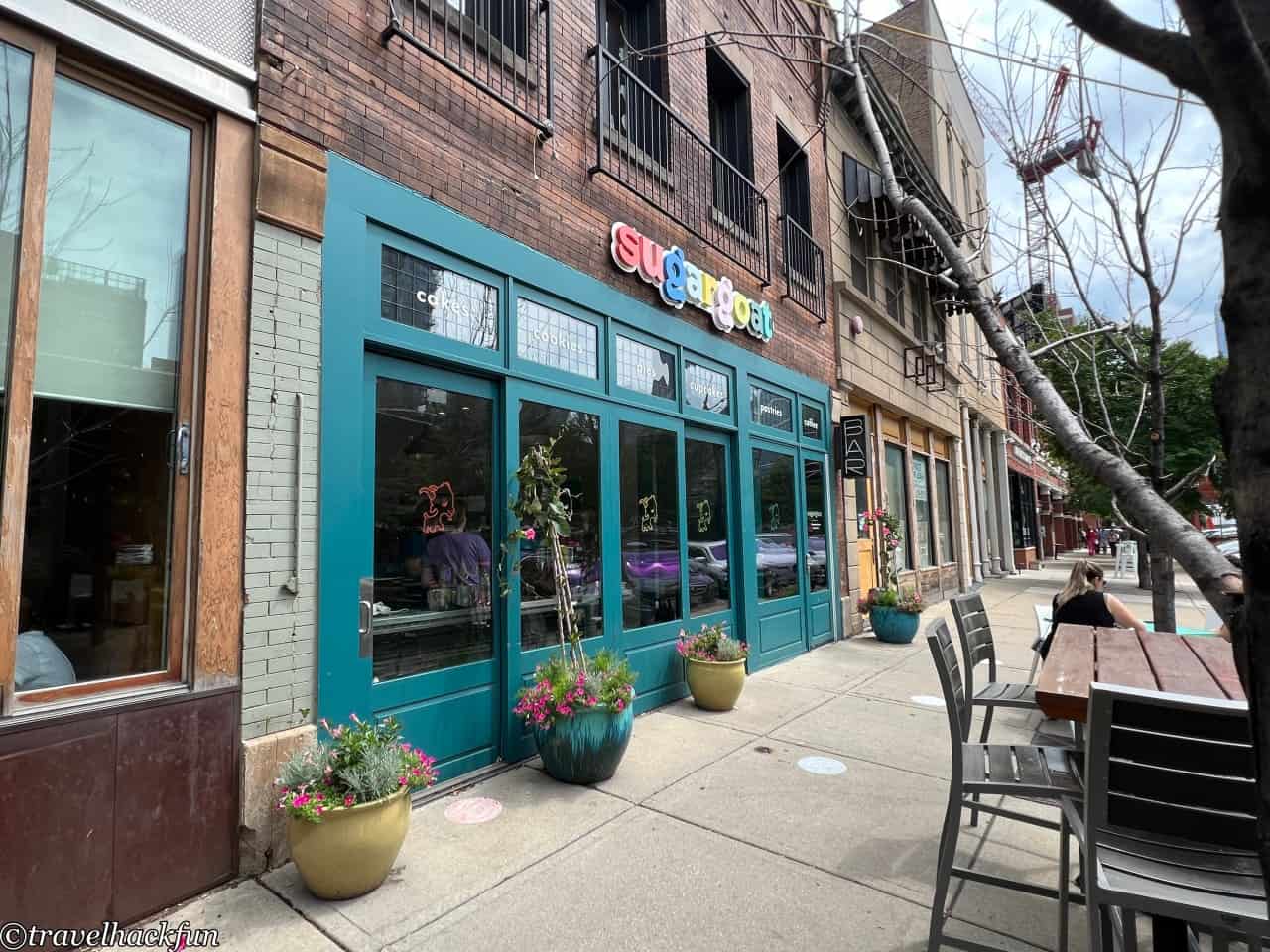 Starbucks
Rating: ⭐️⭐️⭐️⭐️
Price: $$
I'm sure you're all familiar with Starbucks, but the one on Chicago's Magnificent Mile is the largest in the US, so I couldn't help but try out the coffee again. I ordered the Origin flight with a Salmon sandwitch for breakfast, and the Paradeisi blend was a first for me, and it was my favorite of the three, very smooth.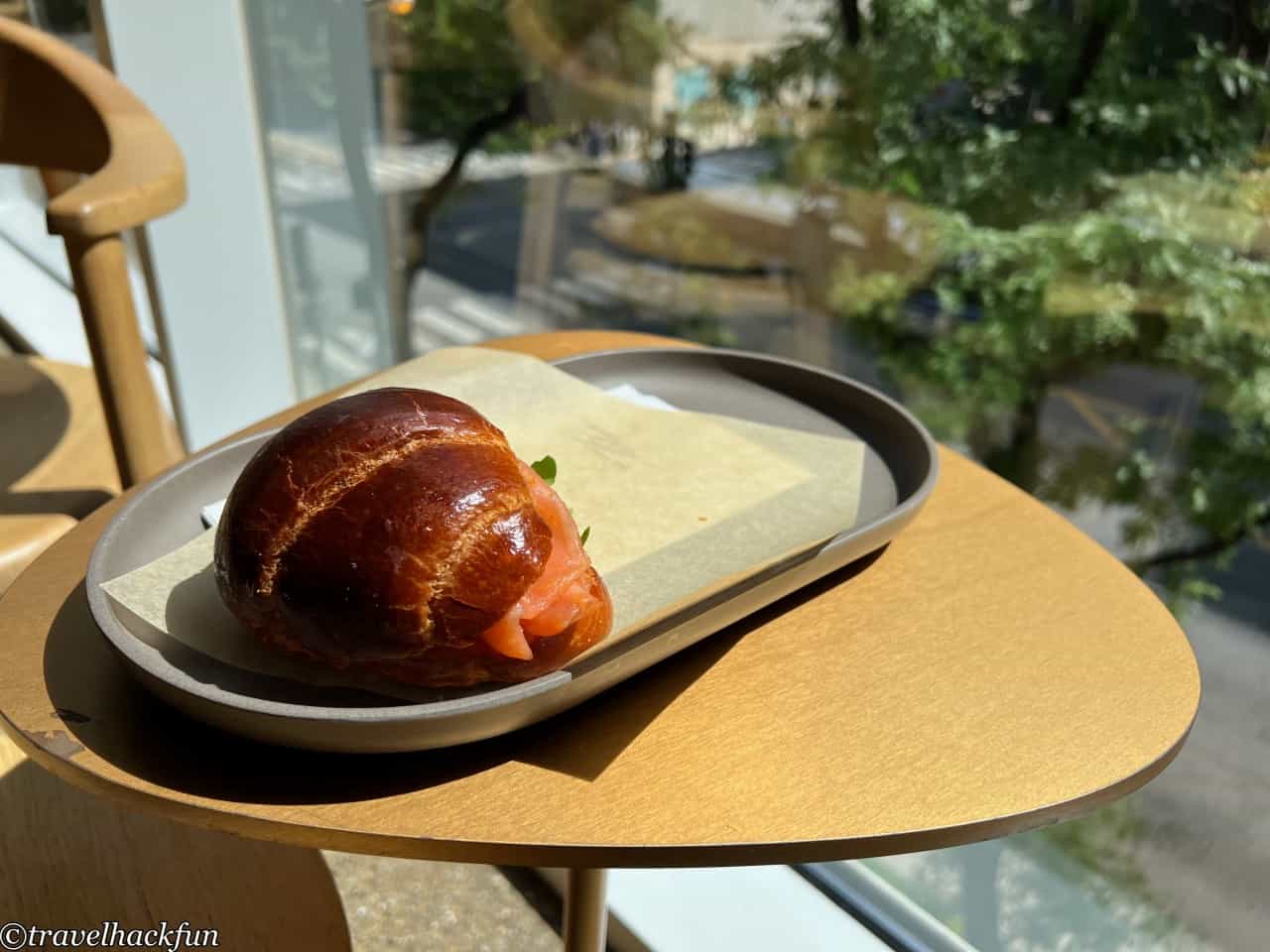 Further reading
Thank you for visiting our website.

All the content on this site is original and shared with the purpose of providing valuable information. We sustain the operation of this site through a small amount of advertising and sponsored links. If you click on links to third-party merchants on our site and make purchases, we may receive a portion of the sales as a commission. If you click on links to third-party merchants on our site and make purchases, we may receive a portion of the sales as a commission.

Find more posts on a map Here.

My recommended resources for hotel bookings.

My recommended resources for activity bookings.
Buy me a coffee and support my contents!
If you are interested in quoting this article or using any part of its content and images on your website or publication, please contact us via email to request permission.