Da Nang Cuisine | Restaurant Snacks
Da NangIt was the first stop of our Vietnam tour, and as Vietnamese food lovers, we were already looking forward to the Da Nang food. We didn't realize that the world is so big and there are so many dishes that we are not familiar with. After we started to do our homework, we realized that apart from Phở and Bánh Mì, which we are usually familiar with, there are still too many local dishes that we haven't eaten before, so it's impossible for us to eat every single one of them in just a few days. Here is a list of restaurants that we have tried and found to be quite good.
Nhà Bếp Chợ Hàn
Rating: ⭐️⭐️⭐️⭐️
Price: $$$$
This restaurant is right next to the Korean Market, and it was also our first meal after getting off the plane. Because of our hunger, we ordered 4 dishes and filled up the table. We tried the Banh Xeo Vietnamese Pancake with Kebabs, and ordered the Noodles and a big plate of Cabbage with Shrimp Paste. The portion was bigger than we expected. The way to eat Vietnamese pancake is to take rice paper, put vegetables according to your taste, then sandwich the pancake, put the sweet kebabs on it and roll it up to dip it in the sauce. If you eat them separately, the pancakes are very oily, so they become very tasty when wrapped up. The wide noodles were also good, tasting like Vietnamese-style noodles with stir-fried vegetables and meat. Most of the dishes were new to me and I felt pretty good about them. Prices are on the high side in the tourist areas of China and Vietnam, averaging about 200-300K VND per person.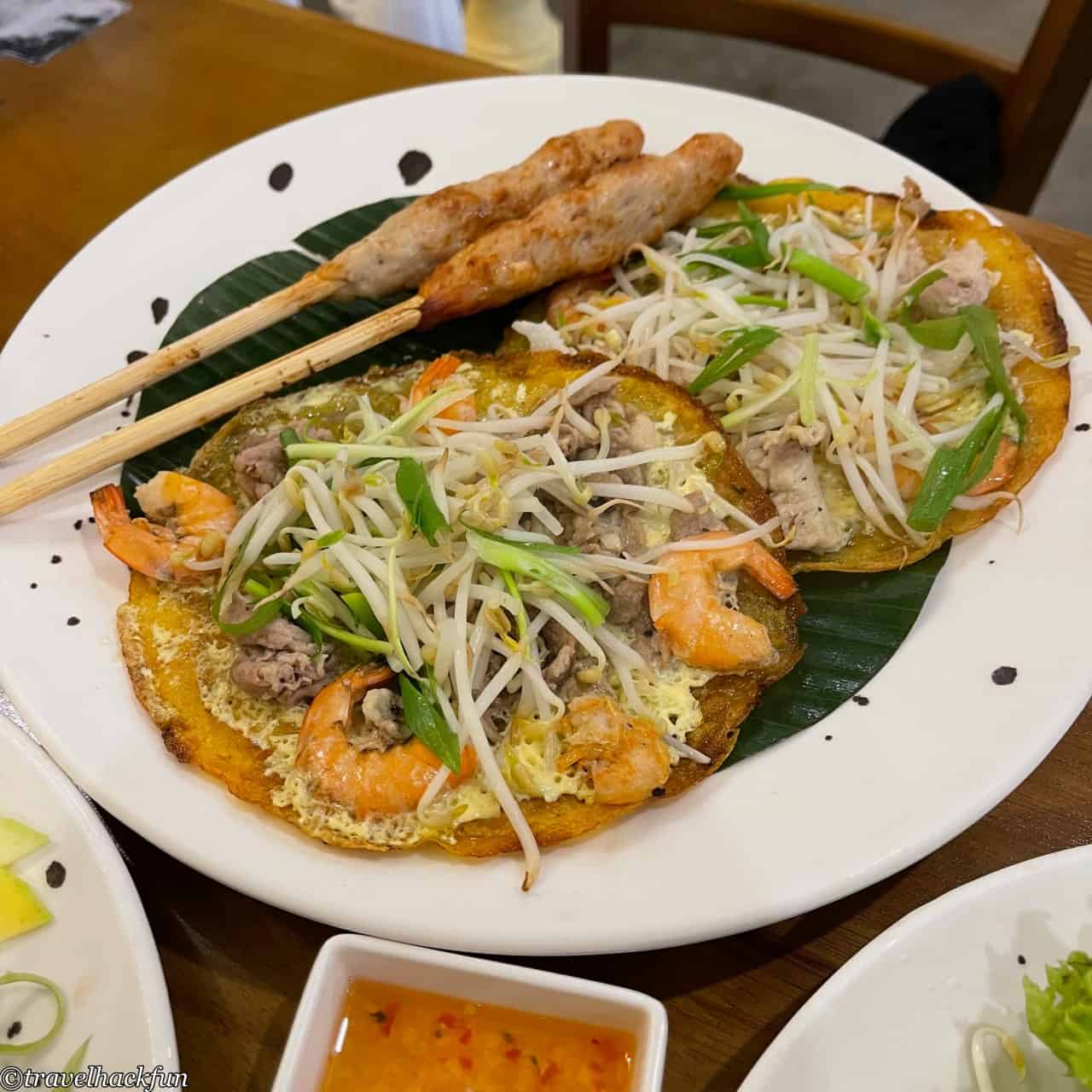 Da Nang Night Market
Rating: ⭐️⭐️⭐️⭐️⭐️
Price: $$
Da Nang, as a coastal city, is famous for its fresh and delicious seafood.Da Nang Night MarketYou can get affordable, fresh and tasty seafood barbecue at this restaurant. From grilled shrimp to steamed clams, there are plenty of choices. Most of the seafood at the night market is priced for a few people, including lobsters, prawns, clams, crabs, etc., and you can choose from barbecue or seafood hot pot. In fact, we were not very hungry when we came here, and originally we just passed by and saw that the portion size was relatively large and did not intend to eat it, however, the vendor was very persistent, and let us do the barbecue and grilled seafood for two, in line with the fact that we said that we didn't want to eat too much, and was willing to reduce the portion size, and even lowered the price to the point that we thought it was too much of a pity not to eat it, so we just had to eat it (after all, the grilled seafood is very tempting, right?). The seafood was very fresh and I especially liked the simple but flavorful seafood hot pot, although the price was very low, the vegetables and rice vermicelli were given to us and we had to eat until we were full. I learned another lesson - you must bargain when you come to the night market.
I was afraid that if I was thirsty, the people at the drink stand would come and ask for drinks as soon as we sat down, so we added coconut water and beer.
Of course, seafood is not the only thing in Da Nang night market, there are so many choices that we couldn't resist to order the Vietnamese pancake from another stall. However, the Vietnamese pancake is not as amazing as the seafood.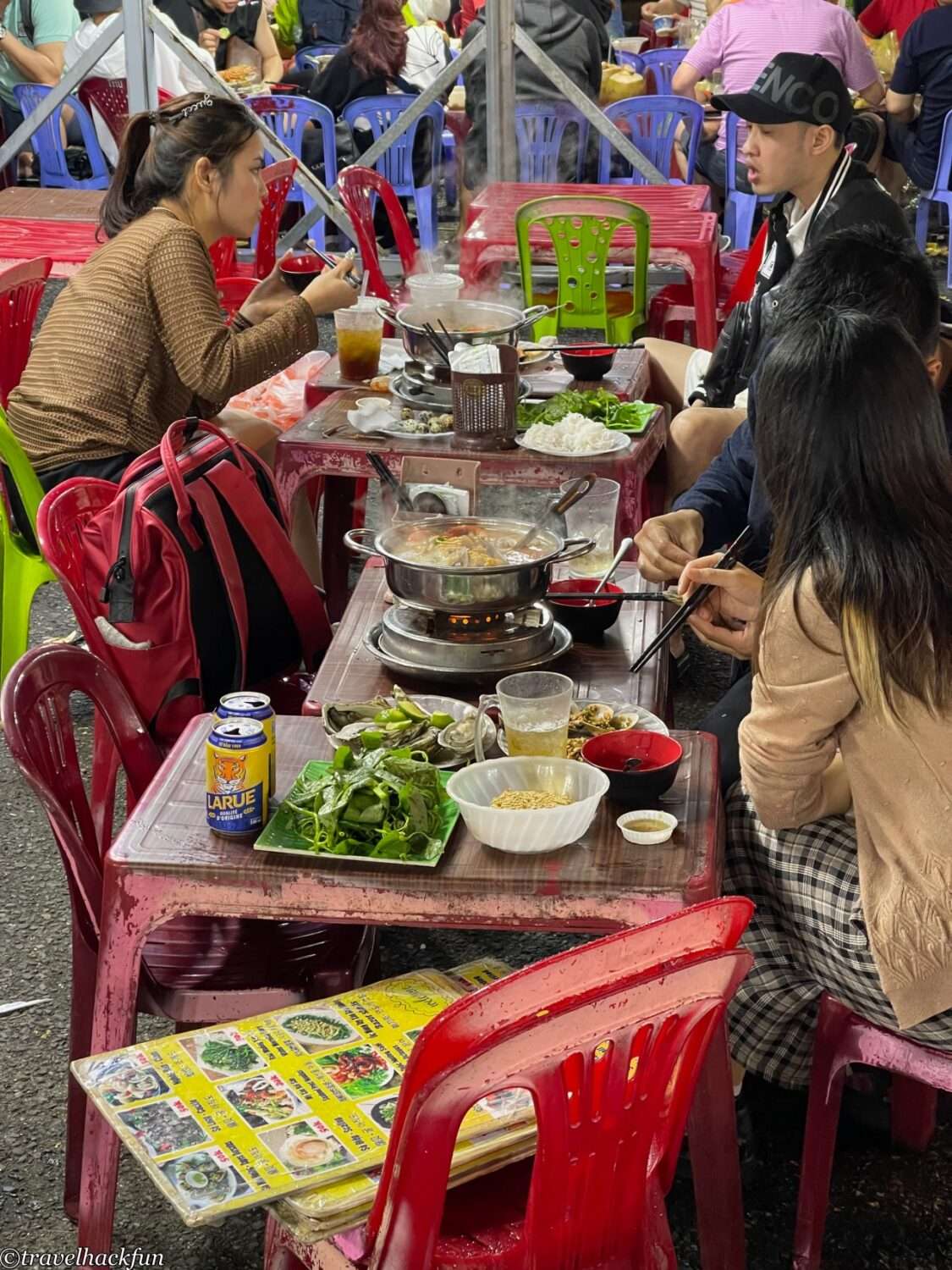 Hùng 68
Rating: ⭐️⭐️⭐️⭐️⭐️
Price: $$
Cuisine: American Seafood
Located in the vicinity of Wuxing Shan, the store looks very simple, just a roadside snack bar. The menu is also very simple, with only two types of food, one is Vietnamese river noodle and the other is Vietnamese fried noodle. Because of its proximity to Ngoc Hoang Son, the price is also a tourist price, 90K VND for a plate of fried noodles. Although it is a bit more expensive in the local market, this big plate of noodles is actually enough for two people. We weren't expecting much, but the fried noodles were so good that I was left wanting more. If you're ever in the vicinity of Wu Xing Shan, it's a great place to try!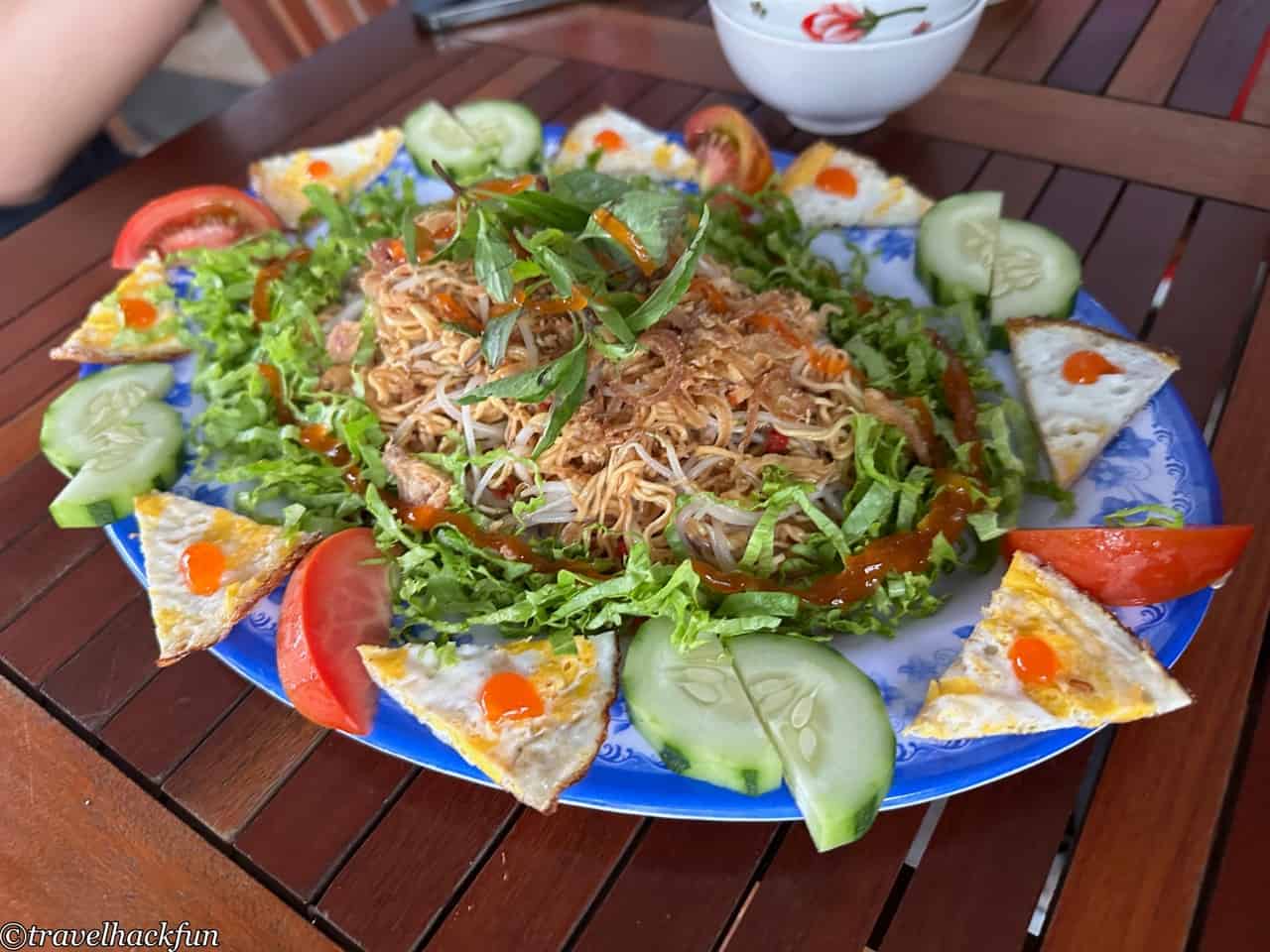 Bún chả cá Hờn
Rating: ⭐️⭐️⭐️⭐️⭐️
Price: $
Bún chả cá is Vietnamese fish cake with noodles, a popular traditional Vietnamese dish. Bún chả cá is a mixture of fish, onions, garlic, glutinous rice flour and seasonings, cut into small pieces and added to the noodles. The soup is made of bones, fins, and spices boiled with pork, shrimp, and other ingredients. The fish cake noodles are topped with a rich variety of vegetables and herbs, such as bean sprouts, cilantro, and chili peppers. It is considered a light-flavored food.
Bún chả cá Hờn, as its name suggests, is a snack store specializing in fish cake and noodles. It's a little bit away from the most popular tourist area, but not far from Bún chả cá 109, which is recommended by many people on the internet, and we chose to come here because we accidentally found out that this restaurant has a lot of good reviews in Vietnamese, and it's more like a local fish cake noodle restaurant, so we were brave enough to come here to give it a try. When we arrived, we realized we didn't even know how to order. There were a lot of customers, but all of them were locals, and the menu was only in Vietnamese on the wall, not even in English. So we took out Google Translate and translated the strange English menu, then read it out of our imagination. Amazingly, the woman who ordered the food understood it, spoke a bunch of Vietnamese to us and then took the money and left. Although the process took a lot of time, the woman who didn't speak the language was very patient and waited for us.
All the hard work pays off, and the fish cake noodles here are really good. We ordered a small bowl of fish cake noodle, the fish cake tasted a bit like sweet and spicy, if you don't add anything to it, it is quite light, you can decide how much to add to the sauce, bok choy and bean sprouts on the table, the sauce and chili pepper is very tasty after adding it. The other bowl we ordered was the Crab and Fish Cake Noodle, the soup was full of crab flavor. The soup was full of crab flavor. The small bowl of fish cake noodle was only 25K and the crab fish cake noodle was 30K, the two bowls of noodle added up to less than 2 dollars, which was tasty and affordable, and probably the most cost-effective meal we had in Vietnam.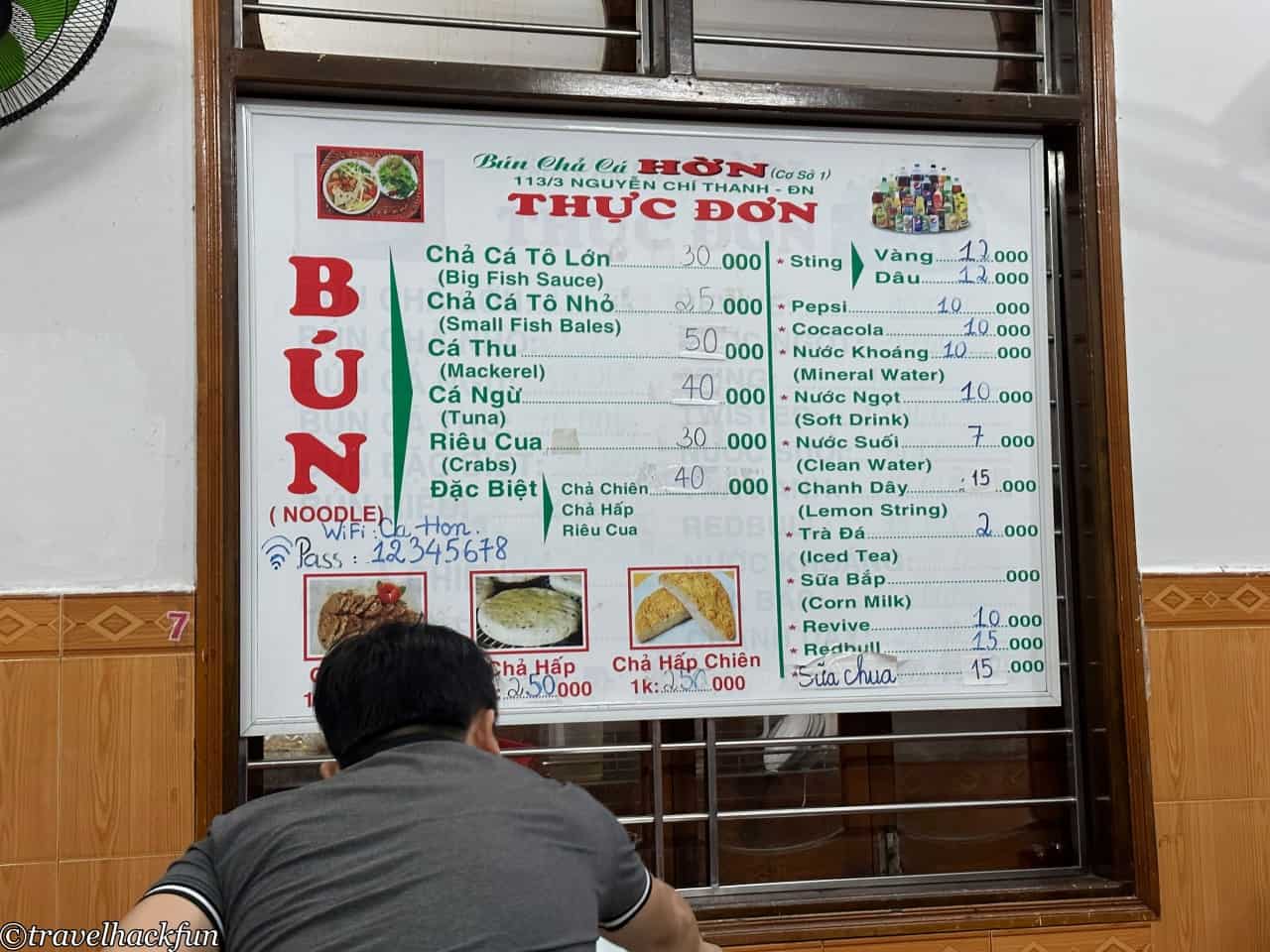 Ùmm Banh Mi & Cafe
Rating: ⭐️⭐️⭐️⭐️
Price: $$
Since Vietnam was once colonized by France, Bánh Mì, a Vietnamese-style sandwich wrapped in French bread, is a national delicacy in Vietnam. This is a brunch-like restaurant that specializes in Banh Mi and coffee, as well as some simple French-style dishes. We came here during brunch time and ordered the traditional Vietnamese Banh Mi with egg and Beef Stew, with western style coffee such as Salt coffee and White coffee, which is a lighter flavor that I prefer.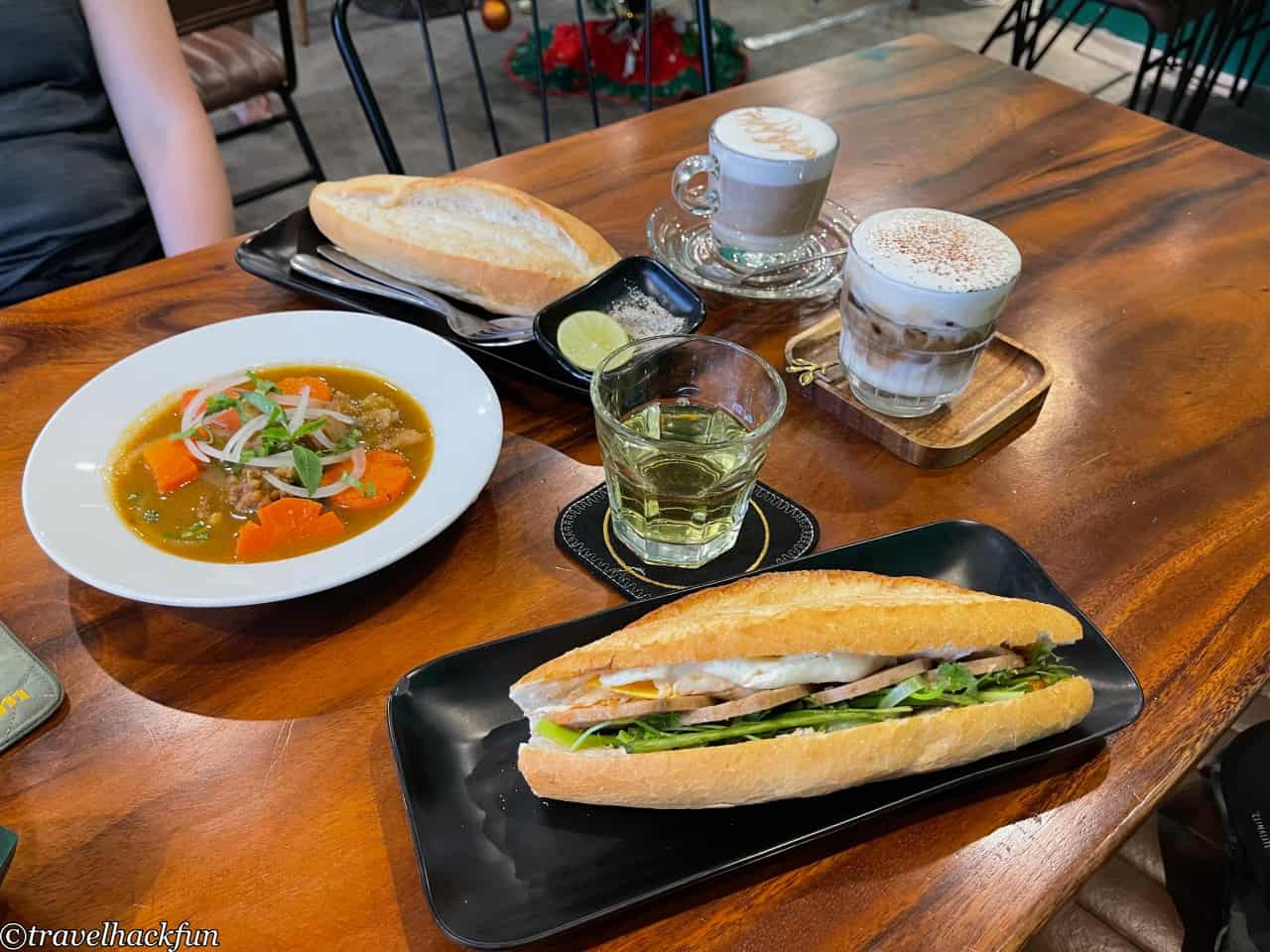 Bánh Xèo Bà Dưỡng
Rating: ⭐️⭐️⭐️⭐️
Price: $
 Bánh Xèo Bà Dưỡng is a famous Vietnamese pancake store, which is actually a famous alleyway snack on the internet. However, this time, we ordered the pancakes as a take-away to the hotel, so we can only show you the take-away status of the Vietnamese street stalls in the photos. Enjoying the famous snacks in the hotel is really a great enjoyment. Besides the famous Banh Xeo Vietnamese pancake and Nem Lui BBQ skewer, we also ordered Bun Thit Nuong, which is similar to Vietnamese noodle with dried meat. I think it's a huge portion, so I was very, very full, with a bunch of rice paper and vegetables left over.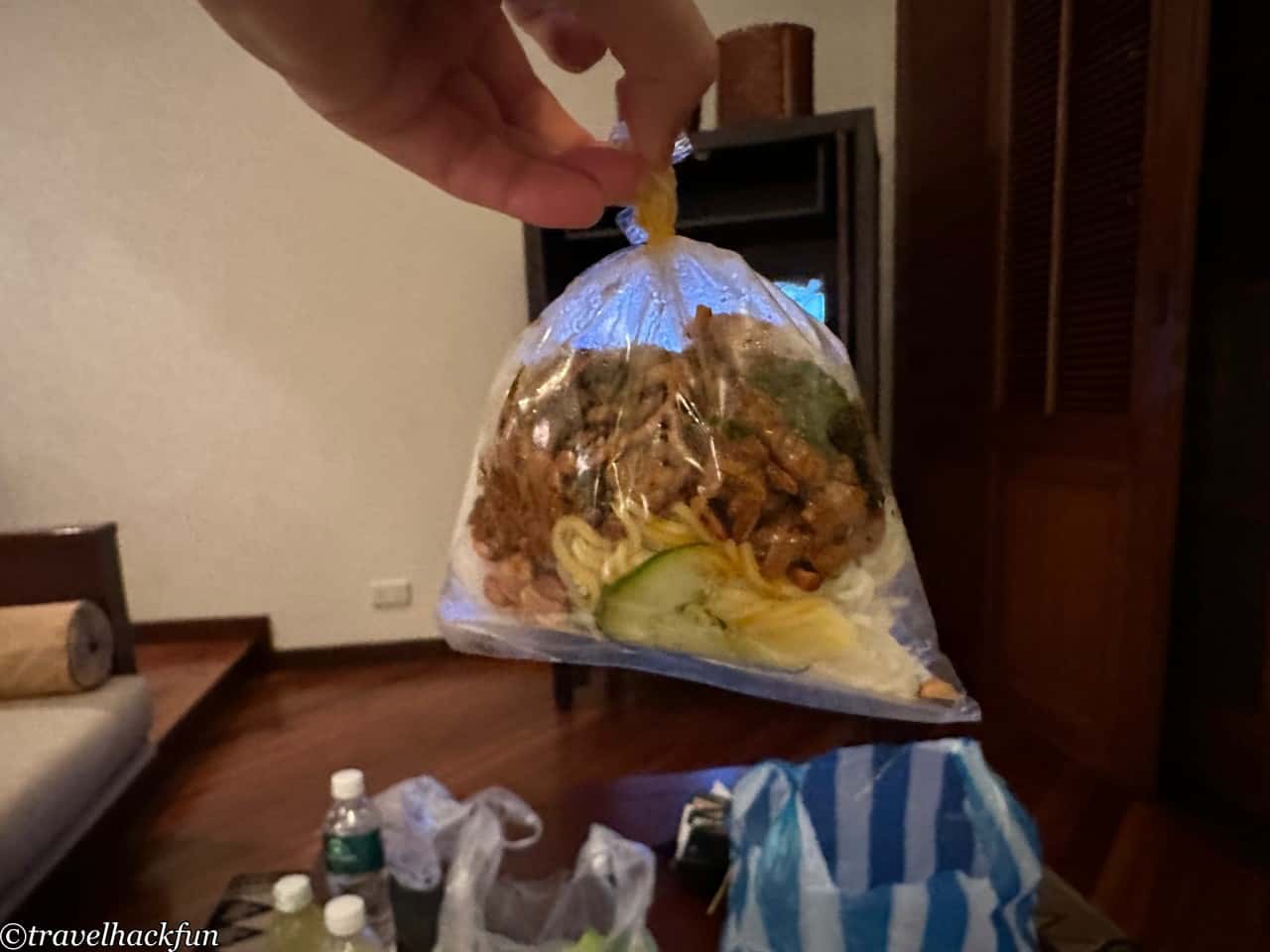 Da Nang Coffee Shop
When you come to Vietnam, you must try Vietnamese coffee. Vietnamese coffee is a very important part of Vietnamese culture, the taste and flavor is different from other coffees, usually using espresso and condensed milk. The Vietnamese coffee culture emphasizes the importance of taking your time to taste the coffee and share the time with your friends, and people often meet at coffee shops, so there is a coffee shop every two steps, just like in Taiwan. Here are the coffee shops we tried in Da Nang.
Cộng Cà Phê | Vietcong Coffee
Cộng Cà Phê, commonly called Viet Cong Coffee, is a very famous coffee shop in Vietnam with a unique style. This store is located in Da Nang, near the Han River and Han Market, and has a lot of customers. As soon as you enter the store, you can see the staffs wearing Vietcong uniforms, and the decoration of the store is also based on the theme of the Vietcong era, which is very unique. Da Nang area is mostly Korean, they naturally gave us Korean menu at the beginning, but they also have English menu, just remember to ask for it. We ordered Saigon Brown Coffee, which is flavored with condensed milk and coconut milk, and tasted a bit like a Vietnamese-style mocha. According to the clerk, if you order Brown Coffee, you don't need to add coconut milk. Since it was so hot, we ordered a coconut coffee smoothie for the other cup. No matter what the flavor of Vietnamese coffee is, the common point is that it is very sweet, so you have to drink it slowly, like enjoying the time. On average, a cup of coffee costs about 1.6 dollars, which is a very expensive price in Vietnam.
Cộng Cà Phê actually has many branches in Ho Chi Minh and Hanoi, we went to other branches to try more different flavors of coffee, more on that later. The coffee is not my favorite, but I think the atmosphere of Da Nang branch is very nice, very nostalgic and worth to visit.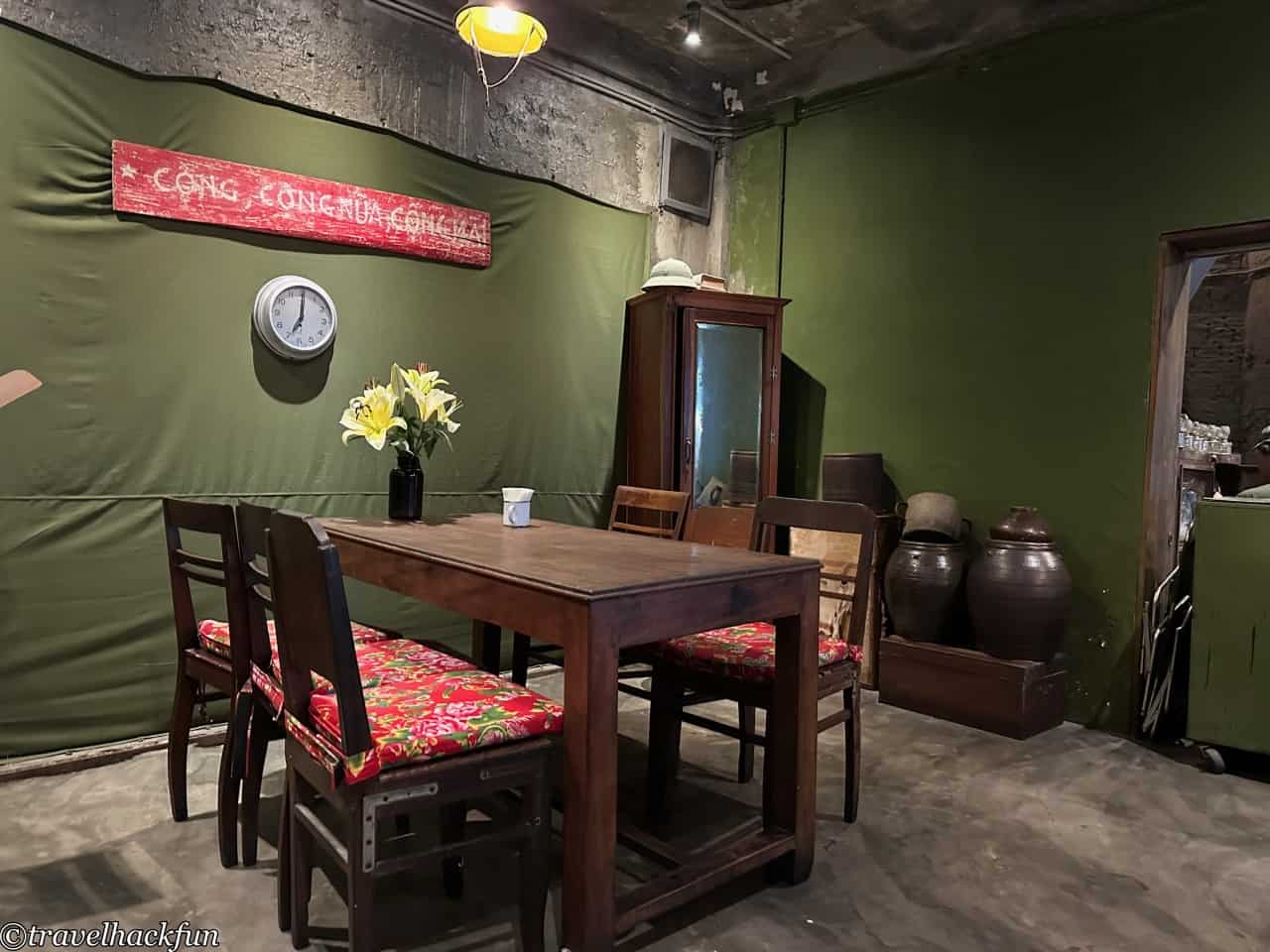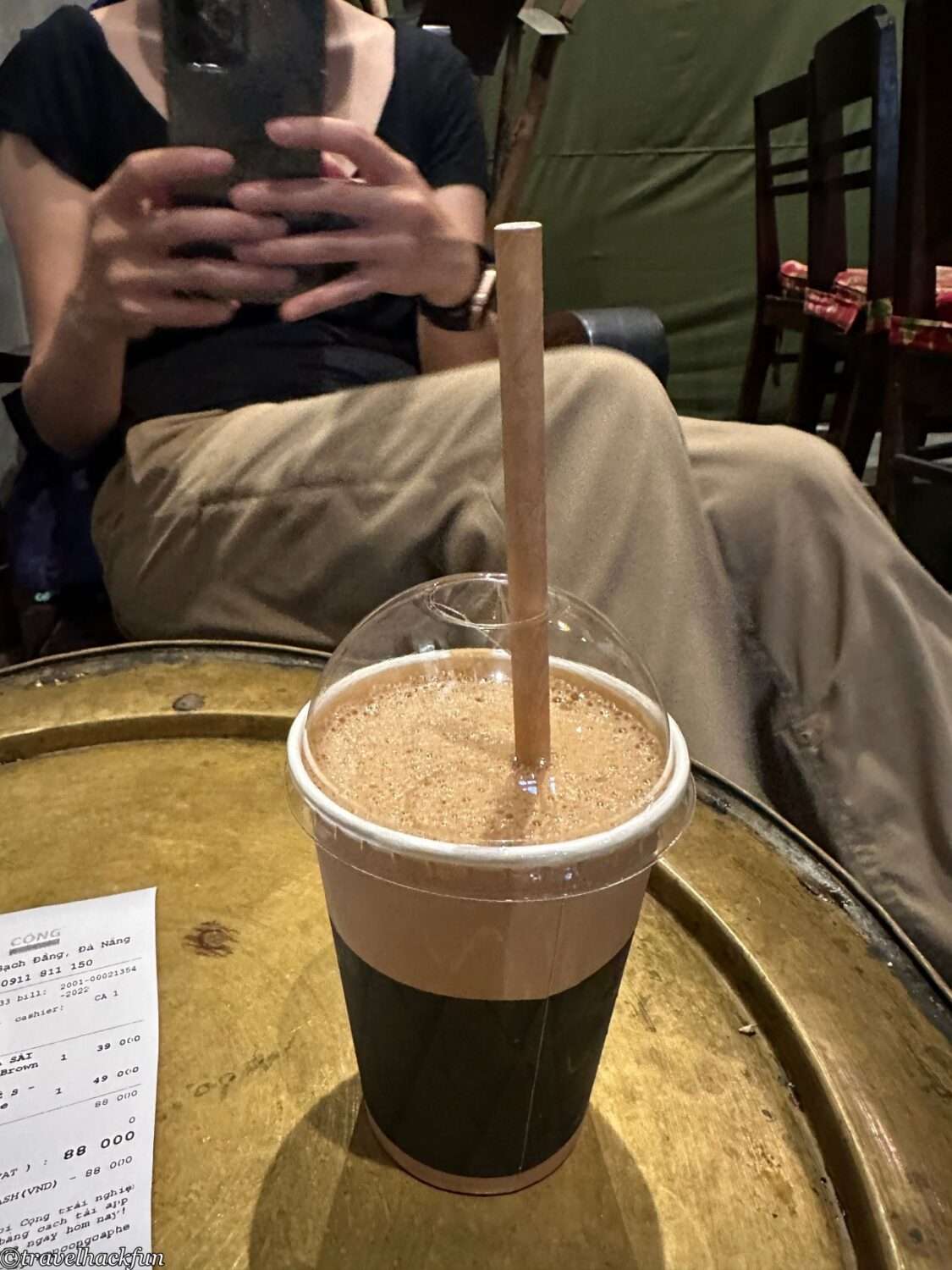 Nấm Coffee
Rating: ⭐️⭐️⭐️⭐️
Price: $$
Nấm Coffee is located in a quiet alleyway, with few foreign customers and a limited English menu, but it's a nostalgic coffee shop with a great sense of nostalgia. Since the staff doesn't speak English at all, we ordered our coffee using the pictures on Google Map, and we ordered egg coffee and yogurt coffee. You can fully immerse yourself in the Vietnamese coffee culture here. Inside the store, you can smoke cigarettes, and most of the customers are chatting in groups, sitting around drinking coffee and reading books, and there are also couples who can't stop talking to each other for even a second. The atmosphere reminds me of a Taiwanese bubble tea store from the 90's, not to mention the décor.
The coffee itself I found very tasty. First of all, let me explain about egg coffee. The milk froth of egg coffee is egg yolk and egg, the milk froth takes up 80% to 90% of the space of the cup, if you don't stir it, the top is very similar to Tiramisu. In fact, egg coffee was developed because of the lack of milk in Vietnam in the past. The correct way to drink it is to stir it, and the egg flavor will still be sweet. I've tried other egg coffee shops, but this one has the best flavor so far. I like the bamboo straws used for the espresso, and I like the refreshing flavor of the straws.
The only thing I'm not happy about is that the staff seemed to have intentionally overstated the amount of money when they were calculating the price. Luckily, because the calculated price was too exaggerated, we communicated for a while and then took the menu to compare and corrected it.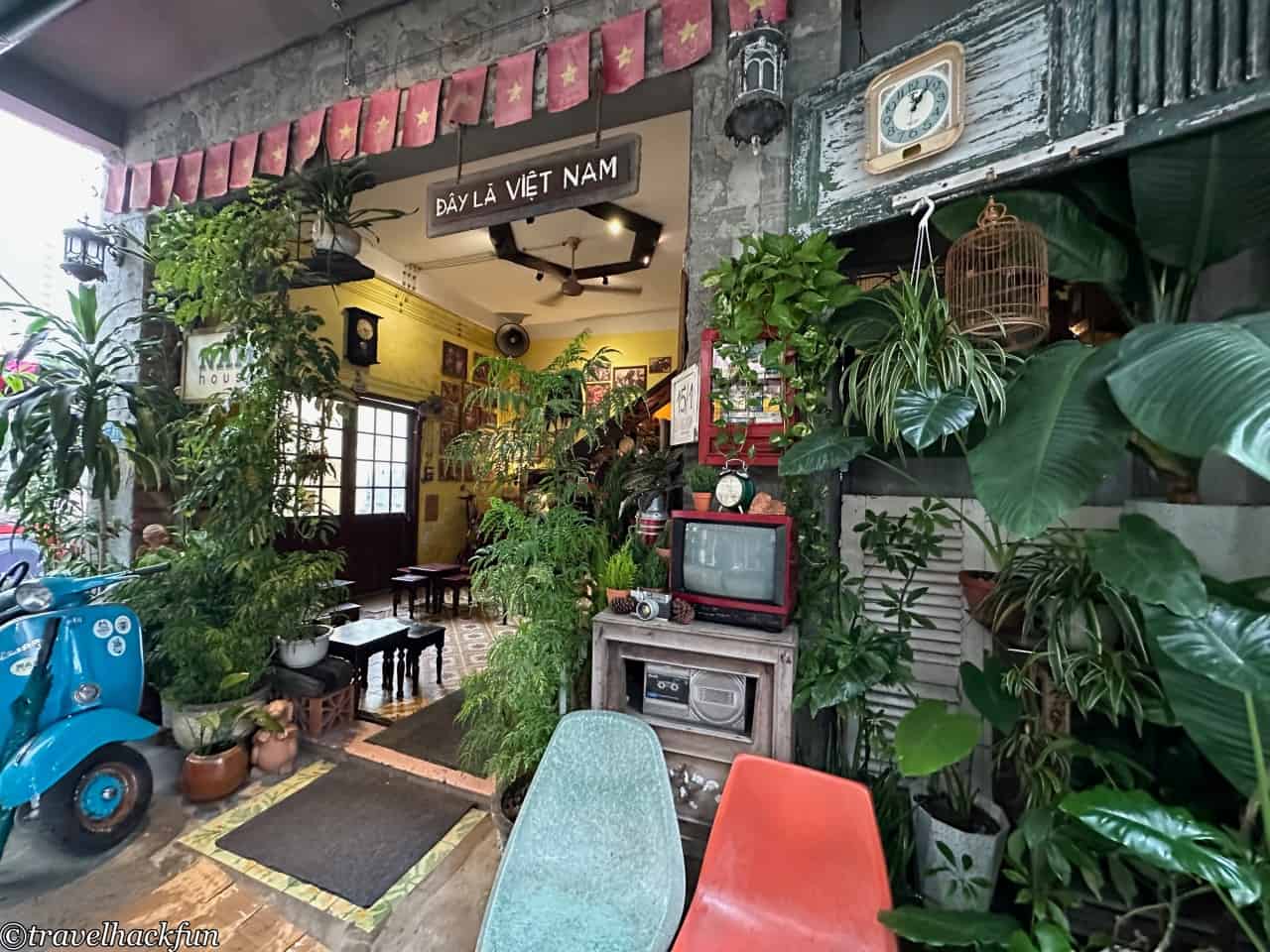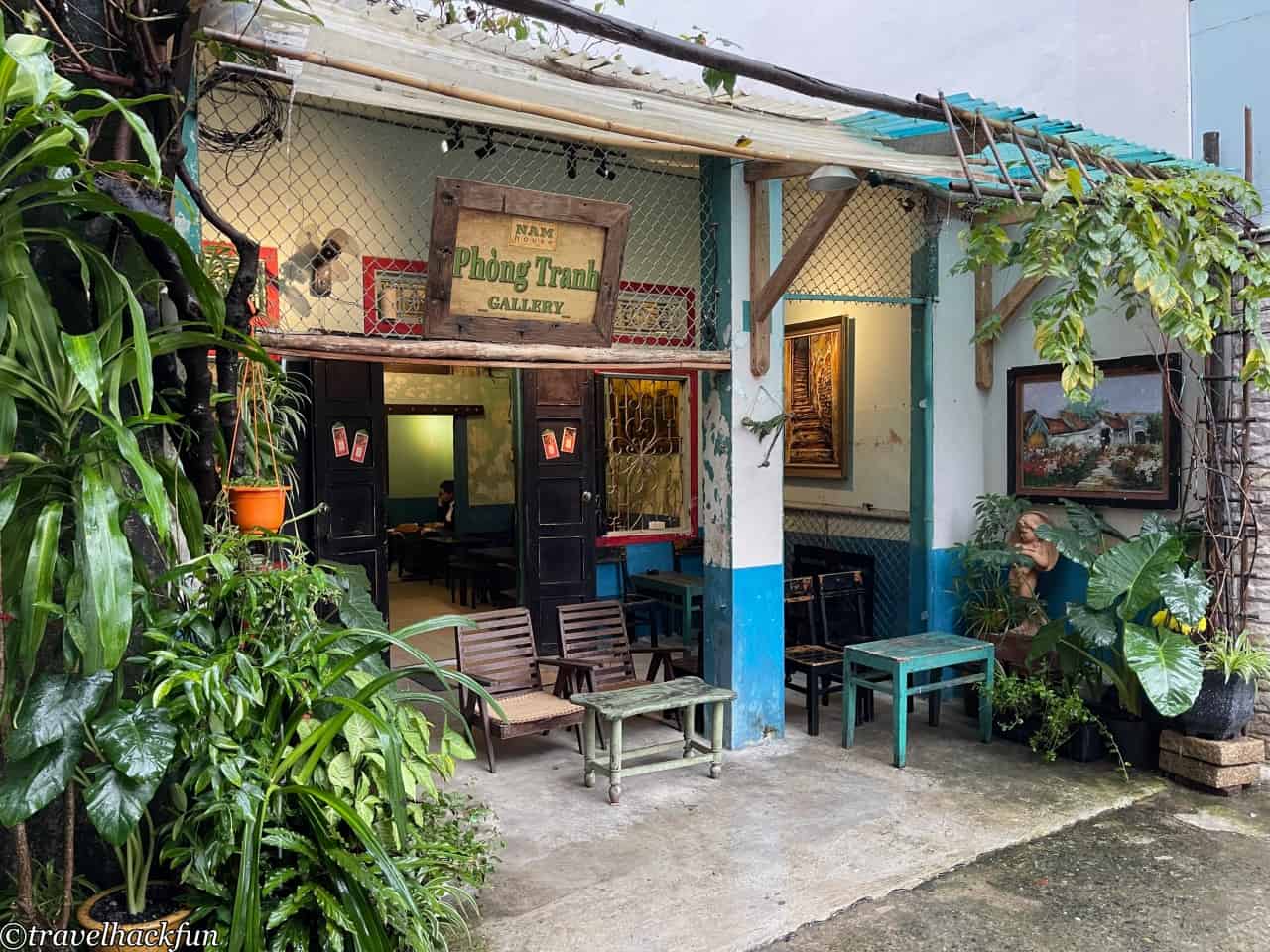 Nối Café
Rating: ⭐️⭐️⭐️⭐️
Price: $$
This cafe is located near the fish cake and noodle store Bún chả cá Hờn, which I mentioned earlier, and the business is so good that there are three stores in the same alleyway alone. We came here in the evening to sit in the garden and ordered coconut coffee and egg coffee, Vietnamese coffee is so sweet that it is perfect for dessert. The sales clerk here has the best English in Da Nang, and also the best service attitude. He explained to us how to drink the egg coffee, so he seems to have a certain obsession with coffee. We especially like the coconut coffee from this store, it is not as sweet as other Vietnamese coffee, but it has a refreshing flavor.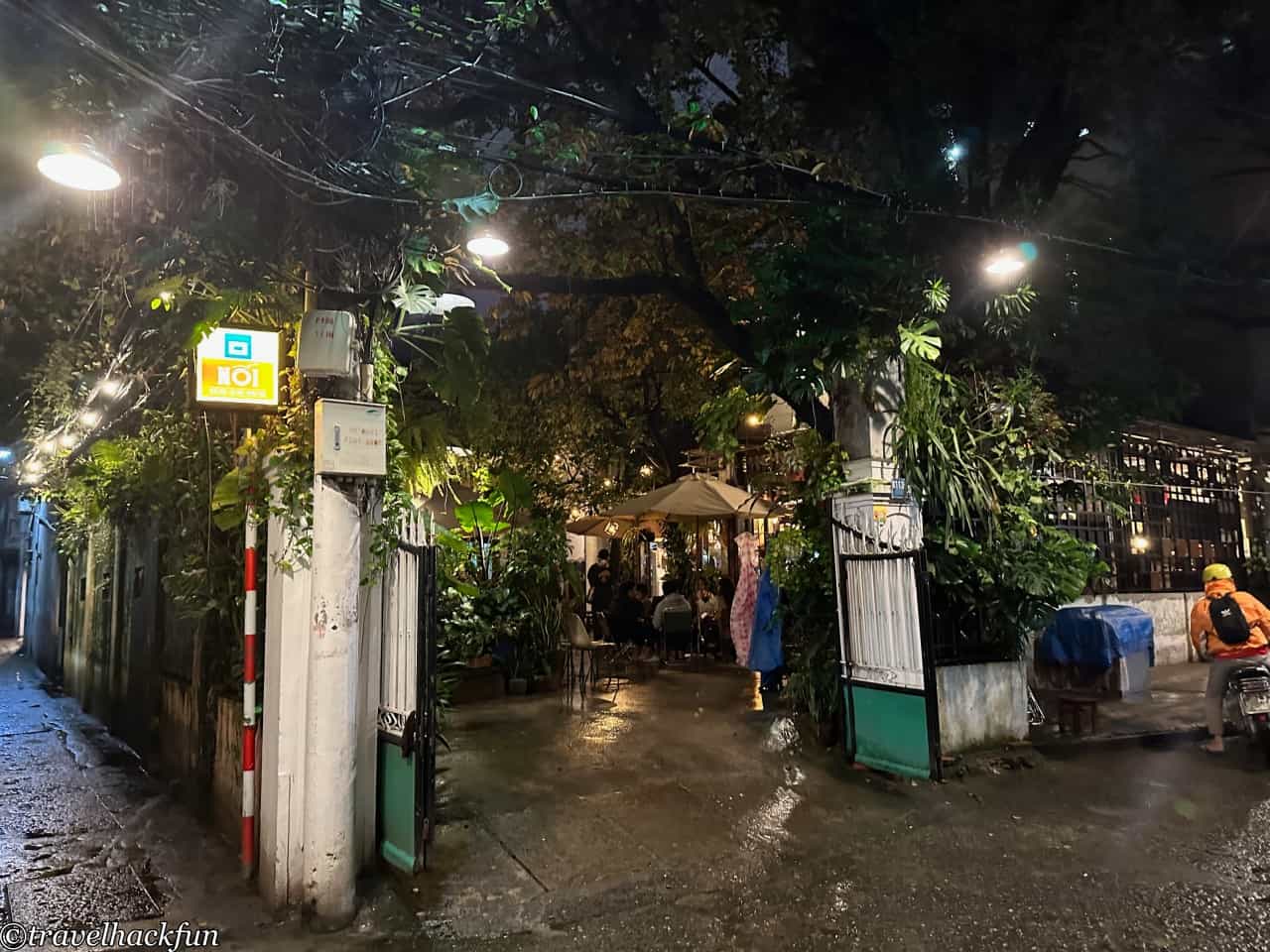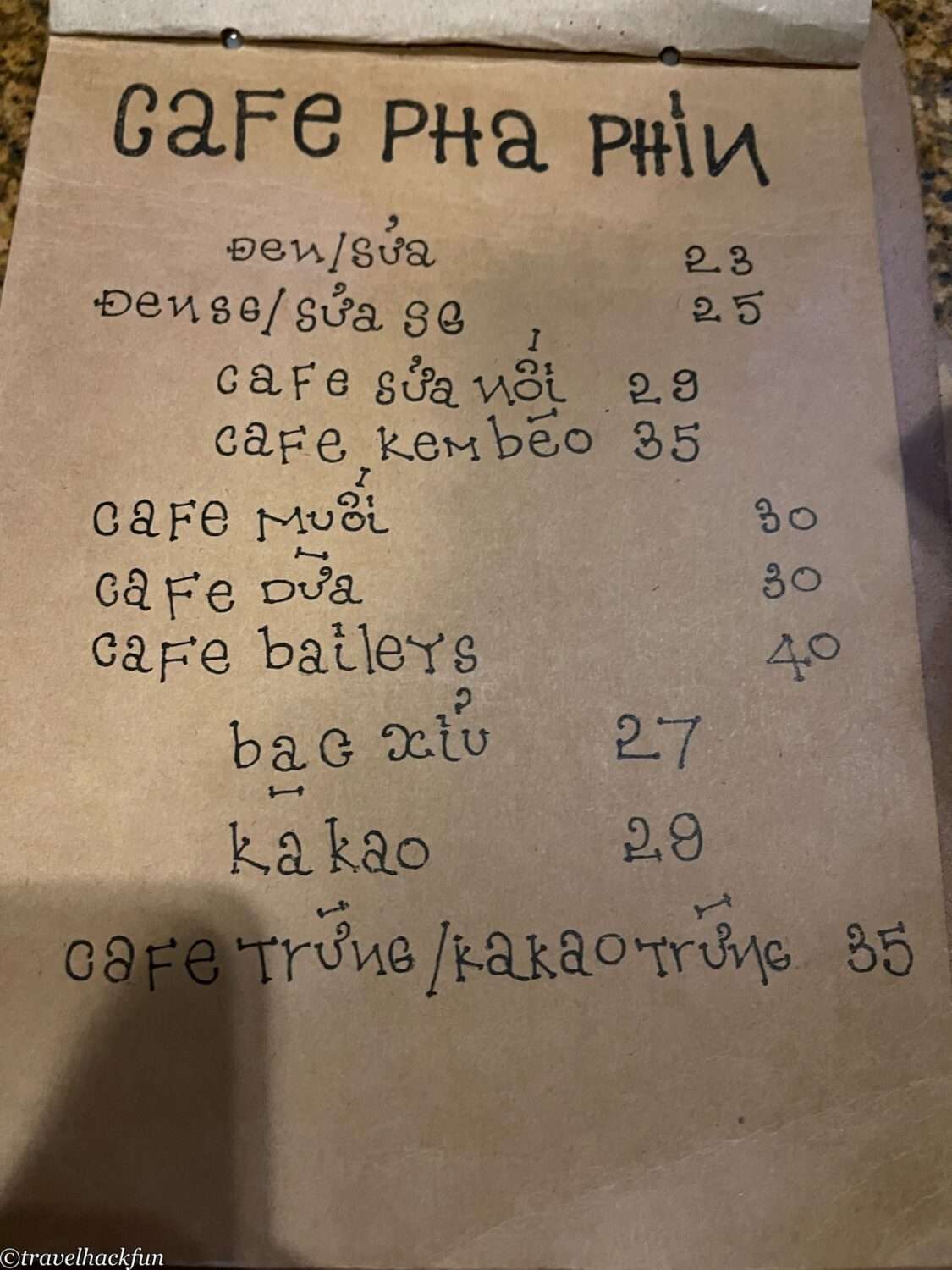 Highlands Coffee
Highlands CoffeeIt is a chain of coffee shops in Vietnam, which is comparable to Starbucks in terms of popularity and status. Similar to Starbucks, it sells simple food such as Bahn Mi in addition to coffee. The interior of the store is usually very cozy and spacious, with a large space and quiet environment, while the price is slightly more expensive than that of a normal Vietnamese coffee shop. Although Starbucks also sells Western-style lattes and other coffees, the most common is iced coffee with condensed milk, which is also known as Vietnamese coffee.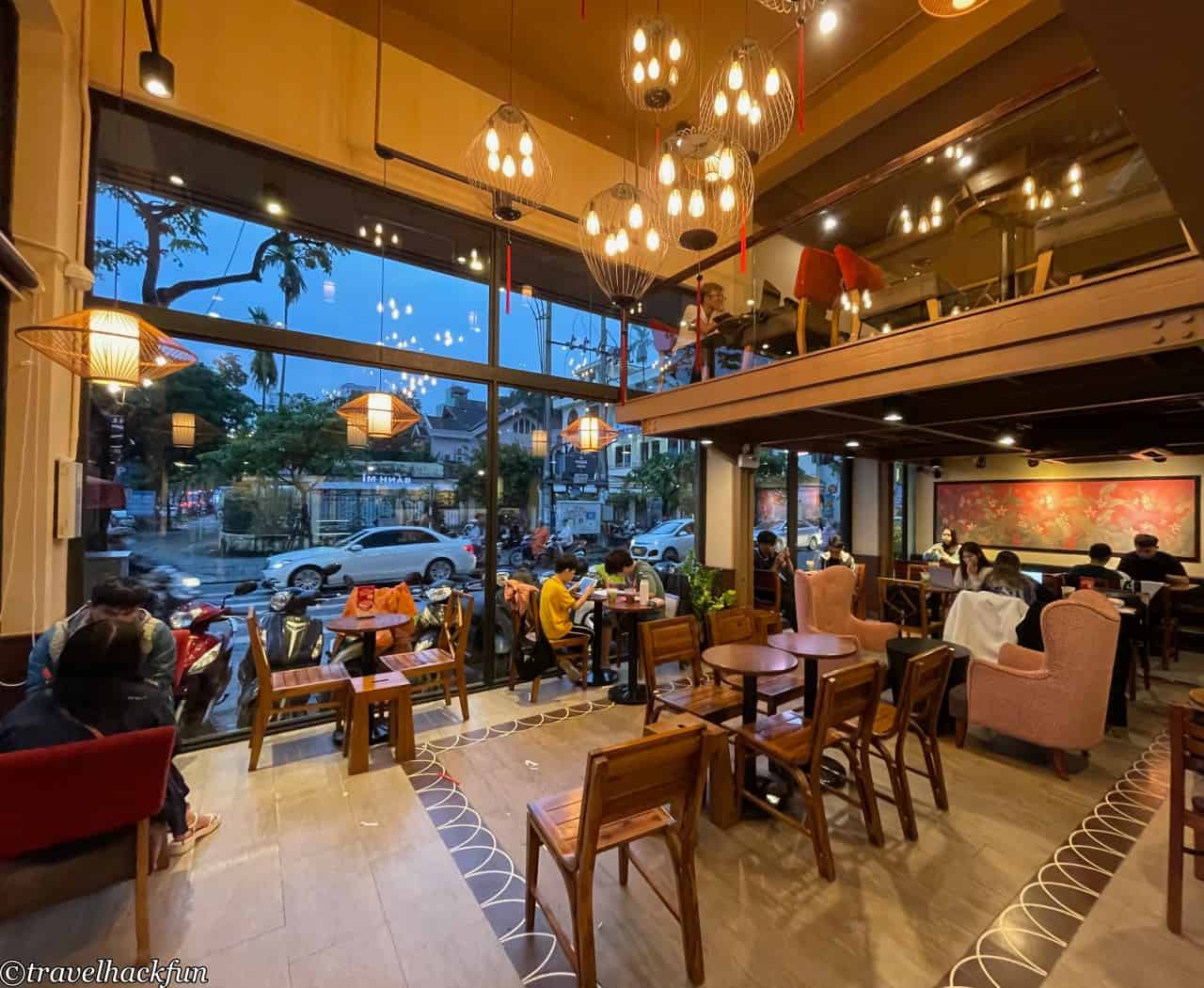 Further reading
Thank you for visiting our website.

All the content on this site is original and shared with the purpose of providing valuable information. We sustain the operation of this site through a small amount of advertising and sponsored links. If you click on links to third-party merchants on our site and make purchases, we may receive a portion of the sales as a commission. If you click on links to third-party merchants on our site and make purchases, we may receive a portion of the sales as a commission.

Find more posts on a map Here.

My recommended resources for hotel bookings.

My recommended resources for activity bookings.
Buy me a coffee and support my contents!
If you are interested in quoting this article or using any part of its content and images on your website or publication, please contact us via email to request permission.